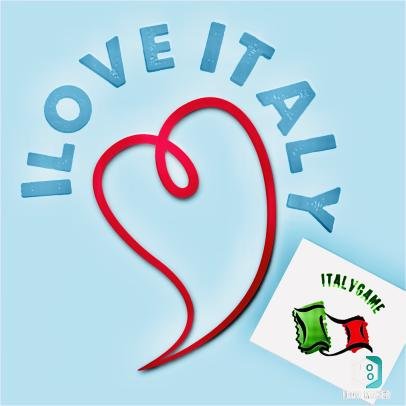 Hello everyone!
As Team ItalyGame we are working on the Steemit platform to support and promote the community of Italians, the use of the Italian language but above all the knowledge of Italian culture and therefore we want to join the @Steemitblog proposal made in this Post and promote a competition on Italy.
And if @Stemitblog loves contests, we love Italy and therefore our competition is I Love Italy!
In particular, taking up a very famous initiative in our country, we want to ask all Steemit users to report to us in a post their Place of the Italian Heart, the location, the monument, the beach, the piazza of Italy that they loved more.
The competition is entitled: I Love Italy and these are the rules.
All Steemit users with original content can participate.
You have to write a post entitled: I Love Italy: (the name of the place you want to report follows)
The post must have at least 200 words and 3 original photographs.
Always use the tags #iloveitaly #italy #ita
Put the post, preferably, in the ITALY community
Write the post in Italian or English.
You can participate with 2 posts describing different places.
Please leave a comment below with the link of the post participating in the contest.
The Contest will last 2 weeks.
Italy is rich in beauty! Tell us what is left in your heart
In these 2 weeks the Italygame team will make intermediate selections to show the best posts and will choose among these the three winners of the I Love Italy contest based on the accuracy and originality of the proposed post.
The initial prize pool is 50 Steem but it will be increased by what the sponsors will want to offer us.
The prize in Steem, which the 3 winners will have, will therefore depend on the sponsorships we manage to obtain and that, with this post, we want to ask.
@steemitblog @steemcurator01 @steemingcurators @steem-agora @ciska @xpilar @stephenkendal @reflektor @hingsten @bippe @twinner @upmewhale
we need your help.
How about helping this initiative of ours?
We look forward to your answers.
Greetings from Italy!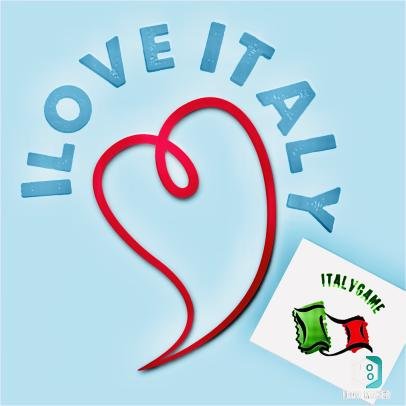 Concorso I Love Italy.
Salve a tutti!
Come Team ItalyGame stiamo lavorando sulla piattaforma Steemit per supportare e promuovere la comunità di Italiani, l'uso della lingua Italiana ma soprattutto la conoscenza della cultura Italiana e quindi vogliamo aderire alla proposta di @Steemitblog fatta in questo Post e promuovere un concorso sull'Italia.
E se a @Stemitblog ama i concorsi noi amiamo l'Italia e quindi il nostro concorso è I Love Italy!
In particolare, riprendendo una iniziativa molto famosa nel nostro paese, vogliamo chiedere a tutti gli utenti di Steemit di segnalarci in un post il loro Luogo del Cuore Italiano, la località, il monumento, la spiaggia, la piazza d'Italia che hanno amato di più.
Il concorso ha come titolo: I Love Italy e queste sono le regole.
Possono partecipare tutti gli utenti di Steemit con contenuti originali .
Bisogna scrivere un Post dal titolo: I Love Italy : (segue il nome del luogo che vuoi segnalare)
Il post deve avere almeno 200 parole e 3 fotografie originali.
Usa sempre i tag #iloveitaly #italy #ita
Metti il post, preferibilmente, nella community ITALY
Scrivi il post in italiano o in inglese.
Puoi partecipare con 2 post che descrivono luoghi diversi.
Per favore lascia un commento sotto questo con il link del post che partecipa al contest.
Il Contest durerà 2 settimane.
L'Italia è ricca di bellezza! Raccontaci quella che ti è rimasta nel cuore.
In queste 2 settimane Il team di Italygame farà delle selezioni intermedie per mostrare i post migliori e sceglierà tra questi i tre vincitori del contest I Love Italy in base alla accuratezza e alla originalità del post proposto.
Il montepremi iniziale è di 50 Steem ma sarà incrementato da quanto gli sponsor ci vorranno offrire.
Il premio in Steem, che avranno i 3 vincitori, dipenderà quindi dalle sponsorizzazioni che riusciamo a ottenere e che, con questo post, vogliamo chiedere.
@steemitblog @steemcurator01 @steemingcurators @steem-agora @ciska @xpilar @stephenkendal @reflektor @hingsten @bippe @twinner @upmewhale abbiamo bisogno del vostro aiuto.
Che ne dite di aiutare questa nostra iniziativa?
Aspettiamo le vostre risposte.
Un saluto dall'Italia!