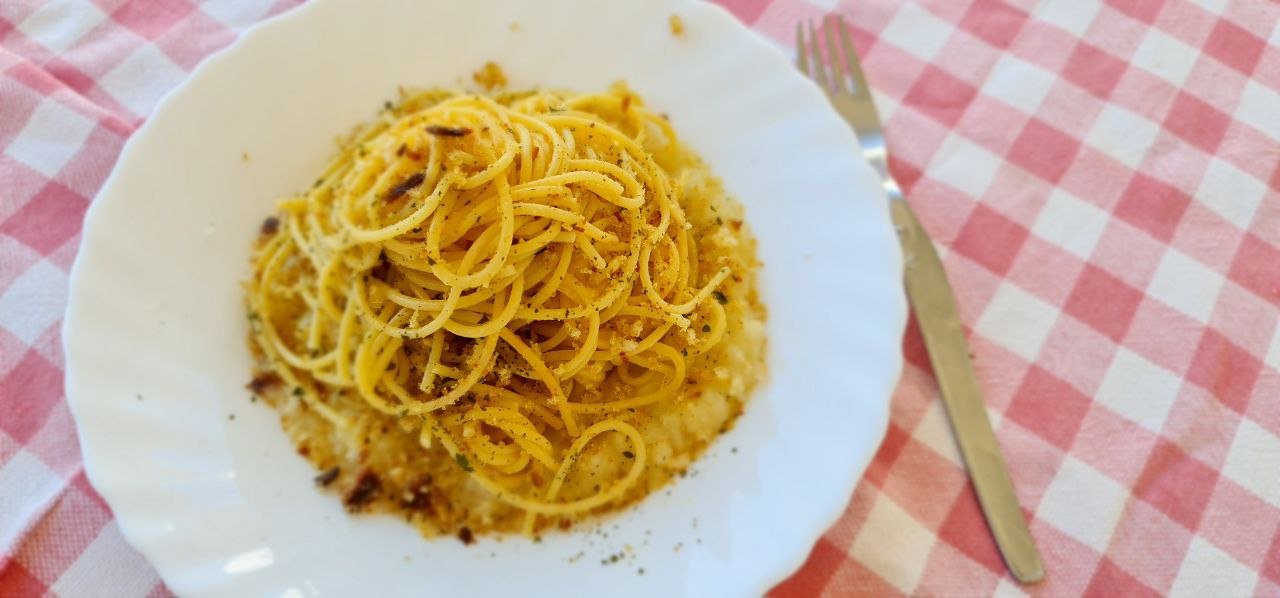 This is a restaurant quality dish that could cost you a fortune but I am sharing with you this awesome recipe that you can try at home.
( Questo è un piatto di qualità da ristorante che potrebbe costarti una fortuna ma condivido con te questa fantastica ricetta che puoi provare a casa.)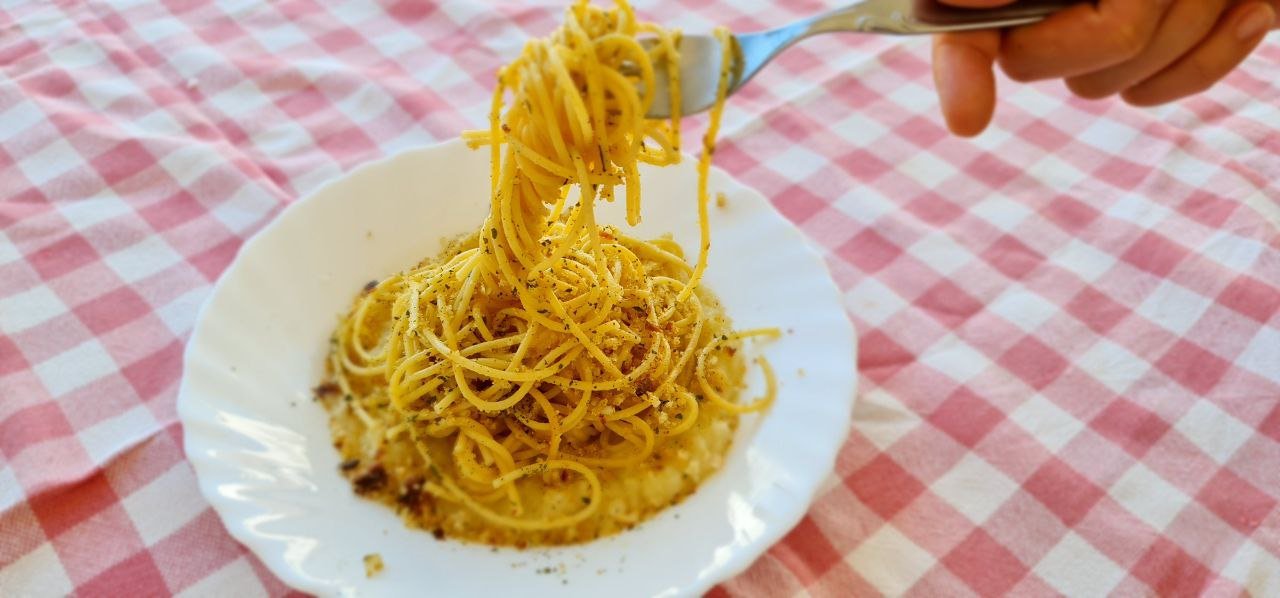 It is very fast and budget. You don't need particular skills just follow the steps and you will enjoy the best dinner ever. The list of ingredients is really simple but real secret of Italian chefs is the quality of ingredients.
(È molto veloce ed economico. Non hai bisogno di abilità particolari, segui i passaggi e ti godrai la migliore cena di sempre. La lista degli ingredienti è davvero semplice ma il vero segreto degli chef italiani è la qualità degli ingredienti.)
You must take the best spaghetti, the best olive oil and the all the rest must be the best. When you read any italian recipes it is often written ingredient from specific region. For example flour from Molino Caputo, onion of Tropea 🥰, air from Naples. So as you see it is not the recipe that matters much but the quality of your ingredients. However, today we can try to recreate as close as possible to the original recipe and I promise you will enjoy it . Just don't forget to put your love and soul!!
(Devi prendere i migliori spaghetti, il miglior olio d'oliva e tutto il resto deve essere il migliore. Quando leggi una ricetta italiana, spesso viene scritto ingrediente di una regione specifica. Ad esempio farina di Molino Caputo, cipolla di Tropea 🥰, aria di Napoli. Quindi come vedi non è la ricetta che conta molto ma la qualità dei tuoi ingredienti. Tuttavia, oggi possiamo provare a ricreare il più vicino possibile alla ricetta originale e vi prometto che vi piacerà. Basta non dimenticare di mettere il tuo amore e la tua anima !!)
Ingredients:
3 pieces toast bread without crust
5 anchovy fillets in oil
1 cauliflower
salt
xtra virgin olive oil
garlic
chili pepper
spaghetti
Ingredienti:
3 pezzi di pane tostato senza crosta
5 filetti di acciughe sott'olio
1 cavolfiore
sale
olio extravergine di oliva
aglio
peperoncino
spaghetti
Step 1
Toast the bread and crash it in food processor. Meanwhile boil cauliflower tops.
( Passo 1
Tosta il pane e schiaccialo nel robot da cucina. Nel frattempo lessate le cime di cavolfiore.)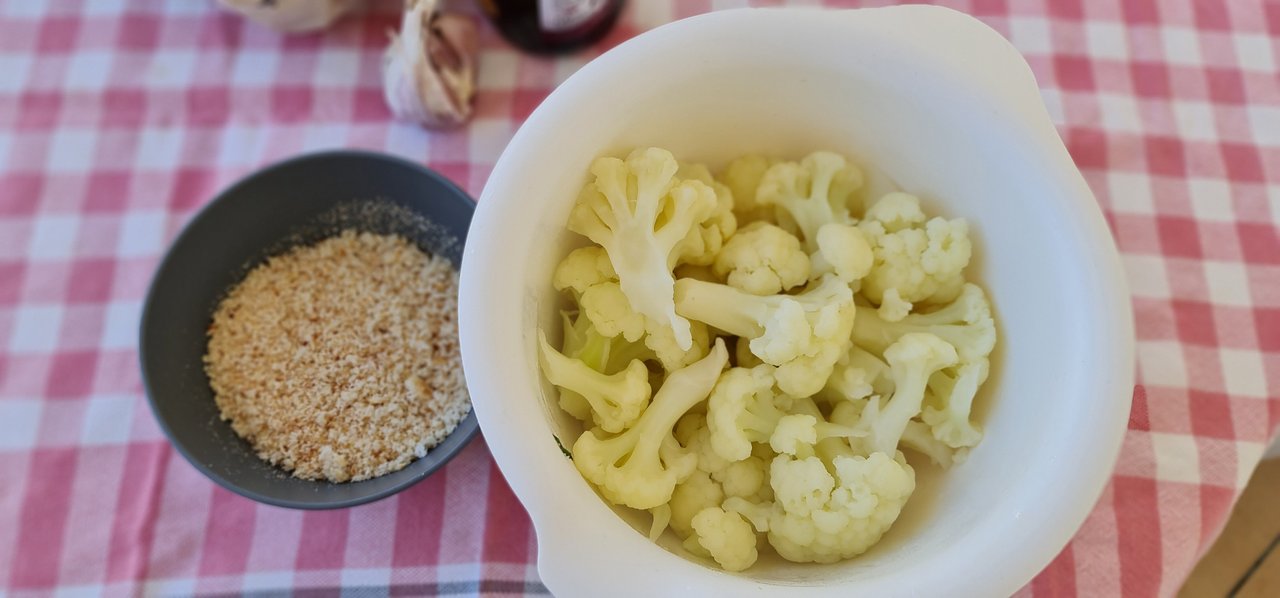 Step2
You have to put the anchovy fillets in a pan with a drizzle of olive oil and mash them to melt them.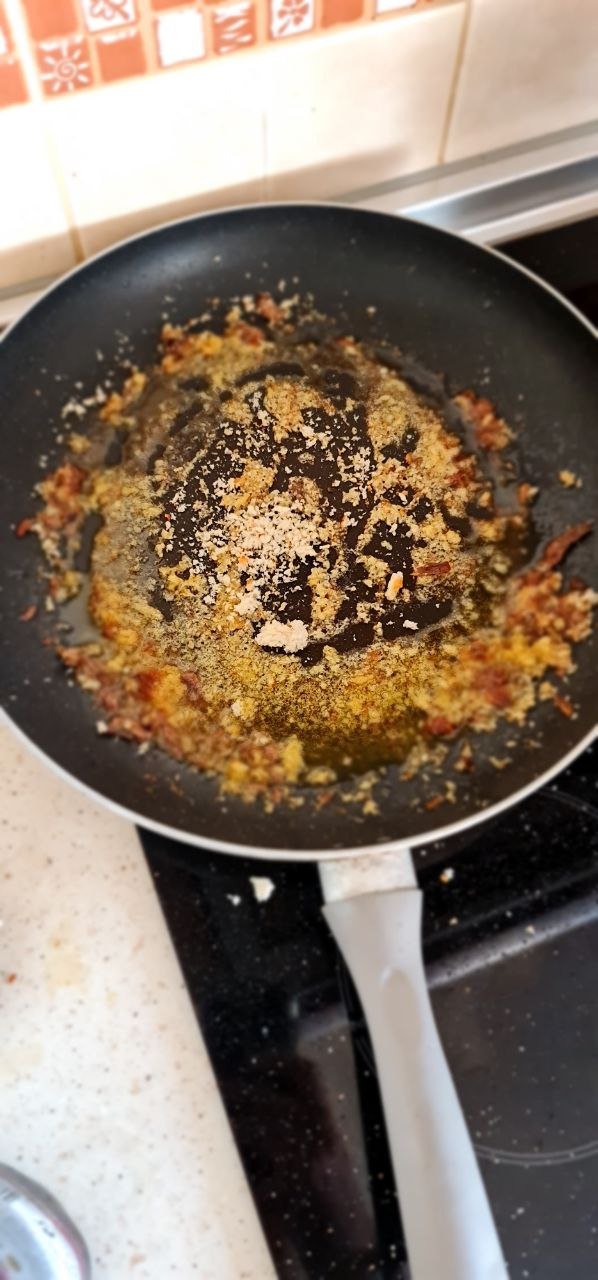 (Passo 2
Bisogna mettere i filetti di acciughe in una padella con un filo d'olio e schiacciarli per farli sciogliere.)
Step3
Add the bread into anchovy and oil. Remove the bread and use the same pan to sauté with garlic, oil and chilli
(Passo3
Aggiungere il pane con le acciughe e l'olio. Togliete il pane e fate soffriggere nella stessa padella con aglio, olio e peperoncino)
Step4
Blend the cauliflower tops with a drop of cooking water and pour the cream into the pan. Cook for a minute and season with salt and pepper
(Passo4
Frullare le cime di cavolfiore con un goccio di acqua di cottura e versare la panna nella padella. Cuocere per un minuto e condire con sale e pepe)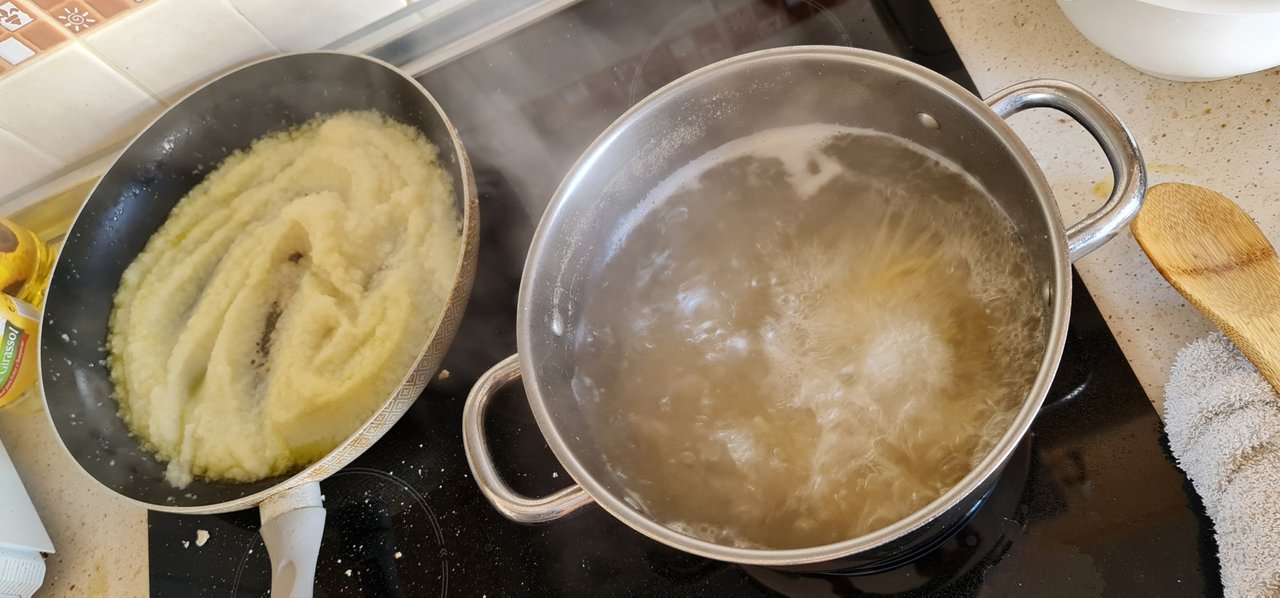 Step5
Boil the spaghetti al dente
sauté the spaghetti with garlic, chilli oil and parsley
Serve in the following order: cream, spaghetti and crispy bread
And this is the proof that the taste was so delicious
Passo5
Lessare gli spaghetti al dente
soffriggere gli spaghetti con aglio, olio al peperoncino e prezzemolo
Servire nel seguente ordine: panna, spaghetti e pane croccante
E questa è la prova che il gusto era così delizioso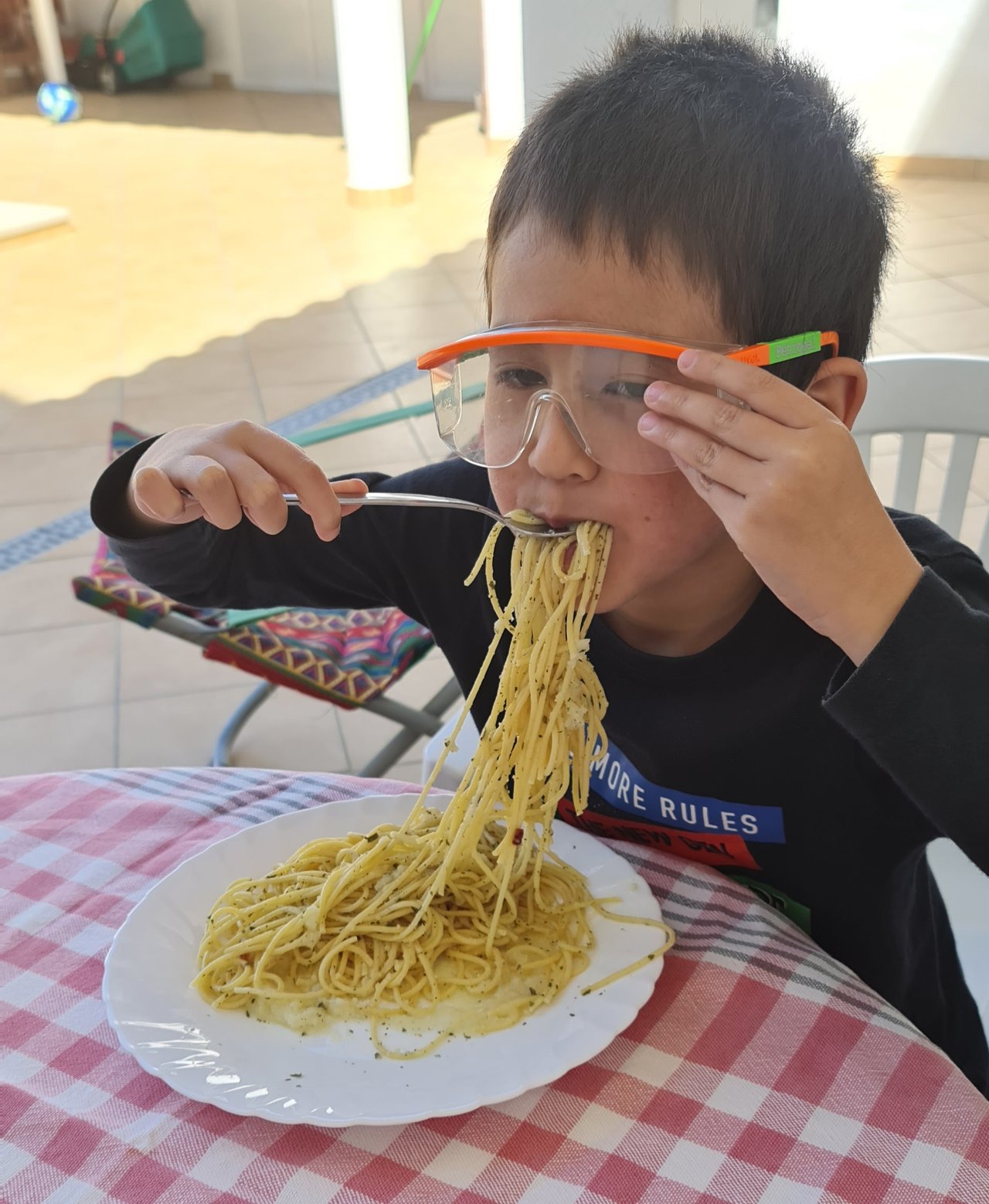 I was not going to feed it with my little one but he attacked it with a speed of the light