[IT] La prima e unica volta che sono sata ad Arco di Trento è stato un anno fa, nel Gennaio del 2020. Arco è un paradiso per gli arrampicatori. Questo paesino che dista pochi chilomentri dal lago di Garda è un polo per raggiungere le centinaia di falesie che ci si possono trovare attorno. C'è davvero l'imbarazzo della scelta per dove arrampicare, e ce n'è per tutti i gusti! Arrampicata sportiva o vie lunghe, qualsiasi sia la tua preferenza ad Arco potrai divertirti. Io solitamente pratico arrampicata sportiva, che è un tipo di arrampicata "ad un solo tiro", ovvero una volta che si è arrivati in catena si ritorna a terra. Ma ad Arco è impossibile non provare una via lunga, ovvero una via a più tiri! Così, una mattina nei primi giorni di Gennaio, ho provato a fare insieme ad una mia amica questa via lunga vista lago. Giunte al termine del primo tiro la vista era davvero mozzafiato e indimenticabile, le montagne innevate circondavano il lago di Garda, e sotto di noi la roccia e il blu dell'acqua. E proprio in questo momento ho scattato questa foto con il mio inseparabile Samsung A6 (fotocamera da 16Mpx) in cui ho immortalato ciò che i miei occhi vedevano guardando in basso: i miei piedi, l'acqua del lago, e le cime degli alberi così lontane. Solitamente soffro di vertigini a rivolgere lo sguardo in basso, ma in quel caso non ho avuto paura, mi sono solo emozionata a vedere dove ero riuscita ad arrivare con i miei piedi e le mie mani.
Questo è uno dei posti che mi porterò nel cuore, uno dei tanti posti indimenticabili dell'Italia!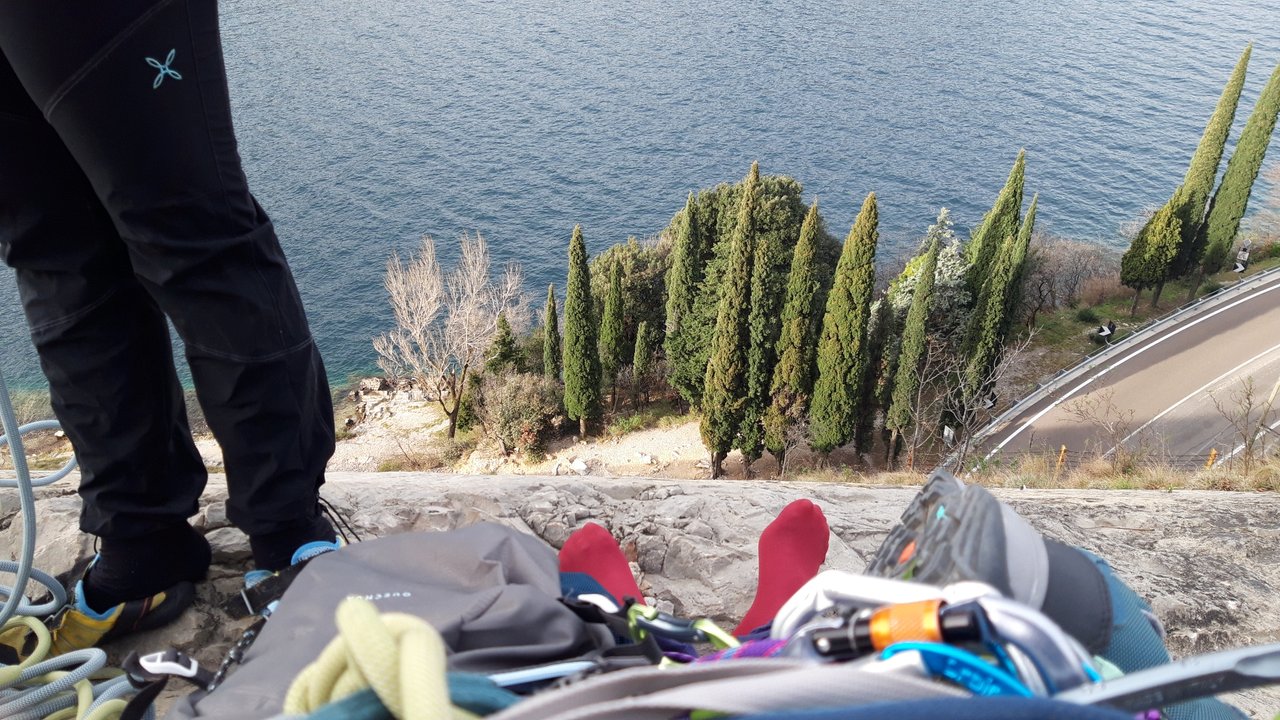 [EN] The first and only time I was in Arco di Trento was a year ago, in January 2020. Arco is a paradise for climbers. This small town, which is only a few kilometres from Lake Garda, is a hub for the hundreds of climbing crags around it. You are spoilt for choice where to climb, and there is something for everyone! Sport climbing or long routes, whatever your preference, you can have fun in Arco. I usually practice sport climbing, which is a 'one-pitch' type of climbing, meaning that once you get to the chain you return to the ground. But in Arco it is impossible not to try a long route, a multi-pitch route! So, one morning in early January, I tried this long route overlooking the lake with a friend of mine. At the end of the first pitch the view was really breathtaking and unforgettable, the snow-capped mountains surrounded Lake Garda, and below us the rock and the blue water. And it was at this very moment that I took this photo with my inseparable Samsung A6 (16Mpx camera) in which I immortalised what my eyes were seeing looking down: my feet, the water of the lake, and the tops of the trees so far away. I'm usually afraid of heights when I look down, but in this case I wasn't afraid, I was just excited to see where I could reach with my feet and hands.
This is one of the places I will carry in my heart, one of the many unforgettable places in Italy!