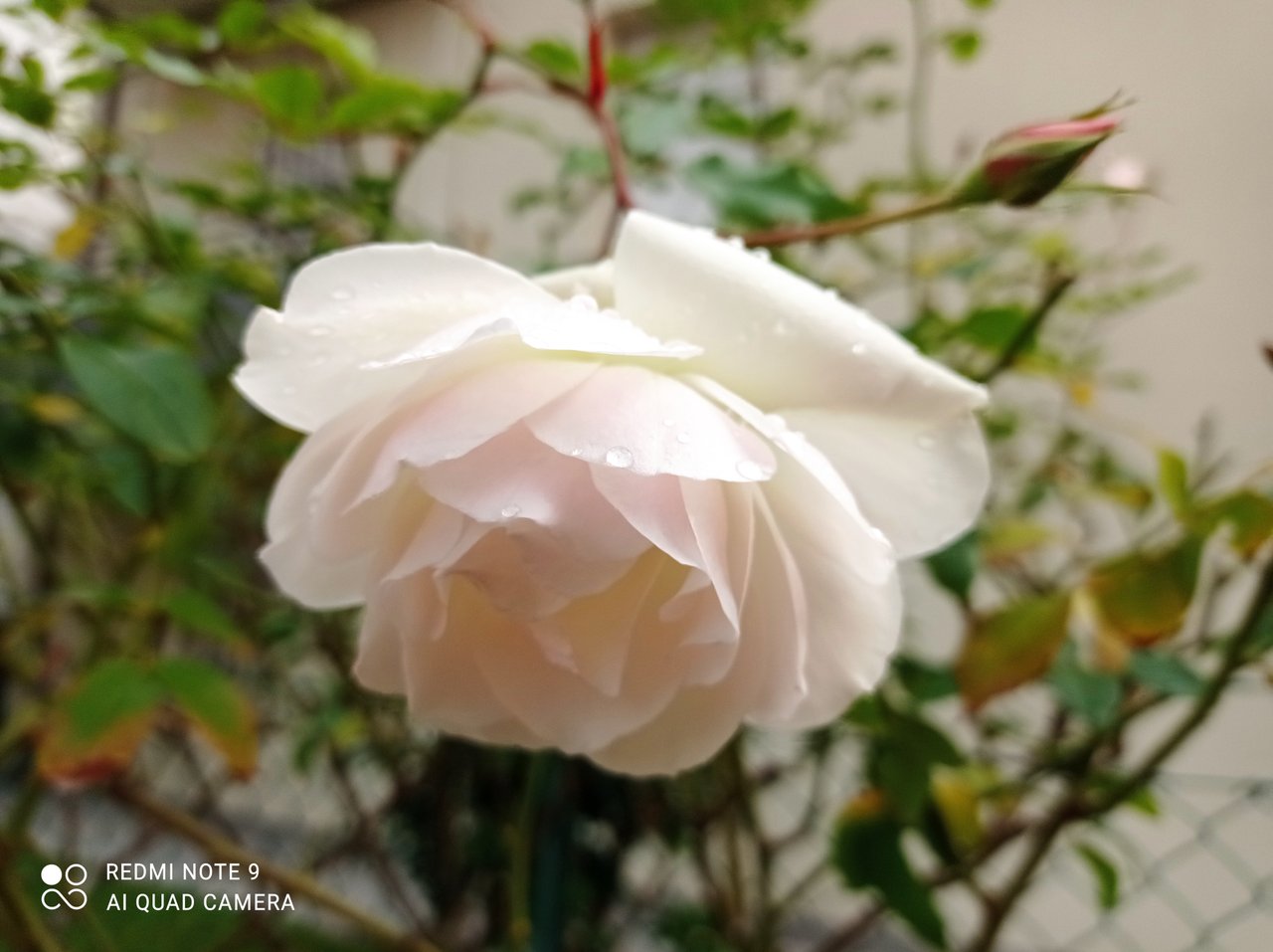 I can't resist, this rose plant, which continues to churn out beautiful white roses, I had to immortalize it with a shot, because this rose, in my humble opinion, is really too beautiful...
It was just bent forward, due to the heavy rain that had fallen until a few tens of minutes before, but very fascinating, my smartphone more than that fails to do justice to its splendor, but, all in all, I think it has done a decent job at least...
Stairs cleaning day today, together with tomorrow morning, there were 5 of them, 3 of which were done alone, so when I finished the last stroke of the rag my back had a good start, but in the afternoon I already knew that I I would be rested, in some ways by luck, in others by bad luck, in the sense that I would like to carry out what should be my main profession, that of retailer of products for bars and restaurants, but yet another, small, blow has arrived...
Emilia-Romagna has been declared an orange zone until January 15, so bars and restaurants are closed, only the takeaway service will work, it was to be expected, due to an overall situation that is still very problematic...
I am continuing to tighten my belt, but by now it pulls that you withdraw there is not much left to hold on to, I have not yet understood if my category will enjoy the famous state refreshments, my accountant is on vacation until Sunday, Monday I'll send a nice message to understand if it will be a total ruin or a half ruin...
I really hope that all this can be unlocked as soon as possible, although I fear that, despite the start of the administration of vaccines, it will take several months for us to think even vaguely of a sort of normalization of the covid issue, hoping that everything goes well, there are still many nebulous areas, not clear, which can deviate a lot from the forecasts of the experts in the sector...
I'm part of the @Italygame Team together with @mikitaly, @sardrt, @ilnegro and @girolamomarotta
All the photos are of my property, taken by my phone
---
Versione Italiana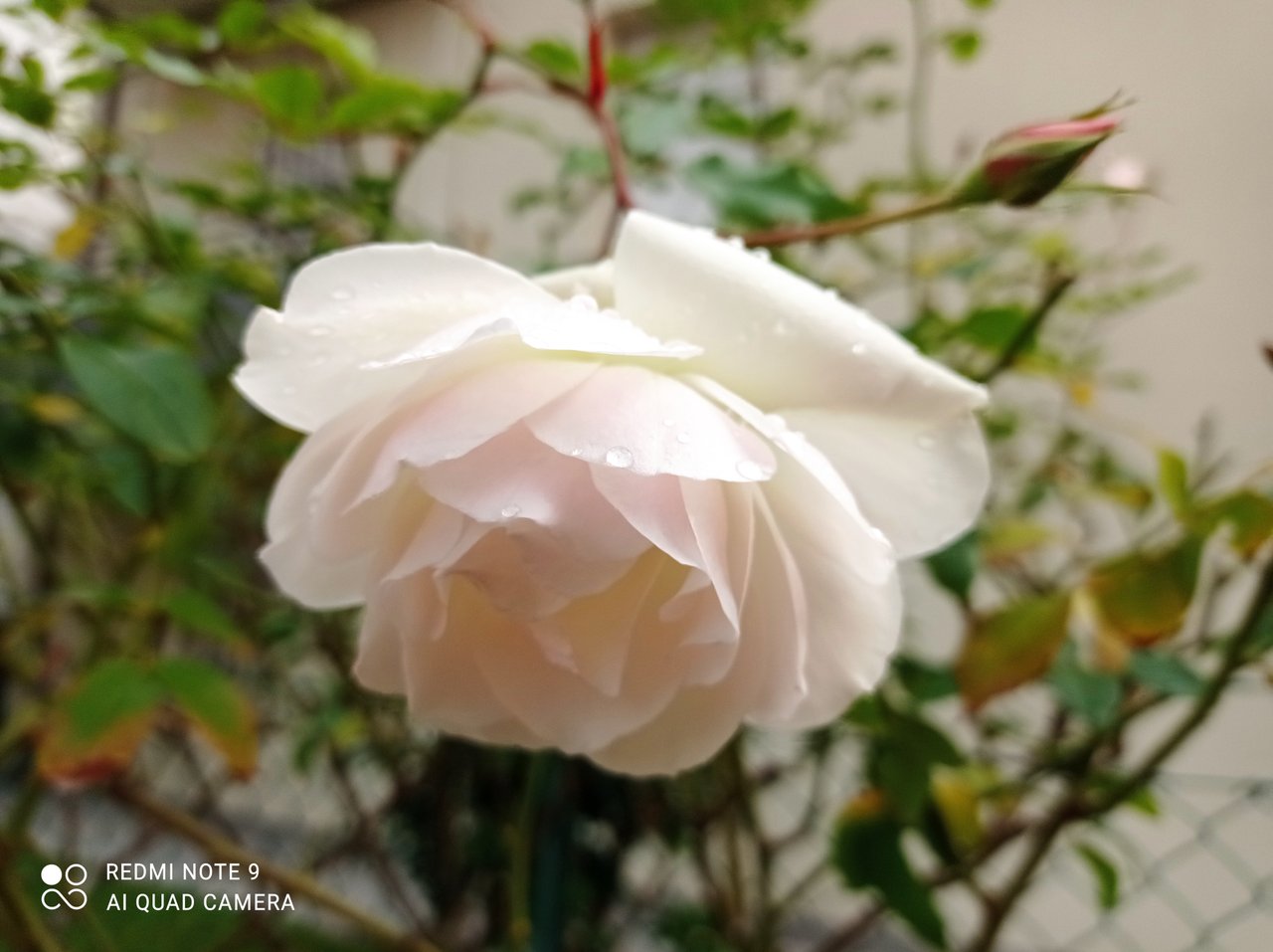 Non resisto, questa pianta di rose, che continua a sfornare stupende rose bianche, ho dovuto immortalarla con uno scatto, perché questa rosa, a mio modesto avviso, è davvero troppo bella...
Era appena appena chinata in avanti, a causa della pioggia abbondante che era caduta fino a qualche decina di minuti prima, ma molto fascinosa, il mio smartphone più di così non riesce a rendere giustizia al suo splendore, ma, tutto sommato, penso che abbia fatto un lavoro per lo meno decente...
Giornata di pulizia delle scale oggi, insieme alla mattinata di domani, erano ben 5, di cui 3 fatte in solitaria, per cui quando ho ultimato l'ultimo colpo di straccio la schiena ha avuto un bel sussulto, ma nel pomeriggio sapevo già che mi sarei riposato, per certi versi per fortuna, per altri per sfortuna, nel senso che mi piacerebbe svolgere quella che dovrebbe essere la mia professione principale, quella di rivenditore di prodotti per bar e ristoranti, ma è arrivata l'ennesima, piccola, mazzata...
L'Emilia-Romagna è stata dichiarata fino al 15 gennaio zona arancione, per cui bar e ristoranti sono chiusi, funzionerà solamente il servizio di asporto, c'era da aspettarselo, a causa di una situazione complessiva che è ancora molto problematica...
Sto continuando a tirare la cinghia, ma ormai tira che ti ritira non è rimasto tanto al quale aggrapparsi, non ho ancora ben capito se la mia categoria godrà dei famosi ristori statali, il mio commercialista è in ferie fino a domenica, lunedì gli manderò un bel messaggio per capire se sarà una rovina totale o una mezza rovina...
Mi auguro veramente che tutto questo si possa sbloccare al più presto, anche se temo che, nonostante la partenza della somministrazione dei vaccini, occorreranno diversi mesi affinché si possa pensare anche vagamente a una sorta di normalizzazione della questione covid, sperando poi che tutto vada bene, ancora ci sono tante zone nebulose, non chiare, che possono far scostare di parecchio le previsioni degli esperti del settore...
Vi ricordo che io, @mad-runner, sono uno dei 5 componenti della squadra @ItalyGame, composta dal sottoscritto, @sardrt, @girolamomarotta, @ilnegro e @mikitaly.
Tutte le foto sono di mia proprietà, scattate con il mio telefono