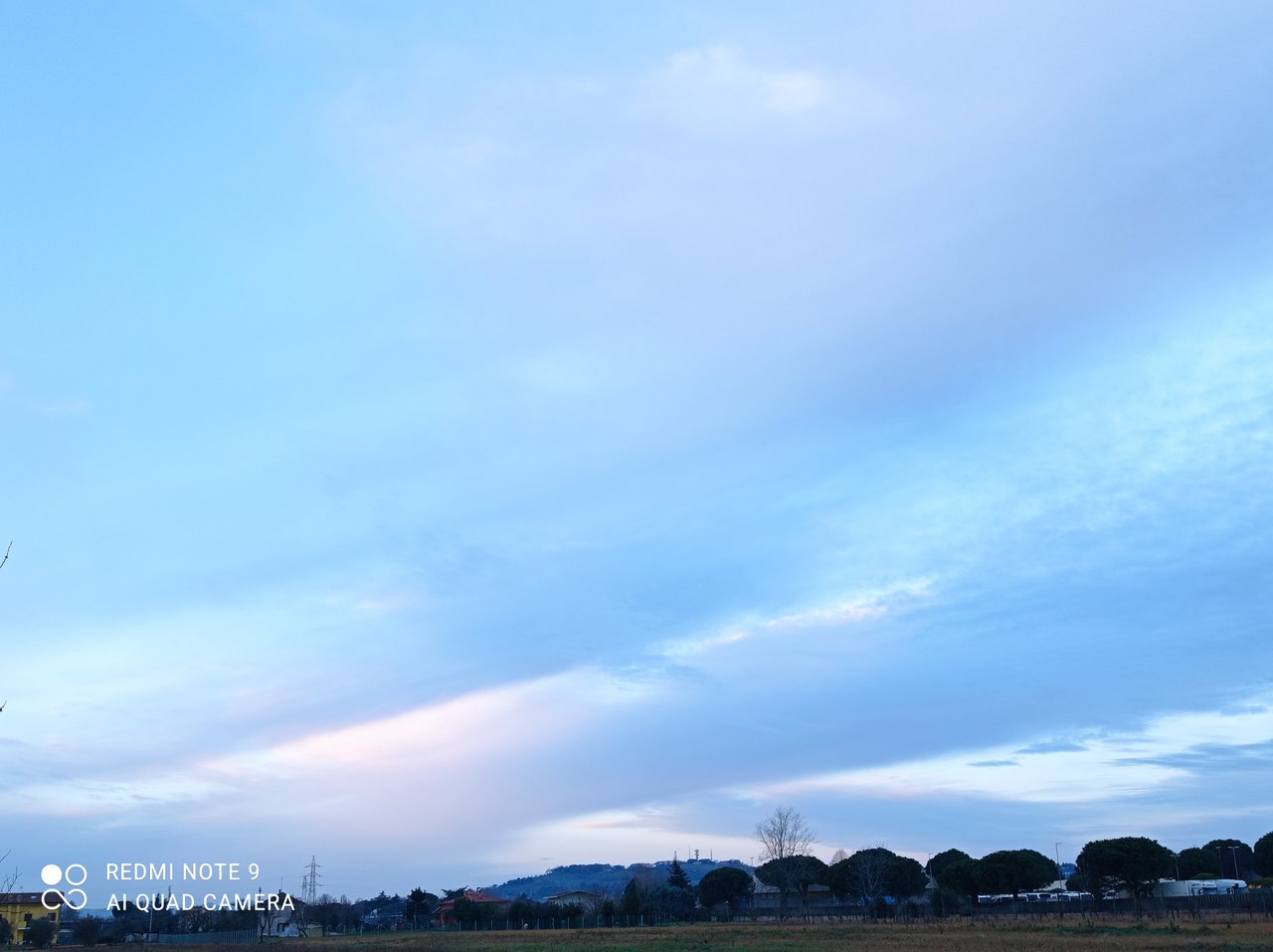 This is the image that appeared before my eyes, when I went to my car to go and clean my stairs, as usual on Friday morning...
A super-disturbance had to arrive, that a good chance of snow even in the plains, a great cold from Eastern Europe, which was largely denied, and fortunately, from a day that was all in all acceptable, from the weather point of view...
Of course, cold was cold, as even today (Hurray !!!) I took a good half hour of walking, with only two breaks to take a couple of photos, which will end up on appics, which allowed me, to immediately recover the detachment accumulated by my partner, to do two strokes of running, also very useful for varying the intensity of physical effort and to momentarily raise my heart rate...
I am paying particular attention to being as constant as possible, in my exits of motor activity, fundamental, especially at the beginning, never give up, because many times, in recent years, I have started a path of recovery of physical movement, and then miserably shipwreck at the first difficulties, it is not said that this time I will succeed, but the imperative is to try at all costs, I am paying a very high price for my prolonged inactivity, with an increase in weight that is really worrying...
This morning I also ended up on the scale, so I wanted to check if there was even a slight deviation from the last weight I had detected, but it has great reliability, because it was only a few days, I must say that I have seen (still with a question mark ...) a drop of about half a kg, also considering the fact that I had done a couple of days of controlled caloric regimen, so that half kg should be official and effective, in any case I have to insist and go on, the road is still long, if I then wanted to return to a certain type of weight that goes through my head, dating back to about ten years ago, we can say that I have not even left!!!
I'm part of the @Italygame Team together with @mikitaly, @sardrt, @ilnegro and @girolamomarotta
All the photos are of my property, taken by my phone
---
Versione Italiana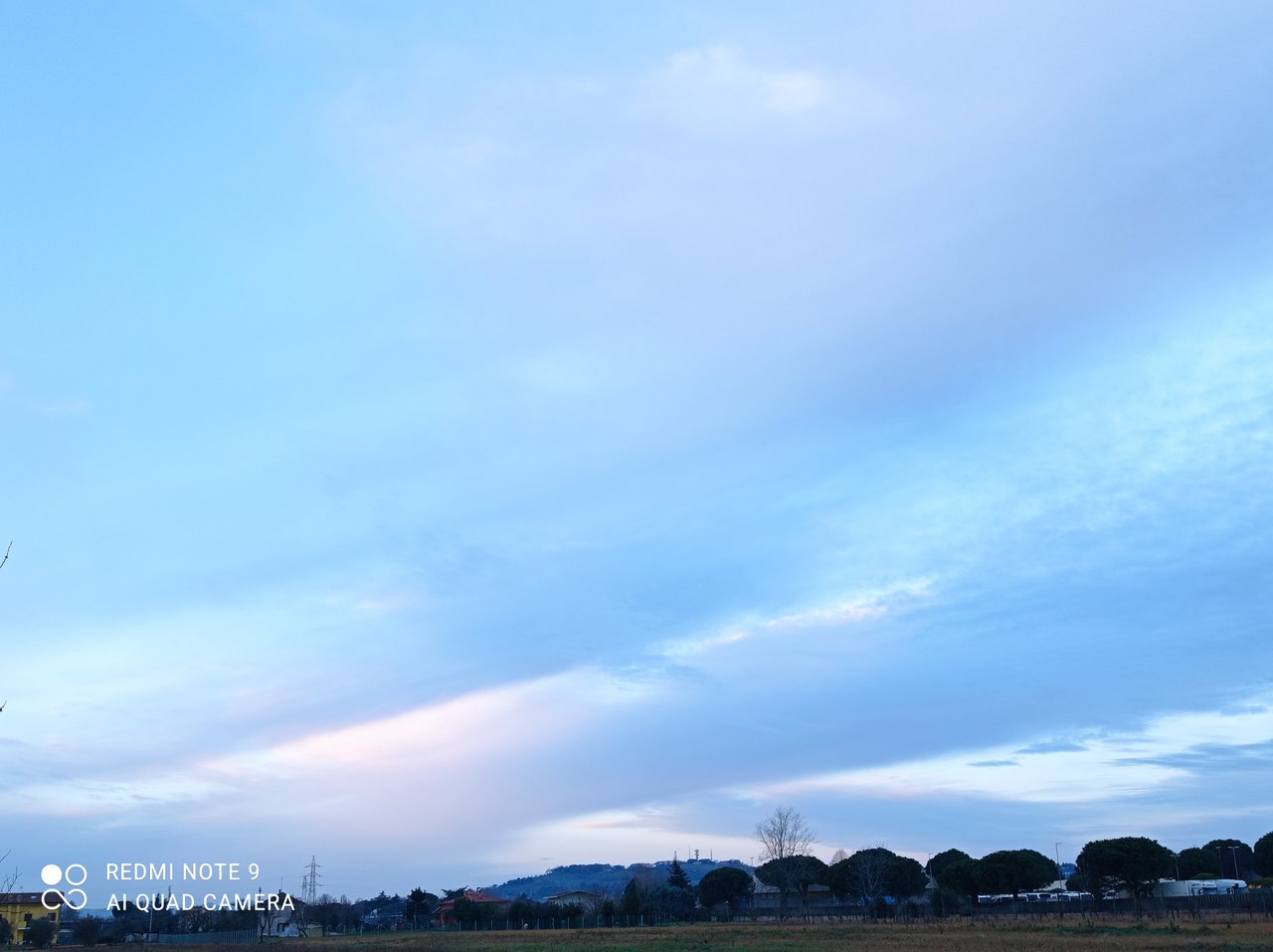 Questa è l'immagine che si presentava ai miei occhi, quando sono andato verso la mia vettura per andare a pulire, come di consueto nella mattinata di venerdì, le mie scale...
Doveva arrivare una super-perturbazione, che buona probabilità di neve anche in pianura, un grande freddo dall'Est Europeo, fatto abbondantemente smentito, e per fortuna, da una giornata tutto sommato accettabile, dal punto di vista meteo...
Certo, freddo è stato freddo, in quanto anche oggi (Hurrah!!!) mi sono fatto una buona mezz'ora di camminata, con due sole pause per scattare un paio di fotografie, che finiranno su appics, che mi hanno consentito, per recuperare immediatamente il distacco accumulato dalla mia compagna, di fare due tratti di corsa, utilissimi anche per variare l'intensità dello sforzo fisico e per innalzare momentaneamente la mia frequenza cardiaca...
Sto prestando particolare attenzione ad essere il più costante possibile, nelle mie uscite di attività motoria, fondamentale, soprattutto all'inizio, non mollare mai, perché tantissime volte, negli ultimi anni, ho iniziato un percorso di ripresa di movimento fisico, per poi miseramente naufragare alle prime difficoltà, non è detta che questa volta ce la faccia, ma l'imperativo è di provarci a tutti i costi, sto pagando un prezzo molto salato per la mia prolungata inattività, con un aggravio di peso che si sta veramente facendo preoccupante...
Questa mattina sono pure finito sulla bilancia, volevo così, verificare se c'era stato anche un leggero scostamento dall'ultimo peso che avevo rilevato, ma ha una grande attendibilità, perché erano solamente pochi giorni, devo dire che ho visto (ancora con un punto interrogativo...) un calo di circa mezzo kg, considerando anche il fatto che avevo fatto un paio di giorni di regime calorico controllato, per cui quel mezzo kg dovrebbe essere ufficiale ed effettivo, in ogni caso devo insistere e andare avanti, la strada è ancora lunga, se poi volessi ritornare a una certa tipologia di peso che mi passa per la testa, risalente a una decina di anni fa, si può dire che non sono nemmeno partito!!!
Vi ricordo che io, @mad-runner, sono uno dei 5 componenti della squadra @ItalyGame, composta dal sottoscritto, @sardrt, @girolamomarotta, @ilnegro e @mikitaly.
Tutte le foto sono di mia proprietà, scattate con il mio telefono