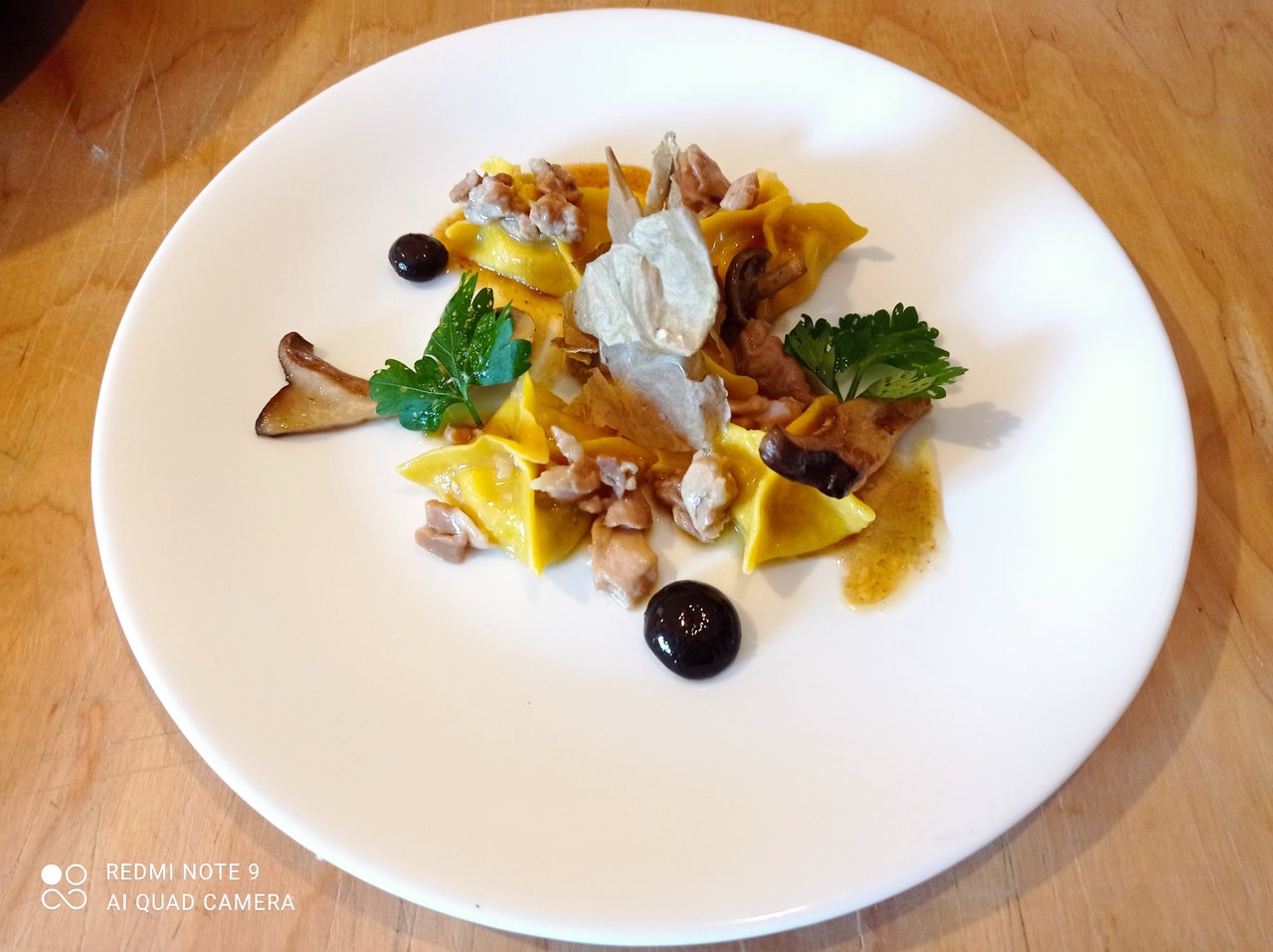 Isn't this dish nice? Targeted relentlessly by closures and lock-downs somewhere, the creativity of the family expert will have to vent, and then he has given himself to the creation, to his whim and inspiration, of a dish like the one you see in the shot that I enclose in today...
The taste?? Sublime, really, if I have to make a criticism I do not spare it, but when it puts itself at a good pace, it levels up and works like this one come out, of a much higher level ...
I also think I deserved a dish like this a bit, because this morning I cleaned 4 stairs, with the welcome presence of the sun, but the temperature dropped a lot, it was just above zero degrees centigrade and a light but glacial cold wind, which contributed, and not a little, to making everything even more difficult to bear...
Luckily I had remembered to put a nice homemade wool skullcap on my head, otherwise I would have really run the risk of my ears falling out, I tried a couple of times to take it off but I put it back very quickly...
A negative fact happened, actually, I had to jump, cause a jump to the Hypermarket to make a quick integration expense to the one made 2 days ago, my daily motor activity, not that I have not moved, between the stairs and the back and forth of shopping at the big Hyper, but walking and constant physical exercise have an even higher value, so there is a bit of regret, for having had to raise the white flag in that sense, you could rightly to say that I had the afternoon available, but the visit of a friend blocked me further at home, so I lowered my motor sights, but I must go tomorrow!!!
Well, dear boys and girls, that's all for today, it's 9:30 p.m. to the clock of my laptop, I leave you my most sincere and heartfelt wishes for a good weekend, I just hope it will be a little less cold than today, but I see it hard...
I'm part of the @Italygame Team together with @mikitaly, @sardrt, @ilnegro and @girolamomarotta
All the photos are of my property, taken by my phone
---
Versione Italiana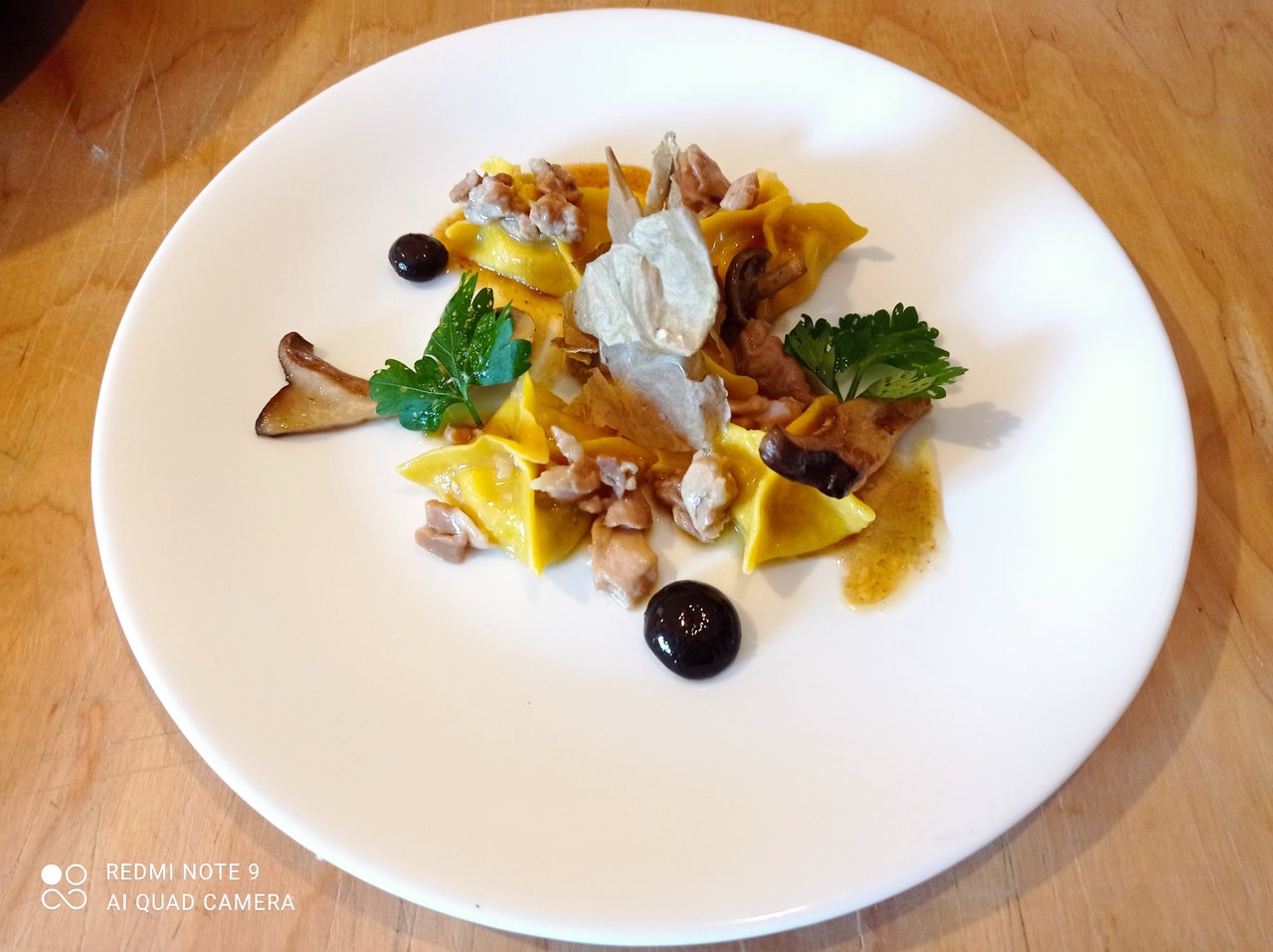 Bello vero questo piatto?? Bersagliati senza tregua da chiusure e lock-down da qualche parte la creatività dell'esperto di famiglia si dovrà pur sfogare, e allora si è dato alla creazione, a suo sfizio ed estro, di un piatto come quello che vedete nello scatto che allego in data odierna...
Il gusto?? Sublime, davvero, se devo fare una critica non la risparmio, ma quando si mette di buona lena, sale di livello e vengono fuori lavori come questo, di livello decisamente superiore...
Penso anche di essermelo un po' meritato un piatto del genere, perché questa mattina mi sono pulito 4 scale, con la gradita presenza del sole, ma la temperatura è precipitata parecchio, eravano di poco sopra i zero gradi centigradi e soffiava pure un leggero ma glaciale vento freddo, che contribuiva, e non poco, a rendere il tutto ancora più difficilmente sopportabile...
Fortunatamente mi ero ricordato di mettere in testa una bella papalina di lana fatta in casa, altrimenti avrei corso veramente il rischio che mi cadessero le orecchie, ho provato un paio di volte a togliermela ma l'ho rimessa velocissimamente...
Un fatto negativo occhi è successo, effettivamente, ho dovuto saltare, causa un salto all'Ipermercato per fare una veloce spesa di integrazione a quella fatta 2 giorni fa, la mia attività motoria quotidiana, non che non mi sia mosso, tra le scale e l'avanti e indietro della spesa al grande Iper, ma la camminata e l'esercizio fisico costante hanno una valenza ancora superiore, per cui un po' di rammarico c'è, per aver dovuto alzare bandiera bianca in quel senso, voi potreste giustamente dire che avevo a disposizione il pomeriggio, ma la visita di un amico mi ha bloccato ulteriormente a casa, per cui ho abbassato le mire motorie, ma domani devo andare assolutamente!!!
Bene, cari ragazzi e ragazze, per oggi è tutto qui, sono le 9 e 30 p.m. all'orologio del mio computer portatile, vi lascio i miei più sinceri e sentiti auguri di un buon fine settimana, mi auguro solamente che sia un po' meno freddo rispetto ad oggi, ma la vedo dura...
Vi ricordo che io, @mad-runner, sono uno dei 5 componenti della squadra @ItalyGame, composta dal sottoscritto, @sardrt, @girolamomarotta, @ilnegro e @mikitaly.
Tutte le foto sono di mia proprietà, scattate con il mio telefono