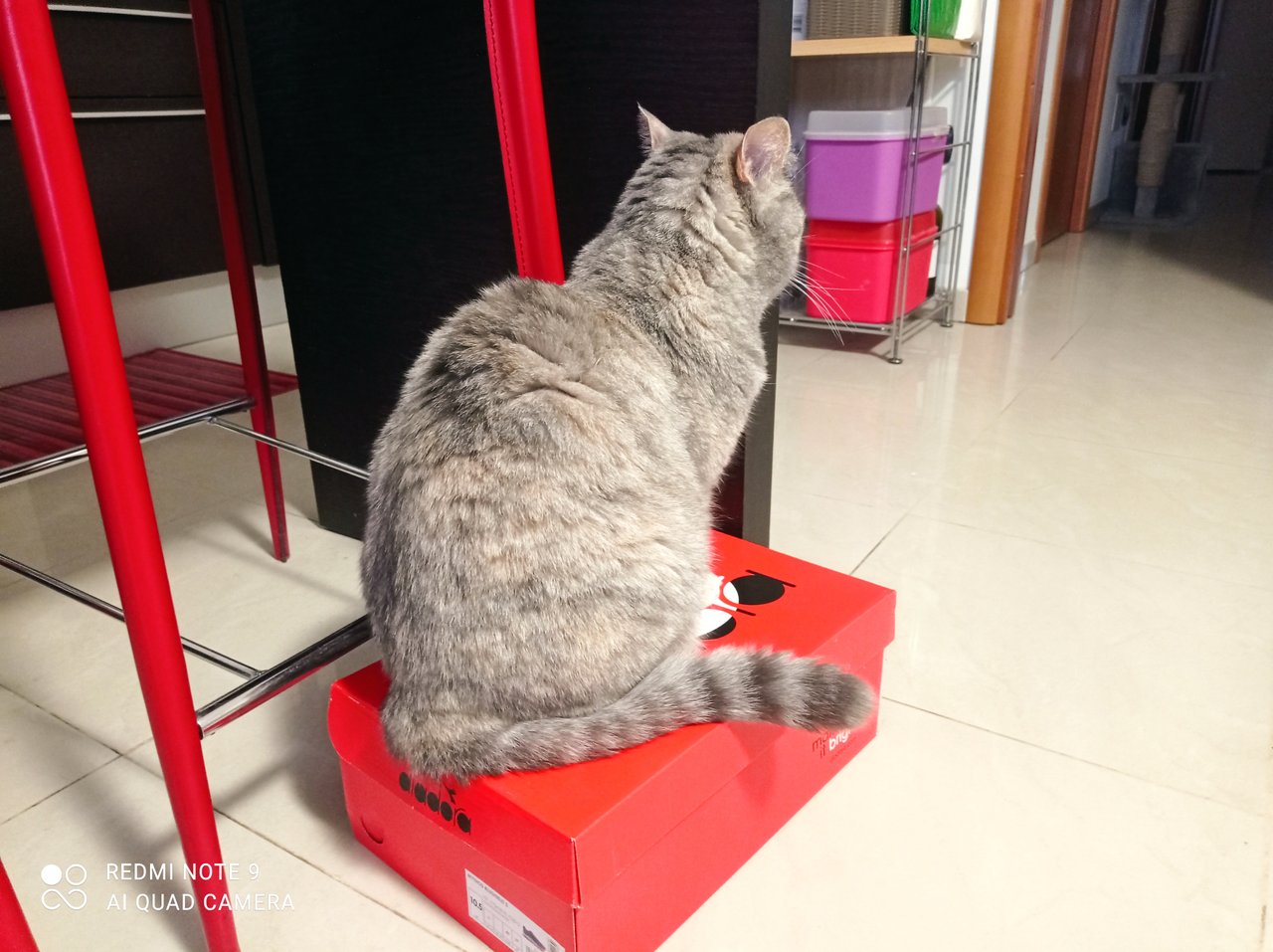 Here it is, one of my absolute passions in my life, cats, have always made me crazy, I love them, you can see, feel, feel it...
This is one of my cats, it will soon be 2 years that she is with us, and if by chance she should, I really hope, live another 10 with us, I am sure she will give me many, many satisfactions...
When I leave the house there are more times that she cries behind me, yes, you understood correctly, this one complains so much that she seems to cry, she starts to make a modulated and deep moan that looks a lot like human crying, if I come back immediately after the start of his complaints, like when I go to get something in the garage, he starts walking sideways to me, and changes his meow into a sort of reproach, emitting 3-4 meows very close together...
I give her 2 caresses and everything is sorted out, forgotten, she is a cat that does not bear a grudge at all and is not even touchy, very strange for cats, she does not exceed if she starts to play, in the sense that she does not scratch or bite excessively, on the contrary , if by chance she bites your hand with a little more enthusiasm, if I reproach her, she immediately starts licking her hand, apologizing...
It doesn't seem like it but it's hail, like the other is 10 years old, having always lived at home, she could easily double her age, before that sad day arrives, if I have to be honest, right now I really struggle to imagine a life without her (and also without the other, which has other strengths and weaknesses), we have become so used to their rhythms that they are now more than an integral part of our family...
In the shot that I attached to this post she sat on a box that contained some shoes that I brought up from the garage, I tried to make her turn, indeed, I tried to put myself on the front to take a front photo of her, strangely I don't allowed, maybe it was due to the fact that having gone down to the garage he wanted to cuddle, I was missing 5 minutes from home!!!
I'm part of the @Italygame Team together with @mikitaly, @sardrt, @ilnegro and @girolamomarotta
All the photos are of my property, taken by my phone
---
Versione Italiana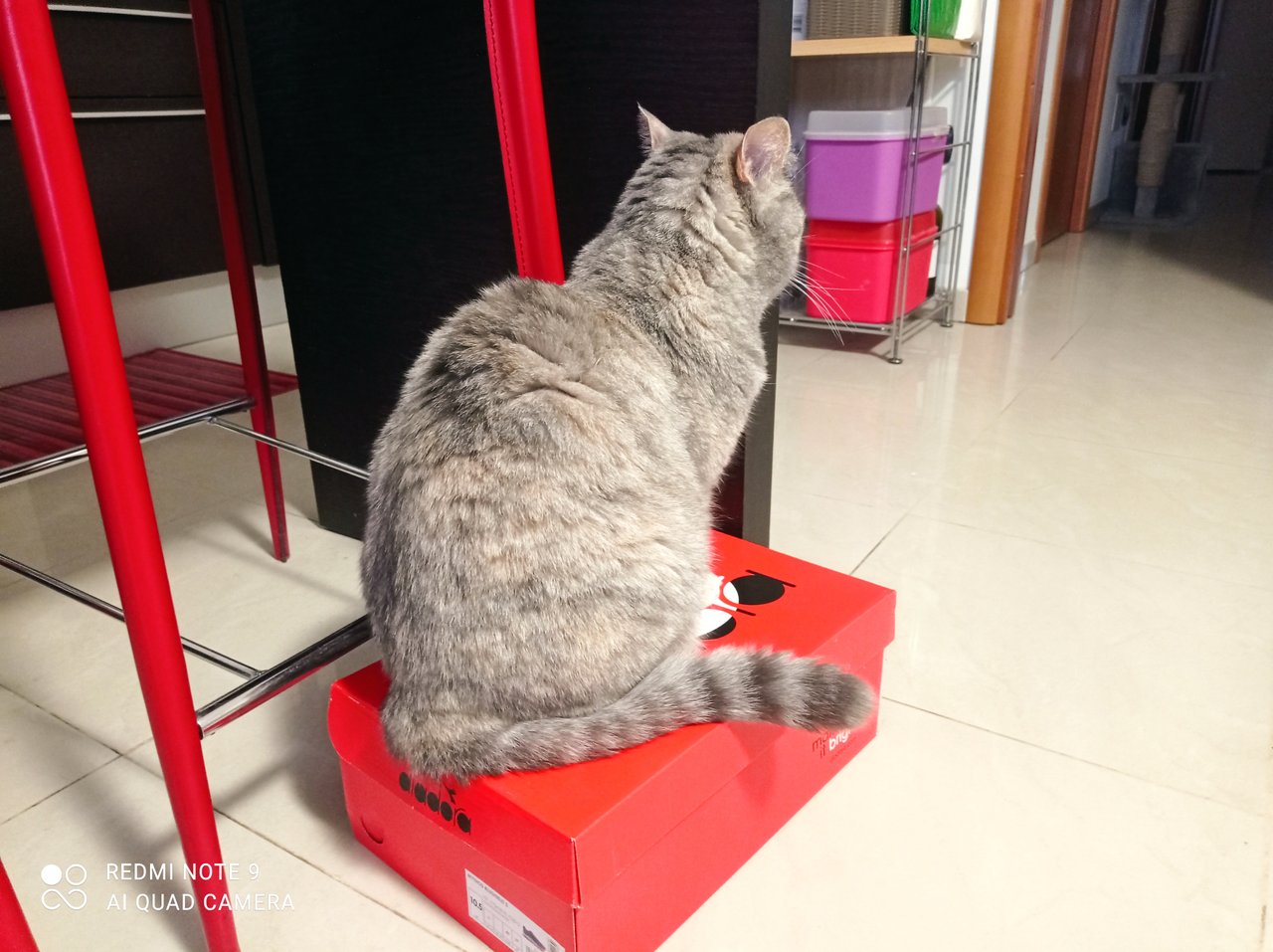 Eccola qua, una delle mie passioni assolute della mia vita, i gatti, mi fanno impazzire da sempre, li adoro, si vede, si sente, lo sentono...
Questa è una delle mie gatte, fra poco saranno 2 anni che è insieme a noi, e se per caso ne dovesse, spero tanto, vivere altri 10 con noi, sono certo che mi regalerà tante ma tante soddisfazioni...
Quando me ne vado di casa sono più le volte che mi piange dietro, sì, avete capito bene, questa si lamenta talmente tanto che sembra che pianga, si mette a fare un mugulio modulato e profondo che assomiglia tantissimo al pianto umano, se rientro subito dopo l'inizio delle sue lamentele, come quando vado a prendere qualcosa in garage, si mette a camminare di traverso rispetto a me, e cambia il suo miagolare in una sorta di rimprovero, emettendo 3-4 miao molto ravvicinati...
Le faccio 2 carezze e tutto è sistemato, dimenticato, è una gatta che non porta assolutamente rancore e non è nemmeno permalosa, fatto molto strano per i gatti, non eccede se si mette a giocare, nel senso che non graffia né morde eccessivamente, anzi, se per caso addenta la mano con un po' più di foga, se la rimprovero, si mette subito a leccare la mano, scusandosi...
Non sembra ma è grandina, come l'altra ha 10 anni, avendo vissuto sempre in casa potrebbe arrivare senza grandi problemi a raddoppiare la sua età, prima che arrivi quel tristissimo giorno, se devo essere sincero, in questo preciso momento faccio davvero fatica ad immaginare una vita senza lei (ed anche senza l'altra, che ha altri pregi e difetti), ci siamo talmente abituati ai loro ritmi che ormai fanno più che parte integrante del nostro nucleo famigliare...
Nello scatto che ho allegato a questo post si è seduta su una scatola che conteneva delle scarpe che ho portato su dal garage, ho cercato di farla girare, anzi, ho cercato di mettermi sul davanti per farle una foto frontale, stranamente non me l'ha permesso, forse era dovuto al fatto che essendo sceso in garage aveva voglia di coccole, ero mancato 5 minuti da casa!!!
Vi ricordo che io, @mad-runner, sono uno dei 5 componenti della squadra @ItalyGame, composta dal sottoscritto, @sardrt, @girolamomarotta, @ilnegro e @mikitaly.
Tutte le foto sono di mia proprietà, scattate con il mio telefono