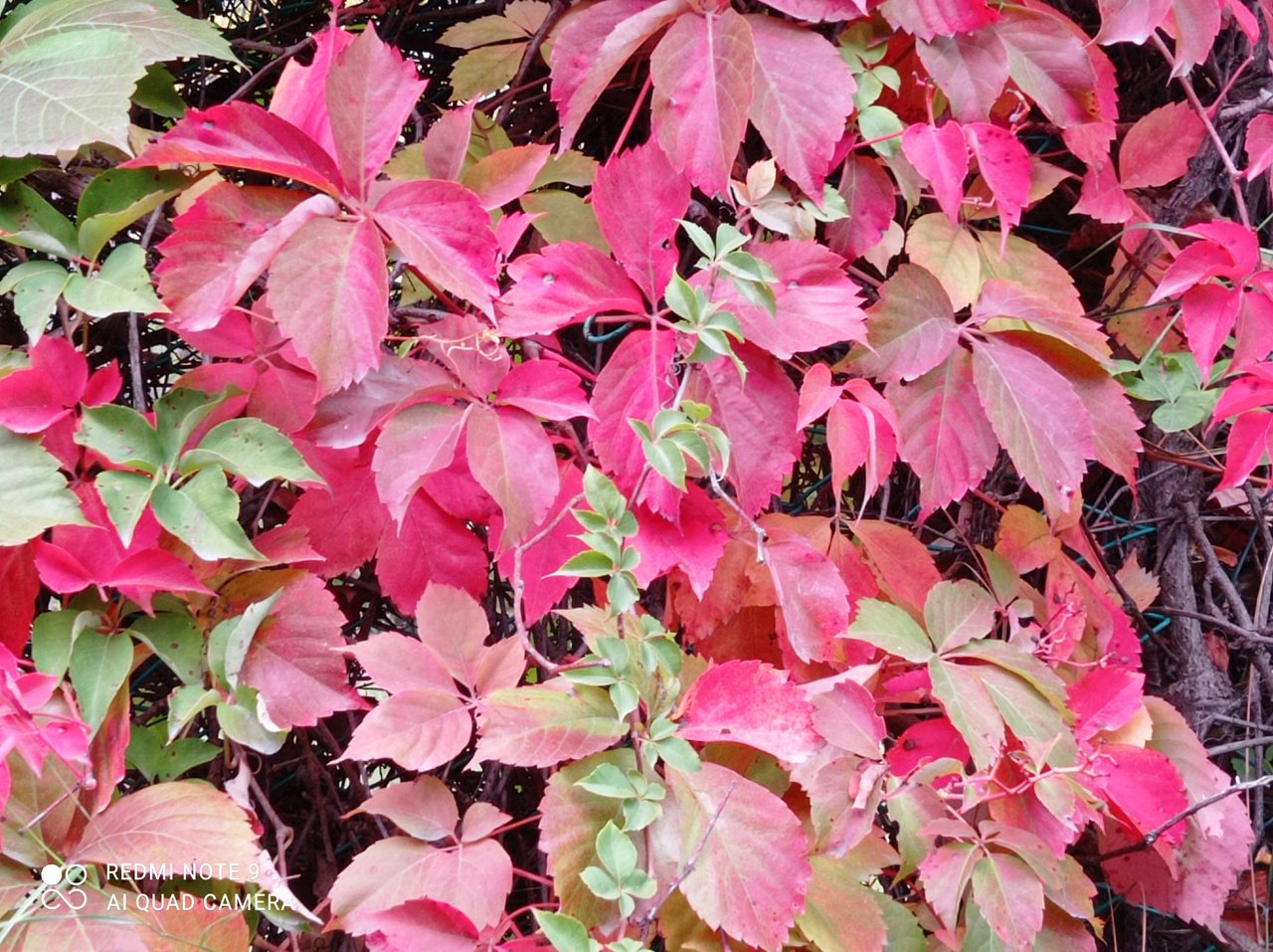 Autumn is coming, even if today we recorded temperatures, in the central hours, of temperatures close to 20 degrees, a decidedly warm and sunny climate, even if alternating with clouds, probably this fact is due to the presence of warm winds, which tomorrow they should call for rainfall, which will bring down the maximum temperatures by only a couple of degrees...
I like the colors of autumn, warm, enveloping, romantic and a little melancholy, among my absolute favorites there are certainly the shades of the leaves, those of the entrance shot are wonderful, of a scarlet color that really makes me go crazy...
These hedges are located on the sides of a wide flowing street, so I had to approach with the 4 arrows on and take a quick photograph, I think all in all it did not turn out badly, taking into account the fact that I only had a few seconds time to make it...
Sometimes inspiration comes like this, suddenly, I found myself passing through that street and inspiration came to me, a U-turn at the nearby roundabout and the game was good, honestly speaking a passer-by looked at me a bit strange, I returned without any expression, but when I saw that the glance became insistent, I squared him well and forced him to look away, basically I was not doing anything wrong, reason for what did he have to "give me" all that unwanted attention?!?!
After the realization of this photograph I went to visit 3 other customers, who added to the 2 antecedents of the early afternoon make the beauty of 5 contacts, all quite long, with a couple of orders, I am realizing that the crisis is potentially even more serious of what I had ventilated, despite not having made any optimistic predictions, but that with 2 orders I collected a total of 35 euros seems to me very little...
I remember that I, @mad-runner, am one of the 5 members of the team @ItalyGame.
All the photos are of my property, taken by my phone
---
Versione Italiana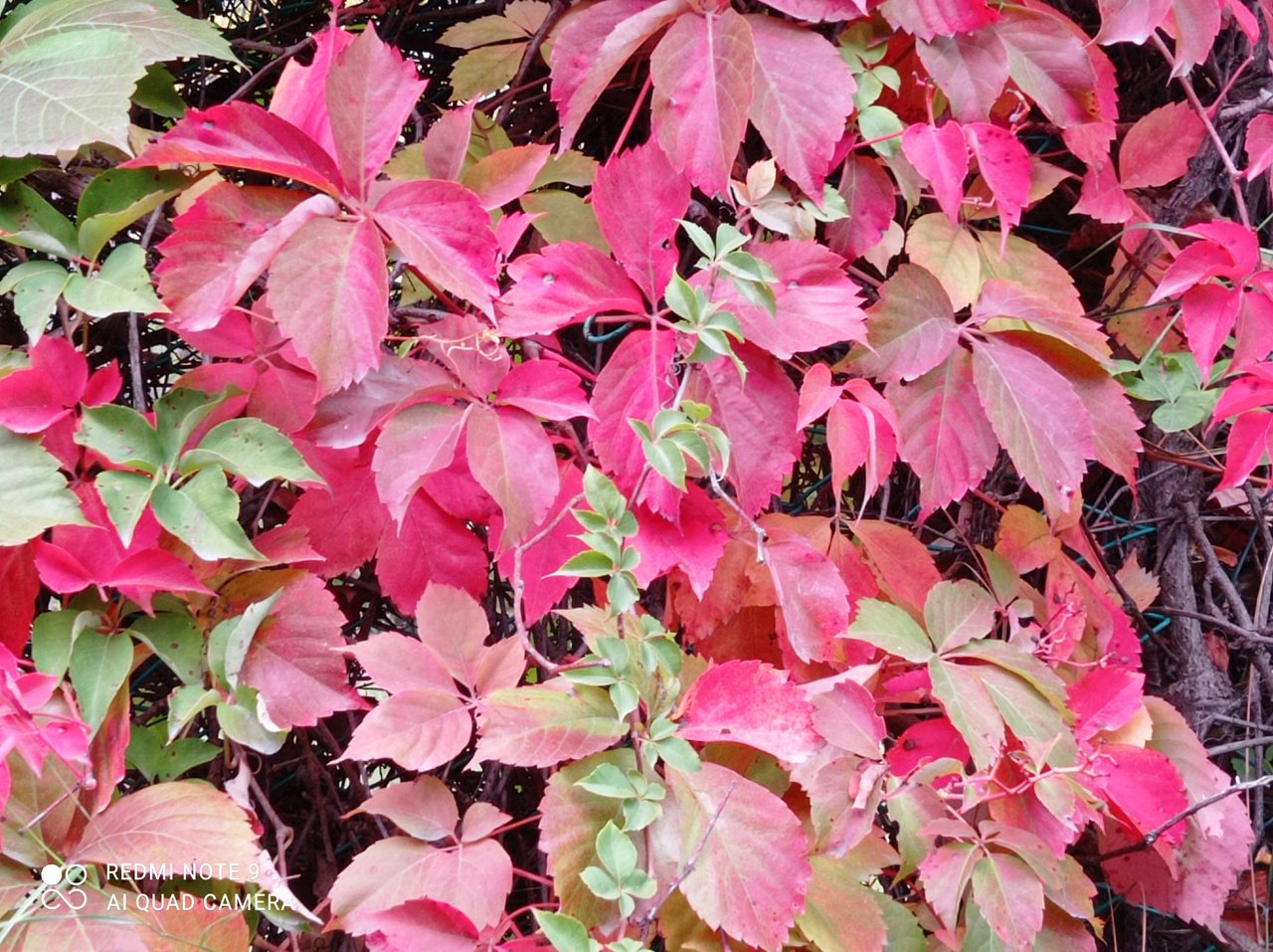 Sta arrivando l'autunno, anche se oggi abbiamo registrato una temperatura, nelle ore centrali, delle temperature prossime ai 20 gradi, un clima decisamente tiepido e soleggiato, anche se alternato alle nuovole, probabilmente questo fatto è dovuto alla presenza di venti caldi, che domani dovrebbero richiamare delle precipitazioni, che faranno scendere solo di un paio di gradi le temperature massime...
Mi piacciono i colori dell'autunno, caldi, avvolgenti, romantici e un po' malinconici, tra i miei preferiti in assoluto ci sono certamente le tonalità delle foglie, quelle dello scatto d'ingresso sono meravigliose, di un colore scarlatto che mi fa davvero impazzire...
Queste siepi si trovano ai lati di una via di largo scorrimento, per cui mi sono dovuto accostare con le 4 frecce accese e fare una veloce fotografia, penso che tutto sommato non sia venuta male, tenendo in considerazione il fatto che ho avuto solo qualche secondo di tempo per realizzarla...
Alle volte l'ispirazione arriva così, all'improvviso, mi trovavo a transitare per quella strada e mi è venuta l'ispirazione, un'inversione di marcia alla limitrofa rotatoria e il gioco era bello che fatto, sinceramente parlando un passante mi ha guardato un po' strano, ho ricambiato senza nessuna espressione, ma quando ho visto che l'occhiata si faceva insistente, l'ho squadrato ben bene e l'ho costretto a distogliere lo sguardo, in fondo non stavo facendo nulla di male, ragion per cui cosa aveva per "regalarmi" tutte quelle attenzioni indesiderate?!?!
Successivamente alla realizzazione di questa fotografia sono andato a visitare altri 3 clienti, che sommati ai 2 antecedenti del primo pomeriggio fanno la bellezza di 5 contatti, tutti abbastanza lunghi, con un paio di ordini, mi sto rendendo conto che la crisi potenzialmente è ancora più seria di quanto avevo ventilato, pur non avendo fatto nessuna previsione ottimistica, ma che con 2 ordini raccogliessi complessivamente 35 euro mi sembra davvero poco...
Vi ricordo che io, @mad-runner, sono uno dei 5 componenti della squadra @ItalyGame.
Tutte le foto sono di mia proprietà, scattate con il mio telefono