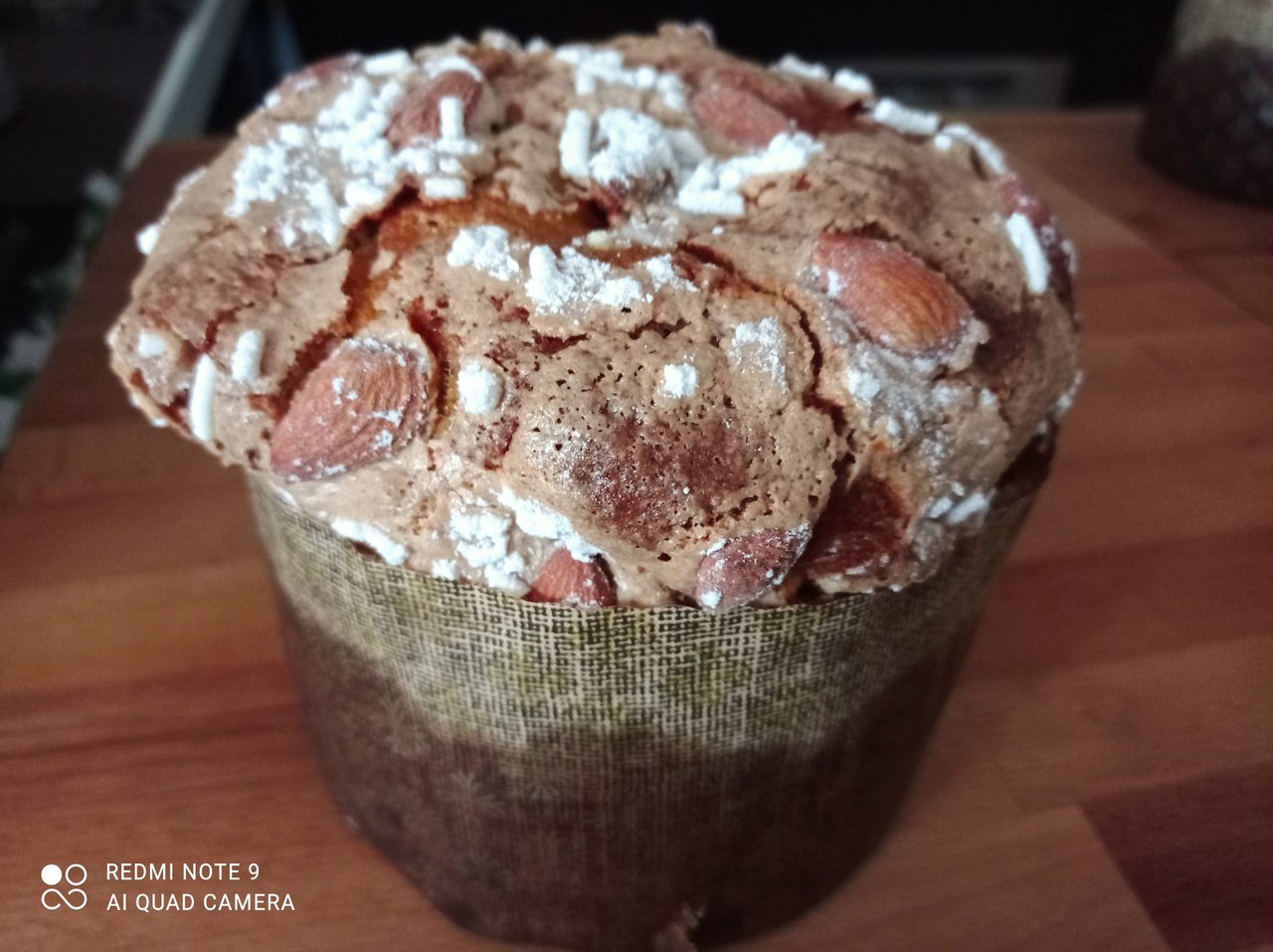 I am not the author of this homemade wonder, at most I will eat a good part of it, this is only one of the products that are produced in our home, and it represents a Christmas tradition, it is the classic Christmas panettone, the author is taking the measures to make them in series in the coming weeks, will be the prince Christmas gift, in this very particular period of our life, where the risk of returning to a sadly close past is really high...
What am I referring to ?? Logically in the nightmare of the last year, the cursed covid-19, capable of taking away our primary freedoms, which they considered sacred and inviolable, or at least we considered such, and keeping us segregated at home, which is why, among the various jokes that circulate, there is also that of brewer's yeast, flours and all the primary products that are used for the preparation of homemade foods, the Italian tradition is very rich in these things, if there is one thing that is not lacking in home is the dexterity and practice in making these delights...
I hope that they are only strong alarm bells but that they do not materialize in real measures, but the danger is concrete, unfortunately I have the feeling that we are implementing the tactic of making more and more stringent measures in succession, until the final blow arrives, which it could be that of more or less total lock-down...
Of one thing, at least, we can be sure, that, as long as we have a euro in our pocket to buy a kg of flour, we will not die of hunger, hoping that even remedying that single euro will not become a problem, with this step, at least for what concerns my category of self-employed, it doesn't get very far...
Excuse this wave of pessisism, I've been breathing more and more depressing air all week, apart from a few very rare exceptions, when I go to visit my clients...
I remember that I, @mad-runner, am one of the 5 members of the team @ItalyGame.
All the photos are of my property, taken by my phone
---
Versione Italiana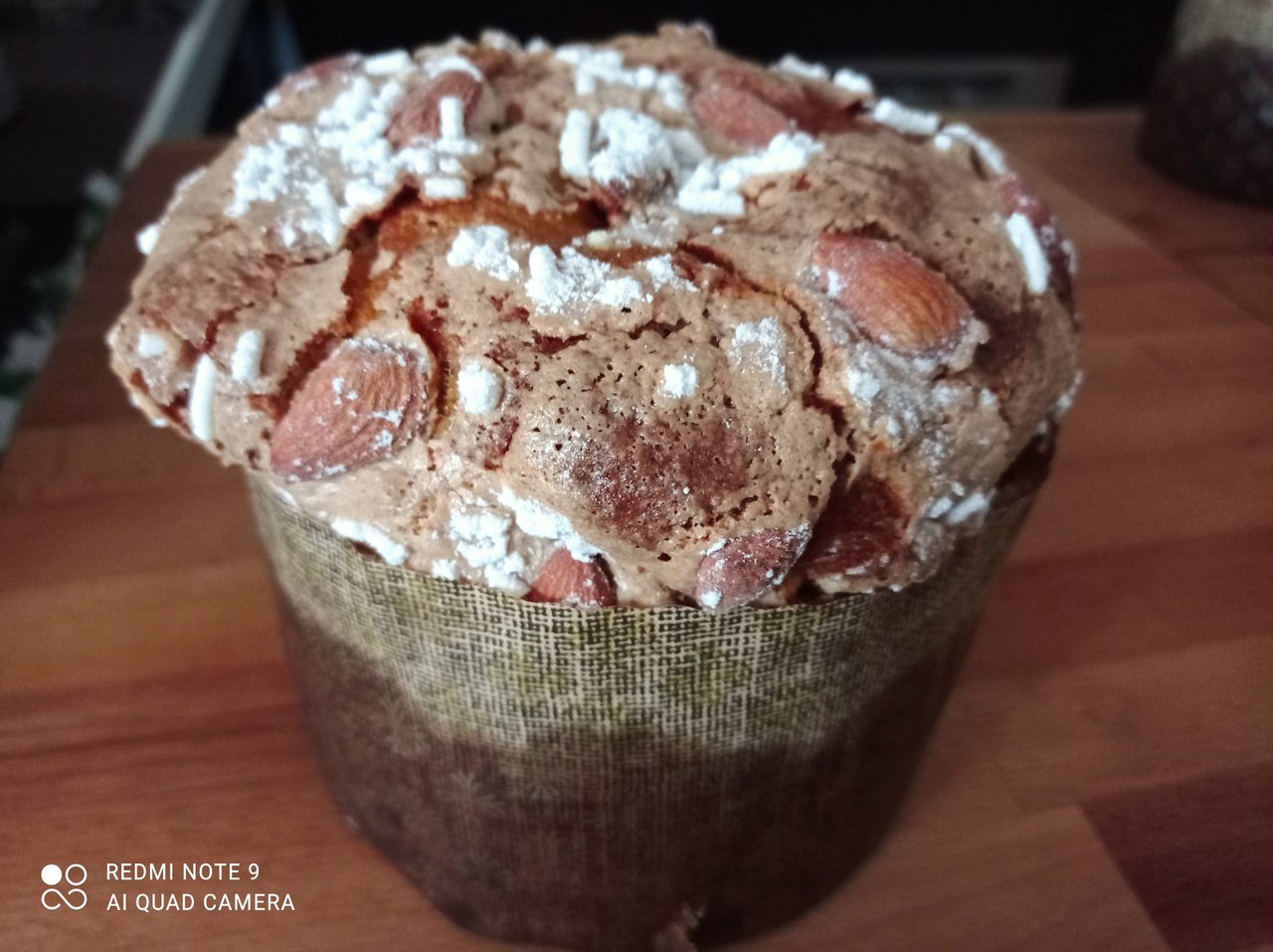 Non sono io l'autore di questa meraviglia casalinga, io al massimo ne mangerò una buona parte, questo è solamente uno dei prodotti vengono prodotti nella nostra abitazione, e rappresenta una tradizione natalizia, è il classico panettone natalizio, l'autore sta prendendo le misure per farne in serie nelle prossime settimane, saranno il principe regalo natalizio, in questo periodo molto particolare della nostra vita, dove il rischio di ritornare a un passato tristemente vicino è davvero alto...
A cosa mi sto riferendo?? Logicamente all'incubo di quest'ultimo anno, il maledetto covid-19, capace di toglierci le primarie libertà, che consideravano come sacre e inviolabili, o almeno ritenevamo tali, e tenerci segregati in casa, ragion per cui, tra le varie battute che circolano, c'è anche quella del lievito di birra, delle farine e di tutti i prodotti primari che servono per la preparazione degli alimenti fatti in casa, la tradizione italiana è ricchissima di queste cose, se c'è una cosa che non manca in casa è la manualità e la pratica nel realizzare queste delizie...
Mi auguro che siano solamente dei forti campanelli di allarme ma che non si concretizzino in reali provvedimenti, ma il pericolo è concreto, purtroppo ho la sensazione che stiamo attuando la tattica di fare provvedimenti in successione sempre più stringenti, finché arriverà la mazzata finale, che potrebbe essere quella del lock-down più o meno totale...
Di una cosa, almeno, possiamo essere sicuri, che, finché avremo un euro in tasca per comprare un kg di farina, di fame non moriremo, sperando che non diventi un problema anche rimediare quel singolo euro, con questo passo, almeno per quello che concerne la mia categoria di lavoratori autonomi, non si fa molta strada...
Scusate questa ondata di pessisismo, è tutta la settimana che sto respirando un'aria sempre più deprimente, a parte qualche rarissima eccezione, quando vado a visitare i miei clienti...
Vi ricordo che io, @mad-runner, sono uno dei 5 componenti della squadra @ItalyGame.
Tutte le foto sono di mia proprietà, scattate con il mio telefono