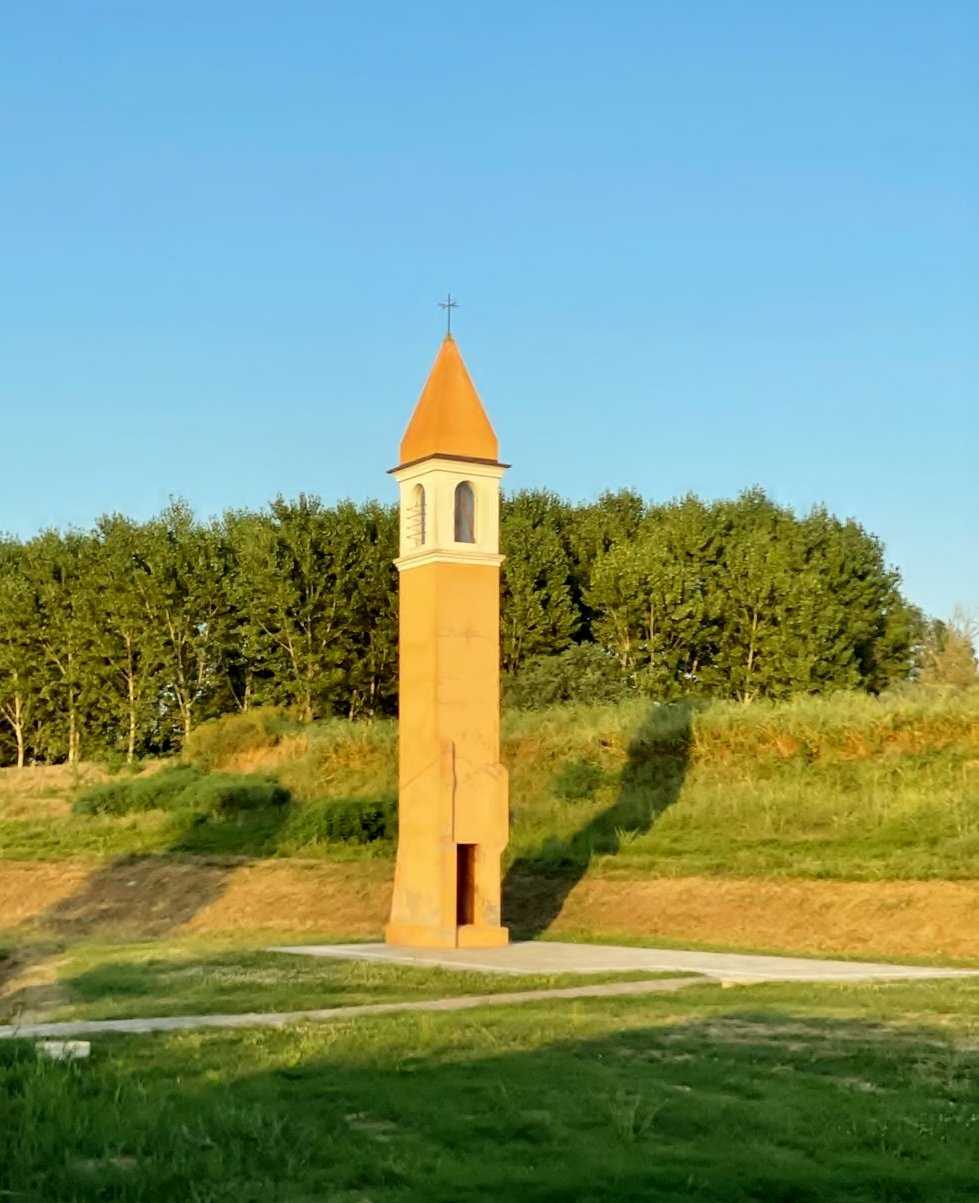 Ciao a tutti miei cari oggi vi spiegherò la scoperta che ho fatto l'altro giorno camminando lungo l'argine e questo grazie un signore che mi ha spiegato un po' la storia di questo campanile.
Ogni tanto vado a camminare in queste zone ,il campanile l'ho sempre visto lì, ma non ci ho mai dato bado poi l'altro giorno ho incontrato un signore che gentilmente mi ha spiegato come mai si trovava in quella zona lì dell'argine.
Praticamente la chiesa che era a fianco di questo campanile è stato distrutta per l'allargamento dell'argine e praticamente da questo demolizione si è salvato solo il campanile che tra l'altro è stato restaurato da parte della regione e alla fine recuperato.
Per chi fosse interessato a farci una visita, il campanile praticamente si trova a Rivà che è una piccola frazione di Ariano Polesine, si trova sul lato sinistro del Po dalla sponda opposta al castello di Mesola anche quello lì un bel posto da visitare.
E' bello fare queste scoperte e averle a pochi chilometri da casa.
Hello to all my dear today I will explain the discovery I made the other day walking along the embankment and this thanks to a gentleman who explained to me a little the history of this bell tower.
Every now and then I go to walk in these areas, I've always seen the bell tower there, but I never paid attention then the other day I met a gentleman who kindly explained to me why he was in that area of ​​the embankment .
Practically the church that was next to this bell tower was destroyed due to the widening of the embankment and practically from this demolition only the bell tower was saved which among other things was restored by the region and eventually recovered.
For those interested in visiting us, the bell tower is practically located in Rivà which is a small hamlet of Ariano Polesine, it is located on the left side of the Po from the opposite bank to the castle of Mesola, which is also a nice place to visit.
It's nice to make these discoveries and have them a few kilometers from home.