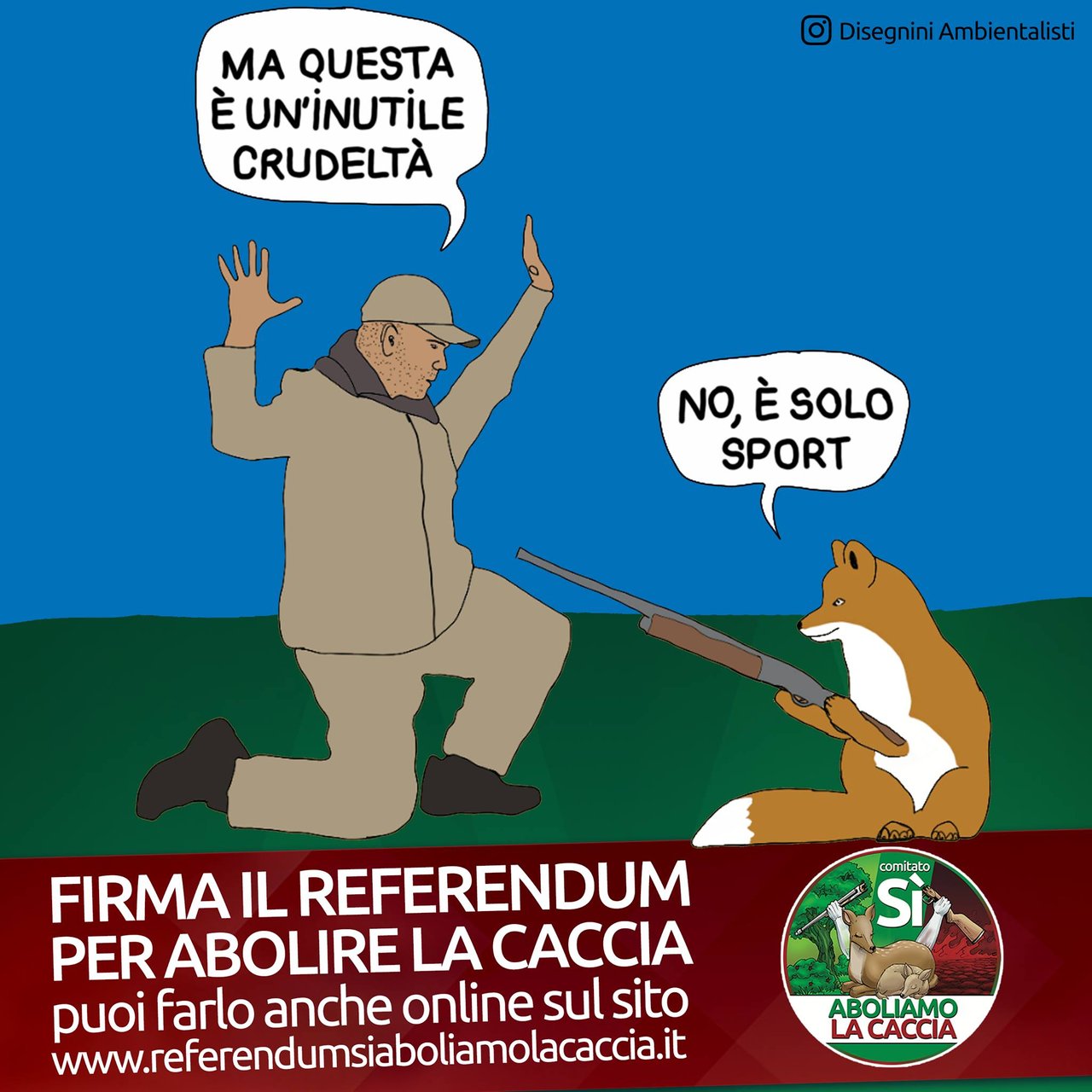 foto presa da https://www.facebook.com/ComitatoSiAboliamolaCaccia/photos/551060329207642
Sinceramente non volevo neanche farlo questo post Per sensibilizzare questo referendum perché lo trovavo un po' fuori luogo in questa comunità però dopo l'ennesimo incidente per colpa di armi da fuoco avvenuto ieri a Brescia
https://www.repubblica.it/cronaca/2021/10/17/news/uccisa_per_errore_dal_fratello_13enne_nella_casa_con_10_armi-322683779/?ref=fbpr&fbclid=IwAR0CeQr0xsi3jtFVwIpbhKbPnWyCiOxwR07KOXtYfE4Rbzh_AU8j96IaHuM
Mi sono deciso a farlo un po' per spronare le persone a dare le possibilità ad altre di decidere se questa crudele pratica deve continuare oppure no.
C'è tempo fino al 20 ottobre per firmare nel proprio comune ai banchetti o come ho fatto io on-line adesso vi Lascerò tutti i riferimenti al sito dove poter fare la propria firma con lo spid.
https://www.referendumsiaboliamolacaccia.it/firma-gratis/?fbclid=IwAR3aMBFlGMAP6pmB6zuO6izPni2OPxU1wIuVxgeoaLz8YCJ64Zt8PCu3MSo
A me tempo fa non me ne fregava molto di questa cosa poi camminando nelle campagne qui vicino a casa mia un giorno mi sono visto dei pallini arrivare a pochi centimetri e per cui mi sono deciso a fare o meglio portare avanti questa campagna referendaria, perché non è possibile camminare per le campagne E rischiare di essere feriti da queste persone che si divertono a praticare questo sport come lo chiamano loro, la sicurezza deve essere importante per chi va a camminare.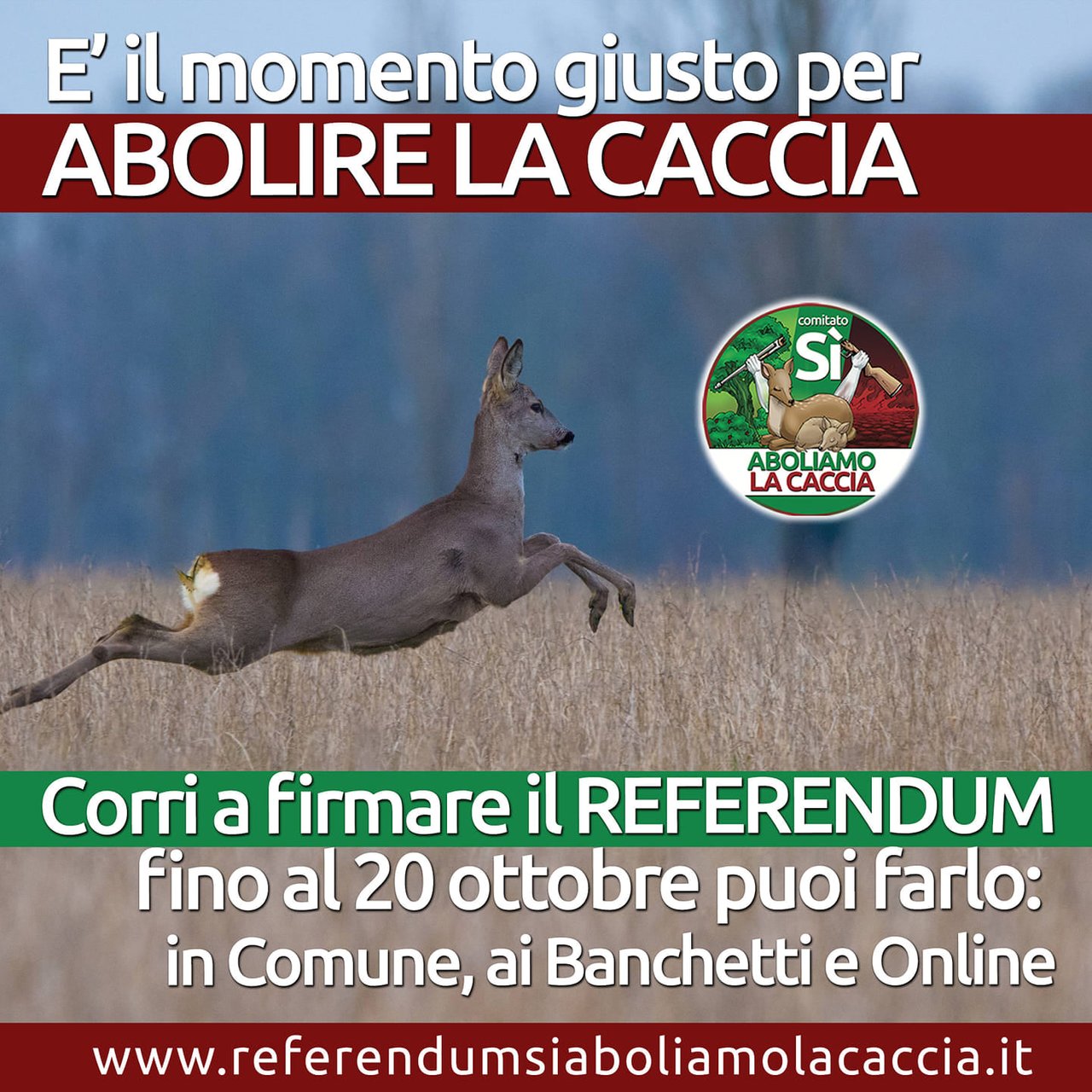 Honestly, I didn't even want to do this post To raise awareness of this referendum because I found it a little out of place in this community, however, after yet another incident due to firearms that took place yesterday in Brescia
https://www.repubblica.it/cronaca/2021/10/17/news/uccisa_per_error_dal_bratello_13enne_nella_casa_con_10_armi-322683779/?ref=fbpr&fbclid=IwAR0CeQr0xsi3jtFVwIpbhKbPnWyCiO7KBPNWYCiO7
I made up my mind to do it a little bit to encourage people to give others a chance to decide whether this cruel practice should continue or not.
There is time until October 20 to sign in your municipality at the banquets or as I did online now I will leave you all the references to the site where you can sign up with the spid.
https://www.referendumsiaboliamolacaccia.it/free-signature/?fbclid=IwAR3aMBFlGMAP6pmB6zuO6izPni2OPxU1wIuVxgeoaLz8YCJ64Zt8PCu3MSo
A while ago I did not care much about this thing then walking in the countryside here near my house one day I saw some dots reach a few centimeters and so I decided to do or better carry on this referendum campaign, why not It is possible to walk in the countryside AND risk being injured by these people who enjoy practicing this sport as they call it, safety must be important for those who go for a walk.