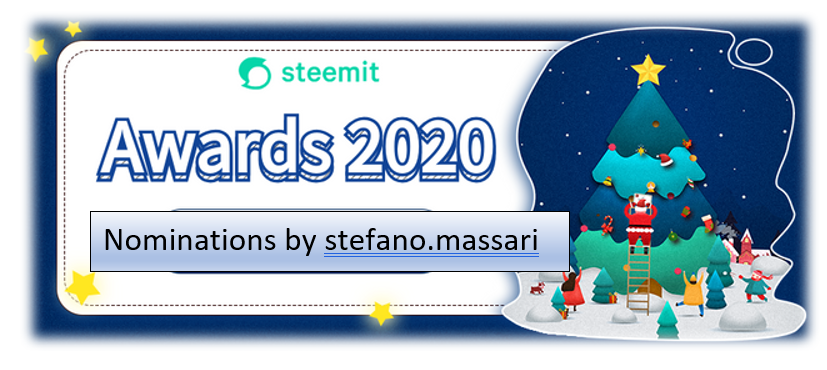 [EN]
This post is my response to "The Steemit Awards 2020" initiative organized by @steemitblog
Below are my personal nominations:
Best Community: Italy
This community is the Italian community managed by the user @girolamomarotta, user who has revived the Italian community on STEEMIT. Reviving a totally vanished community was a great feat. Girolamo has performed a miracle! I often write within this community and now there are also many users who make quality posts.
Best Contributor to the Community: @mikitaly
In my opinion, the best collaborator of the community is mikitaly. His posts are interesting and well-edited. The information it provides is of excellent quality and of interest. It also creates new posts with a good frequency and I consider this very important.
Best Author: @mad-runner
In this case, my doubts are very few. Mad-Runner was the STEEMIT user who welcomed me to the platform by teaching me practically everything. He has always been close to me since 2018. I always read his posts. I appreciate his constant presence and the frequency with which he manages to post. An exceptional user!
---
[IT]
Questo post è la mia risposta all'iniziativa "The Steemit Awards 2020" organizzata da @steemitblog
Di seguito le mie nomination personali:
Miglior comunità: Italy
Questa comunità è la comunità italiana gestita dall'utente @girolamomarotta, utente che ha fatto rinascere la comunità italiana su STEEMIT. Far rinascere una comunità totalmente scomparsa è stata un impresa grandiosa. Girolamo ha compiuto un miracolo! Io scrivo spesso su questa comunità ed ora ci sono anche molti utenti che fanno post di qualità.
Miglior collaboratore della community: @mikitaly
Il miglior collaboratore della comunity a mio avviso è mikitaly. I suoi post sono interessanti e ben curati. Le informazioni che fornisce sono di ottima qualità e di interesse. Inoltre crea post nuovi con una buona frequenza e questo lo ritengo importante.
Miglior autore: @mad-runner
In questo caso i miei dubbi sono davvero pochi. Mad-Runner è stato l'utente STEEMIT che mi ha accolto sulla piattaforma insegnandomi praticamente tutto. Mi è stato sempre vicino dal 2018. Leggo sempre i suoi post. Apprezzo la sua costante presenza e la frequenza con cui riesce a fare i post. Un utente eccezionale!