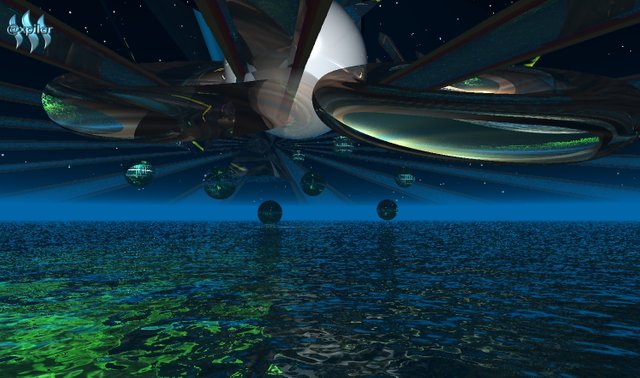 The aquatic world is under attack, foreign forces have submerged into the waters to sabotage the functioning of the system, bombarding fish schools and schools with multiple codes of malicious information to try to manipulate marine species and obtain the ocean's treasure.
Meanwhile, the rulers of the aquatic sector, defend their position and make clear their intentions to defend their marine resources, they counteract by letting flow an acidic substance capable of melting any structure, the enemy manages to perpetrate itself in the operation rooms and to submit some species so that they give up the security codes of the trunks that contain the treasure, However, the chain of codes is long and they are distributed among the most influential members of the ocean, so it would have to dominate everyone in order to open the coffers where they guard the riches of the aquatic world.
The foreign forces are weakening before the power of those who govern the aquatic sector, the weapons and the power of the enemy were destroyed, they only seek desperately the support of some marine species to achieve the objectives of taking the treasure. Everything has become confused, the information codes introduced by foreign forces are being accepted among some fish, allowing them to be dominated by those who seek to destroy their world.
The war continues between these two powerful sectors, one that seeks to maintain itself as the main source of the terrestrial system and the other that was born after a rebellion, capturing great allies that allowed to take with them a part of the marine treasure and with which they use to attack those who remain in the marine world.

El mundo Acuático está siendo atacado, fuerzas extranjeras se han sumergidos en las aguas para sabotear el funcionamiento del sistema, bombardeando a los bancos y escuelas de peces con múltiples códigos de información malintencionada para tratar de manipular a las especies marinas y obtener el tesoro del océano.
Mientras tanto, los gobernantes del sector Acuático, defienden su posición y hacen ver sus intenciones de defender sus recursos marinos, contratacan dejando fluir una sustancia acida capaz de derretir cualquier estructura, el enemigo logra perpetrarse en las salas de funcionamiento y someter a algunas especies para que estos cedan los códigos de seguridad de los baúles que contienen el tesoro, sin embargo, la cadena de códigos es larga y están distribuidos entre los miembros más influyentes del océano, por lo que tendría que dominar a todos para poder abrir los cofres donde resguardan las riquezas del mundo acuático.
Las fuerzas extranjeras se debilitan ante el poder de quienes gobiernan el sector acuático, las armas y el poder del enemigo fueron destruidas, solo buscan desesperadamente el apoyo de algunas especies marinas para lograr los objetivos de tomar el tesoro. Todo se ha vuelto confuso, los códigos de información introducidos por las fuerzas extranjeras están siendo aceptados entre algunos peces, permitiendo ser dominado por quienes buscan destruir su mundo.
La guerra continúa entre estos dos sectores poderosos, uno que busca mantenerse como fuente principal del sistema terrestre y otro que nació después de una rebelión, captando grandes aliados que permitieron llevar consigo una parte del tesoro marino y con el cual usan para atacar a quienes permanecen en el mundo marino.

Photographic references are a practical way to create stories. This time I leave a short fictional story based on an image of the author's friend @xpilar that caught my attention. I hope you liked it.