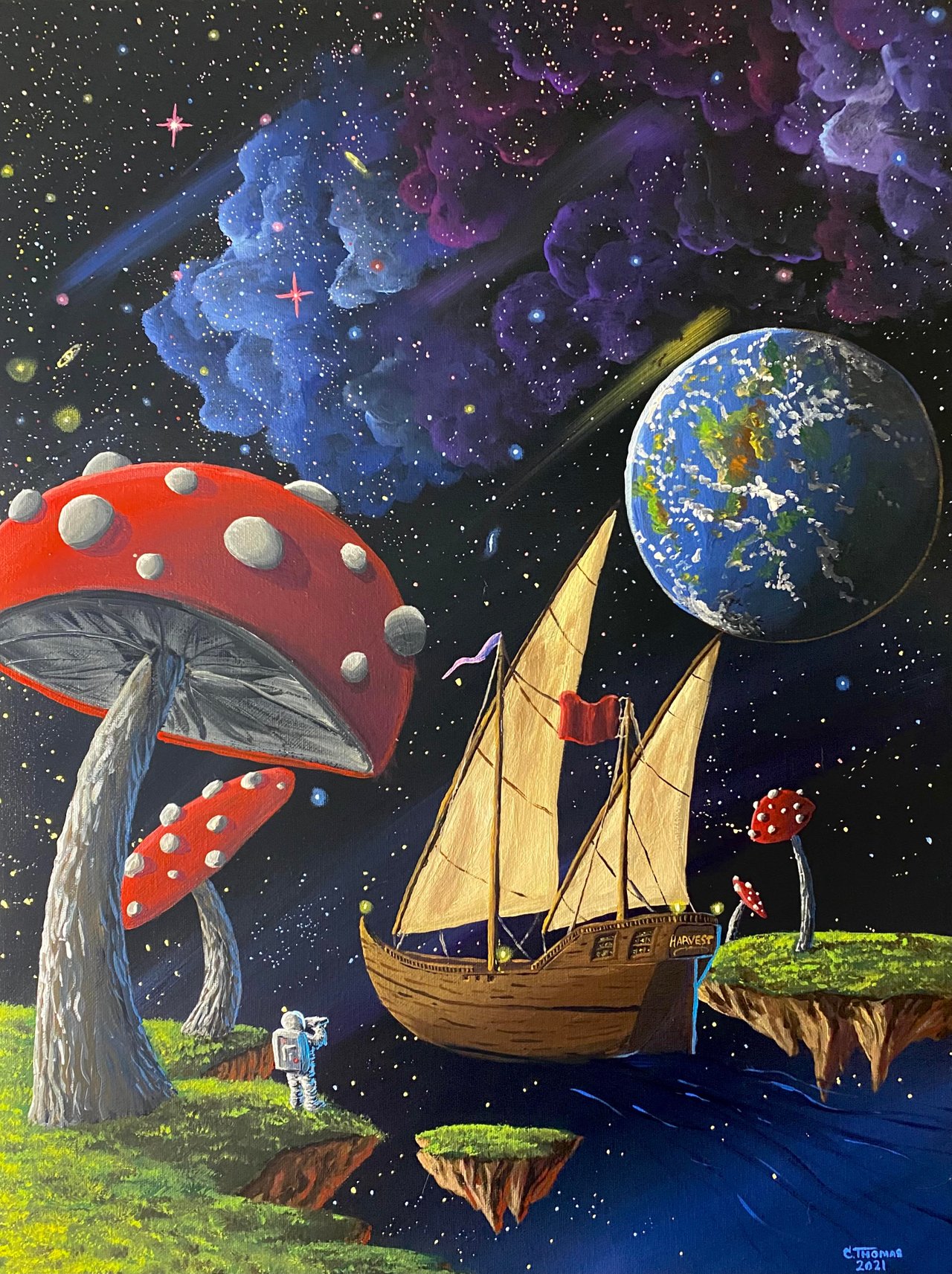 Voyage of TMS Harvest
Christopher J. Thomas
August 2021
This is the largest painting I have ever done, measuring out to 1 1/2 ft by 2 ft.
Thankfully, I have a relatively large painting space.
Scroll down to see the progress of this piece!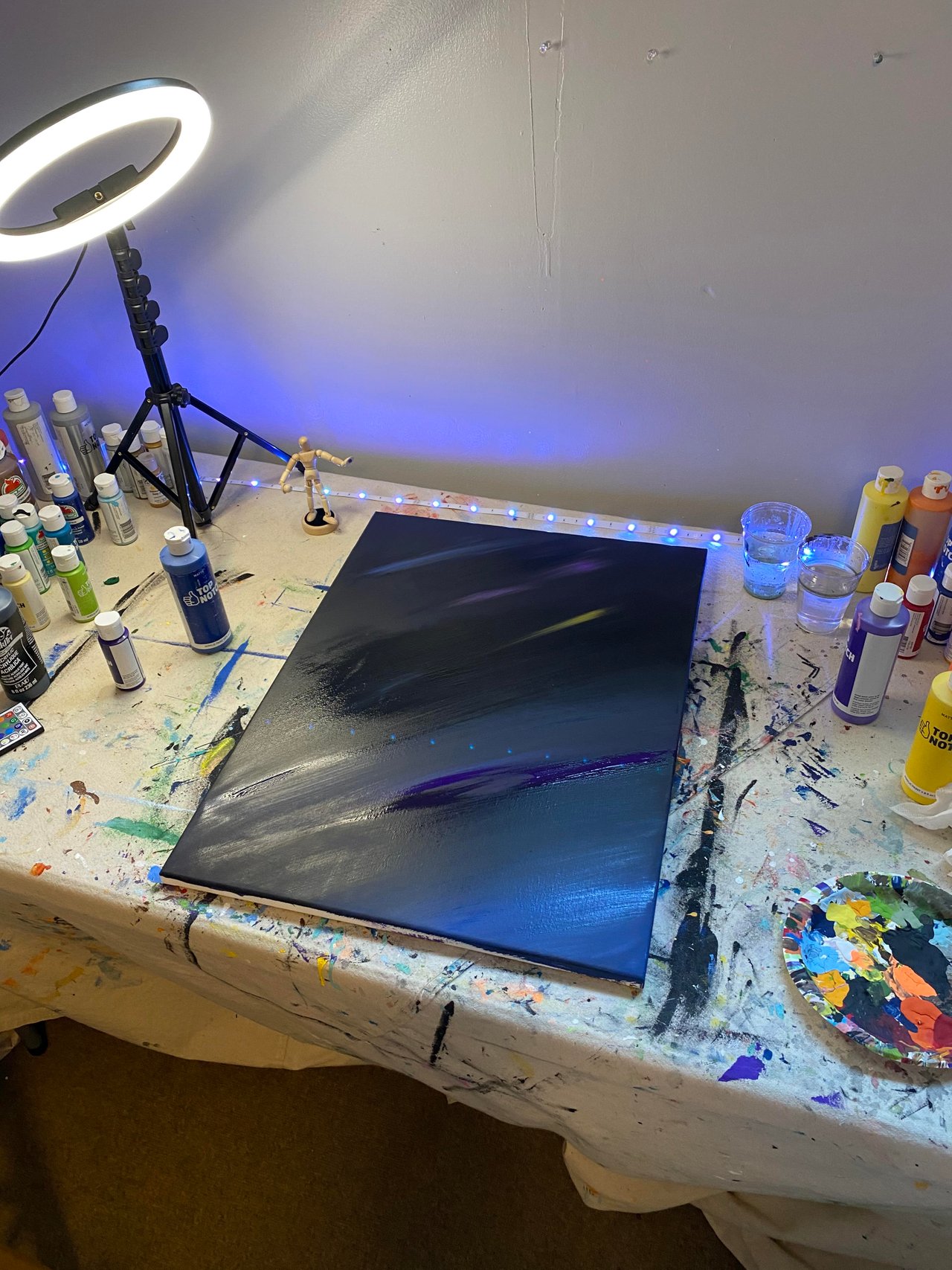 Step 1: Got a base layer down using black, a touch of purples and blues, and a dash of yellow.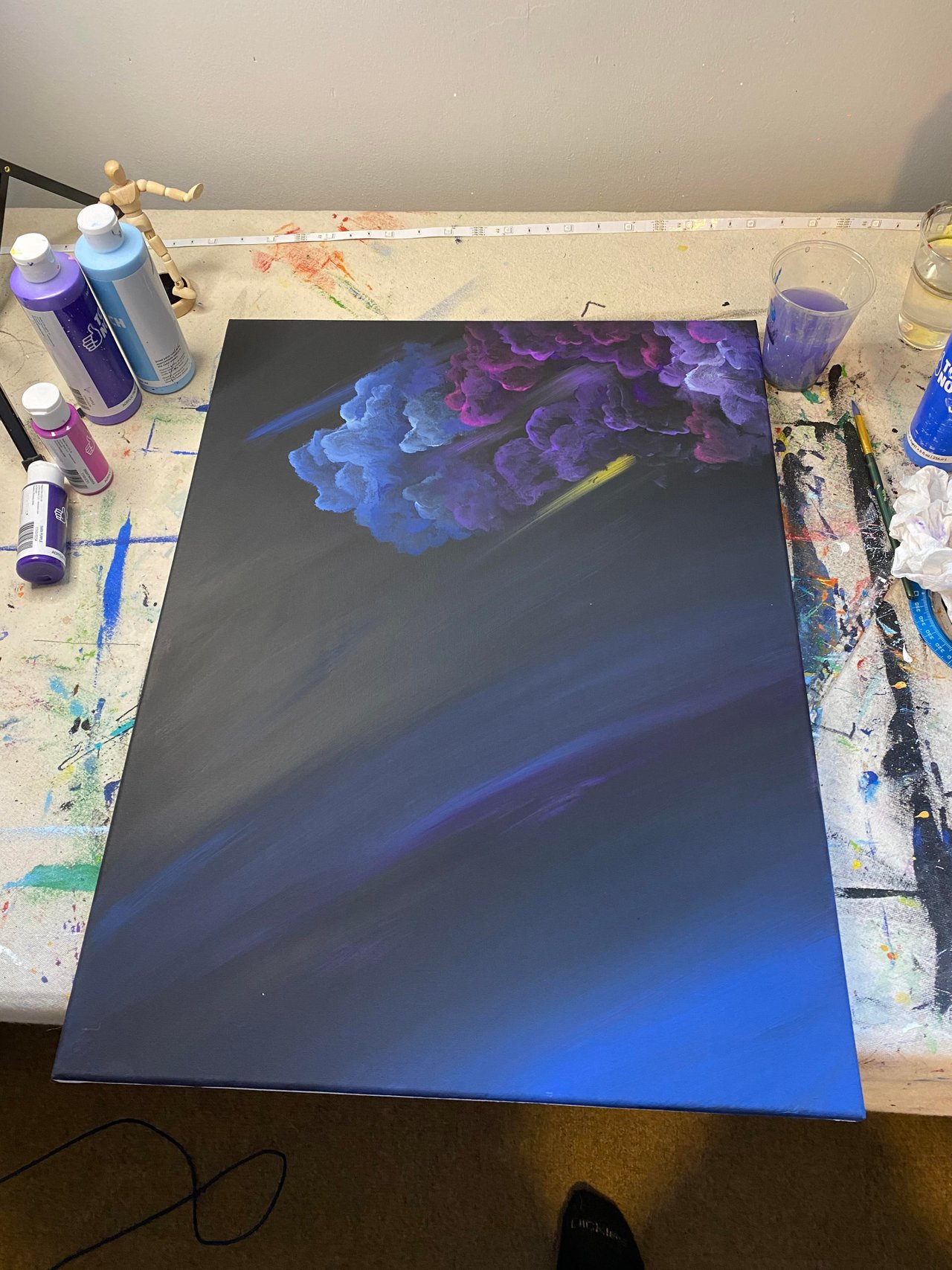 Step 2: I added in the nebulas/clouds that would fill the top portion of the canvas, using various shades of purple, pink, and blue - with a touch of magenta as well.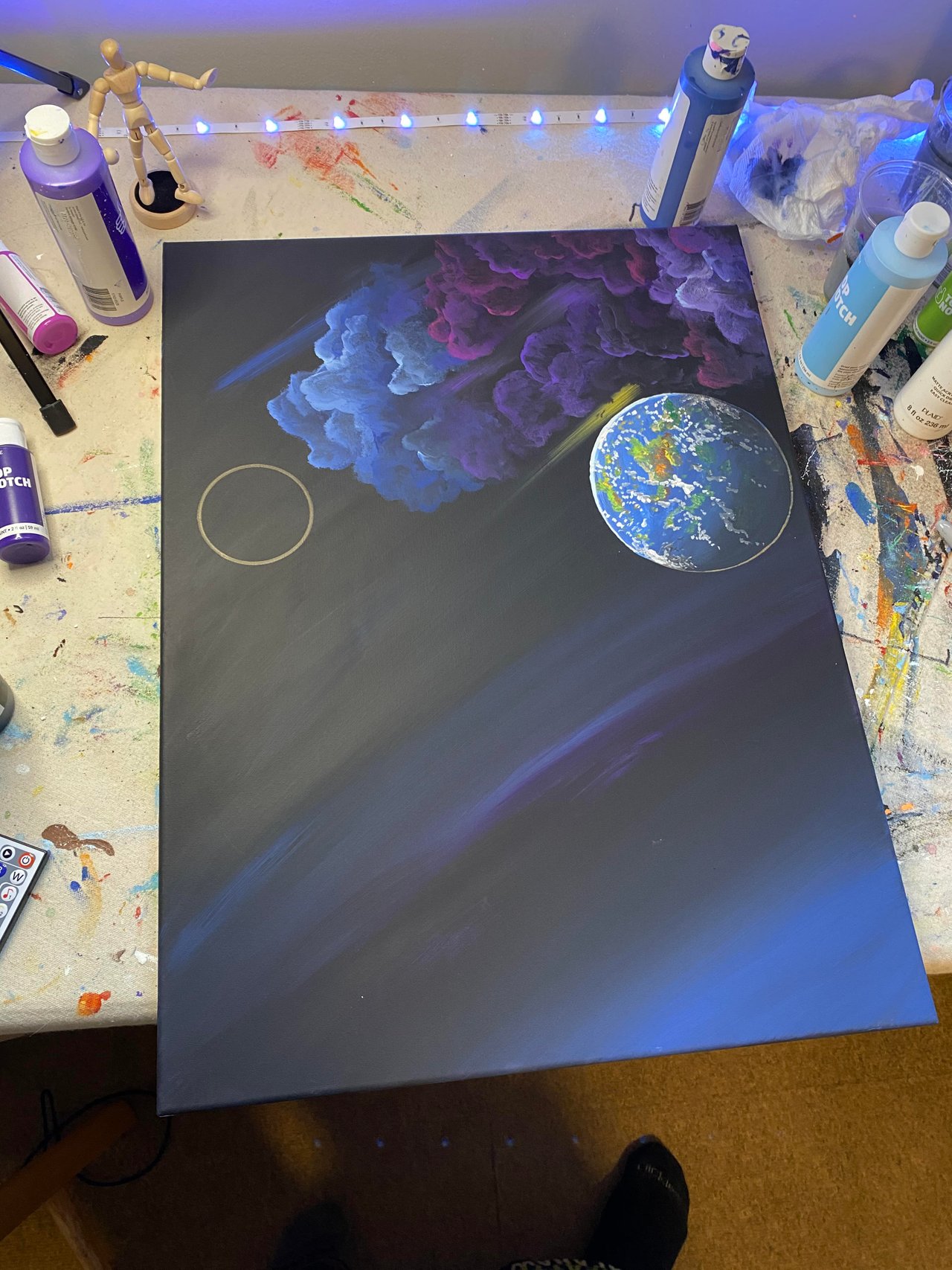 Step 3: Planet time! I used a circular ruler to make these perfect circles to indicate where I would put some planetary bodies. The one on the left ended up being covered up later on, but the planet on the right was finished prior to adding in the foreground details.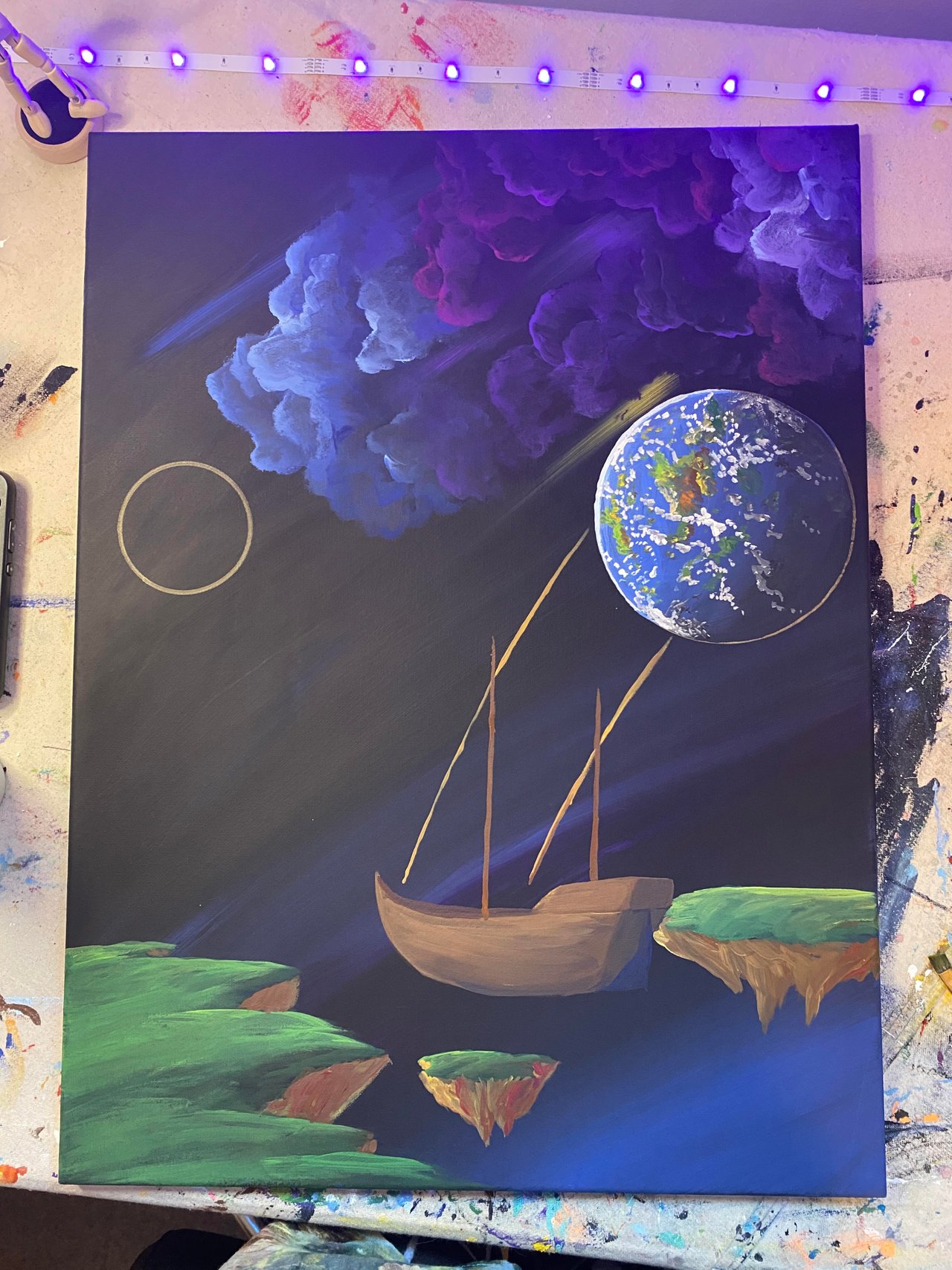 Step 4: Time for the next part - the ship! I chose a Portuguese Caravel as the interstellar tall ship since those were historically used for exploration. I wanted to harken back to those days and mix it with my surreal space style. This step also included adding in the floating landmasses in both the background and foreground.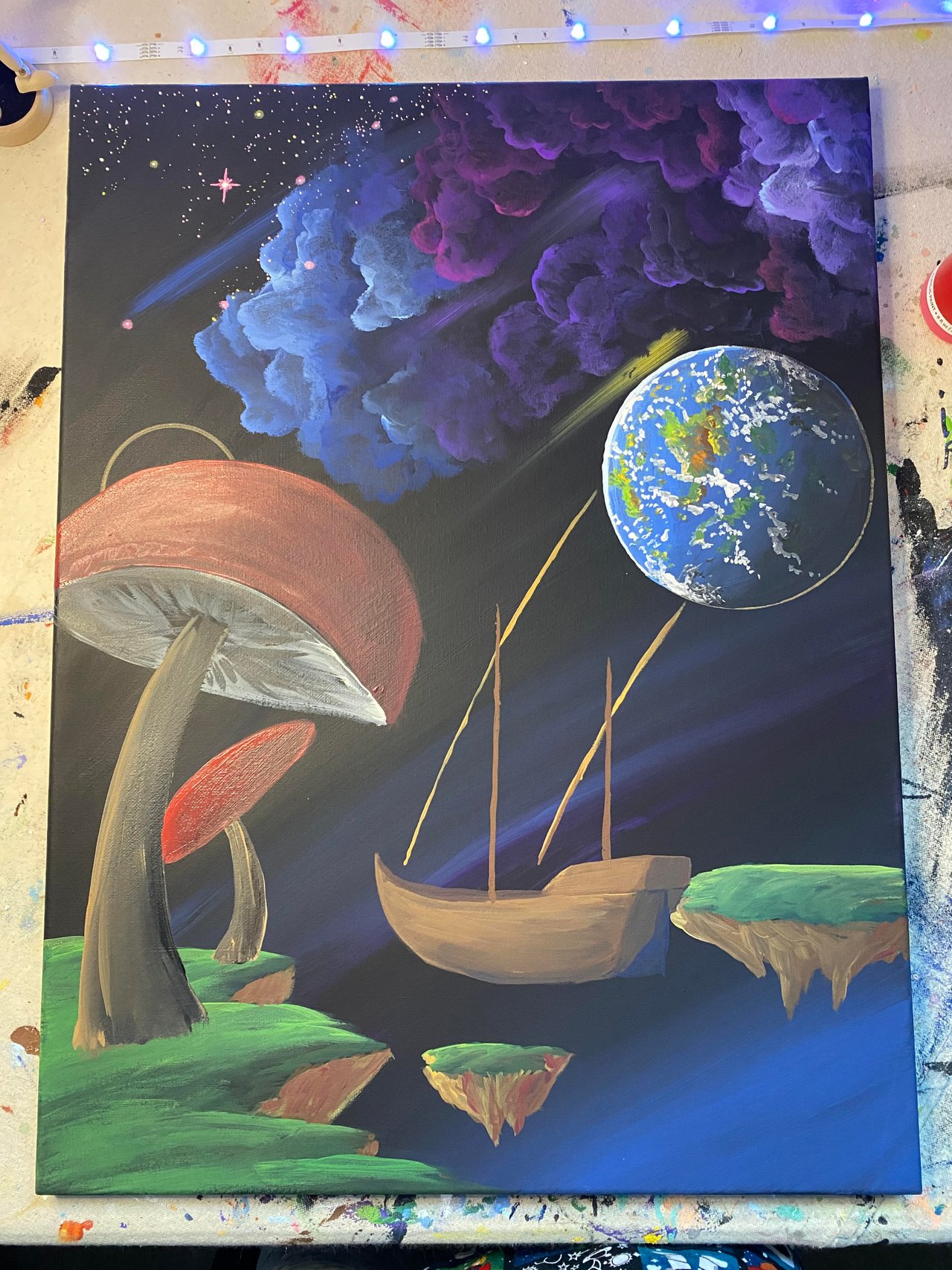 Step 5: I added in the general shapes of the mushrooms in the foreground, and put a few stars up in the top portion of the canvas. I did not want to go overboard with the stars yet since I had not finished the details of the other objects.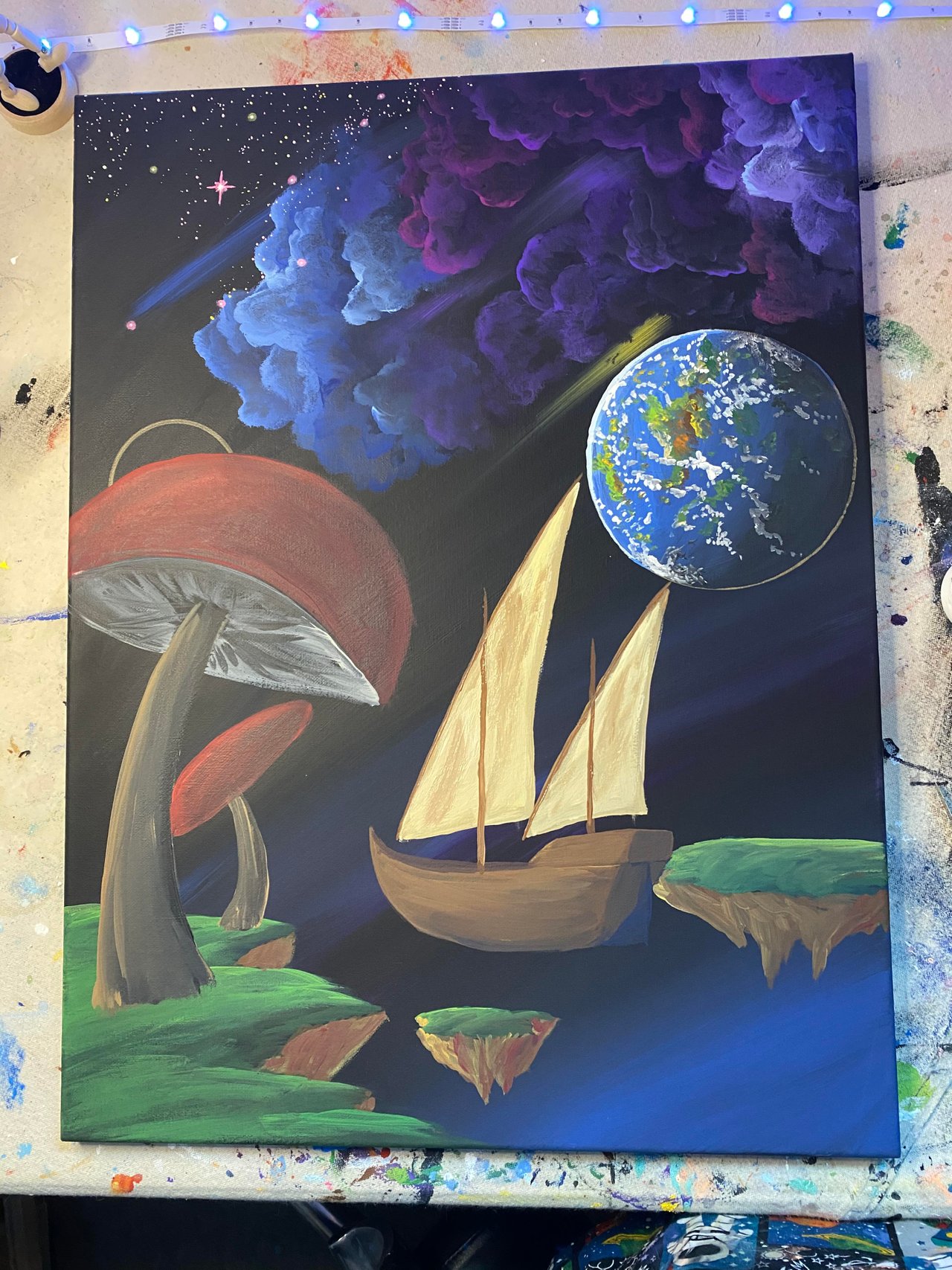 Step 6: Next I simply added in the sails of the Caravel, using various browns, yellows, and a touch of white.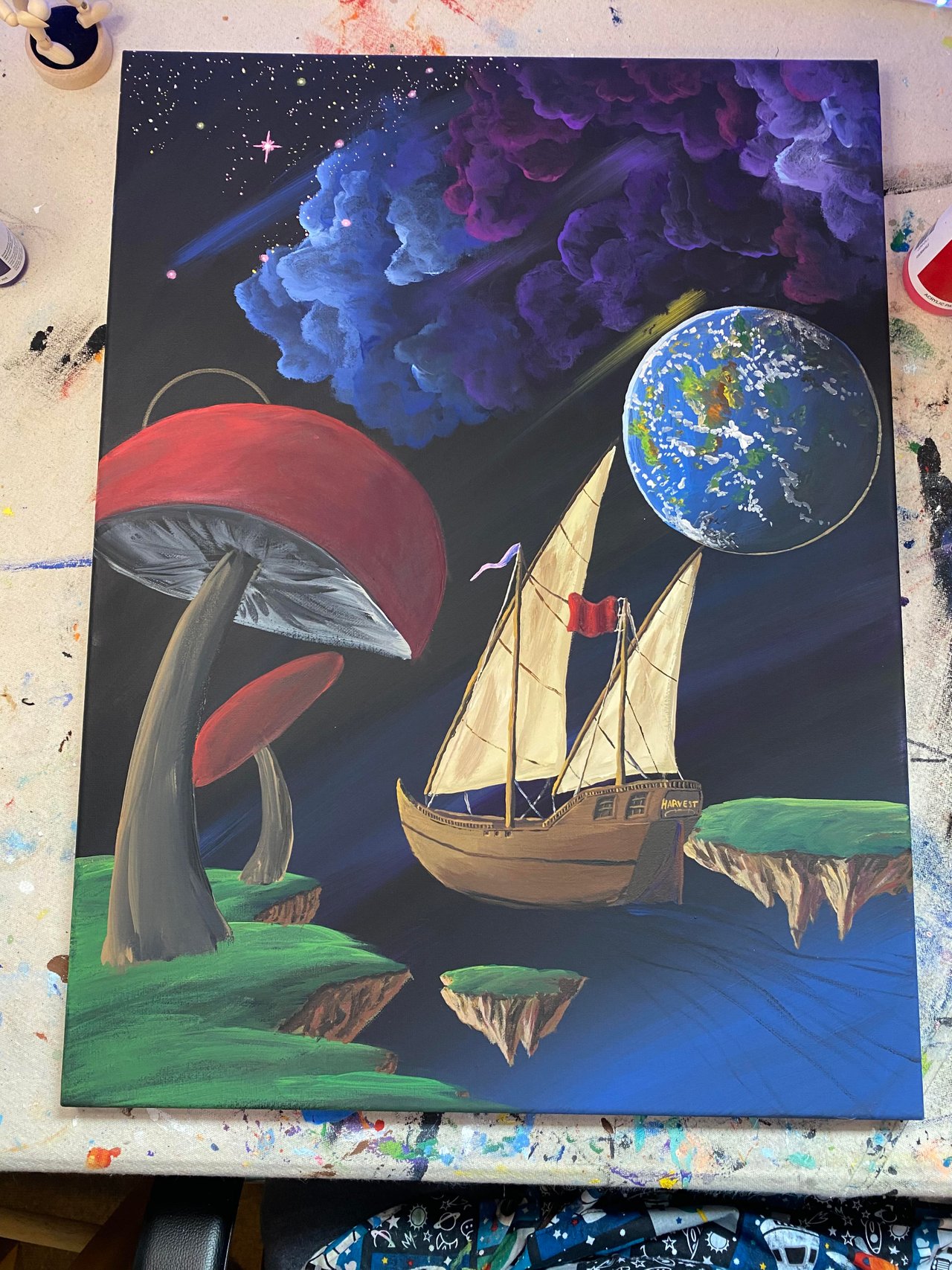 Step 7: I then detailed the ship, noting the name as "Harvest" as a reference to one of my previous paintings with the same name.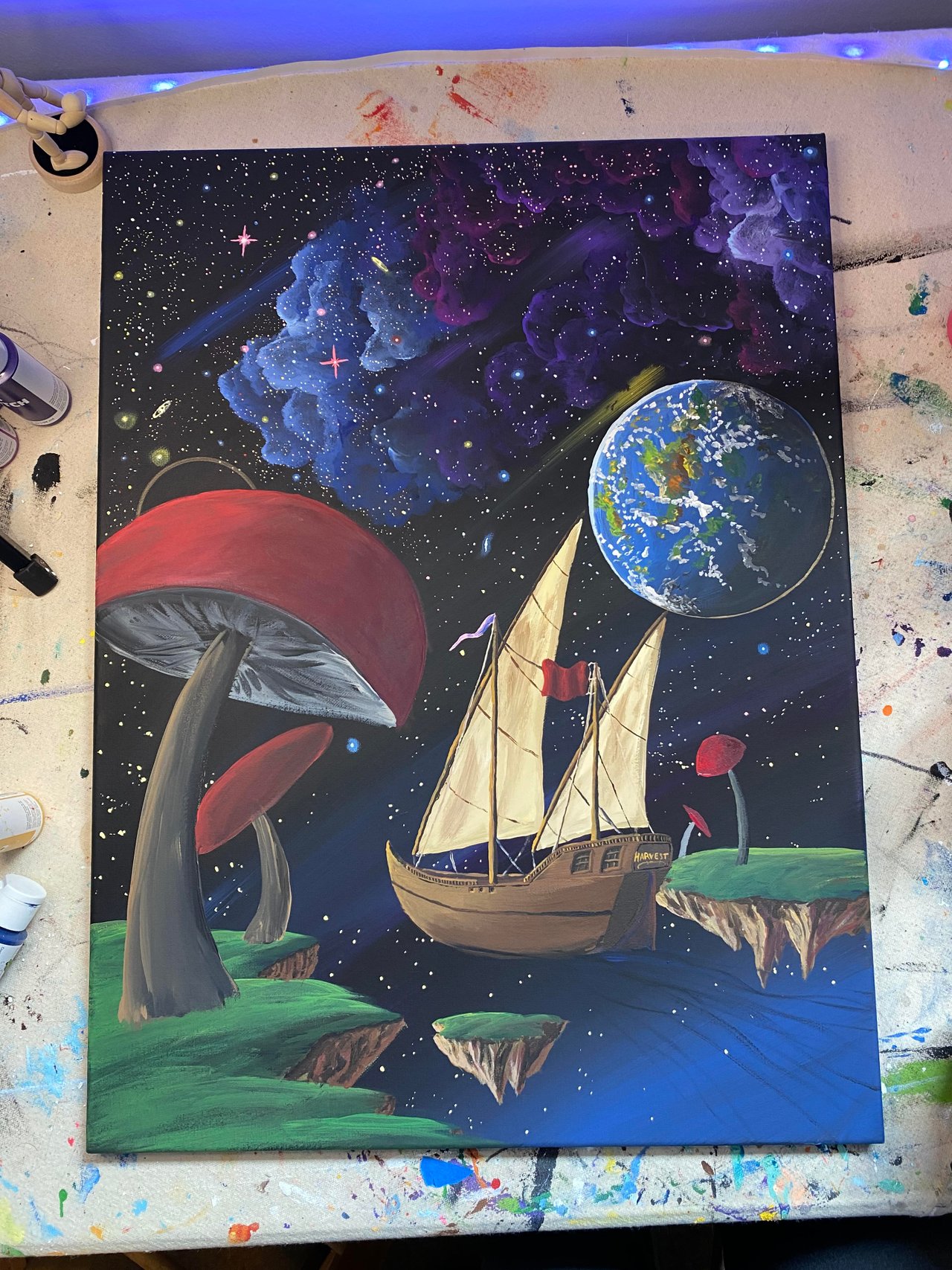 Step 8: In this step, I added in the stars - placing every star individually and carefully. This creates a much more deliberate look rather than simply splattering the canvas with white paint and calling it good. Nothing wrong with that method, but I personally like the look of this starscape much better than some of my previous ones!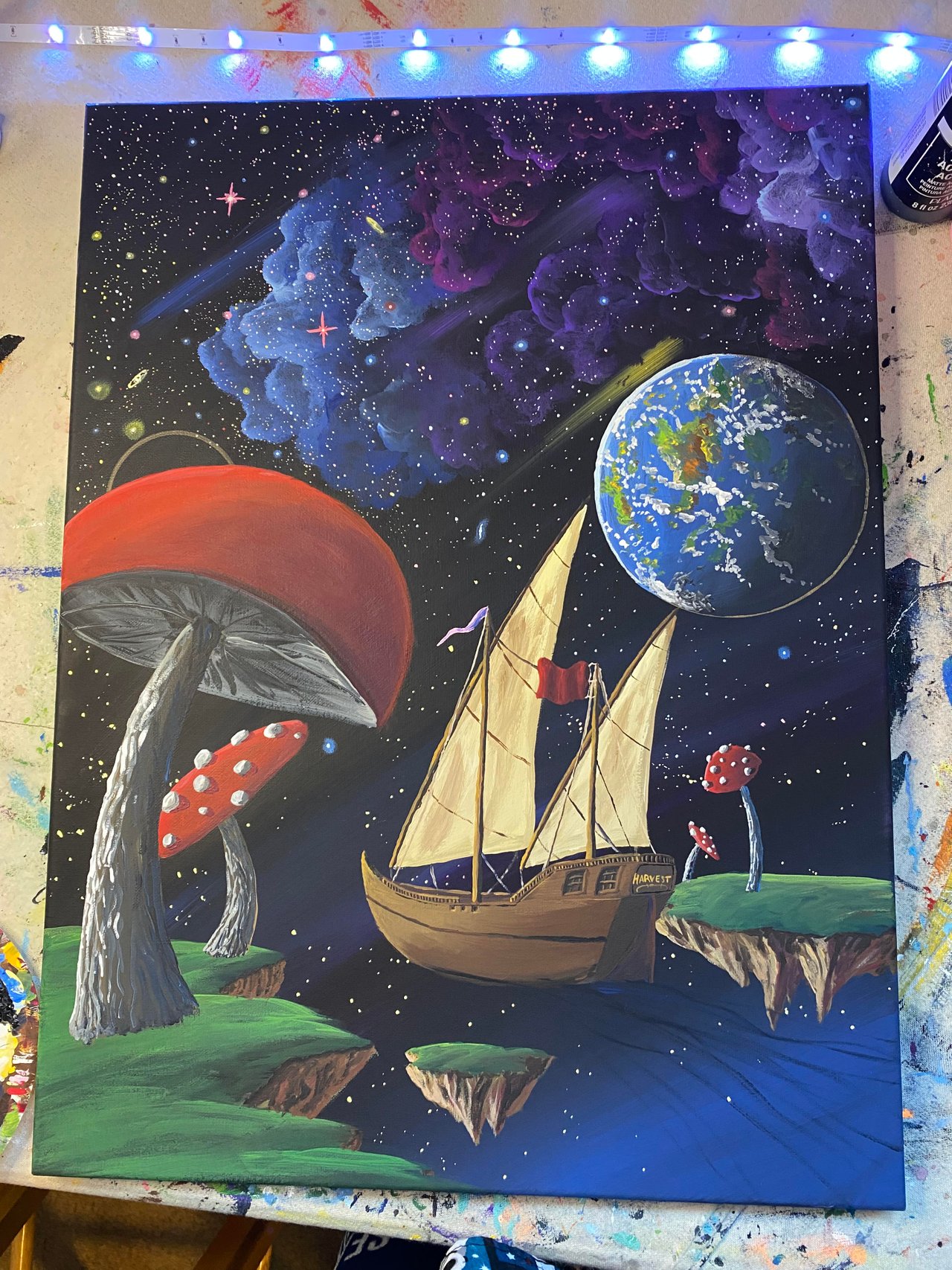 Step 9: I then detailed the stems of the mushrooms, making sure to portray the direction of the light appropriately.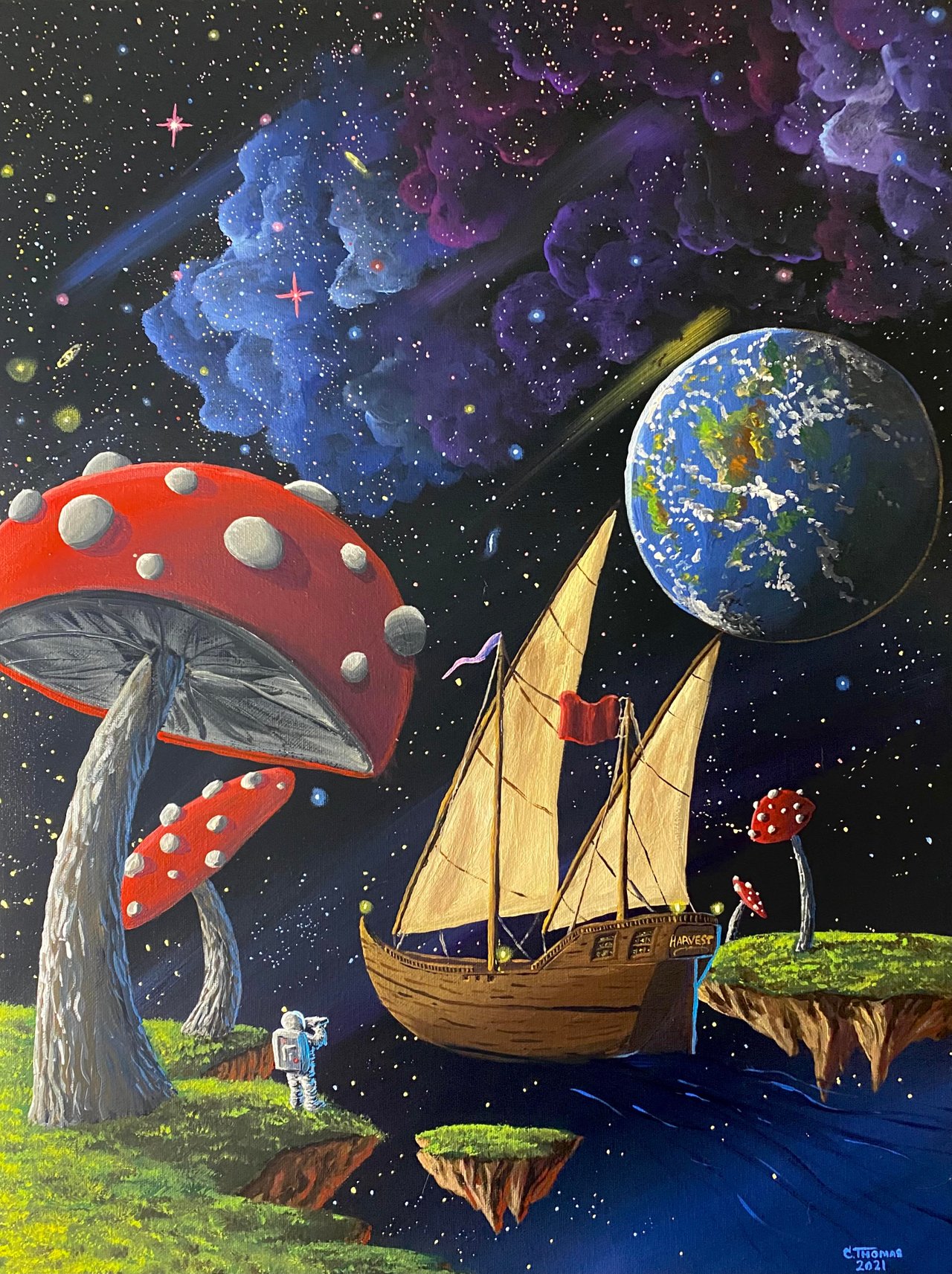 FINAL STEP/S: To finish the piece off, I detailed the tops of the mushrooms, added texture to the grassy sections, and placed an astronaut watching the ship go by. Once the piece was fully dry, I added a glossy varnish to the top to both seal it and protect it. I love the glossy look because it brings out the darker colors and accentuates the vibrancy of the piece.
Thank you for checking out my work! Have a wonderful Tuesday, and Happy Painting! :)