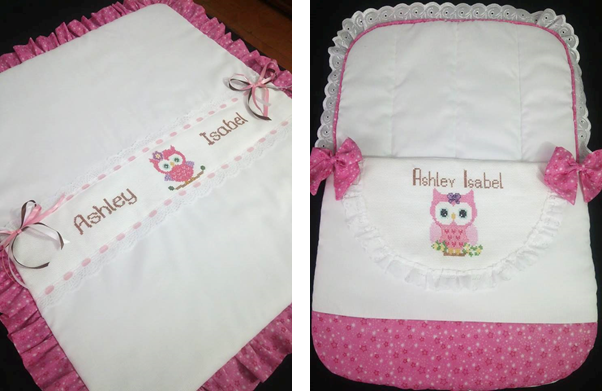 Una manta muy bonita para Ashley Isabel./A very nice blanket for Ashley Isabel..
---
Hola mis apreciados amigos, amantes de la cosas hermosas/Hello my dear friends, lovers of beautiful things.
Luego de un fin de semana lleno de cosas bonitas que nos pasan en la vida, vengo a traerles unas fotografías de dos trabajos que hice para un bebé que se llama Ashley Isabel. La mamá me encargó algo hermoso y como ya ella había visto estos bordados de búho en otros de mis trabajos pues me dijo "Quiero algo así, igual de hermoso"
After a weekend full of beautiful things that happen in our lives, I'm here to bring you some pictures of two jobs I did for a baby named Ashley Isabel. The mother asked me to do something beautiful and since she had already seen these embroideries of owls in other of my works she said "I want something like that, just as beautiful"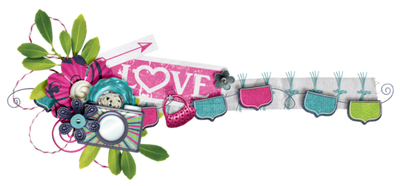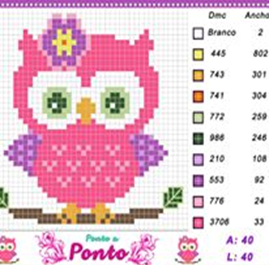 El bordado de punto de cruz es una técnica milenaria, cuentan que los bordados más antiguos que se conservan en museos datan de siglos antes de Cristo. Yo consigo muchos de estos patrones en la página Pinterest, de ahí puedes sacar ideas nuevas, recuerda que esto es un mundo muy diverso y la moda cambia de un día para otro.
Cross-stitch embroidery is an ancient technique, it is said that the oldest embroideries preserved in museums date back to centuries before Christ. I get many of these patterns on the page [Pinterest](https://www.pinterest.com/pin/292171094549511070/), from there you can get new ideas, remember that this is a very diverse world and fashion changes from one day to another.
---
La manta./The blanket...
---
Para crear esta manta vamos a necesitar los siguientes materiales:
Medio metro de tela Piqué blanco o tela mil rayas.
Medio metro de guata F10.
Tela etamina.
Medio metro de tela rosada para los volantes.
metro y medio de pasa cinta o encaje.
3 metros de cintas de colores para combinar.
40 cms de pasa cinta
To create this blanket we will need the following materials: - Half a meter of white pique fabric or thousand stripes fabric. - Half a meter of F10 wadding. - Etamine fabric. - Half a meter of pink fabric for the ruffles. - Half a meter of raisin ribbon or lace. 3 meters of colored ribbons to combine. - 40 cms of raisin ribbon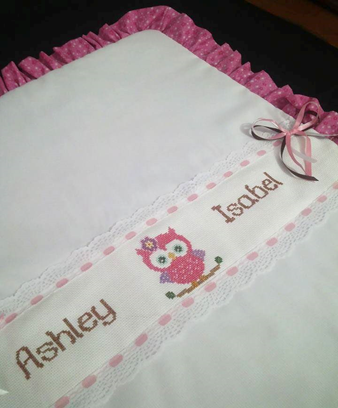 Indicaciones:/Indications:
---
Las medidas casi siempre son las mismas, yo corté dos rectángulos en tela mil rayas de 50 cms de ancho x 65 cms de alto y cortamos la guata de la misma medida.

Bordamos la tela etamina con el nombre y el dibujo y cosemos en la tela frontal, colocándole los encajes o pasa cintas de una vez.

Unimos la parte frontal de la manta a la guata. primero es mejor bastear con aguja e hilo para que cuando pases costura recta con la maquina n se nos mueva.
- The measures are almost always the same, I cut two rectangles in a thousand stripes of 50 cms wide x 65 cms high and we cut the wadding of the same measure. - We embroider the etamine fabric with the name and the drawing and sew on the front fabric, putting the laces or pass ribbons at once. - We join the front part of the blanket to the wadding. First it is better to knit with a needle and thread so that when you pass straight stitching with the machine it will not move.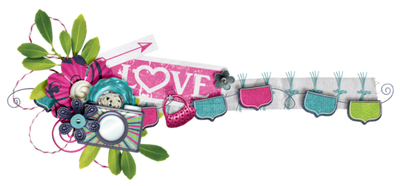 Corta las tiras para el volante de 15 cm de ancho más el largo total de la tela hasta obtener 4 metros aproximadamente y fruncimos.

Coloca los volantes hacia adentro y cose, luego colocamos el otro rectángulo de pique o mil rayas, cociendo con costura recta y zigzag dejando espacio para voltear.

Voltea y cose con costura invisible la abertura.

Decora con lazos en las esquinas o donde más te guste.
- Cut the strips for the 15 cm wide flywheel plus the total length of the fabric to about 4 meters and pucker. - Place the ruffles inwards and sew, then place the other rectangle of pique or thousand stripes, sewing with straight and zigzag stitching leaving space to turn. - Turn over and sew the opening with invisible seam. - Decorate with ribbons at the corners or wherever you like.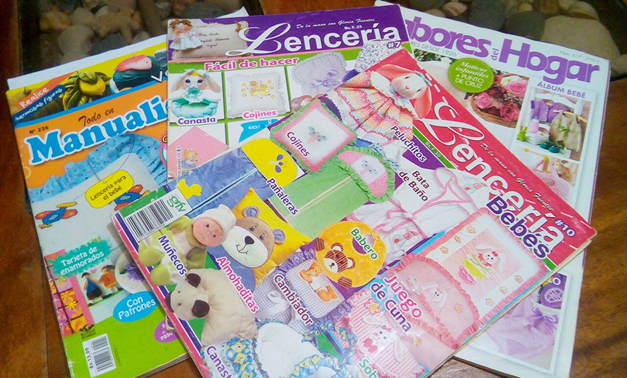 Para los que no tienen mucha experiencia en costura de lencería de bebé les comento que en revistas o internet pueden conseguir muchísima ayuda, en el mercado existe una amplia variedad de revistas dedicadas solamente a este tema y donde puedes encontrar muchos modelos y combinaciones.
For those who do not have much experience in sewing baby lingerie I tell you that in magazines or internet you can get a lot of help, in the market there is a wide variety of magazines dedicated only to this topic and where you can find many models and combinations.

Espero que les haya gustado mi trabajo de hoy y nos encontramos en una próxima publicación, bye.
I hope you liked my work today and we will meet in a future publication, bye.
Stay at home
---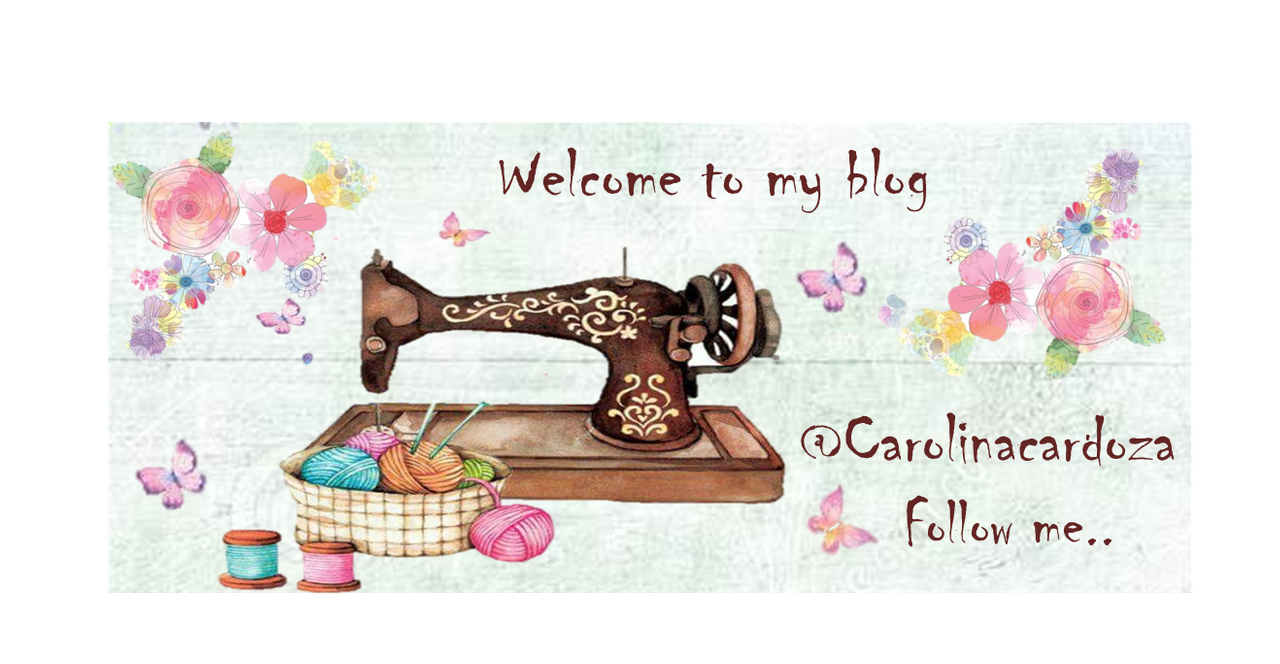 ---
Imágenes tomadas con mi cámara celular Kronos-net