---
Saludos queridos amigos está es mi entrada a la competencia de historias promocionada por @xpilar, si deseas participar ve a este link.
Greetings dear friends this is my entry to the story competition promoted by @xpilar, if I want to participate go to this link.
---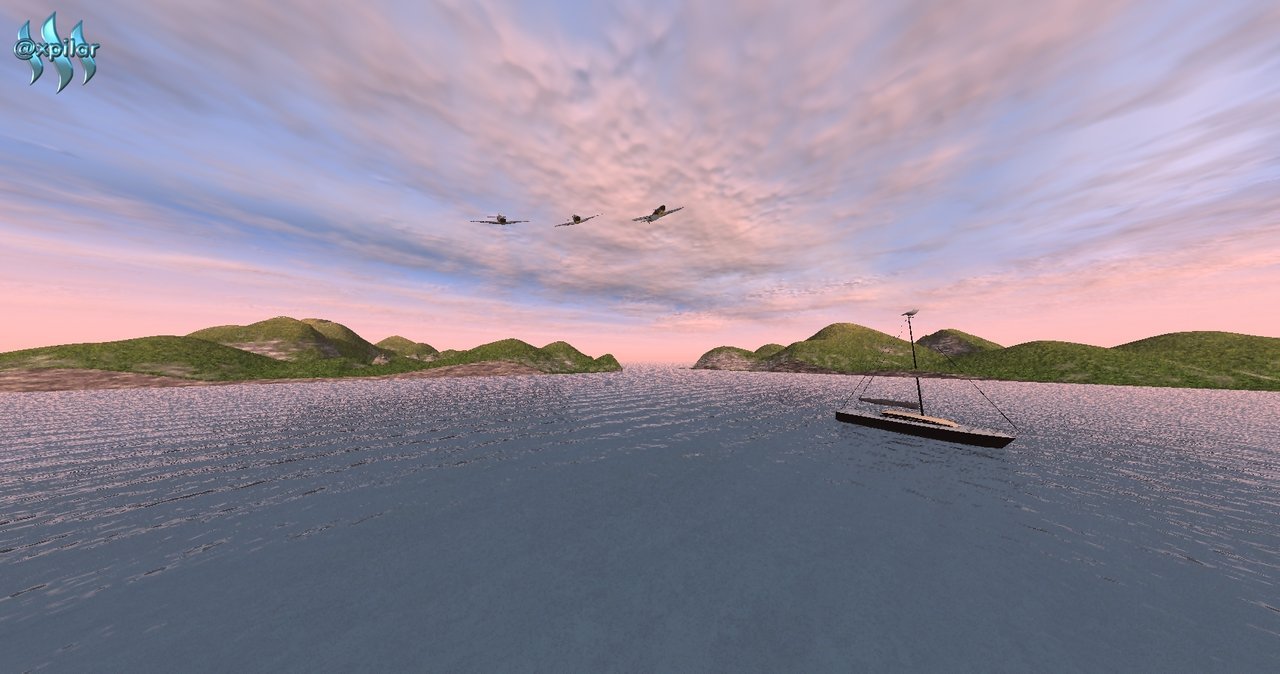 Link @xpilar
---
"Te Encontré" / "I found you"
Y allí estaba ella, la observaba todas las tardes desde la ventana de la casa de mi abuela que se encontraba cerca del lago, pues esa chica parecía que volaba sobre el agua y su cabello brillaba con el reflejo esmeralda del atardecer; su sonrisa única al manejar aquel velero, ya ni la puedo describir. No sabía si el destino nos permitiría conocernos, a lo mejor nos encontraríamos en algún lugar y disfrutaríamos de un café, puede que me escuchará cantar en ese bar al que me acercó en las noches y en dónde recibo una retribución bastante beneficiosa, tal vez podríamos llegar a chocar en la universidad y como en toda una película poder mirarnos frente a frente mientras recogemos algunos libros; no estoy loco, aparentemente solo estoy enamorado.
And there she was, I watched her every afternoon from the window of my grandmother's house that was near the lake, because that girl seemed to be flying over the water and her hair shone with the emerald reflection of the sunset; His unique smile when handling that sailboat, I can no longer describe it. I did not know if fate would allow us to meet, maybe we would meet somewhere and enjoy a coffee, maybe he will hear me sing in that bar that he approached me at night and where I receive a fairly beneficial remuneration, maybe we could get to crash in the university and as in a whole movie to be able to look at each other face to face while we pick up some books; I'm not crazy, apparently I'm just in love.
Ver las avionetas despegar desde el puerto que tiene mi abuela es una de las cosas que me encantan, mi familia siempre ha dado lo mejor por este negocio que es de gran escala por el turismo del lugar, soy excelente realizando maniobras en el aire, es sumamente encantador sentir que estás entre las nubes. Mis primos y yo mantenemos el equilibrio del puerto, lo interesante es que a diferencia de otras familias que viven en contiendas, mi hogar está lleno de paz y mucha armonía.
Seeing the planes take off from the port that my grandmother has is one of the things that I love, my family has always done their best for this business, which is large-scale because of the tourism of the place, I am excellent performing maneuvers in the air, it is extremely lovely to feel like you're in the clouds. My cousins ​​and I maintain the balance of the port, the interesting thing is that unlike other families that live in strife, my home is full of peace and a lot of harmony.
---
Aquella tarde me encontraba en el puerto arreglando unos alerones y escuché un susurró de mi primo menor que me dice: "Mira quien está allí, creo que viene por un viaje en paracaídas"; al mirar pude notar la silueta de aquella muchacha del velero junto a su mascota que era un cachorro muy peculiar, mi primo se comenzó a reír y me dijo que me acercará a atenderla, mis nervios eran tan grandes (si es que acaso los nervios se pueden medir, jajaja), me presenté ante ella y le mostré los pequeños aviones del lugar, ella sonreía y yo estaba todo lleno de grasa y oloroso a gasolina, escogió el avión en dónde quería volar pero me dijo que no sería hoy sino mañana a eso de las 10:00am, acordamos y volví a dónde estaba mi abuela, al sentarme en la mesa a comer algunas panquecas con mi primo, él no paraba de hablar de mi cara de tonto mientras atendía a la chica, mi abuela sólo nos dijo una de sus frases llenas de sabiduría: "Si a una chica deseas enamorar, más que una simple rosa le debes regalar"; no entendí muy bien...
That afternoon I found myself in the port fixing some ailerons and I heard a whisper from my younger cousin who said to me: "Look who's there, I think he's coming from a parachute trip"; When I looked, I could see the silhouette of that girl on the sailboat with her pet, who was a very peculiar puppy, my cousin began to laugh and told me that he would bring me closer to attend her, my nerves were so great (if the nerves were They can measure, hahaha), I introduced myself to her and showed her the small planes of the place, she was smiling and I was all full of grease and smelling of gasoline, she chose the plane where she wanted to fly but she told me that It would not be today but tomorrow at around 10:00 am, we agreed and I went back to where my grandmother was, when I sat at the table to eat some pancakes with my cousin, he would not stop talking about my stupid face while I attended the girl, my grandmother only told us one of her phrases full of wisdom: "If a girl wants to fall in love, you should give her more than a simple rose"; I did not understand very well ...
Al día siguiente me preparé para la atención de la cliente especial de las 10:00am, me bañe y compré un ramo de flores como obsequió, enserio esto nunca lo había hecho. Al llegar la chica, le pregunté su nombre, se llamaba Laila; subimos al avión luego de haberle explicado como debía descender y como abrir el paracaídas, de igual forma a mi me tocaría ser su instructor, mi primo manejaría el avión.
The next day I got ready for the attention of the special client at 10:00 am, took a shower and bought a bouquet of flowers as a gift, seriously I have never done this. When the girl arrived, I asked her name, her name was Laila; We got on the plane after having explained how he should descend and how to open the parachute, in the same way it would be my turn to be his instructor, my cousin would handle the plane.
Partimos a los aires, conversé con ella sobre cosas tan típicas como comidas o tradiciones de nuestra región, además me comentó que era una deportista en el agua y que a veces tomaba retos de naufragar en su velero por todo el mar, me parecía muy interesante lo extrovertida que era; llegó el momento de lanzarnos, pues tocó hacer mi trabajo, saltamos del avión y era increíble verla frente a mí de esta manera, mi primo lanzo las flores por la ventana y se dispersaron por todas partes, era un momento de fotografía, capturé algunas para ella y en eso ví en su rostro el temor porque su paracaídas no quería abrirse, me acerqué a ella con todo y la presión del aire y sin duda el paracaídas se había atascado, la miré a los ojos ajustando para que funcionará el paracaídas de emergencia, por suerte en el negocio de mi familia siempre hemos sido muy preventivo; ella me tomó de la mano fuertemente porque se encontraba nerviosa, no quería verla así, el cliente siempre es bueno que disfrute de la vista del paisaje, así que le dije que observará el mar y que se concentrará en los veleros que estaban sobre el agua a esa hora, pude ver su reacción cambiante y se calmó, abrí su paracaídas y aterrizamos en una colina cerca del puerto, al estar sobre el césped recostados, ella no paraba de reir y yo mucho menos; la miré a los ojos y le dije espontáneamente: "Bueno, creo que ahora te toca a ti llevarme a volar sobre el agua" y ella me respondió: "Entonces te gustaría conocer mi velero", y afirmó con la cabeza.
We took off into the air, I talked with her about things as typical as foods or traditions of our region, she also told me that she was a sportswoman in the water and that sometimes she took challenges of being shipwrecked in her sailboat all over the sea, I found it very interesting how outgoing she was; It was time to jump in, because I had to do my job, we jumped out of the plane and it was incredible to see her in front of me like this, my cousin threw the flowers out the window and they scattered everywhere, it was a moment of photography, I captured some to her and in that I saw in her face the fear because her parachute did not want to open, I approached her with everything and the air pressure and without a doubt the parachute had jammed, I looked into her eyes adjusting so that the emergency parachute will work Luckily in my family's business we have always been very preventive; She took my strongly hand because she was nervous, I did not want to see her like that, the client is always good that she enjoys the view of the landscape, so I told her that she will observe the sea and that she will focus on the sailboats that were on the water to That hour, I could see her changing reaction and she calmed down, I opened her parachute and we landed on a hill near the port, being lying on the grass, she didn't stop laughing and I much less; I looked into her eyes and said spontaneously: "Well, I think now it's your turn to take me flying over the water" and she replied: "Then you would like to see my sailboat", and nodded.
Volvimos al puerto, mi primo y yo nos despedimos de ella, y mi sonrisa era despampanante porque al parecer tenía una cita con la chica del velero.
We returned to the port, my cousin and I said goodbye to her, and my smile was stunning because apparently I had a date with the girl on the sailboat.
EL FIN / THE END
---