Me anime a participar por primera vez en el VIGÉSIMO SEGUNDO CONCURSO DE ESCRITURA Y PINTURA donde quiero participar con un poema.
No es primera vez que escribo, tengo dos experiencias muy buenas cuando me tomo el tiempo de escribir una de ellas las compartí con ustedes hace ya 3 años, un poema para mi madre, y un cuento que escribí en mis tiempo de bachillerato, siempre he tenido la costumbre de escribir y eso no me ha sido dificultad pero tengo tiempo sin hacerlo con frecuencia como antes.
Espero mi poema les sea de gusto, un placer saludar a @franyeligonzalez y @xpilar por su continuidad en este concurso que al no ser así no fuera participado.
Encourage me to participate for the first time in the TWENTY-SECOND WRITING AND PAINTING CONTEST where I want to participate with a poem.

It is not the first time that I write, I have two very good experiences when I take the time to write one of them I shared with you 3 years ago, a poem for my mother, and a story that I wrote in my high school years, I have always I have been in the habit of writing and that has not been difficult for me, but I have had time without doing it frequently as before.

I hope my poem is to your liking, a pleasure to greet @franyeligonzalez and @xpilar for their continuity in this contest that, since it was not like that, was not participated.
---
Poema para el VIGÉSIMO SEGUNDO CONCURSO DE ESCRITURA Y PINTURA
Inspirado en la fotografía de @xpilar
Entre la inmensidad del cielo y su azul que lo descubre
entre las nubes que bailan al ritmo del viento
entre los reflejos en el agua afirmando su belleza
cada vez me doy cuenta que soy parte de ella.
No hay nada más sorprendente que verla
no hay nada que valga más la pena
por que al verla no hay nada que pierda
por que hasta el tiempo es parte de ella.
No existe nada como tu naturaleza
por que eres y serás siempre inmensa
eres más de lo que me decían en la escuela
por que hasta de una fotografía me hiciste escribir un poema.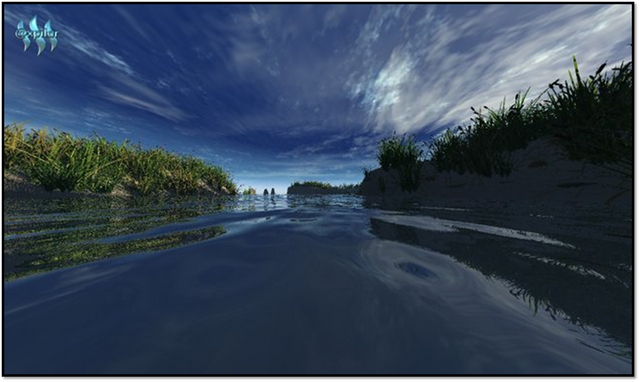 Fotografía de @xpilar e inspiración para el poema
Between the immensity of the sky and its blue that reveals it
among the clouds that dance to the rhythm of the air
among the reflections in the water affirming its beauty
every time I realize that I am part of it.

There is nothing more surprising than seeing her
there is nothing worth more
because when I see it there is nothing that I lose
because even time is part of it.

There is nothing like your nature
because you are and will always be immense
you are more than what they told me in school
because even from a photograph you made me write a poem.
Espero les haya gustado mi participación y muchas gracias por leerme, espero también tu comentario y nos vemos en el próximo concurso y en mis publicaciones en mi blog.
I hope you liked my participation and thank you very much for reading me, I also hope your comment and see you in the next contest and in my posts on my blog.