✨ Hello Steemitverse✨
Something very common in movies, video games or books that talk about the future of humanity, is something apocalyptic or a higher control of some state entity. I find it super curious that we always point to a dystopian society where there always seems to be a kind of chaos or something super hidden that will end humanity as we know it. From apocalyptic mutes where humanity is afflicted by some virus, zombie, large-scale extinction or food excavations ... to space conflicts or conflicts of the same species on the planet. Humans have always imagined our next years with a certain dark and scary point of view. Where at some point in our life as a specimen, we have decided to do a bad deed and end that future.
Of the films in which I have a memory of something like that, they are classics like Matrix, Terminator, Blade Runner and the most "recent" ones like Interstellar, The Hunger Games, Watcher of the Future ... even WALL-E itself. There is always something about them that makes human beings the most defenseless but at the same time the fiercest predator.
I have always wondered if there is or will be a utopian future where we all have a vision of prosperity without having to go through a pandemic or a battle to the death between nations. It seems that our way of thinking always leads us to conflict or absolute control.
In The Knitrias Project we see something similar, every time I read the Story of The Statute of Longevity the articles of my colleagues are impossible for me not to merge stories like Blade Runner, The Matrix or Ghost in the Shelll that create for me that Neo-Apocalyptic future feeling where control it is the most precious value in those frames. Do not misunderstand me when making these comparisons, I am a fan of Star Wars, Blade Runner and many futuristic stories where the fate of humanity is uncertain and adventurous.
Our rapporteur takes us to a context where there is a government hegemony that controls and indirectly creates a rebel society that becomes something more than every terrorist, I have tried to overthrow it with the help of Knitrias and the Neo-Revolutionaries, who over time and with the parallel stories that my colleagues develop, it seems that their relevance in the story will have a greater impact. It shows how we can go from one government system to another and how the idea of ​​space life can be explored.
The various stories we are creating (@KAYSMILE44 - @F21STEEM - @NATALIMARISA2019 - @FUTVEN12 - @MYFREELIVE - @RASHIA - @ADELJOSE) little by little a macro universe is taking place that if measured with the hand of Dave Filoni and supervised by Kevin Feige can connect everything in a gigantic story that unites everything in this project. This small space that we have together with @Knitrias and @LeVeuf in the great Steemit, which is undoubtedly something wonderful, and I am very grateful to be part of it with my colleagues.
The Knitrias Universe is in our hands, minds and hearts.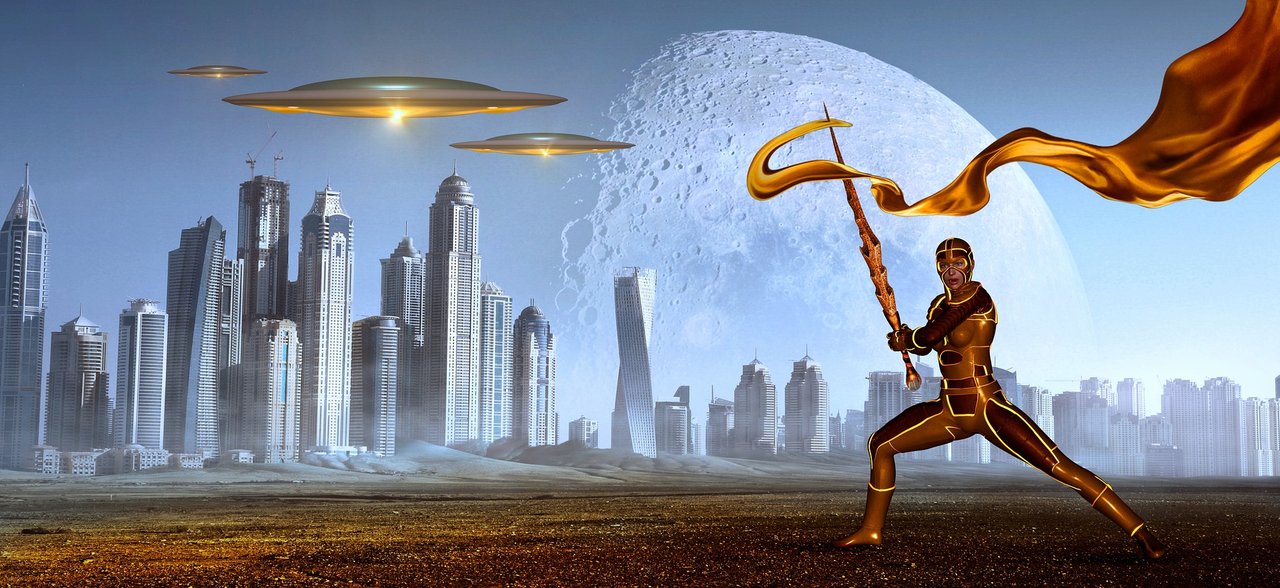 Knitrias
---
✨ Hola Steemitverse✨
Algo muy común en películas, videojuegos o libros que hablan del futuro de la humanidad, es de algo apocalíptico o un control superior de algún ente del estado. Me parece super curioso que siempre apuntemos a una sociedad distópica donde parece siempre haber una especie de caos o de algo super oculto que acabará con la humanidad como la conocemos.
Desde mudos apocalípticos donde la humanidad se ve afligida por algún virus, zombie, extinción a gran escala o excaves de alimentos… hasta conflictos espaciales o de la misma especie en el planeta. Los humanos siempre hemos imaginado nuestros próximos años con cierto punto de vista oscuro y tenebroso. Donde en algún punto de nuestra vida como espécimen, hemos decidido realizar una mala acción y terminar con ese futuro.
De las películas en las que tengo memoria de algo así son clásicos como Matrix, Terminator, Blade Runner y las más "recientes" como Interestelar, Los Juegos del Hambre, Vigilante del Futuro…hasta la mismisíma WALL-E. Siempre existe algo en ellas que hacen al ser humano el ser mas indefenso pero a su vez el depredador más feroz.
Siempre me he preguntado si existe o existirá algún futuro utópico donde todos tengamos una vision de prosperidad sin tener que pasar por una pandemia o una batalle a muerte entre naciones. Parece que nuestra manera de pensar siempre nos lleva al conflicto o al control absoluto.
En el Proyecto Knitrias vemos algo parecido, cada vez que leo la Historia de El Estatuto de la longevidad los artículos de mis compañeros se me es imposible no fusionar historias como Blade Runner, The Matrix o Ghost in the Shelll que me crean esa sensación de futuro Neo-Apocalíptico donde el control es el valor más preciado en esas tramas. No me mal entienda al realizar estas comparaciones, soy fan de Star Wars, Blade Runner y de muchas historias futuristas donde el destino de la humanidad es incierto y aventuresco.
Nuestro relator nos lleva a un contexto donde existe una hegemonía de Gobierno que controla y se crea de manera indirecta una sociedad rebelde que se convierte en algo más que todo terrorista, he intenta derrocarla con la ayuda de Knitrias y los Neo-Revolucionarios, quienes al pasar el tiempo y con las historias en paralelo que desarrollan mis colegas, parece que su relevancia en la historia pasará a tener mayor impacto. Se nota como podemos ir pasando de un sistema de gobierno a otro y como se puede explorar la idea de una vida espacial.
Las diversas historias que estamos creando (@KAYSMILE44 - @F21STEEM - @NATALIMARISA2019 - @FUTVEN12 - @MYFREELIVE - @RASHIA - @ADELJOSE) hacen que poco a poco se esté dando una macro universo que si fuera medido con la mano de Dave Filoni y supervisado por Kevin Feige puede conectar todo en una historia gigantesca que lo une todo en este proyecto. Este pequeño espacio que tenemos junto a @Knitrias y @LeVeuf en la gran Steemit, que es sin duda alguna es algo maravilloso y estoy gratamente agradecido de formar parte junto a mis colegas.
El Universo de Knitrias está en nuestras manos, mentes y corazones.
Bye