Hello Steemitverse
Bueno el día de la fuerza ha pasado, el reciente 4 de mayo es el día de Star Wars en general pero nosotros los seguidores del Lado Oscuro de la fuerza celebramos el 6 de mayo. Que aunque en español es tonto, en ingles tiene grandes referencias a la Franquicia y Universo de Star Wars. Siendo el 4 de Mayo "May the 4th be with you" haciendo referencia a "Que la fuerza esté contigo" y el 6 de mayo es "The Revenge of the 6th" que hace referencia a la Tercera película de la saga "Star Wars: The Revenge of the Sith"
*Well the day of the force has passed, the recent May 4 is the day of Star Wars in general but we followers of the Dark Side of the force celebrate May 6. Although it is silly in Spanish, in English it has great references to the Star Wars Franchise and Universe. Being May 4th "May the 4th be with you" referring to "May the force be with you" and May 6th is "The Revenge of the 6th" which refers to the Third film of the saga "Star Wars: The Revenge of the Sith"

Me tomé el tiempo necesario y me aguanté lo suficiente para poder comentar sobre una era que se cerró (por ahora) en el Universo de Star Wars, las grandes guerras clone. Que fue un acontecimiento realmente brutal y que nos dió de la mano de Dave Filoni una de las Series más icónicas en el Universo de esta franquicia.
I took the necessary time and held on long enough to comment on an era that was closed (for now) in the Star Wars Universe, the great clone wars. That it was a really brutal event and that Dave Filoni gave us one of the most iconic Series in the Universe of this franchise.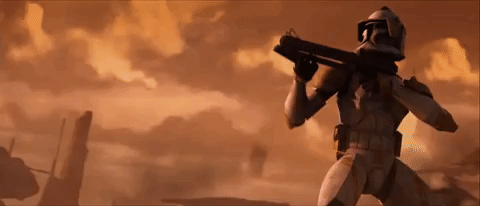 Star Wars: The Clone Wars
Esta serie nos presenta la gran importancia de los Jedis en las guerras y como estos se convirtieron en soldados y no en entes de la paz. Nos dio a conocer como los clones tenia sentimientos arraigados a la guerra y nos regaló demasiadas referencias visuales en cada temporada.
This series introduces us to the great importance of the Jedis in wars and how they became soldiers and not entities of peace. He revealed to us how the clones had feelings rooted in war and gave us too many visual references each season.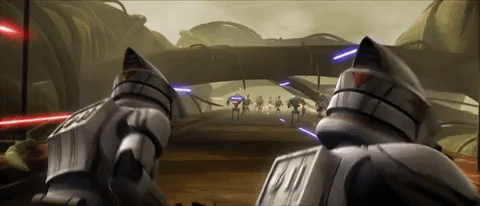 Star Wars: The Clone Wars
Lo que más aprecié de la serie en general fue la acción en cada episodio y temporada por parte de los Clones, la inclusión de Mandalore que es sin duda mi planeta favorito. (Mandalore, Coruscant y Mustafar es mi Top3) Ver el famoso sable de luz negro en manos de un Mandaloriano y volver a ver a mi Sith favorito Darth Maul.
What I appreciated most about the series overall was the action in each episode and season by the Clones, the inclusion of Mandalore which is without a doubt my favorite planet. (Mandalore, Coruscant and Mustafar is my Top3) See the famous black lightsaber held by a Mandalorian and see my favorite Sith again Darth Maul.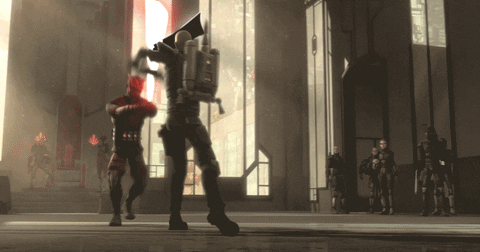 Maul vs Pre Vizsla
Esta serie tuvo grandes momentos, de los que más me quedaron así en mi corazón fueron:
This series had great moments, the ones that stayed the most in my heart were:
El romance entre Kenobi y la Duquesa Satine que nos demostró que Kenobi si amó a alguien y sabia lo que esto significaba en su camino como Jedi.
The romance between Kenobi and Duchess Satine that showed us that Kenobi did love someone and knew what this meant on his way as a Jedi.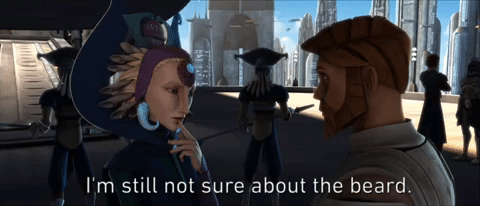 Satine Kryze & Kenobi
La Evolución de Ahsoka como Padawan inexperta hasta convertirse en uno de los resquicio de la esperanza en los Jedi. Terminando la serie como Ashoka La Gris, haciendo referencia a Gandalf El Gris.
Ahsoka's evolution as an inexperienced Padawan into one of the glimpses of hope in the Jedi. Ending the series as Ashoka the gray, referring to Gandalf the gray.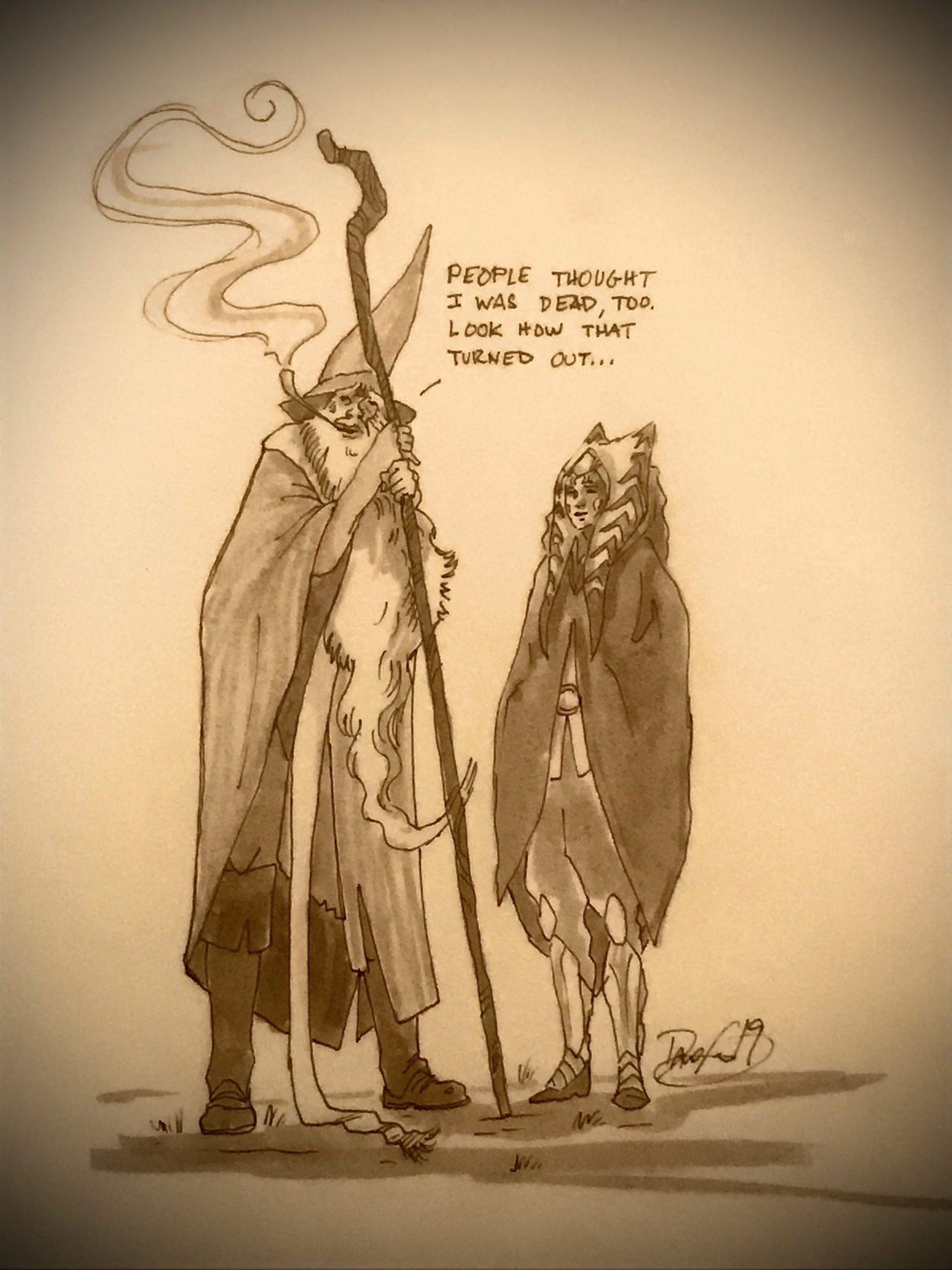 El regreso de Dath Maul y como se convirtió en Gobernador de Mandalore como a su vez de Las Familias Gansters.
The return of Dath Maul and how he became Governor of Mandalore as well as The Gansters Families.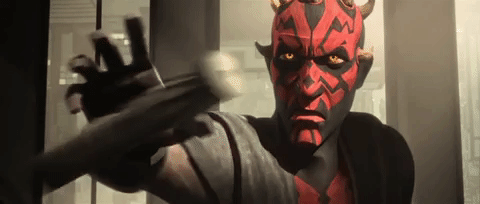 Maul in Mandalore
La hermandad entre los clones.
The brotherhood between the clones.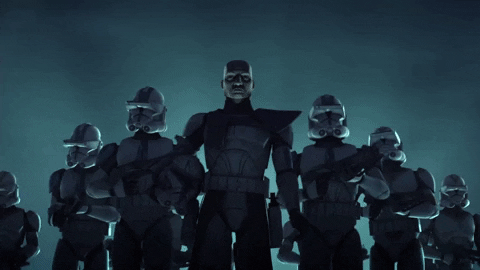 Star Wars: The Clone Wars
Y la verdad es que ha sido una serie que me acompañó en mi temprana juventud y que aprecio demasiado, incluso compre los DVD's de las primeras 5 temporadas cuando aquí en Caracas-Venezuela las ComicCon eran buenas!
And the truth is that it has been a series that accompanied me in my early youth and that I appreciate too much, I even bought the DVD's of the first 5 seasons when here in Caracas-Venezuela the ComicCon were good!
Espero con ansias saber que ocurrirá con Ahsoka y como seguirá su historia desenvolviendose a medida que pasan los años. Existen unos 17 años entre Clone Wars & Rebels, así que esperaré a ver que se trae el Maestro Filoni.
I look forward to knowing what will happen to Ahsoka and how her story will continue to unfold as the years go by. There are about 17 years between Clone Wars & Rebels, so I'll wait to see what Master Filoni brings.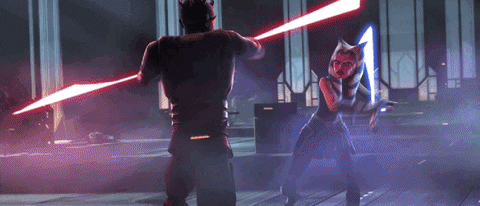 Maul vs Ahsoka - The Clone Wars
Bye