Today I'm back with you, but this time it's not to present you today's purchase to participate in #TheShoppingGame, since I didn't make the purchases myself, due to the fact that I had to attend my workplace, however, I'm going to take the opportunity to officially introduce myself to the Steemit team and the main organizers of #theDiaryGame: @steemitblog and @steemcurator01
Hoy estoy de vuelta con ustedes, pero esta vez no es para presentarle la compra de hoy para participar en el #TheShoppingGame, ya que no hice las compras yo, debido a que tuve que asistir a mi lugar de trabajo, sin embargo, voy a aprovechar la ocasión para presentarme oficialmente al equipo de Steemit y a los principales organizadores de #theDiaryGame: @steemitblog y @steemcurator01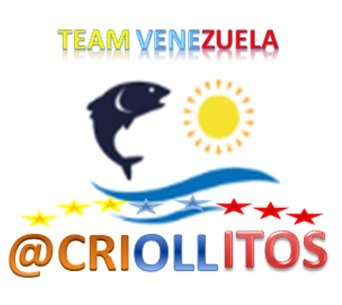 @Criollitos
I am Javier Díaz, from Cabimas I have been in Steemit for 3 years now, thanks to God, and from yesterday I am a member of the team @criollitos together with the colleagues and friends @adeljose, @mleclaret, @casamia12 and @gabriel2020. As other people would say, I'm anxious to start this new round of #TheDiaryGame and I'm stuck with the first round because I started late, my niece asks me when she's going to publish, I'll have to create a Steemit account for her, so she can leave mine alone hahaha, it doesn't matter she'll be the protagonist of my publications when she wants, count and won't ask me for hamburgers again because it leaves me peeling haha, I'm just kidding.
Yo soy Javier Díaz, desde Cabimas llevo ya 3 años en Steemit gracias a Dios , y a partir de ayer soy miembro del equipo @criollitos junto a los compañeros y amigos @adeljose, @mleclaret, @casamia12 y @gabriel2020. Como dirían otros, estoy ansioso porque comience esta nueva ronda de #TheDiaryGame y es que quedé picado con la primera ronda ya que comencé tarde, mi sobrina me pregunta cuándo va a publicar, tendré que crearle una cuenta Steemit a ella, para que deje la mía tranquila jajaja, no importa ella será protagonista de mis publicaciones cuando ella quiera, contar y no me vaya a pedir para las hamburguesas otra vez porque me deja pelando jaja, es broma.
#Thediarygame went off in a surprising way, so much so that even I started to participate and I don't like to tell what I do at home, much less what I buy and how, it's crazy how Steemit has come into the house, but she's like my spoiled niece.
#Thediarygame se disparó de una forma sorprendente, tanto que hasta yo mismo comencé a participar y eso que no me gusta contar lo que yo hago en casa, ni mucho menos lo que yo compro y como, es una locura como Steemit ha entrado a la casa, pero ella es así como mi sobrina consentida.
I have good intentions to do the fifty publications, however, we are not controllers of our destiny, I hope God and the services allow me to have the ideal situation to present my reports of #TheDiaryGame day by day, although I could see that one of the rules allows that a daily report can be published (in case of being necessary) after one day, placing correctly the date to which said report corresponded.
Tengo buenas intenciones de hacer las cincuentas publicaciones, sin embargo, no somos controladores de nuestro destino, ojalá Dios y los servicios me permitan tener la situación idónea para presentar día a día mis reportes del #TheDiaryGame, aunque pude ver que una de las reglas permite que se puede publicar (en caso de ser necesario) un reporte diario pasado un día, colocando correctamente la fecha a la que correspondía dicho reporte.
@Criollitos, as I could see, is full of talent and with a certain air of youth, it is good, to have new blood that has a new and interesting mentality, as I said, I am anxious that either on August 1st, to start publishing my day to day, either in the jacuzzi, at the hacienda, or in one of those humble boats that are under my property. Whoever wants to can come and realize that everything is an illusion that I can capture in my diaries as some symptoms of dementia millionaire that I suffer in some moments of my life.
@Criollitos, como pude ver, está lleno de talento y con un cierto aire de juventud, es bueno, tener sangre nueva que tengan una mentalidad nueva e interesante, como dije, estoy ansioso de que ya sea el 1ero de Agosto, para comenzar a publicar mis día a día, ya sea en el jacuzzi, en la hacienda, o en uno de esos humildes botes que están bajo mi propiedad. Quien quiera puede venir y darse cuenta que todo es una ilusión que puedo plasmar en mis diarios como algunos síntomas de demencia millonaria que sufro en algunos momentos de mi vida.
I hope to be effectively active in #theDiaryGame as in other events promoted by #knitrias-project since I am a member of this disciplinary team as well.
Espero ser efectivamente activo en el #theDiaryGame como en otros eventos promovidos por #knitrias-project ya que soy miembro de este equipo disciplinario también.
Soy miembro de la comunidad Knitrias-Project
I hope you enjoyed it, if you have any recommendation, please leave a comment
Espero que lo hayan disfrutado, si tienen alguna recomendación, por favor pueden dejarla a través de un comentario
That's all for the moment.
Esto ha sido todo por el momento.