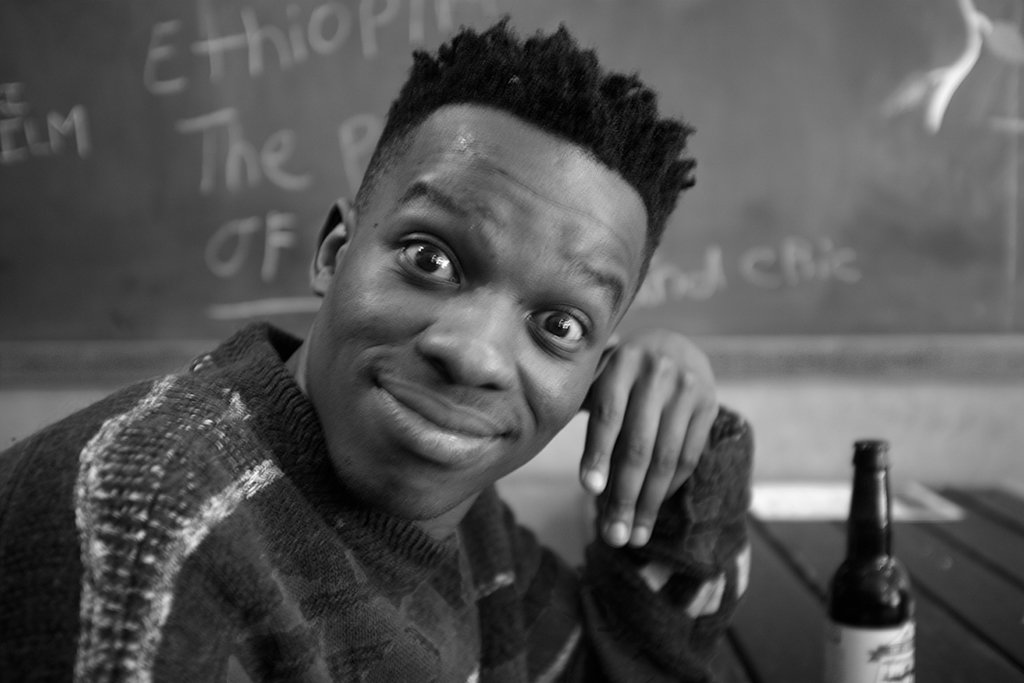 Wait!
Yes, I know; It is not sharp - it has motion blur.
I took the photograph in 2017 - on a Sunday afternoon - according to the EXIF data it was at 4:06pm.
So you may ask; So why showing this photo today? Don't you have anything better to show?
Thanks for asking, let me show you the long winding mental journey that brought me to this photo!
Let me first say, I actually love this photo.
It symbolises the start of an amazing photography week back in 2017!
Oh, about my mental journey...
Two nights ago, I decided to take a break from everything and watch something on Youtube (Dangerous - I know).
One of the inspirational channels I am following is, "The Photographic Eye" by Alex Kilbee.
He just posted a video about the photography of Obie Oberholzer
a couple of hours ago!
I am a big fan of Obie Oberholzer, so I had to watch it.
While watching the video, my mind drifted back to that week in 2017.
It was our annual PSSA National Photographic Congress. Francois Rousseau and I were the instigators of a photography congress in Johannesburg with a Street Photography theme.
It was a very controversial congress. Firstly, the majority of South African photographers are not much interested in Street Photography and secondly, Johannesburg is notoriously known for being unsafe to photograph on the streets. Then there is also the very skewed belief that Johannesburg is not photogenic. Anton Bosman proved that this is totally untrue with his excellent lecture on the architecture of Johannesburg.
If you purely look at the number of attendees compared to previous congresses, then you would declare the congress a failure, as many outsiders did! But, according to the attendees, it was a huge success.
It was like finding a diamond on the outskirts of a diamond field
where nobody else was looking!
Rather you keep this to yourself...
Our success was mainly the result of the amazing speakers we managed to get for the congress, and partly also because we actually hired a professional security company to safeguard our members on their photographic outings!
In hindsight, it was most likely a blessing in disguise that we did only have 43 attendees, and not 143 - we would not be able to protect such large groups of photographers.
As you most likely already guessed, Obie Oberholzer was one of our speakers, and he is such a charismatic speaker - we all were on a high at the end of his talk (which overran by almost 30 minutes but felt waaay too short!)
Our keynote speaker was Ibarionex Parrelo, the host and producer of "The Candid Frame".
Ibarionex is from the US and arrived on the Friday before our congress.
On the Sunday before the congress started, I took Ibarionex to Maboneng for a late lunch and a walk-about. The Maboneng Precinct is located on the eastern edge of Johannesburg's central business district. It is a handful of easily walkable blocks up, down, and around Fox and Main Streets. Maboneng is South Africa's answer to Williamsburg, Brooklyn.
We went to the "Arts on Main" food market (only opened on Sundays) to have some authentic African food.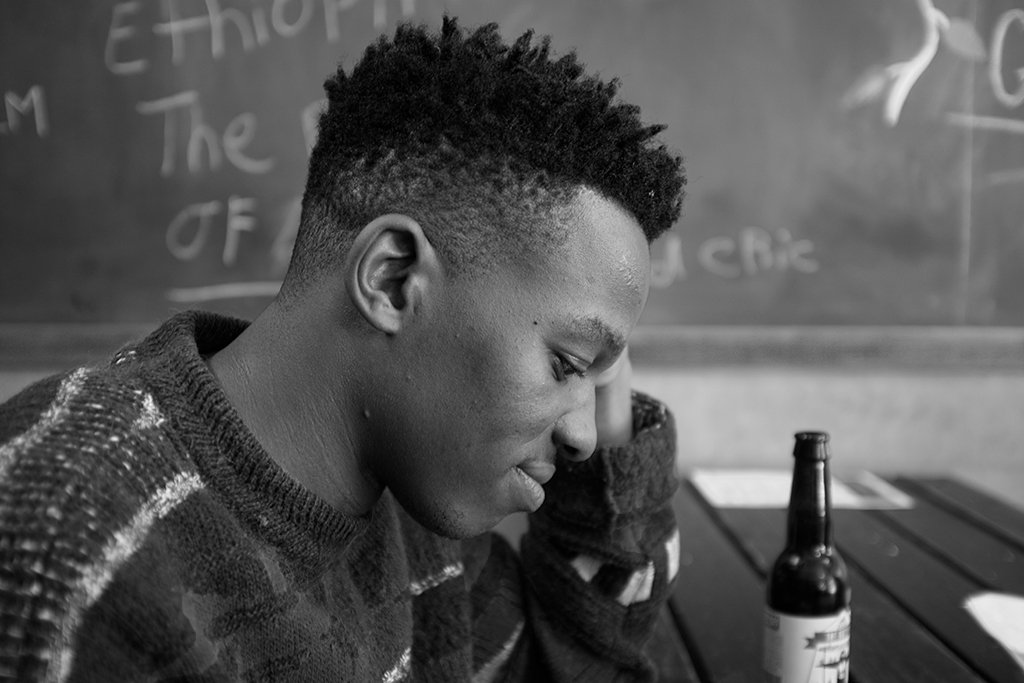 I saw this guy sitting at a table at the Ethiopian food stall, looking at the menu. I liked his hairstyle and took a photo. The area is very dimly lit resulting in a photo of 1/10th second with an F2 aperture on my Fujifilm X100F. I did not like the composition and adjust my position slightly and took the second photo. As I pressed the shutter, he quickly turned towards me and made his funny face - he obviously saw me out of the corner of his eye when I took the first photo. We both had a good laugh.
Although the photo was totally blurred by his motion, the moment was very special.
We ended up sitting down and also having Ethiopian food for lunch.
This was Ibarionex's first encounter with Maboneng and the streets of Johannesburg, and we had to come back there several times during the rest of the week. Several photos, including the frontpage photo, in his latest book Making Photographs were taken during that week in Johannesburg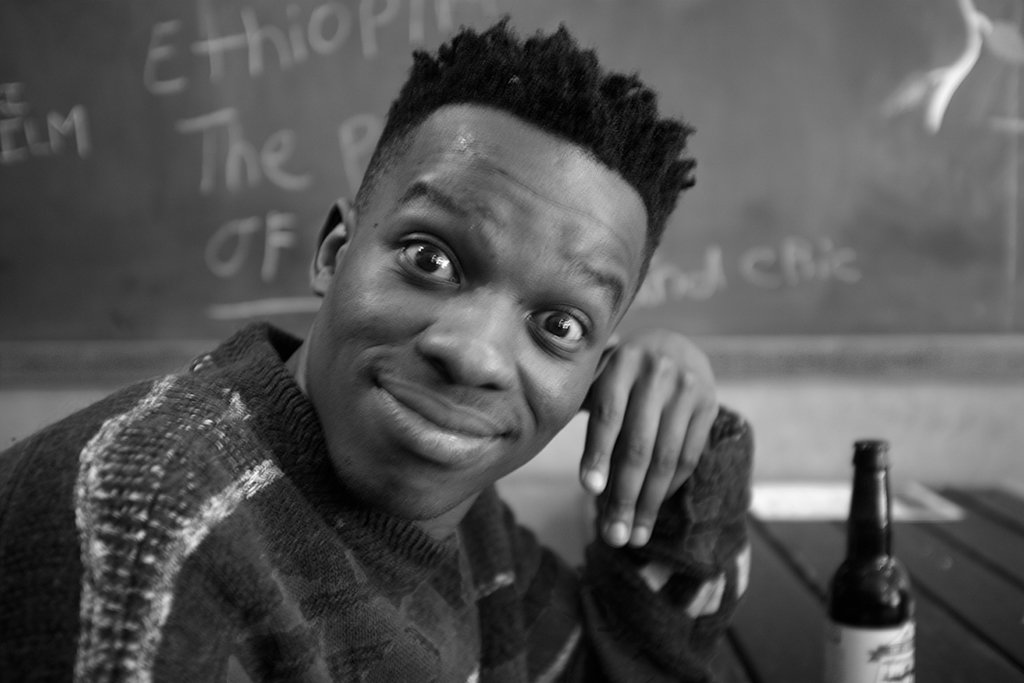 This photo represents the mood and attitude of most people working or visiting Maboneng, in fact, in most of Johannesburg!
So, there you have it, I took a blurry photo and had the audacity to publish it in my blog!
These two photos reaffirm the reason for my love for my Fujifilm X100F camera.