She looks the same girl, but she is not. Only a second later she has changed, her gesture varied slightly and also her pose. If you stop to analyze the differences you will find a few. Perhaps the most obvious is the turn of the frame or position of the photo, but there are more.
Zoom in, have a closer inspection and find it out. There is something exaggerated and something faint in her figure. There is something blurring and it is her impetus, her definition and the comfort of her face. A millisecond later, she slipped out of focus, moved just a few millimeters and stopped breathing to look at me more with the cheek she had hidden along with half of her shame.
And if you look again, you'll notice that her hands are more erect, more firmly held and focused on their task of looking veiny and clean while they' re tied to that paint-streaked wall.
But there is another difference. It is the only one I keep to myself. It is indelible from my mind but invisible to the viewer, who has to look inside in some of the two images, where desire's hands were.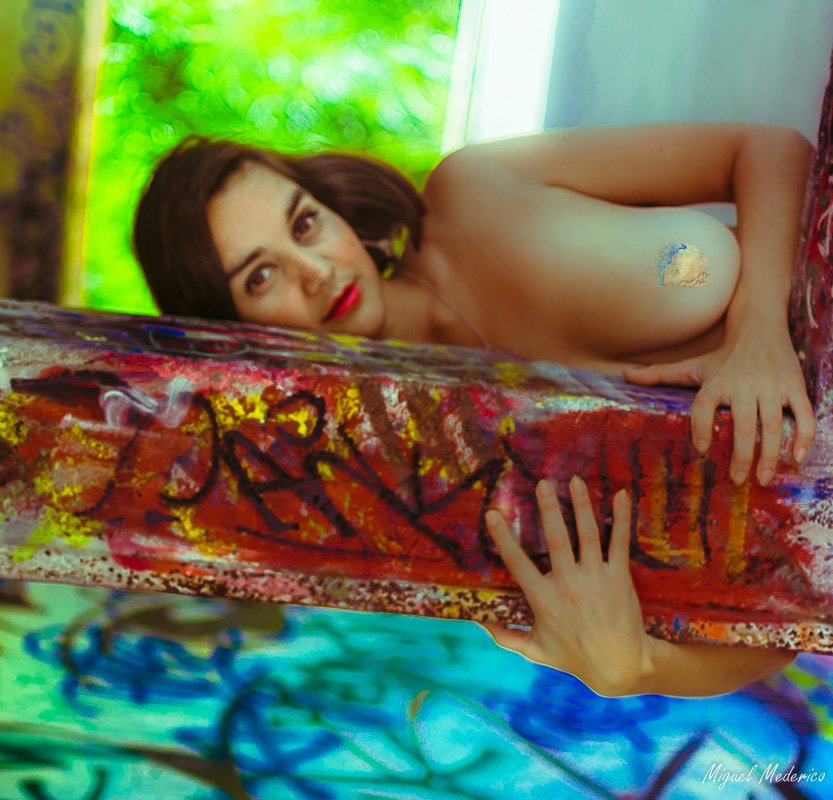 ---
Español
Ella parece la misma, pero no lo es. Solo un segundo después ha cambiado, el gesto varió levemente y también su pose. Si te detienes a buscar las diferencias hallarás unas cuantas. Quizás la más obvia es el giro del encuadre o posición de la foto, pero hay más.
Acércate, mira un poco más y descubre. Hay algo exagerado y algo tenue en su figura. Existe algo que se difumina y es su ímpetu, su definición y la comodidad del rostro. Un milisegundo después, ella se escapó del enfoque, se movió solo unos milímetros y dejó de respirar para mirarme más con la mejilla que había ocultado junto con la mitad de sus vergüenzas.
Y si miras otras vez, notarás que sus manos están más erectas, más firmes sosteniéndose y concentradas en su tarea de verse venosas y limpias estando amarradas a aquella pared llena de pintura.
Pero hay otra diferencia. Es la única que me reservo. Es indeleble de mi mente pero invisible para el espectador, que tiene que buscar dentro en alguna de las imágenes, donde estaban las manos del deseo.
Photographer
@Miguelmederico
Modelo
@grecia
Locación:
San Antonio de Los Altos - Venezuela
Camera
Nikon D5200
Lente:
35 mm

Esta es mi participación en el concurso organizado por @axema y @xpilar The World of XPILAR - NSFW Beauty of woman's body CONTEST WEEK #133