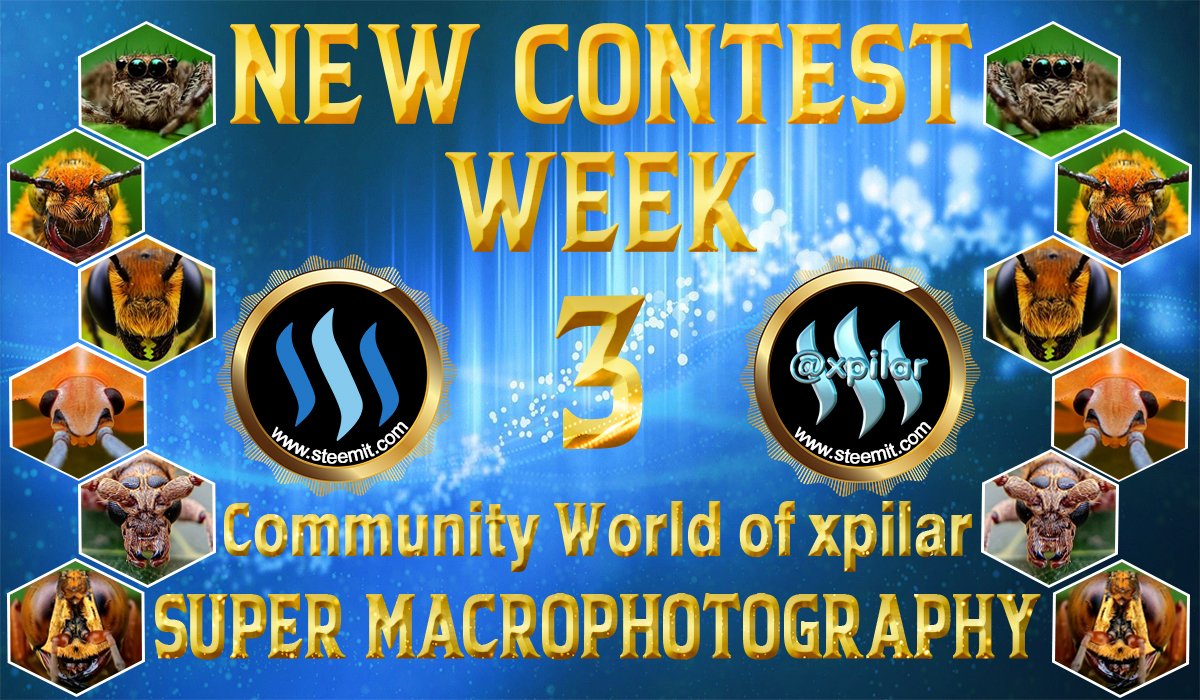 ---
PROMO STEEM WITH PHOTOGRAPHER SUPER MACRO
CONTEST STEEMEXCLUSIVE WEEK III
---
Today, I represent the Steem World Of Xpilar Community, will hold a Macro photography Contest again WEEK III , but in this Contest, we really hope, the details of the image will be shown, on the blog posts of Participants or Steemians, who have joined #steemit, a contest that we for this aim to develop all the talents that have been seen so far from Macro - Super and Pro Images, so that they appear more in #steemexclusive, with #steemit in the #worldofxpilar Community.
Participants from DSLR cameras or cellphone photographers, all can be taken, according to the tools they have so far. remain our Priority in Steemit as Promo is #steem #Trx #Tron in #communityblockchain #community #worldofxpilar .
Participation support, time and place are very valuable for us, in assessing all activities of a Contest Participant from another Community or from another country. while #promoting Steem in their respective regions or countries.
---
Weighing and Deciding
---
1 . Through this contest that we have created, hopefully more photographers, who have not joined Steemit, or who have stopped on Steemit, will come back with us, to show their abilities.
2 . The results obtained from voting for the winner of SBD or STEEM, are used to perform:
Buy Steem Power Up
Power Ups.
The Super Macrophotography contest that we have created refers to several very important things, namely:
Power Up Steem
Steemexclusive
Promotion Steem
Share Social Media
Photo Techniques
Write
Guide
Lens
Overall, it will be able to help other Steemians, to direct the Mindset ability and way of thinking to do the best, be confident, try, be patient, and will benefit other people and themselves. for the future.
---
Show Steemians Super Macrophotography Work
---
Another hope, we really hope that the Steemians can take part in this Contest, so that they can, show their talents and abilities, in showing the work of their respective photos, with us the Steemit Flatform in the World Of Xpilar Community.
---
SUPER MACROPHOTOGRAPHY WEEK III
---
| 1 | SUPER MACROPHOTOGRAPHY COMPETITION RULES |
| --- | --- |
This contest is open to the entire Steemians Community on Steemit
Super Macrophotography Image "Not video"
More detailed image results are prioritized
Mention the competition category you are participating in
Photos are not allowed to use frames
Short description, we welcome a minimum of 300 to 500 words.
Editing is allowed within normal and natural limits.
Photos must be original work - NO PLAGIARISM
Photos must not be Crost Post or other Flatforms
Link the Contest Post Link in the Comments below "Not Mandatory"
Use hashtags, so that we can easily find your post
You can submit one (1) entry per day
There will be a process to clarify the winning photo
Contest Announcement 1 Month After This Post.
Winners will be drawn in 1 Winner every Sunday
There are only 4 winners every month.
Winners will be contacted.
---
| 2 | CATEGORY SUPER MACROPHOTOGRAPHY COMPETITION. |
| --- | --- |
Other Insect
Other Beetle
Other Flowers
Other animals
Arthropoda
Mushrooms
Snail
Shells
Plant Type
Types of Flower Plants
Petals
Inanimate objects
Water Drop
Water droplets
Unique Items
Object All
---
| 3 | Photo Minimum All 6 Images, in 1 Post" |
| --- | --- |
Overall View
top view
Face Display
Body view
Back View
Standard distance display
---
| 4 | Share in Media Sosial "or choose one" |
| --- | --- |
Twitter
Linkedin
FaceBook
Reddit
Instagram
Etc. "Your Share Media Name"
Sharing on other Media, will also determine one of the assessments to be a Winner,
---
Appraisal Board
---
The Jury who will judge this Contest are :
---
PLAGIAT CHECKING - COPY PASTE
---
---
WINNER
---
---
---
WINNER WEEK III - Contest In Progress
---
The winners will be judged on a weekly basis and will be rewarded on their next post with a upvote from
"World of Xpilar Curation Trail"
---
| WINNER | UPVOTE % | CURATION TRAIL | STEEM |
| --- | --- | --- | --- |
| Winner I | 70 % | World of Xpilar Curation Trail | 10 |
| Winner II | 60 % | World of Xpilar Curation Trail | 10 |
| Winner III | 50 % | World of Xpilar Curation Trail | 10 |
| Winner IV | 40 % | World of Xpilar Curation Trail | 10 |
---
Want to be a Sponsor, Please Contact Us.
---
NOTE FOR CONTEST PARTICIPANTS
---
All the rules that you have read above, can change at any time, both in adding prizes for winners and in contest rules. during the Macro Photography contest.
---
---
Final conclusion.
So, with today's post published, Super Macrophotography WEEK II , we start.
Greetings, @WorldOfXpilar Community
---
---
---
INFORMATION
---
---
NEW ONLY IN WORLD OF XPILAR
---

---
WORLD OF XPILAR DOLPHIN CLUB
---
---

---
---