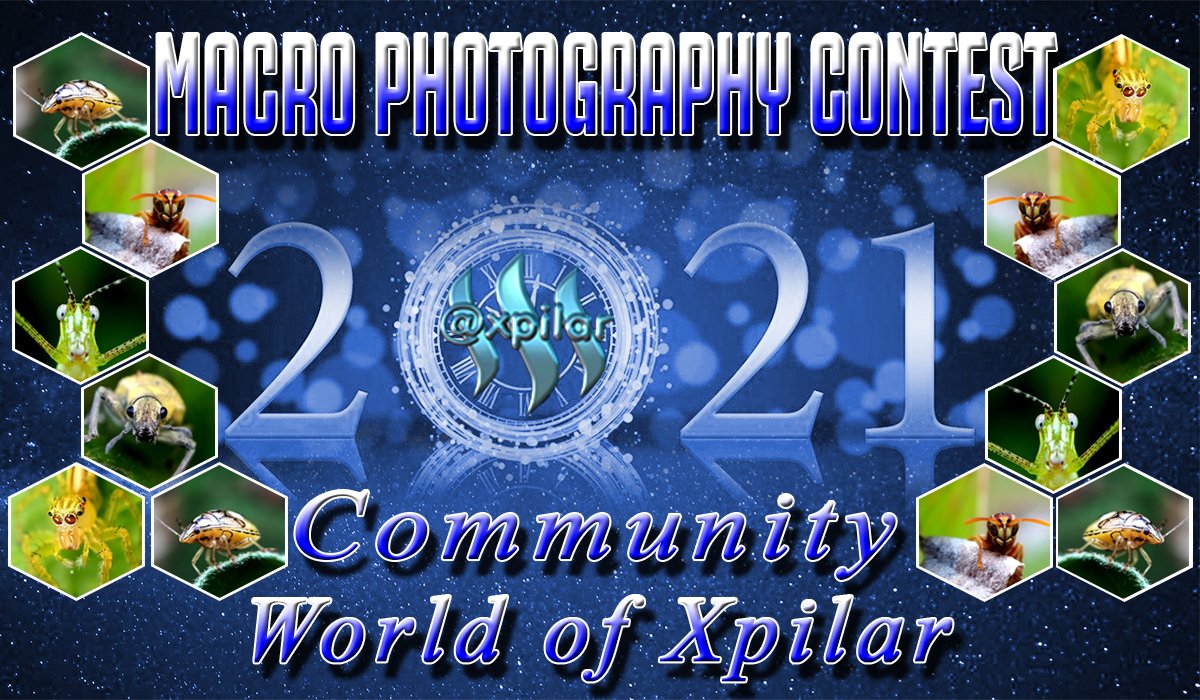 ---
INTRODUCTION TO MACRO PHOTOGRAPHY COMPETITION
---
Today, I represent the Steem World Of Xpilar Community, holding a Macro photography Contest for all Steemians, who have joined #steemit, this contest we created aims to develop all the talents that have been hidden so far, to appear more in # the1000daysofsteemit, together #steemit and the #worldofxpilar Community. #steemexclusive specifically Photograhers that we have never differentiated, in showing their expertise, using digital camera tools or showing their expertise through mobile cameras, which we have deemed very good and perfect, in the steem #community #blockchain #worldofxpilar.
Participation support, time and place are very valuable for us, in assessing all activities of a photographer, when looking for image materials in several places, such as:
Forest
Garden
Holiday Park
Recreation areas
for them to show on the Blog Post Steemit and the Steem Blokchain Community, as time goes by and the capabilities continue to flow and grow, in the participation of a Photographer. while promoting Steem in their respective territories or countries.
Through this contest that we have created, hopefully more photographers, who have not joined Steemit, or who have stopped being in Steemit, will come back with us, to show their abilities again, in 2021 on the long Steemit Flatform.
In showing their expertise, hopefully they can get the results they can get for use as an Power Up, Investation or for the needs of brands in the real world.
---
The Macrophotography Contest that we created refers to several very important things, namely :
steemexclusive
Promosteem
Ilovesteem
ShareSocialMedia
Photo technique way
Write
Guidance
Lens
Overall, will be able to help other Steemians, to direct the ability of the Mindset and the way of thinking to do the best, confident, benefit society and themselves. for the future.
---
Show Steemians Macro Photography Work
---
Another hope, we really hope that the Steemians can take part in this Contest, so that they can, show their talents and abilities, in showing the work of their respective photos, with us the Steemit Flatform in the World Of Xpilar Community.
---
| Week I | CATEGORY MACRO PHOTOGRAPHY I |
| --- | --- |
| Tittle - Type | NEW CONTEST 2021 - Insect Macrophotography |
| End up | 15 Januari 2021 |
---
Appraisal Board
---
The Jury who will judge this Contest are
Moderator World Of Xpilar Community.
---
MACRO PHOTOGRAPHY COMPETITION
---
For all Stemians who have joined disteem, after you read this post, can continue to participate in the contest, by sending a race image of your respective post, starting now. by referring to some of the rules that we made, so that this contest can run well and be successful.
For the rules and categories, other additional fibers through the description, you can all read them below.
---
MACRO PHOTOGRAPHY COMPETITION REQUIREMENTS
---
| 1 | RULES MACRO PHOTOGRAPHY COMPETITION |
| --- | --- |
This contest is open to the entire Steemians Community on Steemit
Macro Photography"Not video"
Mention the competition category you entered
Photos are not allowed to use frames
A brief description, we welcome a minimum of 500 words.
Editing is permitted within normal and natural limits.
Photos must be original works - NO PLAGIARISM
Photos may not be Crost Post or other Flatforms
Link the Contest Post Link in the Comments below
Use hashtags #contest #steemexclusive #macrophotography
You can submit one (1) entry per day
There will be a process to clarify the winning photos
The Contest Announcement 7 Days After This Posting.
The winner will be contacted.
---
| 2 | CATEGORY MACRO PHOTOGRAPHY COMPETITION |
| --- | --- |
| 1 | Insect |
| 2 | Beetle |
| 3 | Flowers |
| 4 | Other animals |
---
| 3 | Photo Minimum All 3 Images, in 1 Post" |
| --- | --- |
Overall View
top view
Face Display
Body view
Back View
---
contrast
saturation
sharpness
brightness
crop
resize
---
Twitter
Linkedin
FaceBook
Reddit
Instagram
Etc. "Your Share Media Name"
At least 1 social media, remember to show your share link here in the comments field so we can find you more easily
---
WINNER
---
The winners will be judged on a weekly basis and will be rewarded on their next post with a upvote from
"World of Xpilar Curation Trail"
---
| WINNER | UPVOTE % | CURATION TRAIL |
| --- | --- | --- |
| Winner I | 100 % | World of Xpilar Curation Trail |
| Winner II | 75 % | World of Xpilar Curation Trail |
| Winner III | 50 % | World of Xpilar Curation Trail |
---
SPONSORT
---
---
Want to be a Sponsor, Please Contact Us.
---
NOTE FOR CONTEST PARTICIPANTS
---
All the rules that you have read above, can change at any time, both in adding prizes for winners and in contest rules. during the Macro Photography contest.
---
---
Final conclusion.
So, with today's post published, our official macro photography we start.
Greetings, @WorldOfXpilar Community
---
---
INFORMATION
---
---
---

---
| NEW CONTEST 2021 | MACRO PHOTOGRAPHY |
| --- | --- |