Today was my first day at the Macrohard hub and i wasn't productive. I just wasn't fit. I spent up to an hour in it, just feeling it and tying my spirit to it. It is a gradual process. Just five minutes of walk to arrive at it and i was soaking wet, in my sweat. The hub is still empty and has one window, neither does it have internet yet but being in it today was very positive and especially inspirational.
It looked smaller than my first day in it; the hub! I have an especial coordination problem because of how my brain now works. I fell today for instance, on the stairs thinking two-steps was 'one' and i am not physically strong, so it was a heavy fall. Before i stopped playing basketball 3 years ago, i would have an 'open basket' to dunk into and i would miss the dunk because i was no longer accurate in determining where the rim was. Most painful, is not being able to describe these things sufficiently to anyone, using English.
The hub isn't so perfect but we will use it. One of the things about it that isn't so fitting with my intention for the hub is 'the noise'. It is in front of a busy road and considering that a major aspect of 'Macrohard's enterprise model' is 'media-creation' (especially 'video'), such noise is a deterrent.
Well today, in midst of the noise,
i recorded the video below
:
For some lighting, i had to open the window and there was so much external noise but i had to do this 'crowdfunding video' all the same. In it, i touched on my current state of affairs and the role of 'Macrohard hub' in this particular scheme of things. I also mentioned with assurance, how i intend to help supporters of my crowdfunding efforts.
Among other things, i will use this hub to intimate people about 'blockchain technology' and look to effectively and organically onboard people into the world of 'blockchain', inculcating in them 'how to use 'blockchain' as a tool towards their evolution. This way, 'blockchain technology' can attain its shine, become mainstream and the world can find many more 'brothers' (many more 'generation-fixers'). 'Tunnels' can begin to find 'light' therein as humans begin to tap into their shine. May 'Macrohard' play a large role in all this regard
.
Read more about the 6-months roadmap for Macrohard: https://uloggers.xyz/2020/06/16/proposal-setting-up-a-physical-start-up-in-the-philippines-called-macrohard/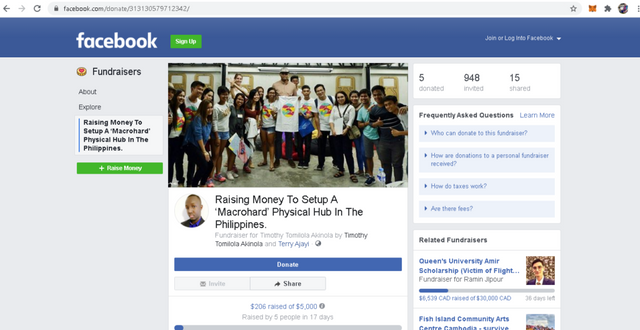 Depending on your location, 'send an email to 'comsilbronze4@gmail.com', that i may be able to provide you a convenient avenue that you can donate from'.

Your Boy Terry
Let Us Work Together On Your Challenge

Do well to subscribe to UloggersTV and turn on notifications and whenever you are ready, say 'you have ordeal' or say 'you are seeking the ever-missing piece of your puzzle on any subject or industry, kindly contact me on 'comsilbronze4@gmail.com' and we will work together within the course of one live-stream (dedicated to you), whereupon i will share my insight as a 'legitimate illiterate', share my screen to help you with tangible online resources that can help you further and share the resources that i have, whatever is available. We will find solutions today!
---