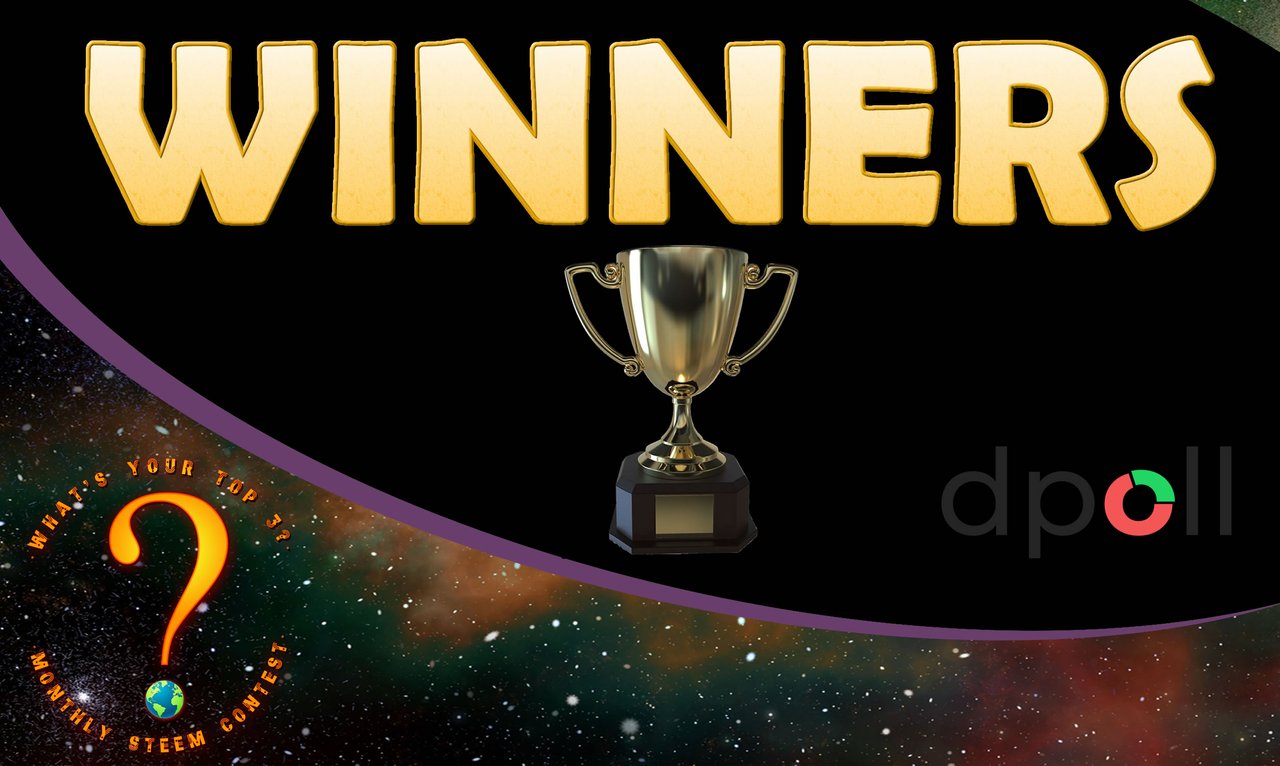 The trophy in the header Image by Victor Jumbo from Pixabay
A Critical Month!
Hey everyone!! It's Q here, the mascot for the Your Top 3 Contest and I'm back to reveal this month's winners along with my Q1 League Winners PLUS an announcement about where we are moving to!
First, let's see how things have gone this month and it's not been short of incident both inside and outside the blockchain but myself and everyone at Top 3 really hopes that everyone stays safe during these turbulent times with Coronavirus.
With that in mind, I want to continue doing what I can with the Top 3 Panel to bring you some positive vibes and fun to take away from all the troubles we're facing in the world right now.
This month, I asked you to channel your inner movie critic after previous contestant @tryskele suggested "Least Favourite Movies" as a topic in our Discord! Thanks to her, you brought in some absolute stinkers of movies gone by, probably wishing you couldn't remember them but rest assured, they will now hopefully be put to rest… in the trash!
So let's see what you all voted for from the list of nominations that came in and who came out on top...
Contest Results
As this is an open door contest, I like to use dpoll to let ALL of YOU vote for your choices from the nominations that have come in from those who entered. I then assign points to those voting positions and add up the three nominations for each contestant to make a final league table.
And here is the final league table: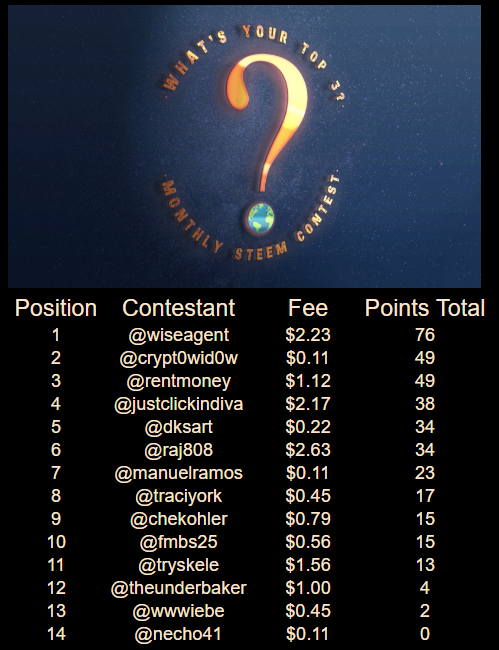 Link to post - Entry fee paid $2.23 Prize $9.40
Link to post - Entry fee paid $0.11 Prize $0.31
Link to post - Entry fee paid $1.12 Prize $1.57
Tie Break Situation!
Wow folks, we had ourselves a tie break situation this month to go along with the other crazy things! We have 3 levels that we use to help with this situation and the first level is decided on which nominations placed highest. As @crypt0wid0w's first choice received more votes and placed higher than @rentmoney's, she finishes in 2nd place and @rentmoney finishes in 3rd! A close battle here but well done to both!
Topic Choice Bonus
As this month's topic was picked by @tryskele, I have sent you 1 STEEM to say thank you! Yay!
Congratulations to the winners for the excellent nominations and winning this month's contest round! Be sure to check your wallets as the prize payouts will be with you shortly!
Q1 League Winners
Now, my personal "Q's League" that runs every quarter involves some revolutionary mathematics to give points to those who finished outside the Top 3 in the regular monthly contest. These points build up each month and contribute to that quarter's points total.
Those who finish in the Top 3 of the Quarterly Leagues will get SBD prizes too. So don't despair if you didn't win the big monthly prizes, there's a chance to win with the quarterly leagues!
And so, with this being the end of Q1, it's time to announce the winners! Here's how the final Q1 League looks like: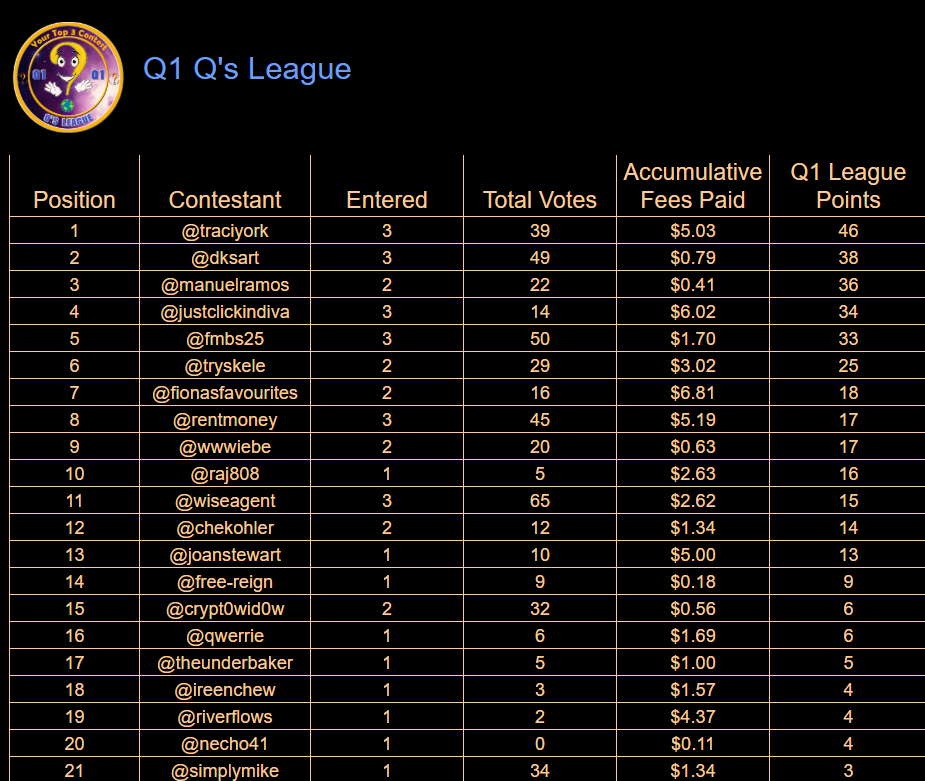 2nd place @dksart - $0.30
I'm Moving To Hive!
Hard to believe I've been on STEEM with the Your Top 3 Contest for nearly a year but it seems fitting that we start off our 1 year anniversary on a new platform called Hive!
Why am I moving?
Well, this is pretty much a community run contest and I care about what those who take the time to participate have to say about the direction. So, I asked @nickyhavey to create an emoji poll in our Discord server for the community decide and here are the results of that emoji poll:

As you can see, the majority of the votes pointed to Hive and so that's where we'll be heading to!
This means that you can remove any delegations you have on STEEM as we won't be using this account any more. Instead, we have some useful links at the bottom if you wanted to continue or start delegating Hive Power to us!
So, come join in the fun and follow us here - we look forward to seeing you there!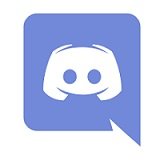 I Am On Discord!
You can join my Discord server here, which is where all the FAQ and contest rules will be housed and it makes it easier for our amazing contestants to come ask questions, interact and drop their links to entry posts. This way you can make sure you never miss an announcement and easily be able to check out your monthly competition 😉
Showing Gratitude
Such thanks should also be given to our delegators, we appreciate this immense generosity!!
The more delegations we receive the more support we can give to our contestants' entry posts then the bigger the prize pool will be at the end of the month. If you would like to delegate to @yourtop3, click one of the links below to delegate that amount of HP to our account.
Thanks for entering this month's contest. I hope you had fun and we get to do it all again on the 1st! So follow me here And I look forward to seeing your entries next month!
Q
Your Top 3 Contest Mascot