With reference to your contest advertisement written by @awuahbenjamin and edited by @nattybongo on the steem-ghana platform, I would like to share with you about the steemian who has impacted positively on my life.


---
---
For once, when I look back, and begin to recollect and reflect the many, but good moments that have had their joys engraved in my heart for all this while, I begin to curtail such glee in my solitary moments. But the time has come for me to let others know the very individual behind this memorable time in my life, and whose impact still continues to have an indelible reform in my life. This is no other person than @menak
It's been four years and my ordeals and experiences have been horrible. The thoughts of steemit had dead from my mind until one faithful Wednesday when I was swallowing my breakfast at the staff common room, when I heard my friends discuss it. In fact, it was a resurrection of a dead memory. I was startled and didn't even think steemit will find its way back here, where I have been posted to.It had been four years.l laughed at them in my mind. How I hated them anytime I heard them discuss it. I really wanted to share my sentiments in order to discourage them.
What really had happened? Kindly permit me to send you memory lane. The year 2018 was the first time I heard about steemit. I was then having my national service in a Secondary School around Brong Ahafo Region ,now Bono Region.A gentleman came to our school to share the news of steemit application to the general staff. I was whole perplexed and didn't want to even venture such business because of the news of scammers and charlatan groups that thrives in these areas. But some of my friends were lured and convinced to get an account.
The day after, my friends who signed up on the steemit platform, started to share the news about steemit and were discussing about some jargons peculiar to this field. I then felt interested and registered. I sought to try it. I wrote my first post and had no vote.My second post had only 5votes and my friends were the ones who voted ($0.03) ,the second one had three votes (0.00) which was a decline and to add salt to injury I was empty.The guy who introduced it had gone. Who explains to who? @cobby @abdulanas @juzkid etc had to quit . I had forgotten it.
---
According to William Arthur Ward he says "feeling gratitude and not expressing it is like wrapping presents and not giving it."
@menak is a steemian who has influenced my desire to reconnect to the steemit platform.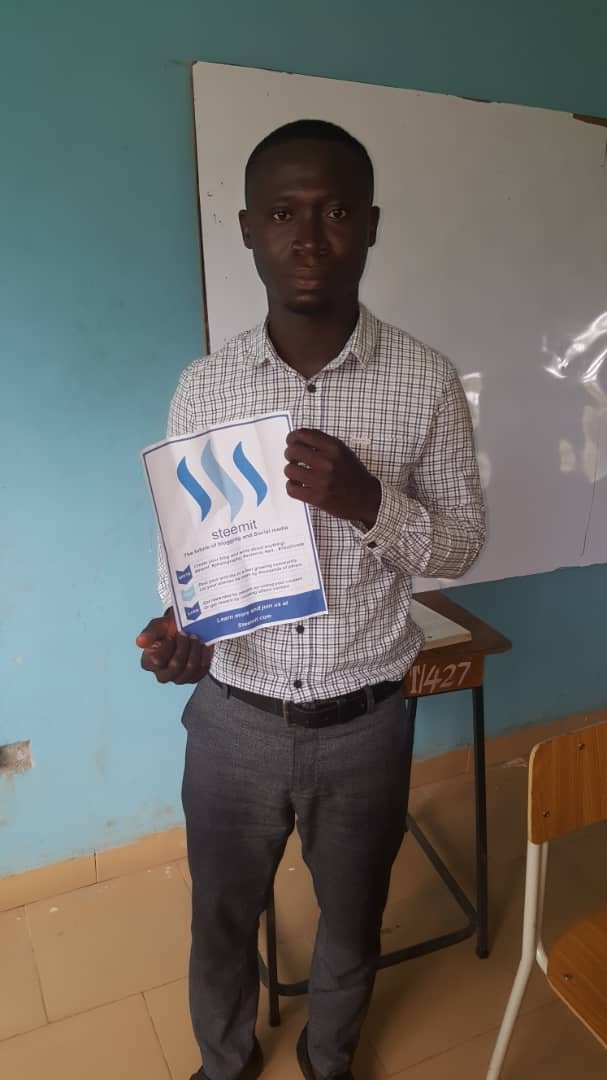 He inquired and knew I had an account with steemit. He is a teacher in the school I teach.@menak kept on putting pressure on my toes.He made me furious at times. Even when I am in the classroom, he comes there and stand in the aisles to announce his presence and to confirm whether I had opened the account as he instructed. His sight was always a language to me but I was very obstinate to his advances. At some point, his sight disgusted me. He doesn't know about this anyway, but there was a day I bolted and hid in one of the classrooms in order to avoid his sight. He called me in the morning, afternoon and sometimes in the evening to check up on that. He gave my number to @oppongk to add me to the steem-ghana platform yet I was unshaken. I recall @oppongk called me twice and I lied to him I was busy , that's funny anyway. They kept on pushing because of the overwhelming love and passion they had for the steemit community. In fact, I was an unmovable rock choked in a river. I knew what I had seen. @menak one day called @bigssam to our school
and he didn't refuse, but came to reset my account and made it live.Its amazing how people were so occupied with steemit. How @bigssam ,@delakloe and @kubati managed to explain a message I had in my notifications. What he did showed love.


The message I saw in my notifications.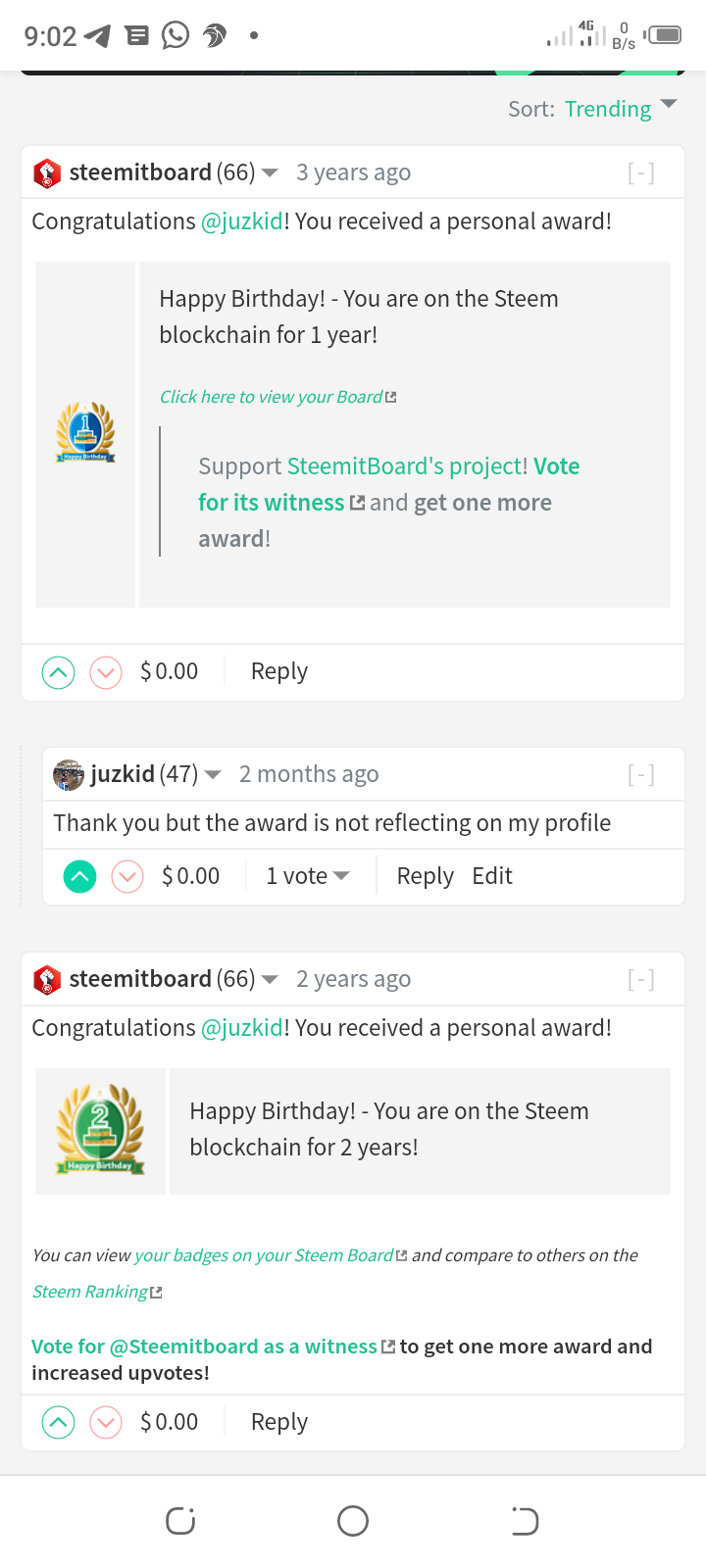 ---
In fact @oppongk @bigssam @delakloe your responsibility and responsiveness is worth commending and thought provoking .I can't forget you also.


My two steemit soldiers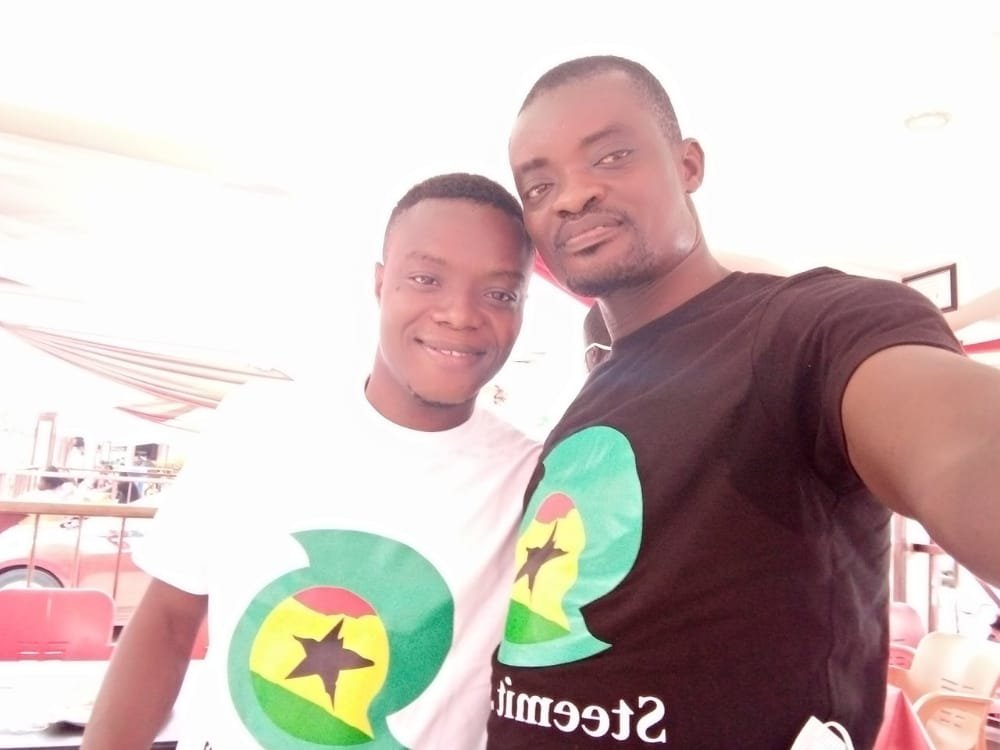 As things stand, I am a full member and even have about four existing posts. Though I am learning, I have the passion to progress each and everyday to reach the stars because bit by bit the cock drinks.
---
At some point my post saw no vote but he kept on pressing me on. @menak taught me how to tag communities and how to write to communities. Though things were unfavourable and not rosy, yet he was painstaking, full of tenacity, optimistic and was always pressing me on to keep fighting. Verily, I am grateful to you all. My fellow steemians at work @delakloe @kubati @ophoto . I was always giving them irrelevant questions.They knew it was, and would laugh over them and give me the necessary attention . This is because, we rise by lifting others.
---
According to James Matthew Barrie he says and I quote Those who bring sunshine to the lives of others cannot keep it from themselves
Surely, light is what they shall see .There is a saying also that "he who gives you little when he gets some,gives you when he or she gets many."
I mostly depend on the kindness of strangers and it works.
---
Permit me to be grateful to these people also @steemcurator04 @chriddi @cherub27 @oppongk. @sabine-reichert @euclid49 @kwadjobonsu @edmund.nef @arimiyawu @confidence202 @kofipascal @pierok @riosparada @chenty @sqube @olivernice @udibekwe they saw my first post after the four years and they attended to .That brought the fire back. @awuahbenjamin he is not only a post visitor but also a comprehensive and an avid reader.
---
Oh! can I forget @nattybongo , @njaywan mostly disturbing them by my mentions yet they hear them. @seo-boss once told me let love lead and I have kept it to heart. Their thought of kindness is overwhelming.
If all should learn about the love, patience, passion, industry, goodwill @menak has taught me, steemit will be a better place to be.
@menak remember that even in the day of no thank you, a bag of thank you awaits you. I am grateful to you @menak for your gift of love and kindness.
Good morning and God bless us all !!!