What do you get when you mix 4 beers up in a gift pack from an old school craft brewery? You get a Zeke's Sweet Hops review!


Source:https://www.pinterest.pt/goldensaintbeer/ with a little Zeke design on top.
For Christmas, a good friend was kind enough to gift me a nice Mix Pack from Wellington Brewery https://www.wellingtonbrewery.ca/ located down the road in Guelph. Here is that it looked like: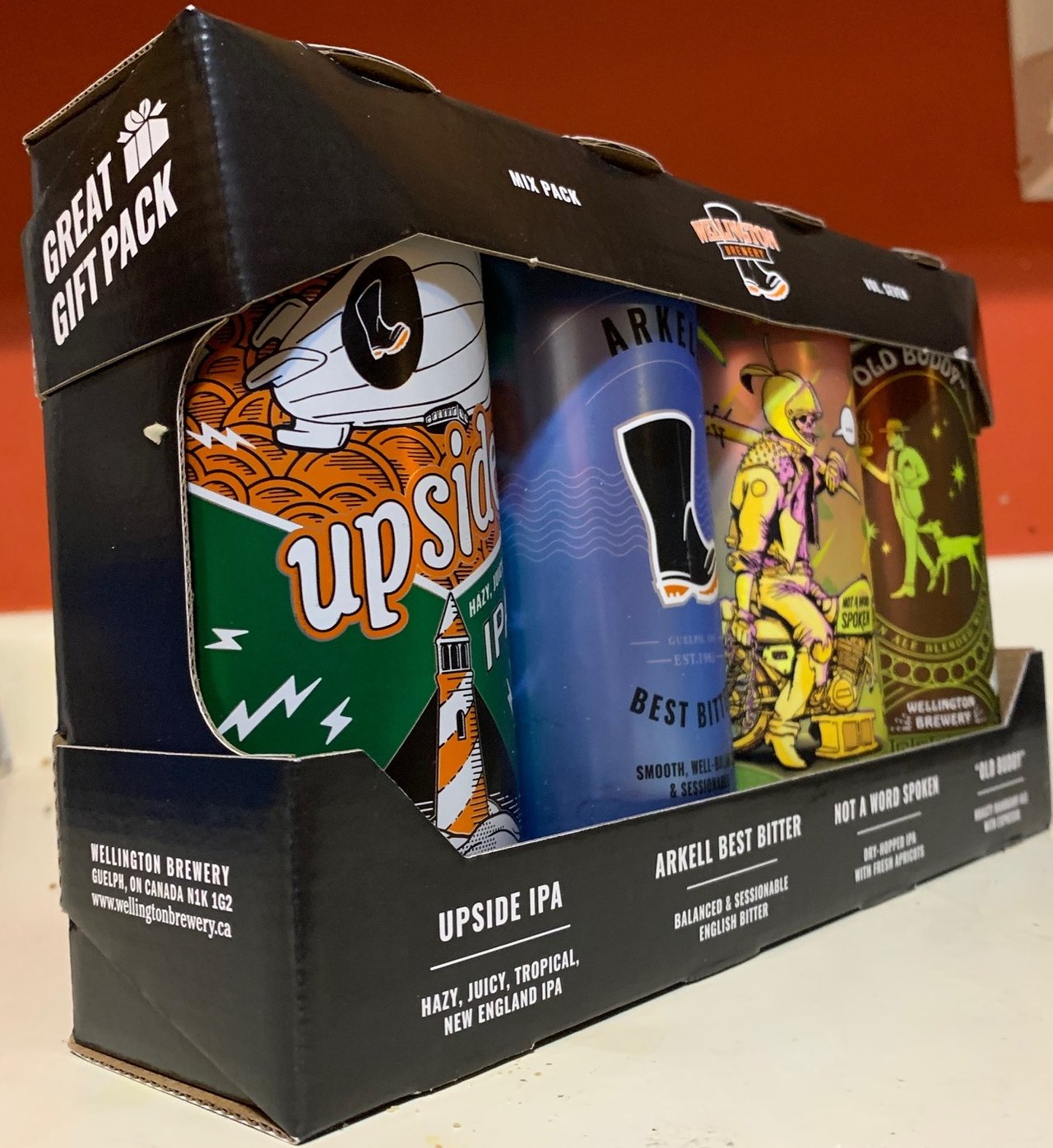 Wellington played a role in my graduation from molson/labatt and other mega breweries into the what was called Micro Breweries back then. They are branded Craft Breweries now and it has actually been a while since I have had a Wellington product. Let's dive right in and taste the range from brown to bitter, hoppy to hazy.


Upside IPA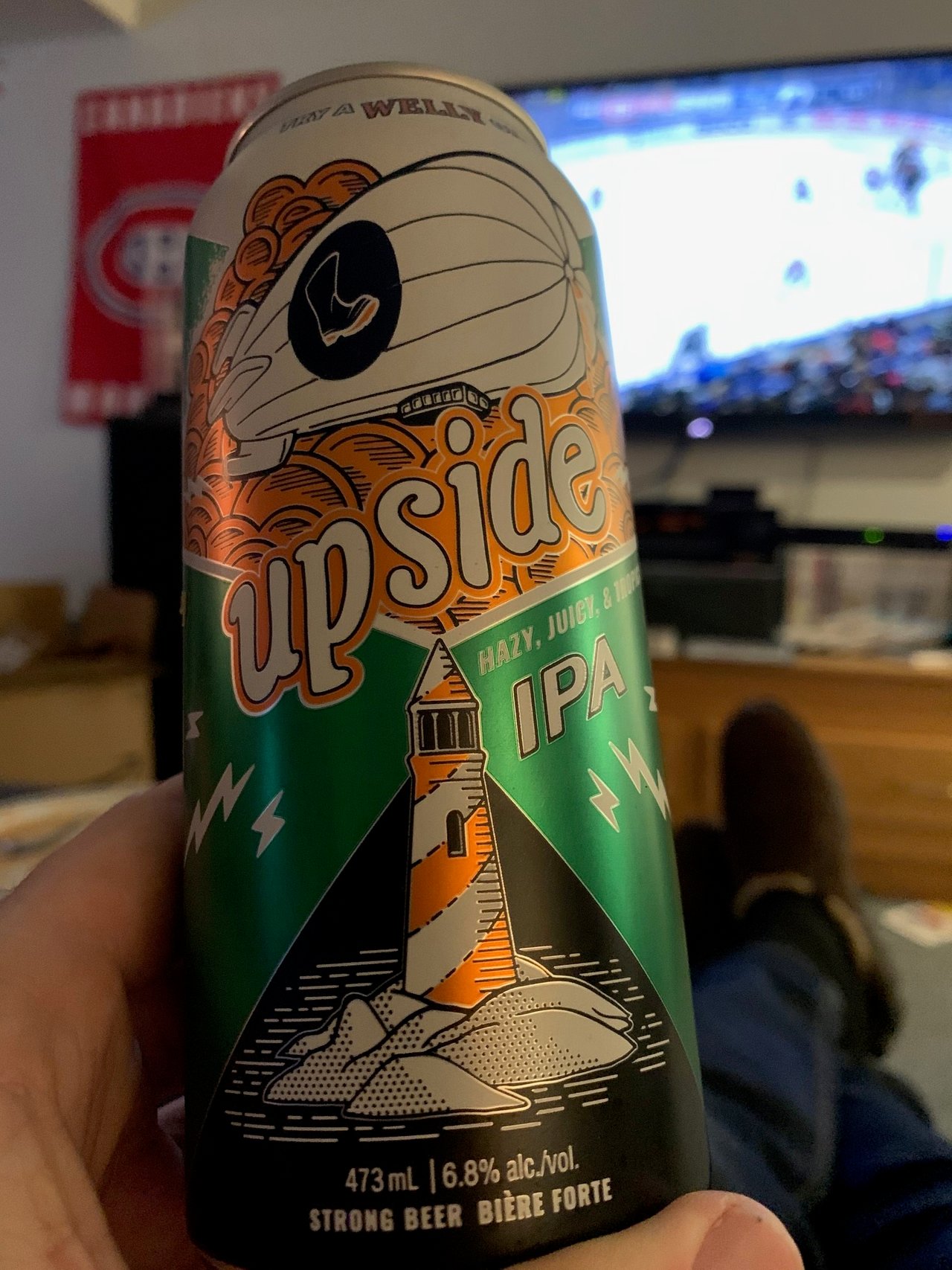 This is a pic of the actual beer in that pack as I chose to enjoy it while kicking back and watching a hockey game on a Saturday night like a true Canadian. This is the one beer out of the 4 that I can say i have enjoyed over the last few years. The design grabbed my attention initially and the IPA letters on the can made it fall off the shelf into my basket. I will leave no IPA un-turned!
Back then, I classified it as "I don't hate this" but remember not being too impressed. Taking a second stab at it, I remembered why right away. It is not a bad beer and I have a little nostalgic notion for Wellington. Not too hoppy. Not too tasty and not too anything really. There are IPAs that just seem off, are poorly made, or try to do something that pulls them out of the bold/sweet/bitter zone I like to stay in. While I could rhyme off 20 better IPAs off the top of my head in under 20 seconds, I am glad the old ale and lager house I used to know so well has ventured progressively into IPA.
I will not hunt it out again but rather keep an eye on the shelf for when they take the next step, release a New England or West Coast IPA, or even start to double dry hop or get more into Galaxy and Mosaic hops.

Arkell - Best Bitter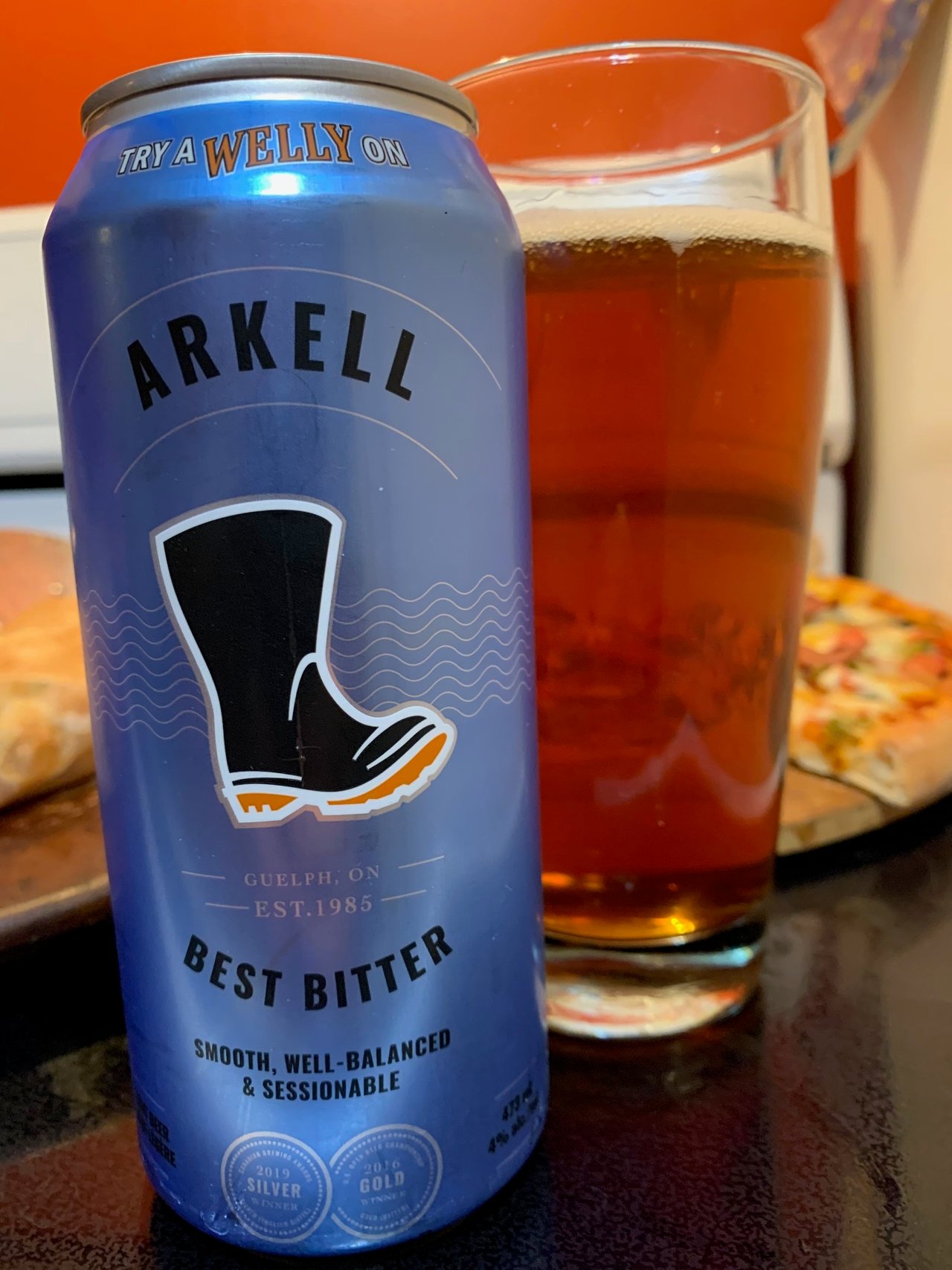 I can't recall having sampled this one before though I have a soft spot for a good bitter. Not IPA bitter per se but a little drier with a specific malt body. Probably the fondest Bitter moment I have is from a plane ride on British Airways a few years ago where they are classy enough not to charge a premium for a beer on a flight. Classy British folks know a fella could use a beer on a flight and they were with it enough to offer a nice British bitter.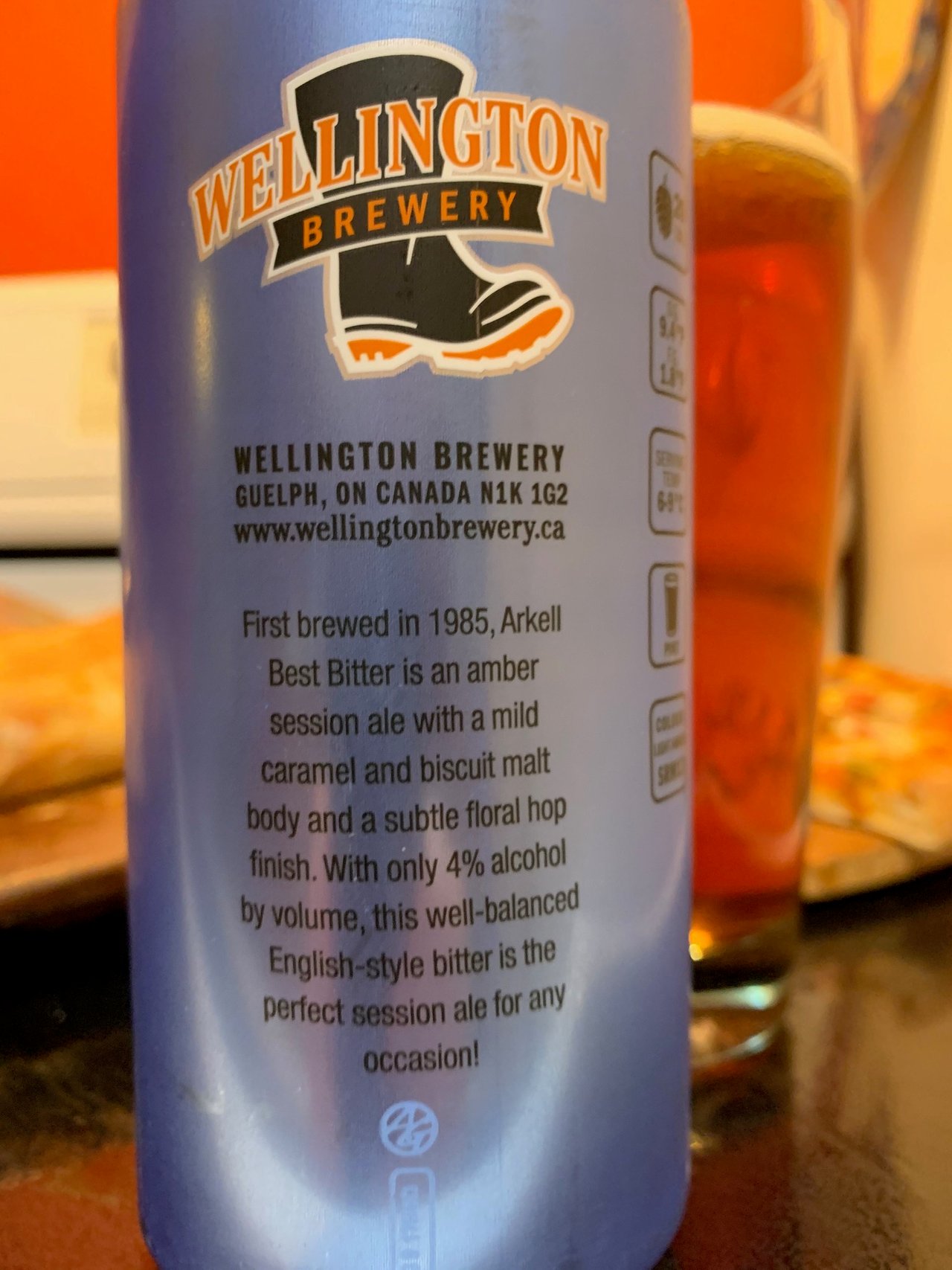 This one poured out clear & amber and made a great accomplice to some home made pizza. The back of the label tells a simple story of how long it has been brewed, which makes me believe I may have actually had it before. Mild, subtle well-balanced would explain why it my not have shocked itself into my memory though it was exactly as advertised. It is always good to have a nice 4% beer for lower ABV and I appreciate ones like these that have a solid taste.

Not A Word Spoken - Dry Hopped IPA with Fresh Apricots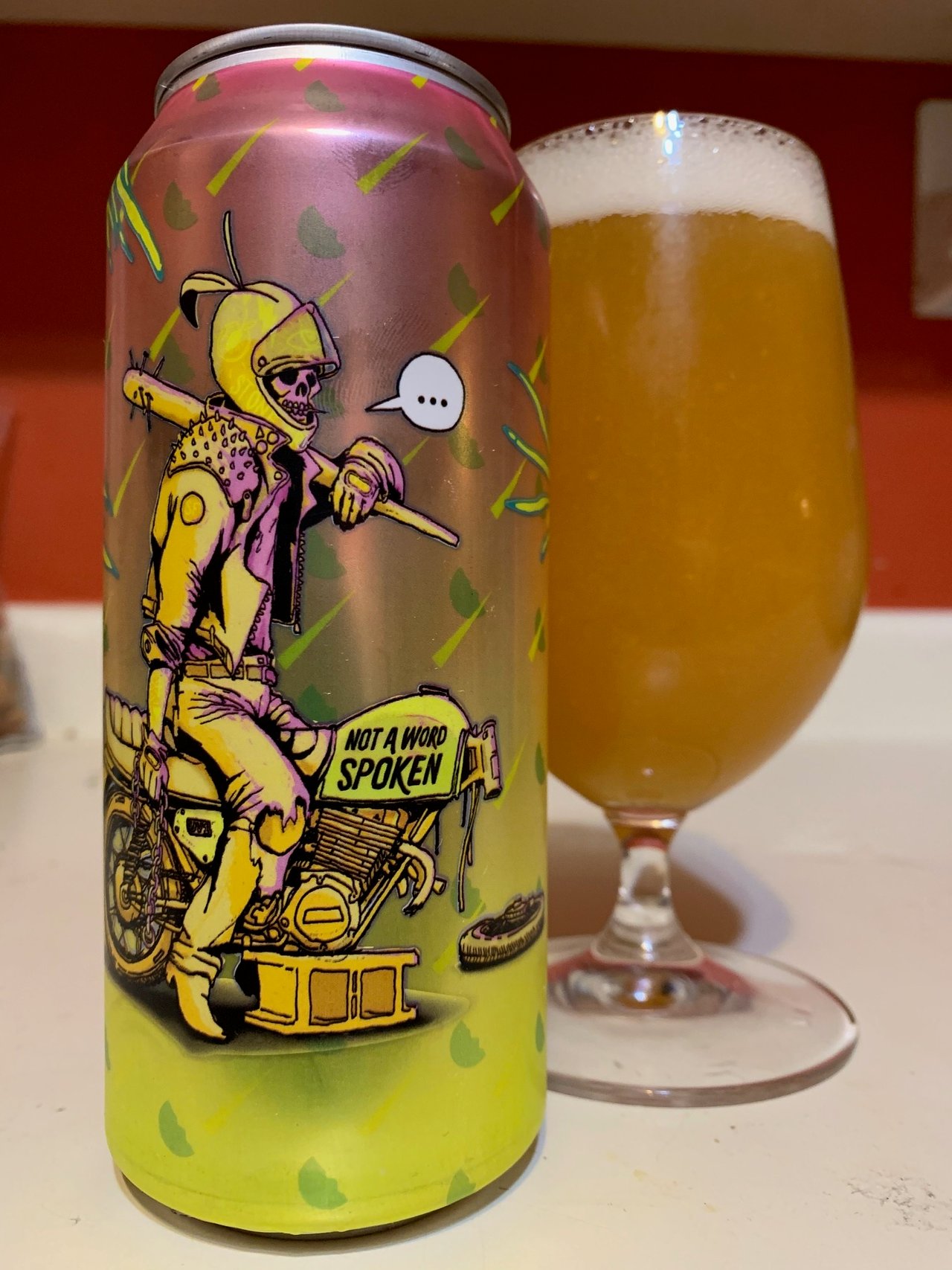 I guess I didn't have to wait too long to discover their next IPA! Hazy and Fruity is REALLY in my sweet spot right now so it appears this one would fit the bill. I was concerned that it may be too heavy on the apricot or that the added fruit would screw with the beer but it was going to be a new taste and a good fit for family game night over a game of scrabble.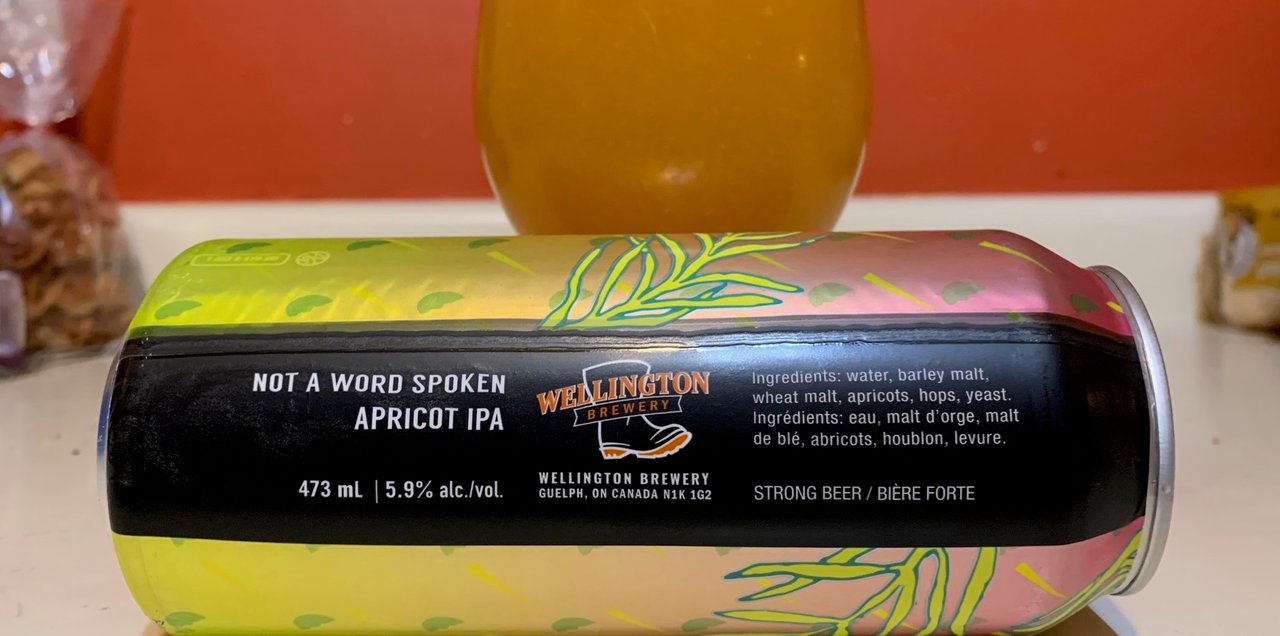 From the get go, this is the one I was looking forward to discovering the most. I am so manic about the packaging as the design is so neat, bold, cartoony yet apocalyptic, and hints at so much of a story. I rolled the can over to dive into the story that was not there. Curious, I hit the web to see if there was more and all I got was, "This hazy IPA is brewed with loads of fresh apricots and generously dry-hopped with simcoe and citra hops. With a creamy malt profile alongside bright apricot and stone fruit flavours, this juicy IPA will leave you…. well…. Speechless." Okay then.
As for the beer, I was very pleased. It didn't taste like an apricot drink that happened to be beer but rather a damn fine beer with the right amount of sweet and juicy. I was drinking past the bottom of the glass and it did leave me wanting more. As a classification, I rate this "I will get this again!" I am not sure the stores here will go deeply enough into the Wellington catalog to actually stock it, but if they do, I will definitely pick up a couple.

Old Buddy - Espresso Brown Ale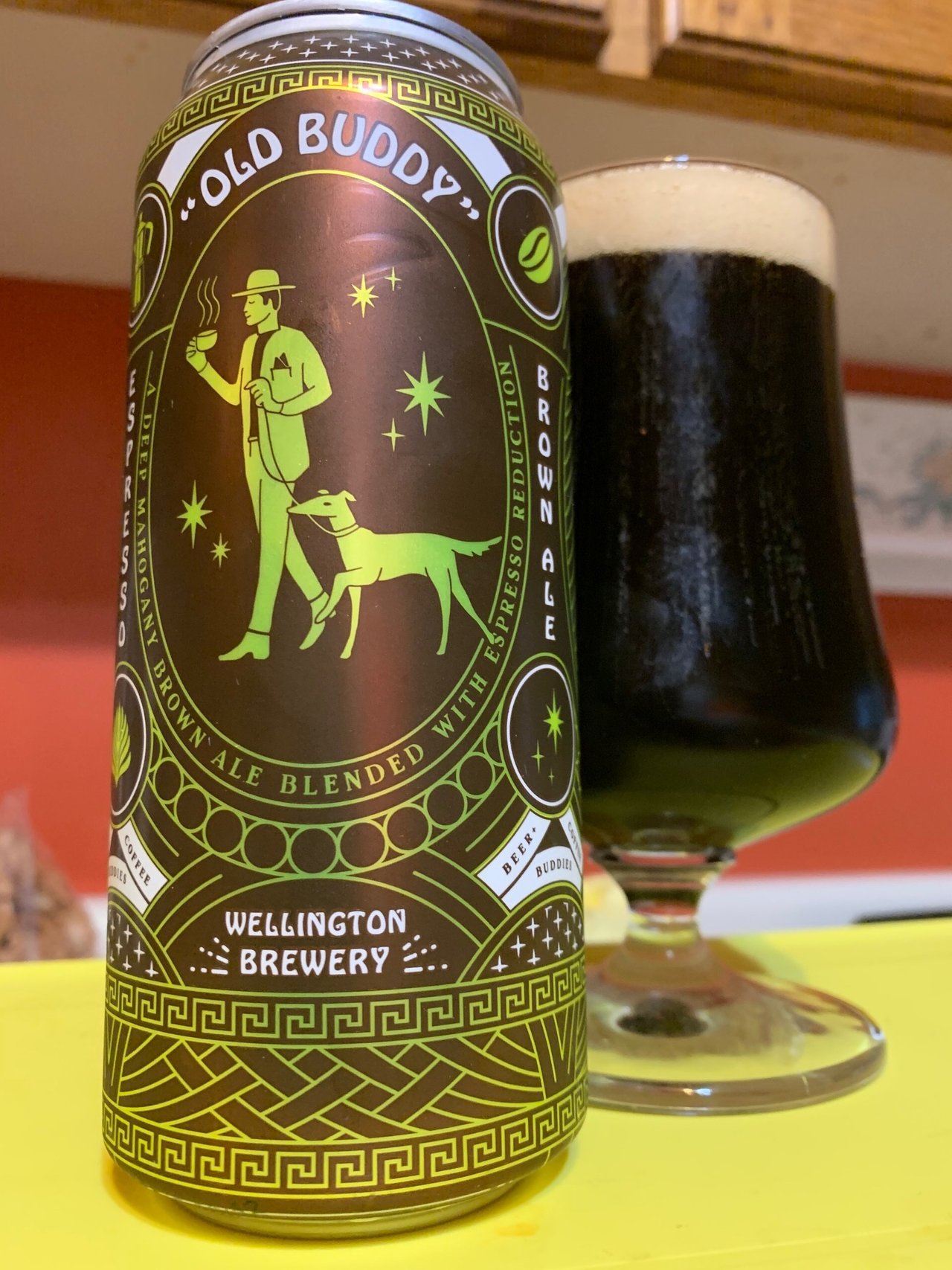 Back in the day, it was the Wellington Brown and Dark ales that ushered me away from lagers and into the malty bolder beers. So, seeing the brown ale in this gift pack and the neat twist of the added espresso, I knew I would save this one for last. I am not sure I would go with lime green and brown as the dominant colours on my beer, but I have to admit it would likely catch my eye as I speed read the shelves for something new. Equally as likely would be me picking it up, seeing brown ale and that iconic Wellington (I think North Americans have dumbed that name down to 'rubber boot') and put it back on the shelf.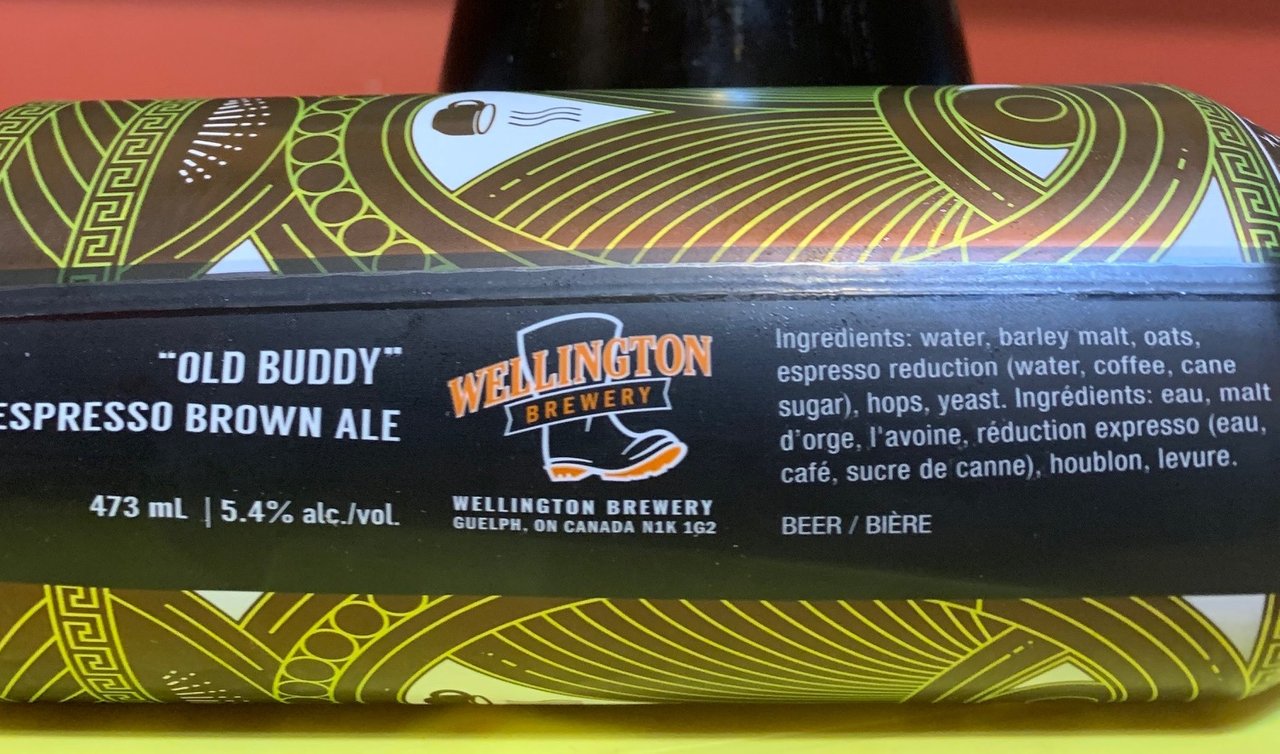 If I maintain my pristine record of always telling the truth on my blog, I cannot recall my impressions on this beer. I would wager it is because I sampled too many beers during the holidays, IPAs have blasted my palate, or I lost that memory in my deal with the devil. Otherwise, it will have been because it was a nice brown ale with lots of body and the "ah yah there it is" hint of espresso smoothed out nicely like oats generally do for a beer. The internet can fill in the blanks, "This deep mahogany brown ale has roasted malt, nut, and toffee flavours which meld seamlessly with the creamy espresso reduction. Timeless and distinct, this old buddy is a friend for the ages! "

There you have it. A thoughtful gift from a good friend. A few nice brews over a festive season of leisure. Something old. Something new. Mahogany coffee and a Bitter Blue. Top that off with one of my half-sober yarn spinning and you are almost caught up with an evolving brewery that has already stood the test of time.
Cheers my friends.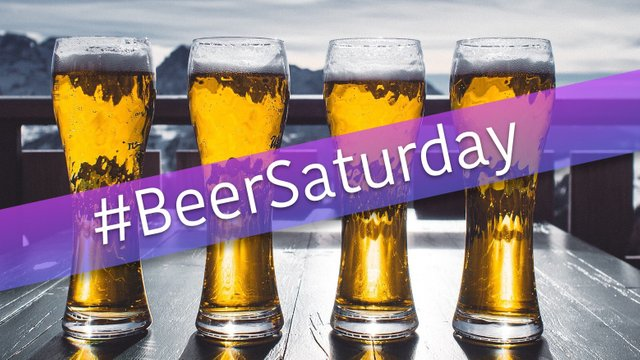 This has been another episode of The STEEM Beerologist having a few drinks with my friends on #beersaturday. I would encourage you to follow @detlev, check out the stories at the weekly contest https://steemit.com/hive-187719/@detlev/beersaturday-week-135 , and make a beer post of your own to join us.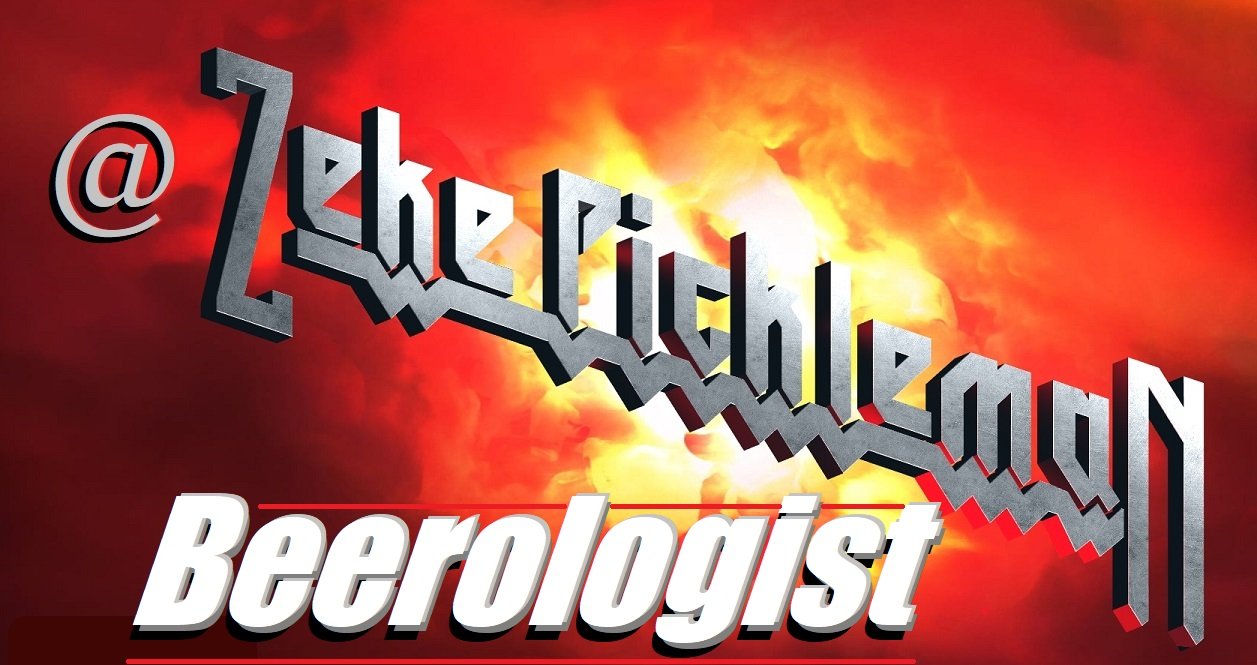 I am honoured to curate for: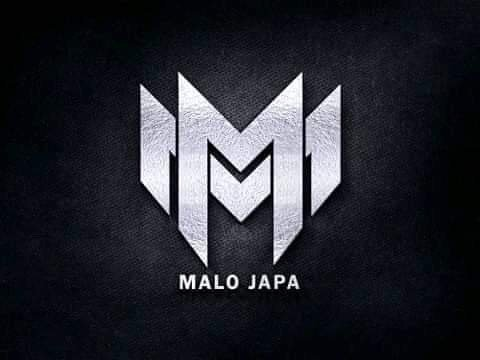 Any Christmas beer for you?
---
Posted via Marlians.com