Hello Steemians! We hope for the best as this new year started with the good news of vaccination programs worldwide. From the start of pandemic cases in December 2019 when the pandemic starts to rule the world and as the pandemic drags on, charities and welfare homes are financially impacted. Many corporations are cutting down their Corporate Social Responsibility (CSR) budgets, and this affects charitable causes that rely on the generosity of the public.
As part of my company's CSR initiative, I was tasked to look into sending donations to old folks' homes. The given criteria were: homes that are in dire need of help, homes that are non-profit organizations, and homes that are registered with the Department of Social Welfare. Based on these requirements, I did some research and identified four homes that fit the description. These homes care mostly for abandoned, abused, destitute, ill, and bedridden senior citizens who have no family members.
And so I went and visited the selected homes with a colleague and distributed supermarket cash vouchers as well as a gift hamper to each home. It was an emotional day for us as it was our first experience visiting abandoned, sick and bedridden seniors. The stench of urine was common in these homes. Many times, we had to hold back our tears, and whenever they threatened to spill, we would return to the car to calm down.
This is a story that I hope can spread the spirit of kindness, all of us one day will become old and hopefully not forgotten. Karma has it that kindness begets kindness so let's be kind to each other not because of anything, it's just because of who we are. We are a kind spirit that will spread kindness all over the world to make this world a better place. Kindness is contagious. Peace forever!
Ainie Kashif with old folk, to be able to put a smile on this sweet innocent face is priceless!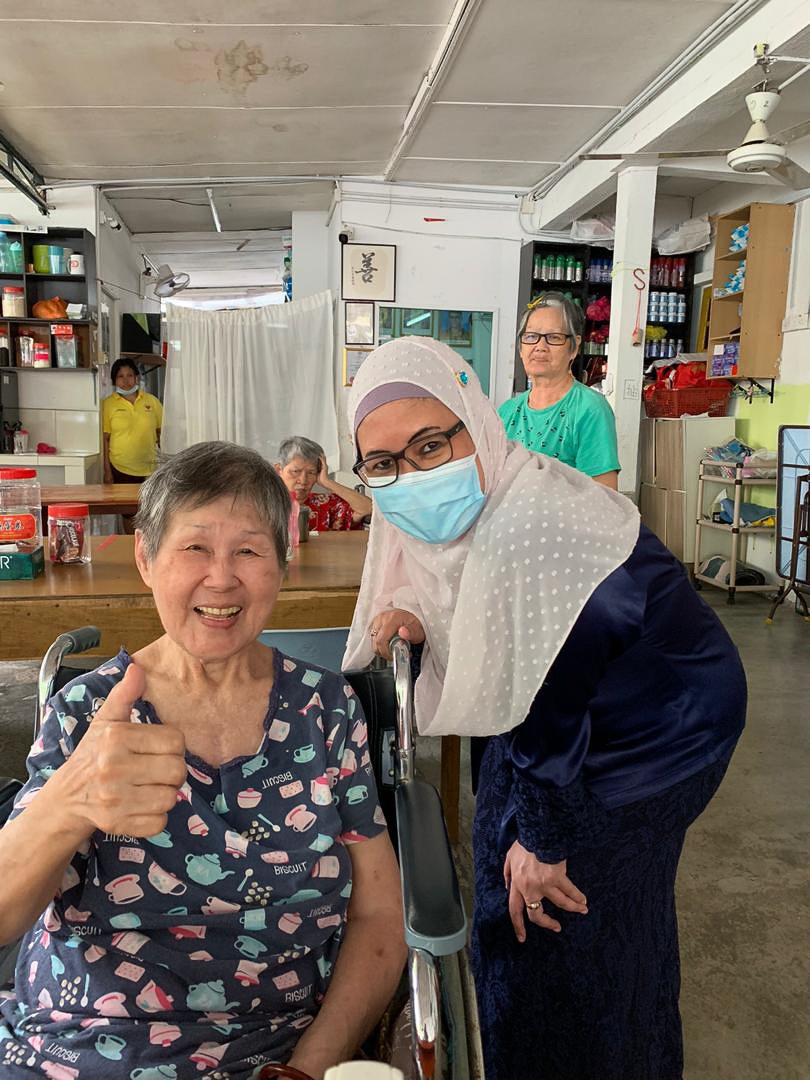 At one of the homes, a dementia patient held my hand and hugged me as she thought I was someone she knew. It was a really touching but heartbreaking moment. I learned a lot about how difficult and expensive it was to care for paralyzed and bedridden senior citizens, which may, unfortunately, be the reason they were abandoned by their families.
Pusat Jagaan Sri Mesra - Mesra Home Ampang
Mesra Home Ampang was founded in February 2013 and registered under the Care Act 1966. The home cares for and provides protection to indigent Muslim senior citizens who are unmarried, childless, or suffering from mental illness. Faeza Ali, a nurse, and co-founder of the home said that the challenge during the Movement Control Order was not just limited to finances, but the loneliness felt by the seniors as visitors were no longer allowed. Apart from cooking staples, they also need daily items such as adult diapers. Cash donations to help cover rent and staff salaries would also be appreciated.
Rumah Mesra ~ When we arrived it was a heavy downpour, a sign of a blessing.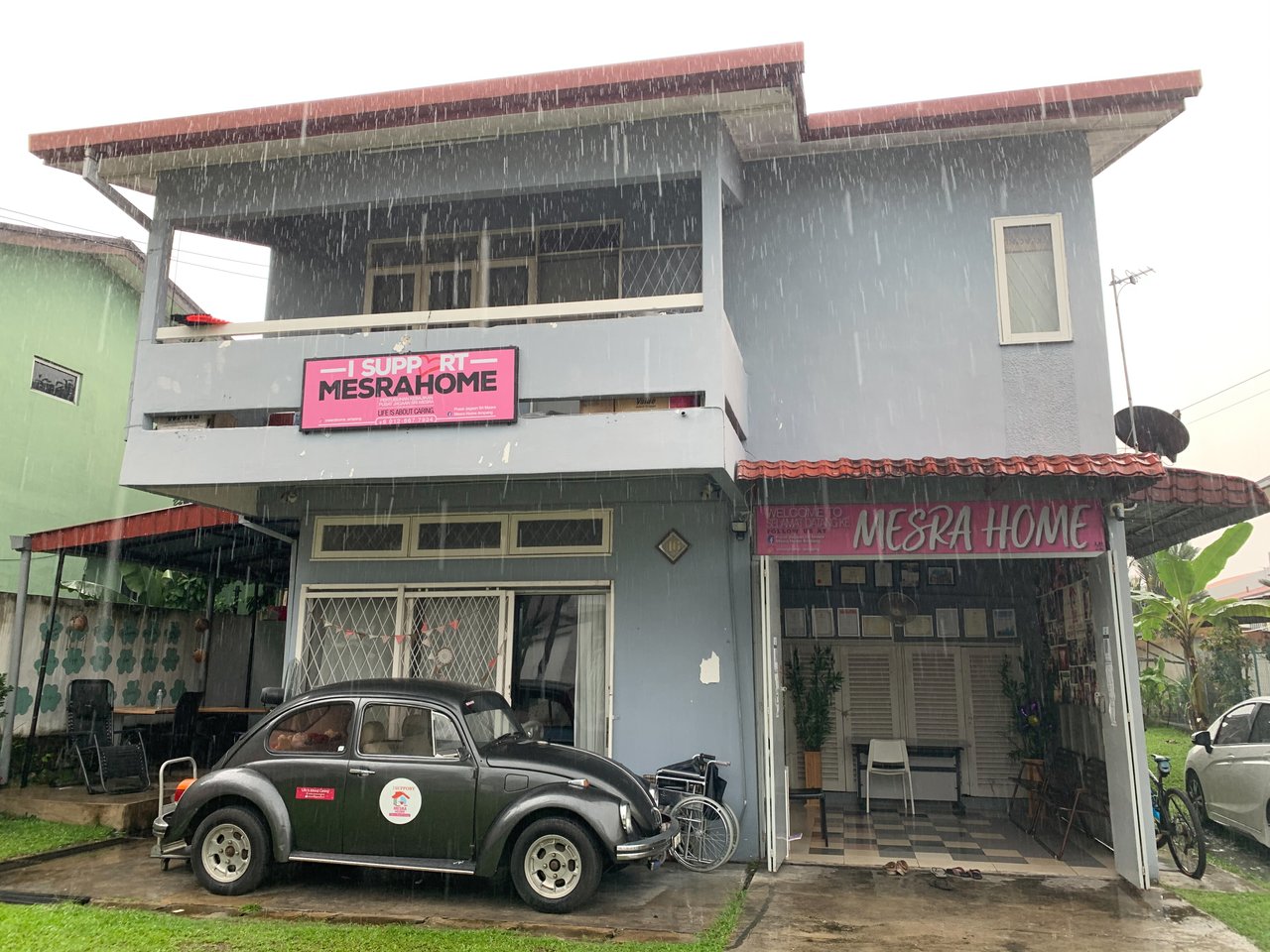 I met Maryam Romlah, 73, who does not have a family and has been a resident at the home for six years. Before she was admitted to the home, she was hospitalized at Hospital Universiti Kebangsaan Malaysia, where the doctor advised her that it was very dangerous for her to live alone. The doctor subsequently arranged for her to be admitted to Mesra Home.
Ainie Kashif with Maryam Romlah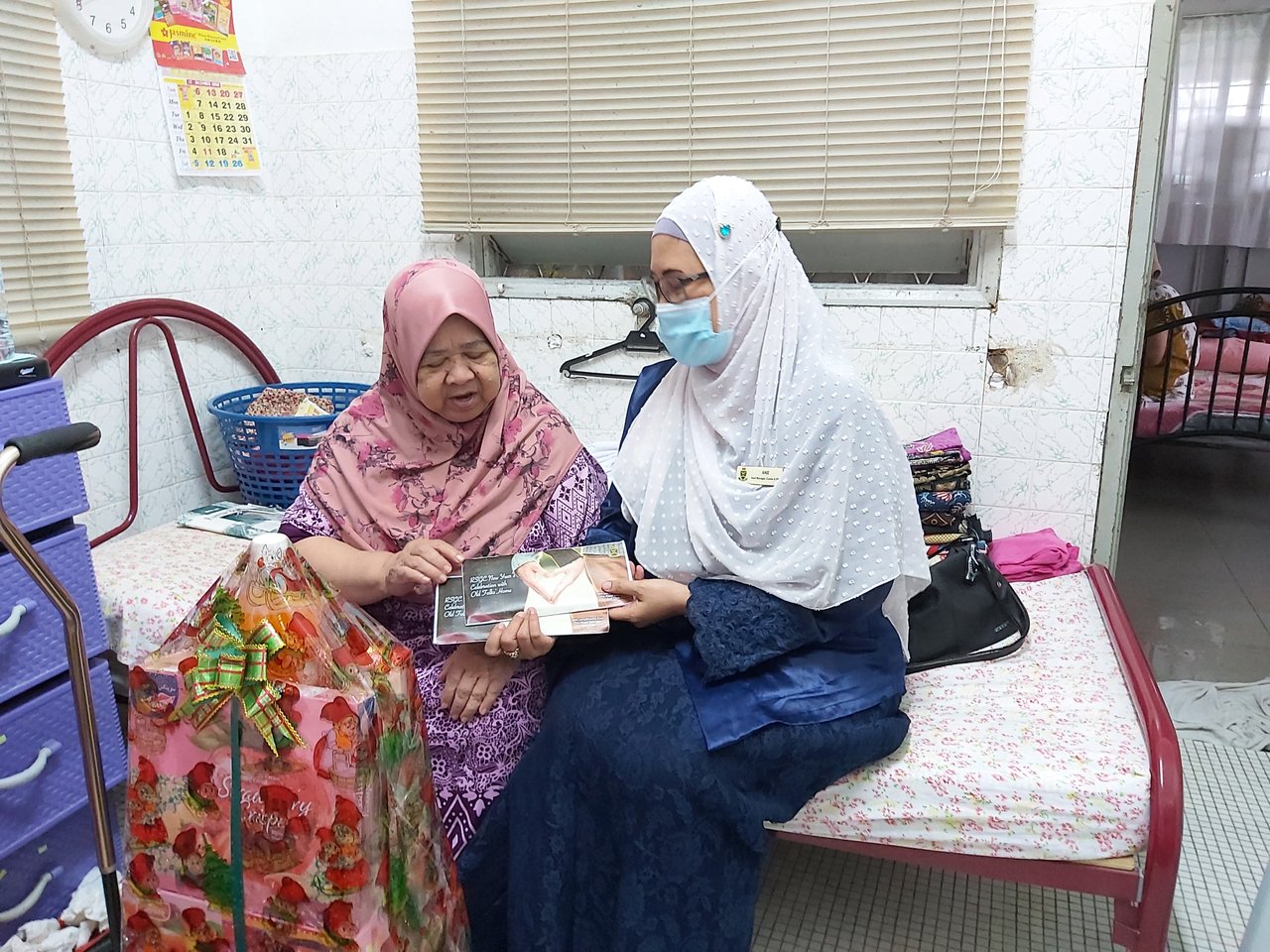 Address: 16, Jalan Watan 1, Taman Sri Watan, 68000 Ampang, Selangor
Number of residents: 40 senior citizens ranging from 60 to 93 years old
Tel: +6012-667 7934 (Puan Faezah)
Web: www.facebook.com/mesrahomeampang
Pusat Jagaan Pertubuhan Kebajikan Chester Rawang Selangor
Founded in September 2009, Pertubuhan Kebajikan Chester Rawang Selangor (PKCRS) is a non-profit, non-governmental, voluntary organization dedicated to the sick and abandoned elderly. The home currently accommodates 38 residents, of which 21 are men and 17 are women. Most of the PKCRS residents were referred by welfare groups and government hospitals.
Founder Shirley Lee informed us that the home had received many requests from welfare groups and government hospitals to admit sick and abandoned seniors to the home, but she was unable to accommodate them due to space constraints.
Shirley Lee, founder of Chester Home, Ainie Kashif and Ayu.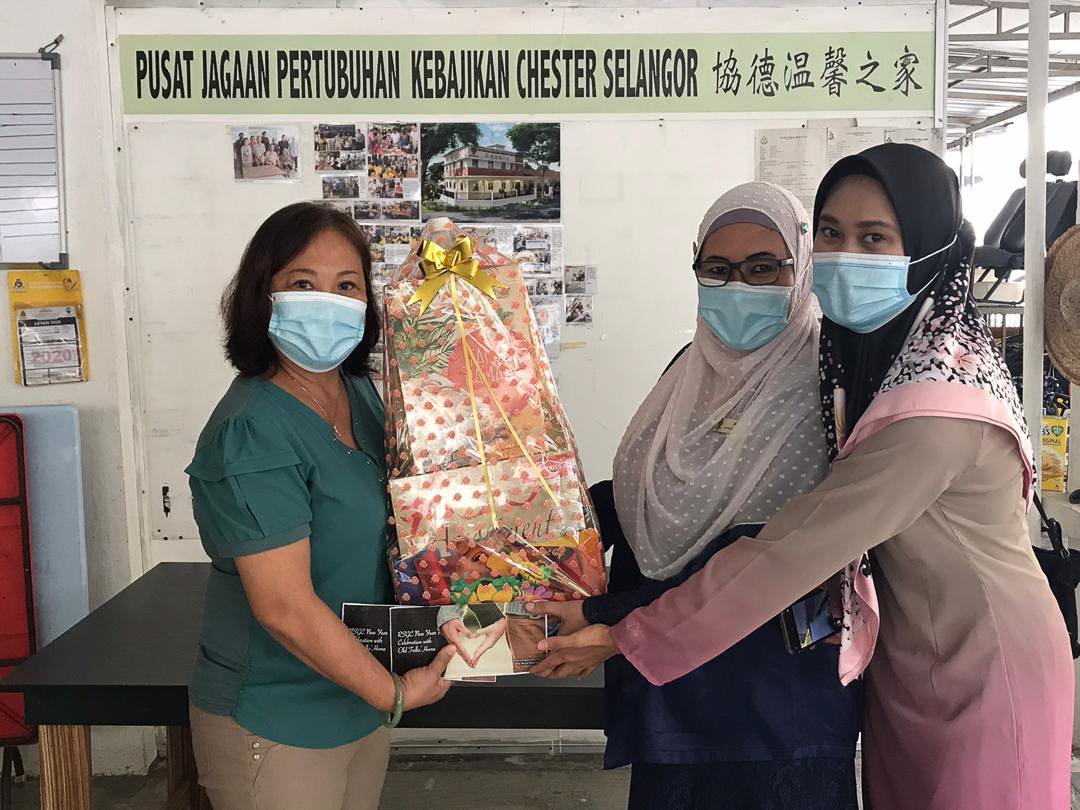 Ainie Kashif at the Chester Home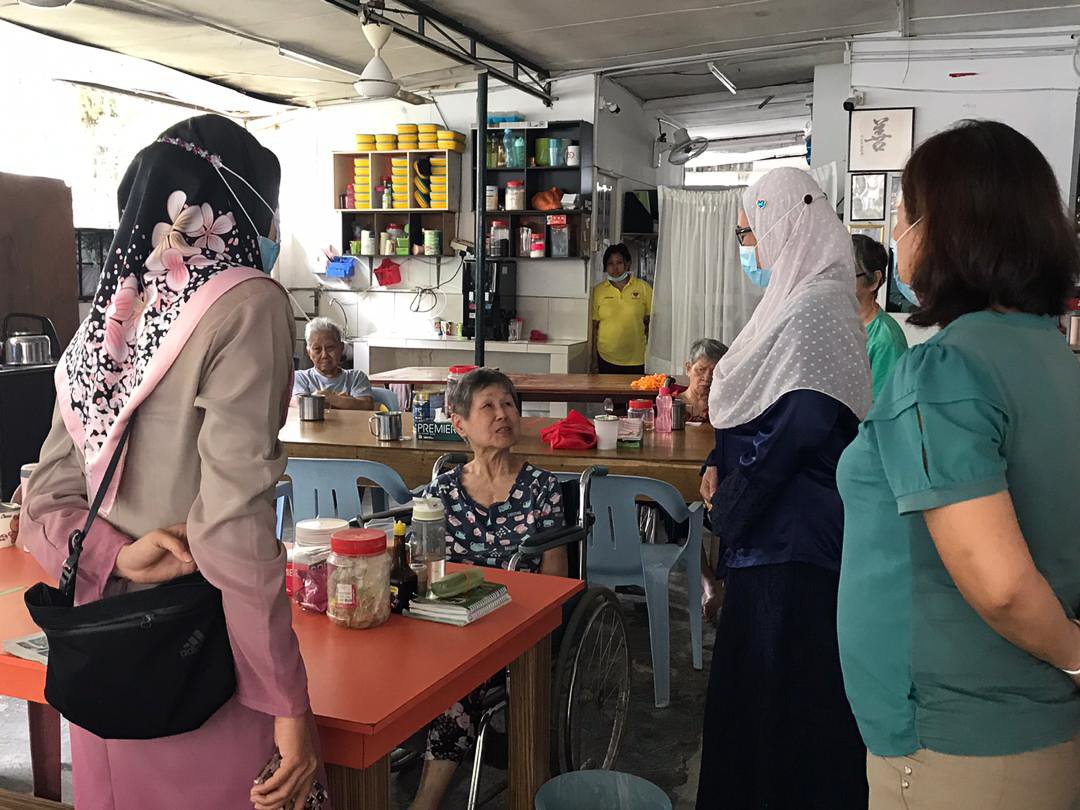 Address: No 2, 2A & 4, Jalan Wangsa 3/4, Taman Wangsa Permai, 52200 Kuala Lumpur
Number of residents: 38 senior citizens ranging from 60 to 88 years old
Tel: +6012-699 0893 (Shirley)
Web: www.pkcrs.wordpress.com
Rumah Jagaan & Rawatan Orang Tua Al-Ikhlas
Founder Muji Sulaiman has two decades of experience as the former chief nurse of Serdang Hospital. In 1999, she decided to establish a nursing home after seeing the increasing number of elderly patients being abandoned by their families. She started by accommodating 25 elderly people from the hospital in her own home to be cared for and treated by her children and herself. In 2003, she was given the opportunity to open Rumah Jagaan & Rawatan Orang Tua Al-Ikhlas in collaboration with Masjid al-Hidayah at Kampung Pulau Meranti, Puchong, where the home continues to operate today.
Al-Ikhlas Home, a look from outside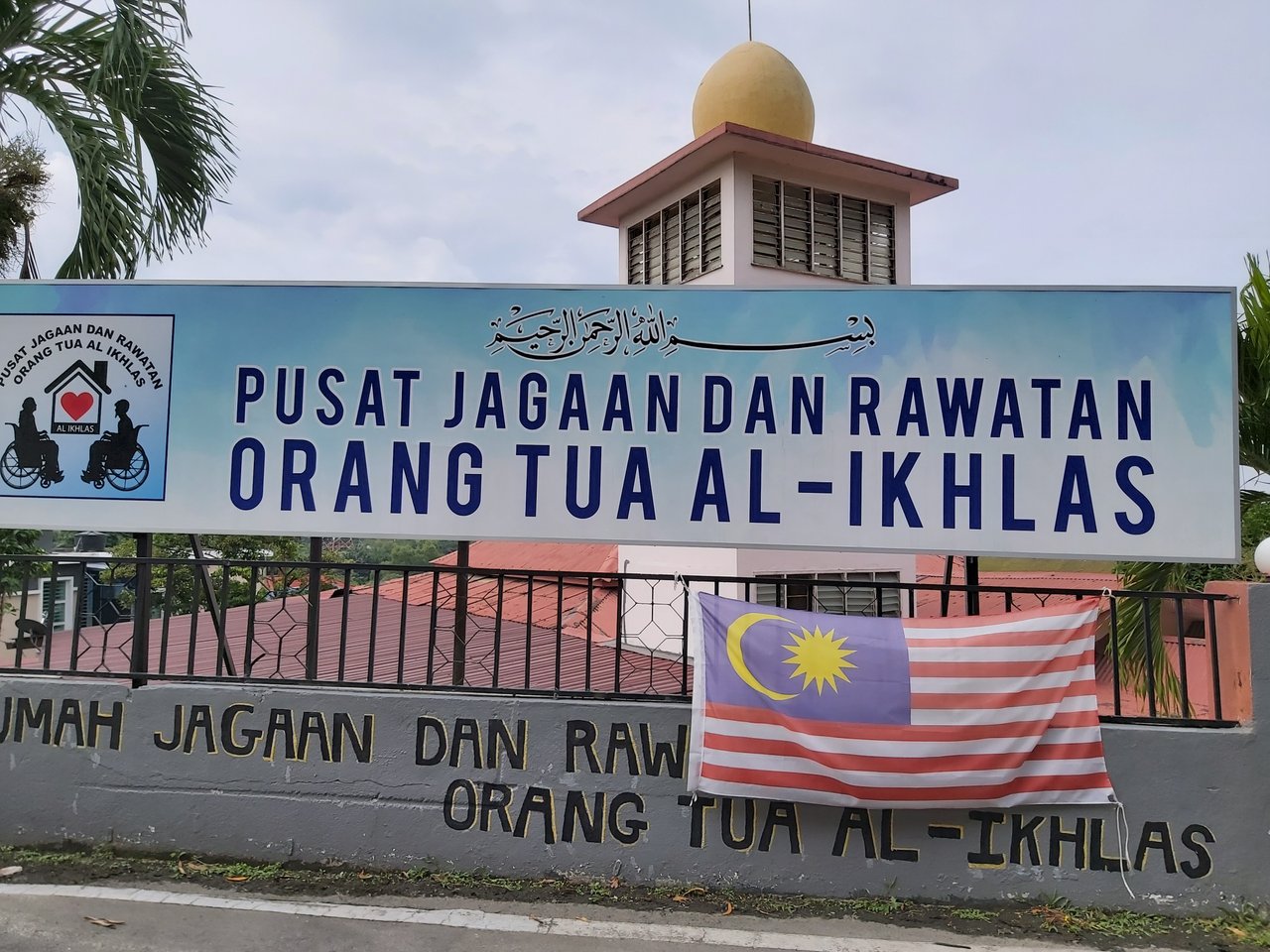 A well-organized place, an inside look at the Al-Ikhlas Home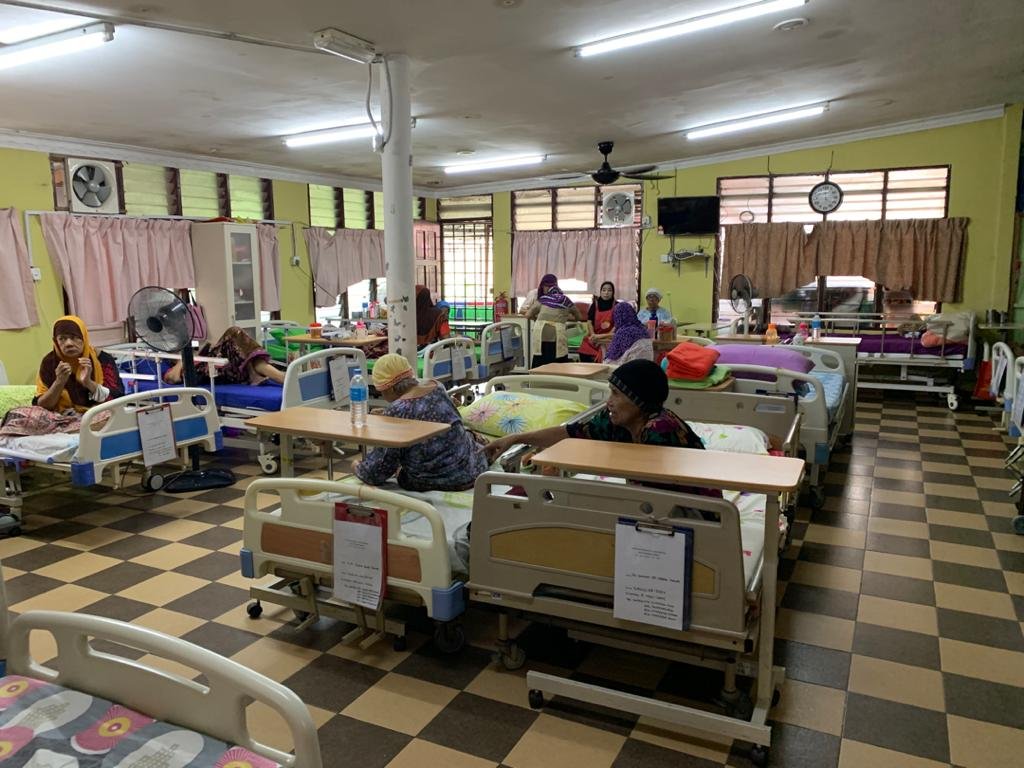 A well-organized kitchen, an inside look at the Al-Ikhlas Home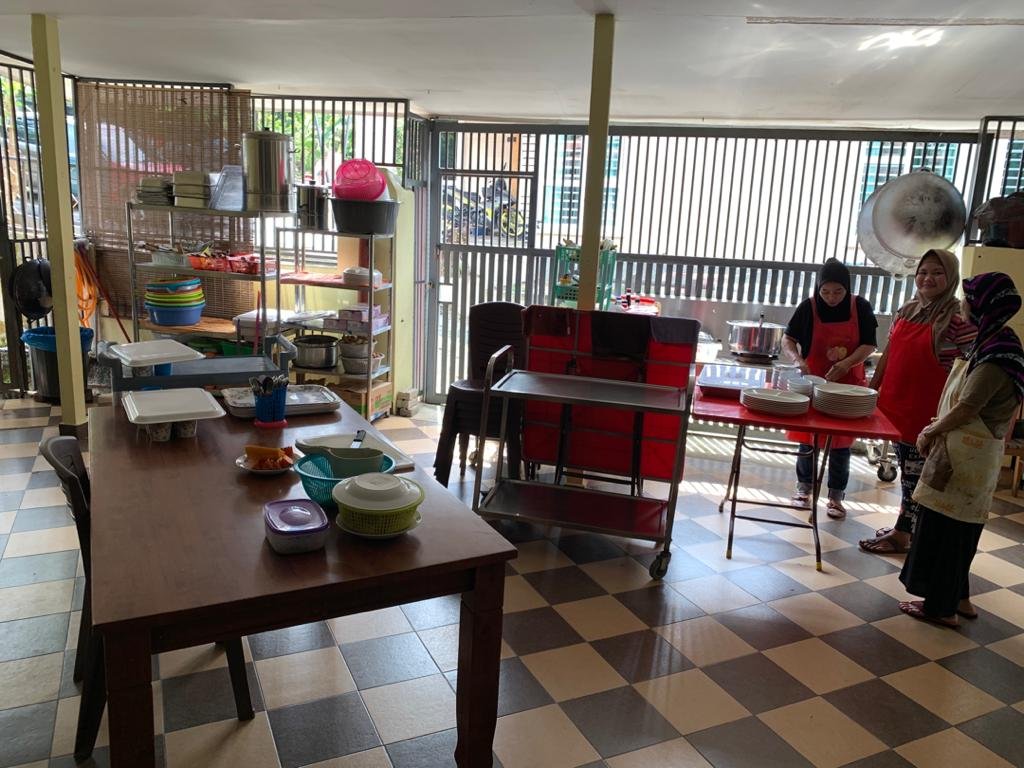 A bed-ridden patient will be taken care of carefully, as they need to be fed and cannot eat by themselves.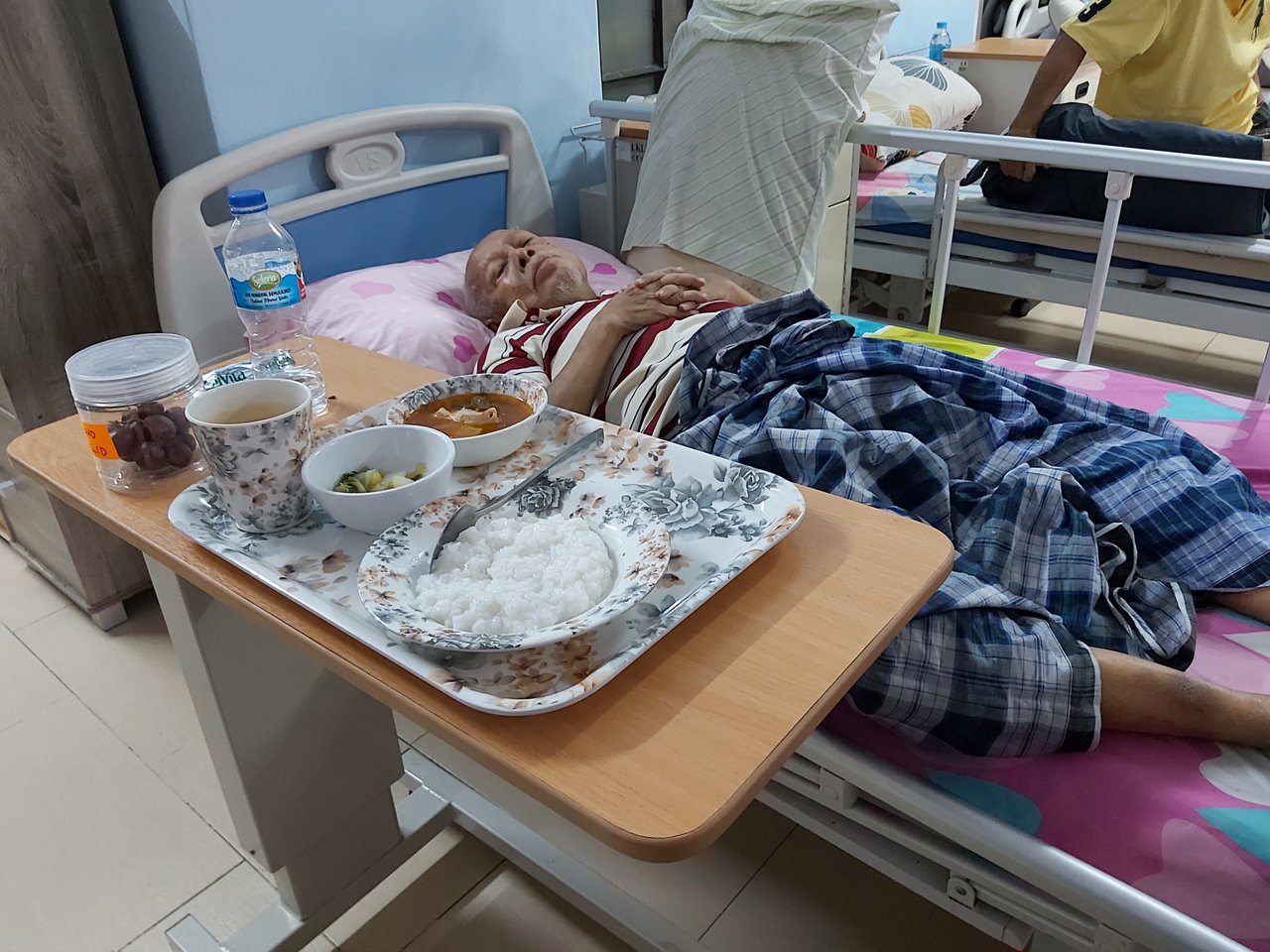 Muji observed that there is an increasing trend of children neglecting their parents. She recalled that some of the seniors were dumped by their children in front of the home with only their clothes in a bag. Those who were abandoned were normally stroke patients.
Astoundingly, Muji, herself, is a stage 4 breast cancer survivor. In 2008, the doctor told her that she only had a few days to live, but she fought against all odds and survived. She continues to live a full life despite having undergone 30 chemotherapy treatments. Perhaps she is blessed by her own charitable deeds and kindness.
Muji, the founder of Al-Ikhlas Home (in brown) hugging a dementia patient, Ainie Kashif, a resident and Ayu.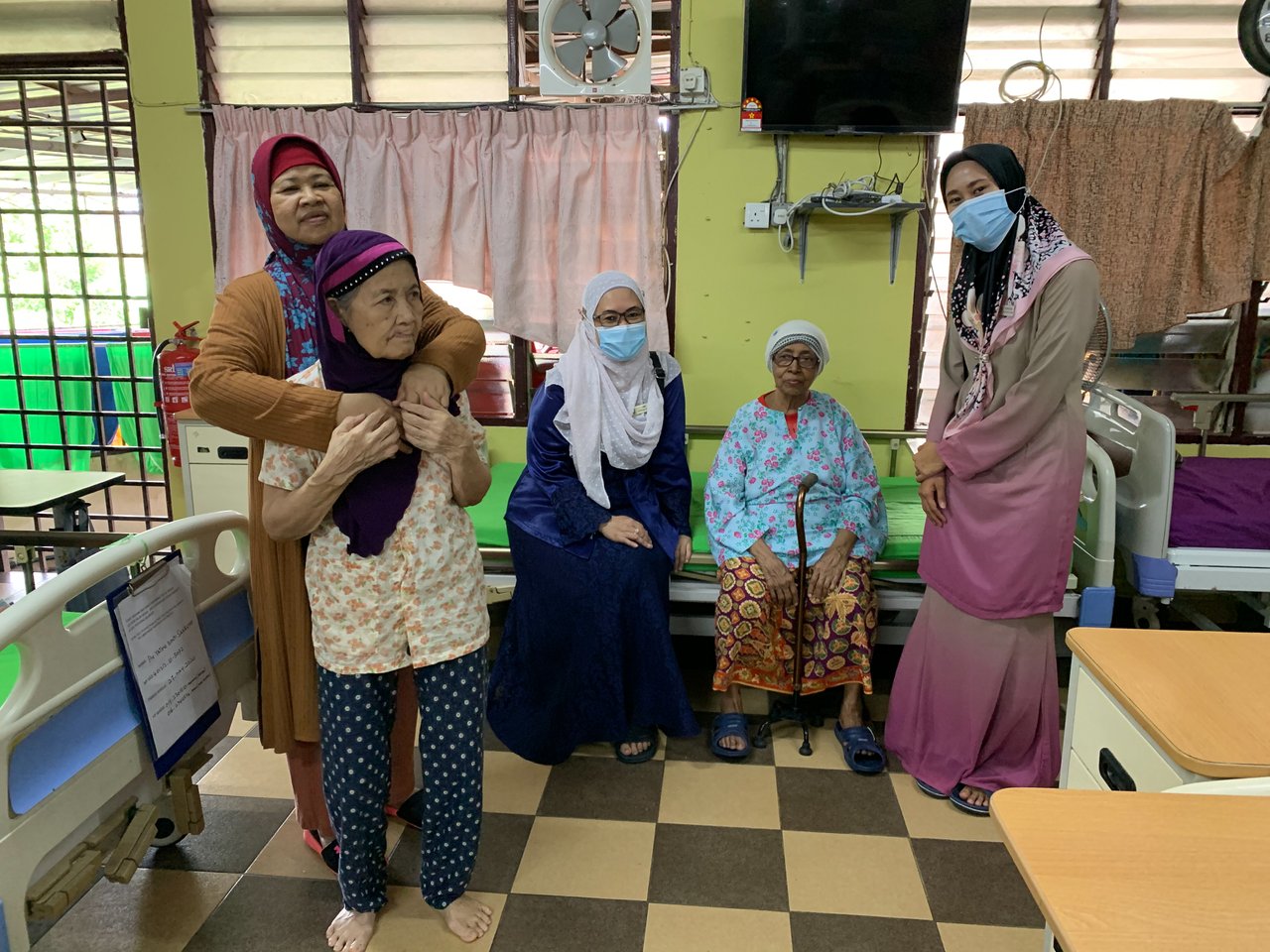 Address: Lot 3530, Jalan Bt 18, Kg Pulau Meranti, 47120 Puchong, Selangor
Number of residents: 45 senior citizens ranging from 60 to 96 years old
Tel: +6017-335 9882 (Arif)
Web: www.al-ikhlashomecare.blogspot.com
Xiao Xin Serdang Old Folks' Home
An article in the World of Buzz entitled "HELP: Old Folks' Home that Takes in the Elderly for Free Is in Urgent Need of Donations" caught my attention, and that was how I found this next home. Although newly established in 2019, it is currently in dire financial straits and pleading for help from the public. The home houses the poor and abandoned elderly suffering from conditions such as stroke, Parkinson's disease, and heart and skin diseases. These conditions require long-term medication that greatly increases the expenditure of the home.
Xiao Xin Serdang Old Folks Home ~An External Look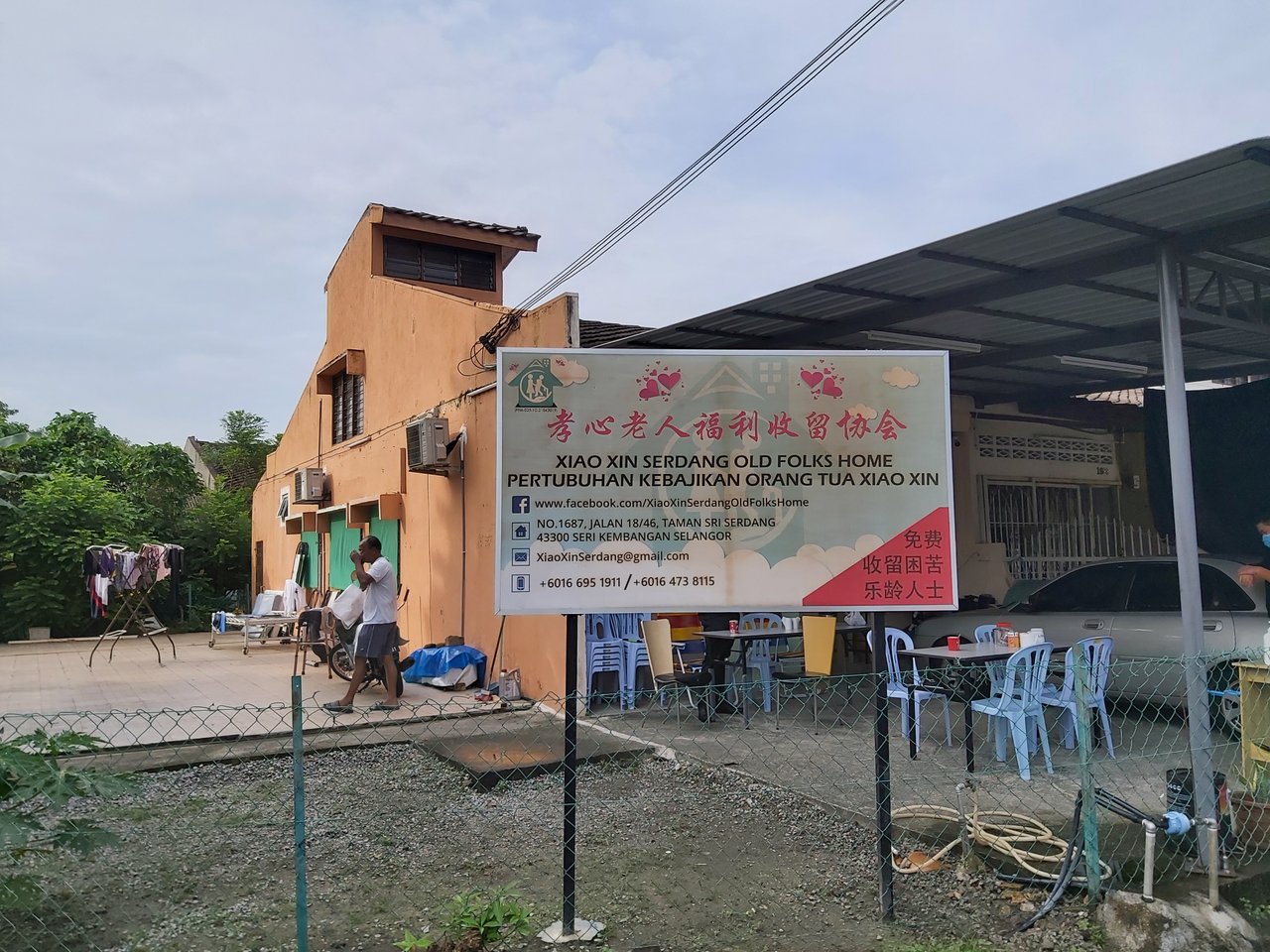 I was pleasantly surprised to meet the young founder, Y. T. Ong, 30, who started caring for the elderly when he was 28. I find his altruism most admirable as most people his age would be busy enjoying their lives. I also met another young man named Chua who volunteers at the shelter. Besides relentlessly reaching out to people for donations, Chua keeps the residents' company and chats with them. He also cleans the home and buys daily necessities for them. Kudos to these noble young men!
Founder YT. Ong (left) and Ainie Kashif at Xiao Xin Serdang Old Folks Homes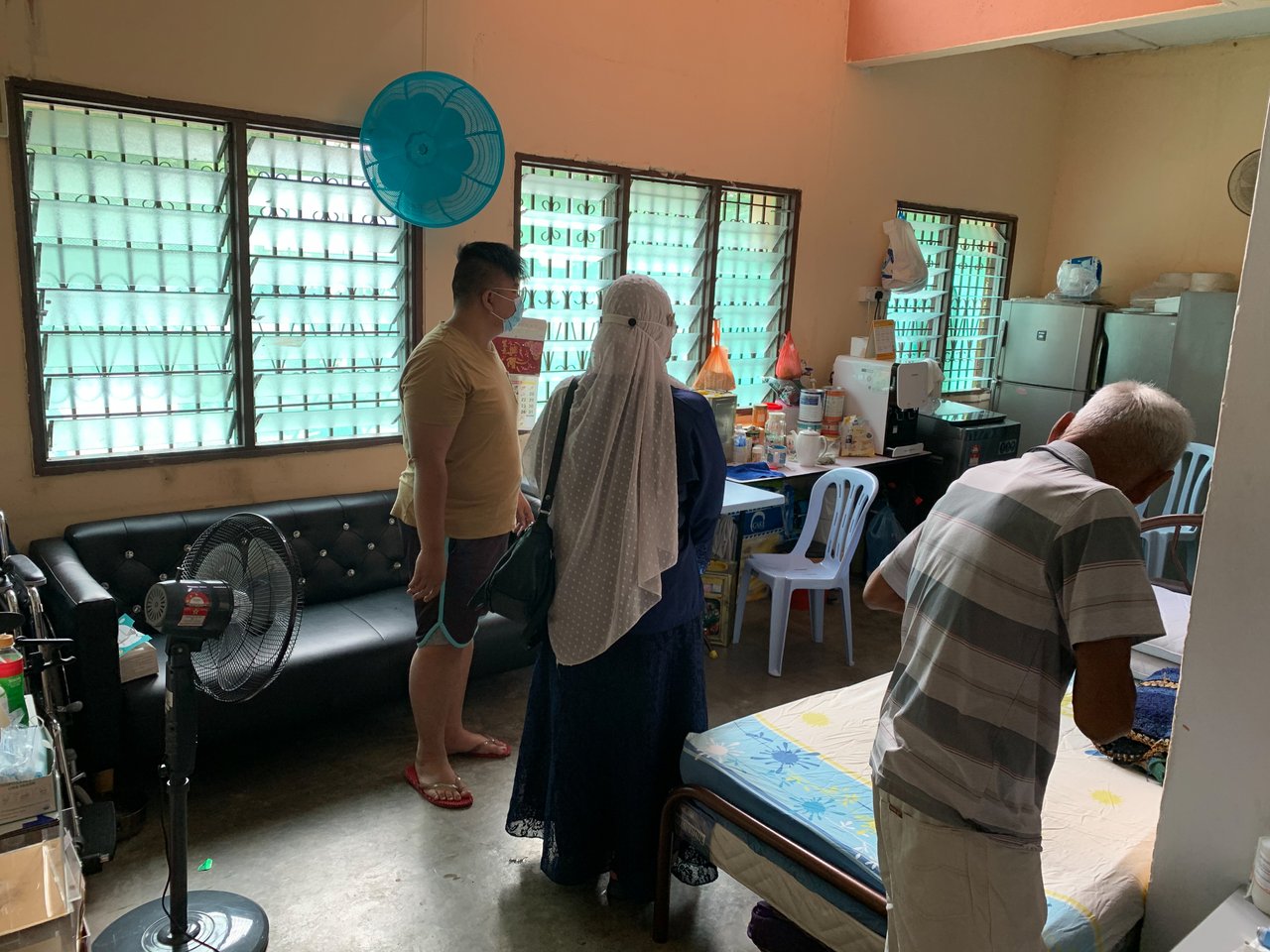 Peace Forever! Be Kind Everyone! Ainie Kashif and some of the residents of Xiao Xin Serdang Old Folks Homes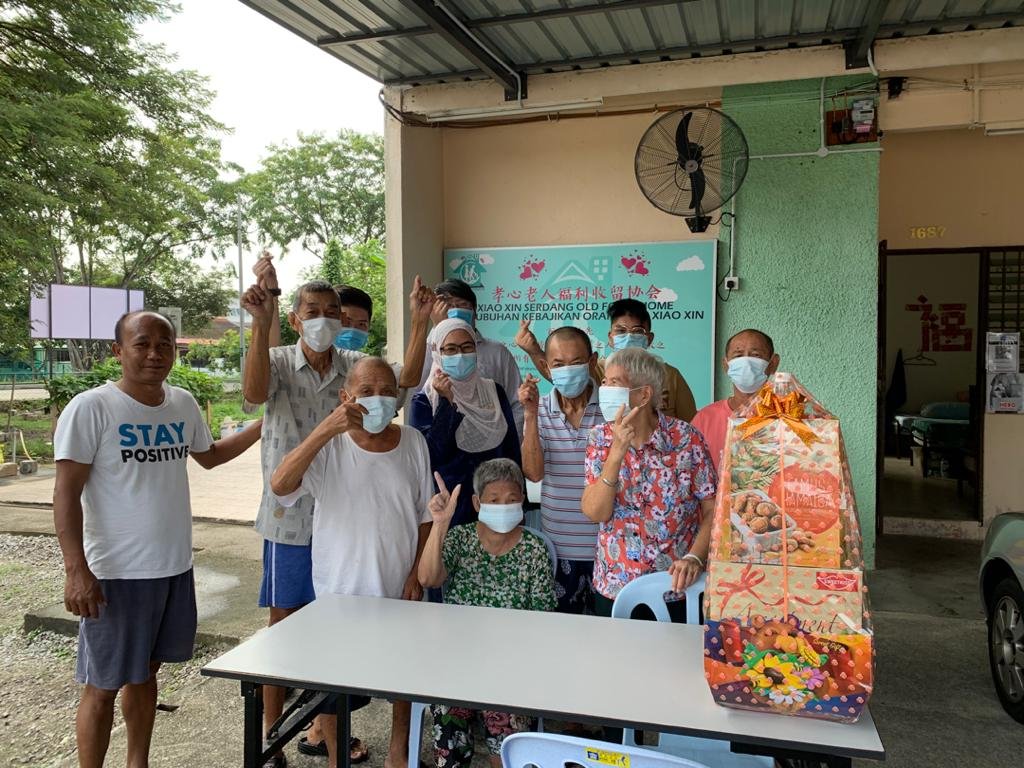 Address: No 1687, Jalan 18/46, Taman Sri Serdang, 43300 Seri Kembangan, Selangor
Number of residents: 13 senior citizens ranging from 60 to 72 years old
Tel: +6017-352 2138 (Mr Chua)
Web: www.facebook.com/XiaoXinSerdangOldFolksHome
"Let your kindness be the rain that cares not whom it falls upon."
---
That concludes my presentation for Steem Women Club Community'CHAIN OF GOODNESS EVENT' || exclusive for the community. Thank you @steemwomensclub @svm038 for organizing such a wonderful event and my deepest thanks to @steemcurator01, @steemcurator02, @booming accounts, @booming01 and @booming04 for their generous support to the @steemwomensclub Community.
If you are interested to join this awesome event, please visit this link below for more details:
---
That's all for now, wishing you a beautiful day ~ Life is Beautiful.
Take care and Stay Blessed!
Yours truly,