Hello Beautiful women of the Steem Women Club Community
Months ago, by establishing this community, we tried to establish a space where women gather and chat. We are 4.6K people in the community right now. Our goals and number of people are growing day by day. We strive to win together by keeping the purpose and motto of the community alive. As has always been said, there is nothing women cannot do. We Are Strong Together!
The topics I will explain in this post;
• Which posts are not selected as quality posts?
• Important notes for writing quality posts
•The system of selecting a quality post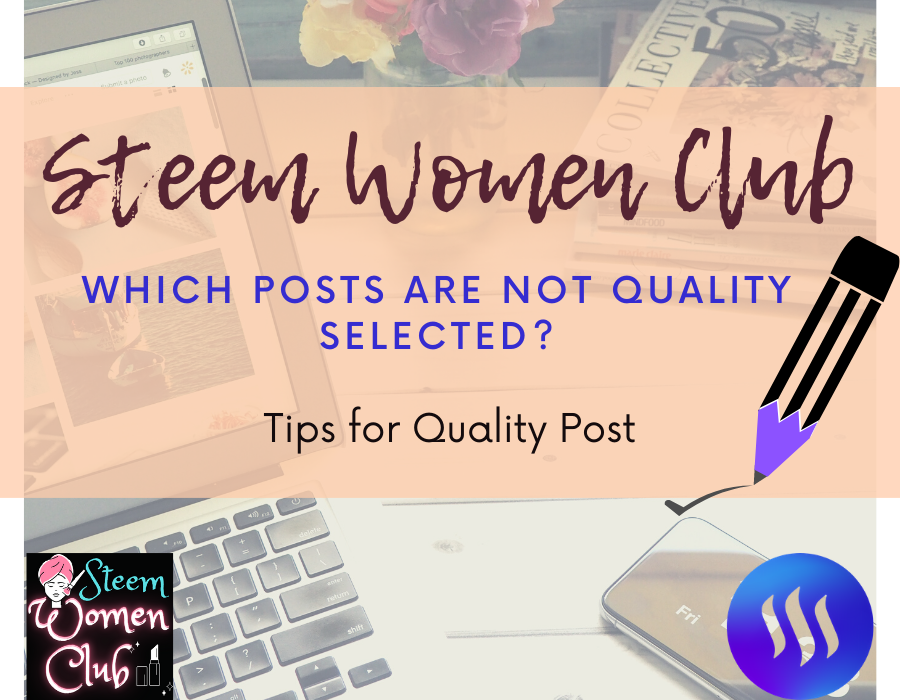 Which posts are not selected as quality posts?
For 8 months, we tried to explain this issue both privately and in the community. But sometimes that's the question for newcomers to the community. Why isn't my submission selected? We're about to be 5k in the community right now. If we empathize, hundreds of women write every day. The representatives and I are trying to help everyone. Of course it's impossible to vote for every post in the community. quality post is impossible to choose. Sometimes we try to compensate for overlooked situations. Empathy will help us a lot in your meaning. We have so far helped women with problems from Telegram, Discord and WhatsApp. We will try to resolve your kindly requests and problems to us.
• Articles written about the topic that does not concern the community are invalid.
• Those using copyrighted images are not selected in quality.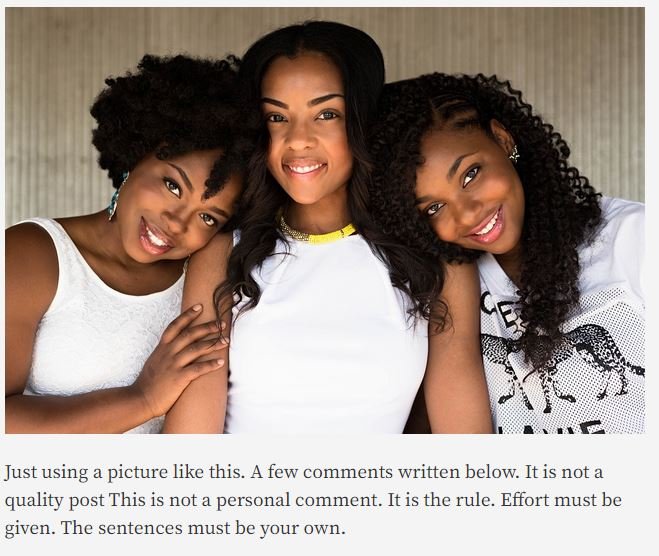 This picture was taken from https://pixabay.com/tr/photos/insanlar-%C3%BC%C3%A7-portre-siyah-3104635/.
There is no copyright.
• posts like this example are not selected. It's short and pointless.
• Although there is no limitation of any subject in the community, of course, posts based on a topic will be of good quality.
• if recently voted , please do not ask for a vote again!
• If you are not active in the community and posted a post, it is not selected necessarily .
• If you shared the same post in another community, your post will not be selected.
• Posts with plagiarism are not selected.
• Sharing the same post on other platforms will result in a warning. That's why your posts are not selected.
Important notes for writing quality posts
• If you are active in the community and your post is of good quality, you can be selected every 10 days. This is probability. There is no definite selection. We do not guarantee this.
• Prepare a post on any topic.
• Write your sentences your own.
• Use images that are not copyrighted.
• It is our preference to use pictures that belong to you.
• Contest posts play a big role in selecting quality posts.
• Be active in the community.
• Remember that the curators' votes are not final.
• If you still haven't received any votes in the community. Or, if you haven't received votes in a long time, politely contact the representatives.
Important Rules with Steemit
First of all, there are some rules that you follow because you are in Steemit. Sometimes you may be making these mistakes while thinking why I can't get votes.
• First and foremost, you need to prepare a quality post. Simple and irregular articles have little chance of being voted on. Or there is little chance of being selected as a quality post.
• Take care to use the original image while preparing the post. Of course, this is not the rule, but the ongoing quote images will not make your posts quality.
• Do not share any of your posts on the Steemit platform on any other platform. Or do not share your posts on other platforms on the Steemit platform. It will cause you to be blocked.
We make sure that your posts are exclusive with the #steemexclusive hashtag.
• You can only share a post in one community.
• Plagiarism is prohibited.
• Do not copy from other people's posts.
• If you follow the rules and prepare quality articles, of course, your chances of getting votes will increase. With #steemexclusive hashg, we make sure it is exclusive to Steemit.
I send 5 quality posts to curators every day that don't get votes. In this way, we try to support quality posts that do not receive votes. I will continue to select quality posts that haven't received votes.

SteemWomen Club Discord :https://discord.gg/pxRCht2h
İnstagram Account: Steem WOmen Club
Twitter Account:Steemwomenclub
Blog Site : Site

Support us by delegating STEEM POWER.