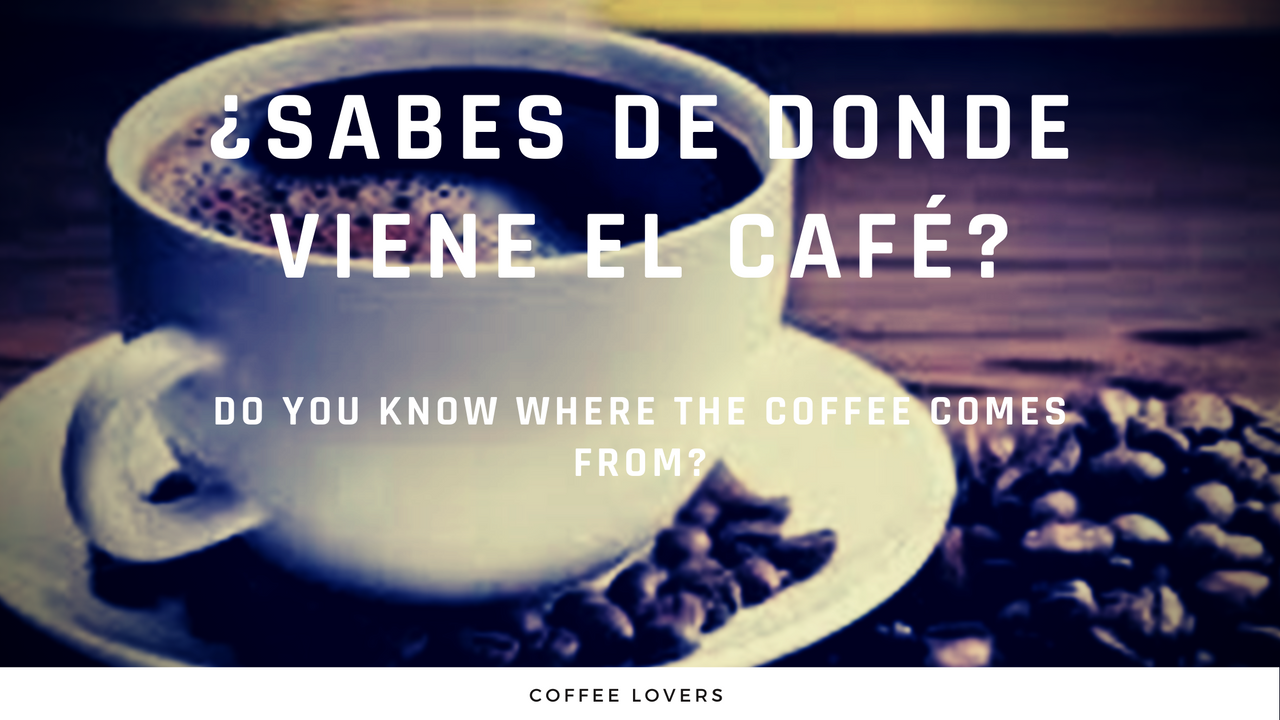 Un cordial saludo de mi persona. Si has entrado a éste artículo es porque quieres des-gustar de una buena taza de café, además, ¿A quién no le gusta el café?, con el aroma y sabor que posee, claro, depende del gusto de la persona. En lo personal, yo disfruto del café en grano puro masticarlo y saborearlo. Sin más preámbulo, os daré unos pasos previos en la elaboración del café desde la obtención de su materia prima hasta llegar a ser líquido.
Kind regards from me. If you have entered this article it is because you want to dislike a good cup of coffee, also, who does not like coffee ?, with the aroma and flavor that it possesses, of course, it depends on the person's taste. Personally, I enjoy pure coffee beans chewing and savoring. Without further ado, I will give you some preliminary steps in making coffee from obtaining its raw material to becoming liquid.
El café constituye un rubro de gran significación económica, social y conservacionista, por lo que su defensa y consolidación debe ser tarea prioritaria de los caficultores o productores de café. Bajo este enfoque, cualquier elemento que represente un factor de amenaza real debe ser tomado en consideración. Por otra parte el café es un producto utilizado a nivel mundial, cotizado en la bolsa de valores y así mismo tiene hasta propiedades medicinales; siendo por tal razón un cultivo muy importante.
Coffee constitutes an item of great economic, social and conservation significance, so its defense and consolidation must be a priority task for coffee growers or coffee producers. Under this approach, any element that represents a real threat factor must be taken into consideration. On the other hand, coffee is a product used worldwide, listed on the stock exchange and it also has medicinal properties; being for this reason a very important crop.
GERMINADO
La semilla debe ser tratada antes de ser sembrada se recomienda un proceso llamado "peletización" (proceso en el cual la semilla se lleva a desinfectar con productos ya sea químicos o agro ecológicos), luego se debe realizar una desinfección del suelo donde se va a sembrar utilizando agua hervida.
GERMINATED

The seed must be treated before being sown, a process called "pelletizing" is recommended (a process in which the seed is disinfected with products that are either chemical or agro-ecological), then a soil disinfection must be carried out where It will be planted using boiled water.
PLANTACIÓN
Regulación de sombra: es vital importancia para así evitar plagas y enfermedades.
Control de maleza: esta labor se debe realizar preferible mente manual, se recomienda un control de malezas antes de efectuar su trasplante y cosecha.
Poda: cuando la planta esta vieja se vuelve improductiva y se enferman por lo que los rendimientos del cultivo bajan, para ello se debe realizar una poda selectiva después de cada cosecha, el modo de realizar su poda es cortándola diagonalmente dejando una cuarta de tronco de la misma.
PLANTATION

Shadow regulation: it is vitally important to avoid pests and diseases.
Weed control: this work should be done preferably manually, weed control is recommended before transplanting and harvesting.
Pruning: when the plant is old it becomes unproductive and they get sick so the crop yields drop, for this, selective pruning must be carried out after each harvest, the way to carry out pruning is to cut it diagonally, leaving a fourth trunk thereof.
COSECHA
El inicio de la cosecha de café depende de la fecha de inicio de maduración del fruto, en las zonas altas donde la temperatura es baja su maduración es más lenta por lo que su cosecha seria mas tardía, en zonas bajas la maduración es más temprana y uniforme. Para que su proceso sea exitoso sus frutos deben ser los maduros por lo que requieren varias veces que recoger el fruto en la planta.
HARVEST

The beginning of the coffee harvest depends on the date of the beginning of the maturation of the fruit, in high areas where the temperature is low, its maturation is slower so that its harvest would be later, in low areas the maturation is earlier and more uniform. In order for your process to be successful, its fruits must be ripe, which requires several times to collect the fruit on the plant.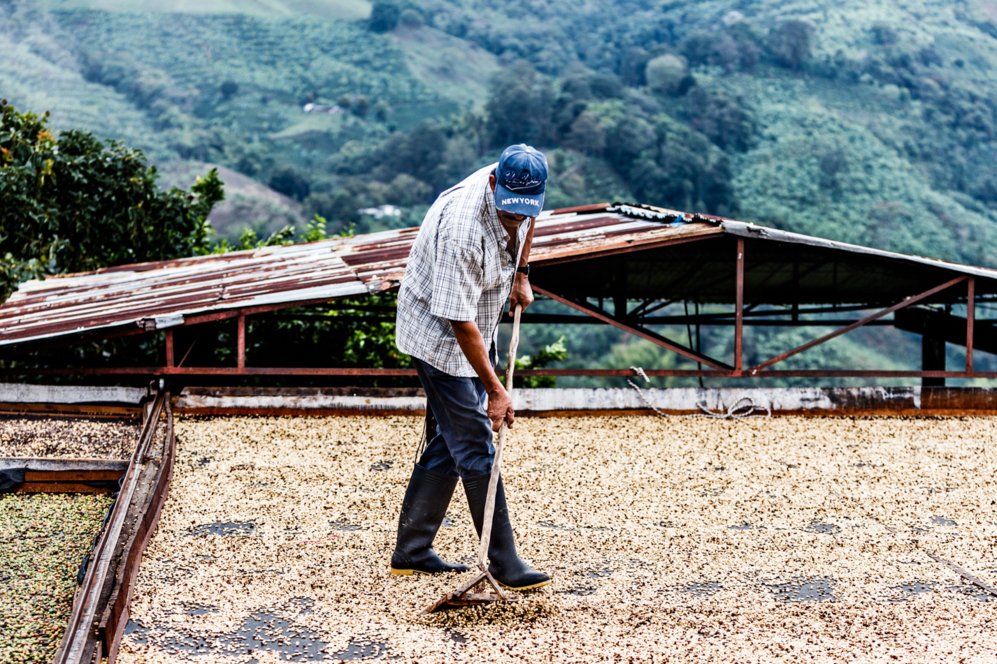 El Secado al sol de los granos de café / Drying the coffee beans in the sun
PROCESO DE ELABORACIÓN DEL CAFÉ EN POLVO O MOLIDO
PROCESS FOR MAKING COFFEE POWDER OR GROUND
Existe un solo método para su procesamiento del cual se pueden obviar algunos pasos, pero en esta ocasión te mencionare todos los pasos:
There is only one method for processing which can be skipped some steps, but this time I will mention all the steps:
El primer paso es la recolección de "frutos o granos" de la planta, esto empieza desde el productor o campesino hace una selección muy cuidadosa en el grano de café por lo que existe un método de selección; no es raspando la planta, ni mucho menos cortándola, se trata de grano a grano maduro ir sacándolo y acumulándolo para su proceso

The first step is the collection of "fruits or grains" of the plant, this starts from the producer or farmer, making a very careful selection in the coffee bean, so there is a selection method; It is not scraping the plant, much less cutting it, it is about ripe grain by grain, removing it and accumulating it for its process



El Lavado del grano de pulpa para sacarle la baba natural que posee, abundante agua para su enjuague, para luego dejar en remojo el grano para lograr su leve fermentación, aproximadamente de 12 a 24h.

The washing of the pulp grain to remove the natural slime it has, abundant water for rinsing, and then let the grain soak to achieve its slight fermentation, approximately 12 to 24 hours.



Una vez purificado el grano en pulpa se inicia una separación del grano con la concha fresca denominada "pulpa" , a lo que llamamos el "despulpado". Esto se realiza con una maquina manual o automática con una especie de parte mecánica como un rallador de cocina.

Once the grain has been purified into pulp, a separation of the grain begins with the fresh shell called "pulp", which we call "pulping". This is done with a manual or automatic machine with a kind of mechanical part like a kitchen grater.



Es opcional luego del "despulpado", para mejores resultados y una labor mas limpia un segundo lavado al cual se le conoce como "lavado superior" que es separar la basurita que queda en la maquina por el trabajo realizado.

It is optional after "pulping", for better results and cleaner work, a second wash is known as "superior washing", which is to separate the garbage left in the machine by the work done.



Se coloca el café en granos a secar con el sol, en una base preferiblemente de cemento cual nos ayudara a retener calor y secar mas rápido.

The coffee beans are placed to dry in the sun, preferably on a cement base which will help us retain heat and dry faster.



Mover los granos expuestos al sol para obtener un secado homogéneo para ello se usan unos rastrillos de madera y el movimiento es suave, tratando de que los granos de arriba vayan hacia abajo y viceversa.

Moving the grains exposed to the sun to obtain a homogeneous drying, use wooden rakes and the movement is smooth, trying to make the grains from above go down and vice versa.


Proceso de trillado de grano de cafe / Coffee bean threshing process

Una vez seco, pasarlo a la trilladora este paso tiene por nombre "Trilla de café", que consiste en separar la segunda concha denominada "Pergamino" del grano, una de las maneras de saber si el grano que tenemos secado esta listo para pasarlo a la trilladora, es morder el grano, si lo sientes aguado o débil a ese grano le falta mas secado, de lo contrario esta listo.

Once dry, pass it to the thresher. This step is called "Coffee threshing", which consists of separating the second shell called "Parchment" from the grain, one of the ways to know if the grain that we have dried is ready to pass it to the thresher is to bite the grain, if you feel watery or weak, that grain lacks more drying, otherwise it is ready.



"Tostado del grano", esto vendría siendo poner a calentar los granos a cierta temperatura con la finalidad de que quede apartado de las partículas líquidas y que logre el color, aroma y sabor que conocemos.

"Roasting of the grain", this would come from putting the beans at a certain temperature to heat in order to keep them away from the liquid particles and achieve the color, aroma and flavor that we know.



Por último se realiza la transformación del grano a molido para obtener polvo que comúnmente todos conocemos en nuestros hogares por comprarlo ya empaquetado.

Finally, the transformation of the grain to ground is carried out to obtain dust that we all commonly know in our homes by buying it already packaged.



Con el polvo obtenido, con un proceso gastronómico culinario se obtiene el líquido.

With the powder obtained, with a culinary gastronomic process, the liquid is obtained.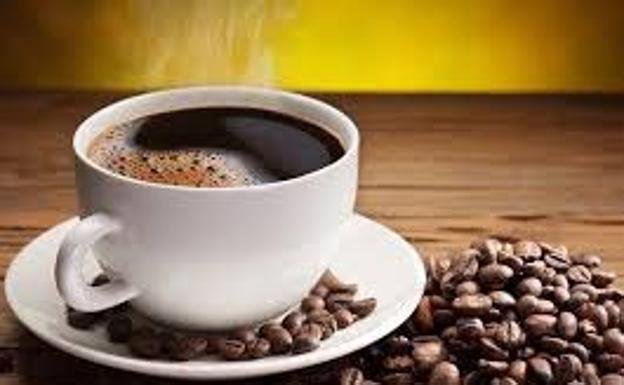 Taza de café / Cup of coffee
---
INSTAGRAM
TWITTER