Good Things Are Happening With Binance Too: An Important Milestone Has Been Left Behind Although Binance has faced pressure from regulatory institutions lately, it continues to develop and progress.
The name of the cryptocurrency exchange Binance has been on the agenda recently with the negative statements made by the regulatory authorities about it. However, it is seen that important developments have been recorded under the umbrella of Binance. For example; Yesterday, Binance's cryptocurrency market cap was the only cryptocurrency to experience an increase among the top ten cryptocurrencies. It seems that Binance's dollar-pegged stablecoin, Binance USD (BUSD), has also passed an important milestone.
BUSD Market Cap👇
According to the latest information, the BUSD market value rose to over $10 billion yesterday. As of the writing of the article, it is seen that the market value of BUSD is around 11.2 billion dollars.
Binance also shared this important milestone with its users, both through its official statement and social media posts .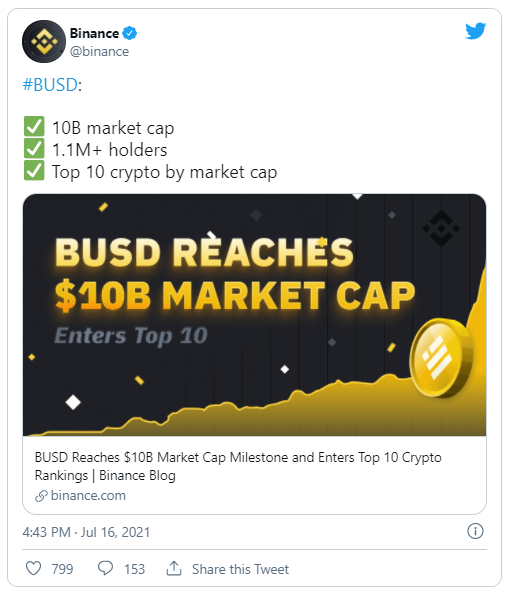 On the other hand, as of July 2021, Binance USD has a large user base and 1,100,000 crypto enthusiasts have BUSD in their portfolios. It also appears that with such massive adoption of Binance USD , the leading Ethereum -based DEX Uniswap has outstripped UNI, the core native asset. It is also noteworthy that with these developments, BUSD is among the top ten cryptocurrencies in terms of market volume.
BUSD: Third Largest Stablecoin👇
BUSD, Paxos and issued by the New York State Department of Financial Services (NYDFS) approved, so it is compatible with legislation stableco to come across as.
On the other hand, BUSD is currently the third largest stablecoin. When considering values ​​in terms of market cap, Tether (USDT) is the largest stablecoin and USD Coin (USDC) is the second largest stablecoin.