Analysts think that there should be general recovery in the market for the rises to start in DOGE, DOT, XRP and MATIC.
Volatile movements continue in the crypto money market, and cryptos, especially Bitcoin, fall one day and show upward movements the next. At this point, analysts now think that the tight price movement of BTC should end and altcoins will determine their direction after this move.
✅Dogecoin Continues to Decline
The joke coin Dogecoin (DOGE), which is among the most popular cryptocurrencies of 2021, continues to decline in terms of both price and market value. DOGE, which managed to enter the top ten cryptocurrencies in terms of market capitalization with its performance in 2021, is regressing in the ranking, although it remains in the top ten.
DOGE, traded at $0.17 at the time of publication , ranks 8th with a market value of $23.5 billion.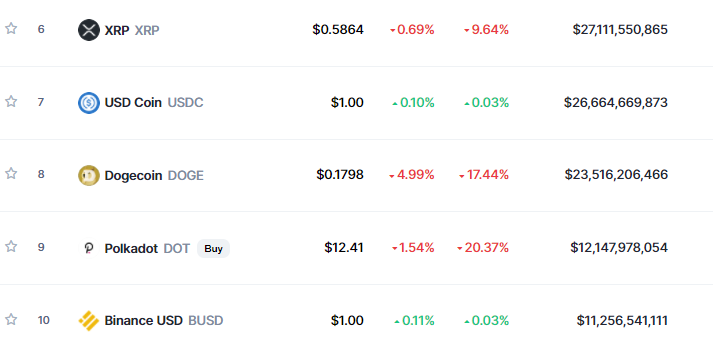 According to analysts, the Dogecoin decline will continue for a long time. Because with the excitement in the market, the DOGE price has a value far above the level it should be at the moment. Analysts argue that the price of Dogecoin should be at most $0.01.
✅Mixed Signals in XRP
Ripple has been in a lawsuit with the US Securities and Exchange Commission since December 2020, which has had a significant impact on the XRP price. XRP continues to trade at low levels at $0.58 at the time of writing.
According to analysts, it is of great importance that the lawsuit process is concluded in favor of Ripple so that the XRP price can start its own rally. The outcome of the lawsuit in favor of Ripple could allow XRP to break its own record of $3.84 and rise as high as $5.
However, if the case ends against Ripple, much deeper levels can be seen in XRP . In such a case, it is thought that XRP may even see below $0.20.
✅Polkadot (DOT) and Polygon (MATIC)
Polkadot was among the projects that attracted attention in 2021 with both its price action and its developments. Polygon similarly seems to continue to attract the attention of investors.
According to analysts, in order for both cryptocurrencies to start increasing again, Bitcoin and then altcoins must rise.