Musk began to express his support for Dogecoin most clearly. The price is skyrocketing!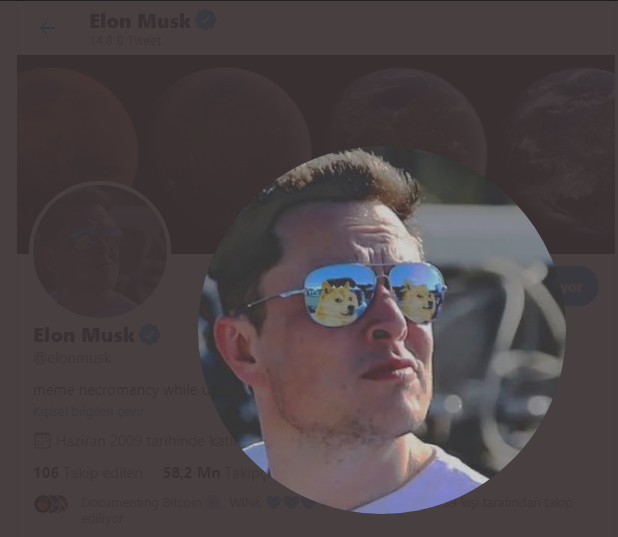 Elon Musk, who started sharing Dogecoin in the evening, now announces Dogecoin support much more clearly. The famous CEO, who took two important steps, caused the price of DOGE to rise rapidly. Dogecoin is rising rapidly after the low it saw in the morning!
✅Elon Musk and Dogecoin
Musk took two important steps. He changed his profile photo to an image with the Dogecoin symbol on his sunglasses. Dogecoin price went up to the level of 0.182. If the shares continue, Dogecoin can regain 0.20 support.
Clearly Dogeco's (DOG) For Elon Musk, who declared his support had somewhat compensate losses of investors. The joke coin, which fell as low as 0.16884 during the day, rose to $ 0.18203.
Musk, who also updated his Twitter bio, now describes himself as a "memes wizard". This definition can be interpreted as continuing such speculative movements to push the price up. At the same time, Elon Musk organizes developers for the Dogecoin (DOGE) project to develop and generate benefits.
✅Elon Musk Is Returning To Crypto!
All these shares came simultaneously with the Bitcoin price, which is about to test the 30,000 support again. Will Elon Musk, who officially announced that he is back in the crypto money markets this evening, will start accepting Bitcoin again?
Next week, Musk will attend an important event. The famous billionaire who will be present at The Bitcoin Word event will talk about institutional crypto investments. The main agenda of the event, which will be attended by a large number of strong crypto investors, was reported as "increasing institutional interest in crypto".
Elon Musk, who helped the Dogecoin price find a new ATH point before the SNL show event , caused the price to start falling with his movements during the event. Many investors continue to hold Dogecoin (DOGE) holdings with an average of 0.40.