Coro coro fresco
Boca colorà
Si le mascas la cabeza
Te quedas en Cumaná.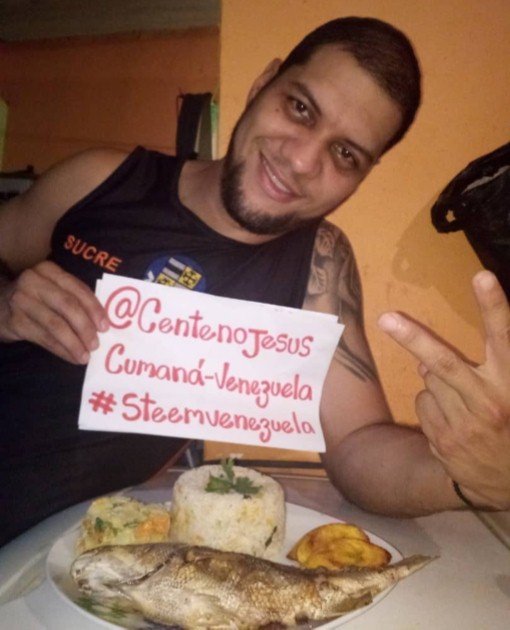 ---
Desperté este martes de cocina con este famoso verso dando vueltas en mi cabeza, verso que inmortalizo en gran cantautor Cumanés Hernán Marín y el cual todo cumanés se sabe de memoria y se lo recita a los visitantes que no se resisten a querer comerse hasta la cabeza de un buen Coro Coro frito.
I woke up this Tuesday in the kitchen with this famous verse spinning in my head, a verse that I immortalize in the great Cumanés singer-songwriter Hernán Marín and which all Cumanés know by heart and recite it to visitors who do not resist wanting to eat up to the head of a good fried Choir Choir.
Aqui les dejo el video musical para que escuchen mientras visualizan el post.
Here is the music video for you to listen to while viewing the post.

---
Bueno ahora a lo que vine, a darle un recorrido por la creación de un magnifico y sencillo plato tradicional de mi tierra pero con un toque personal, que consta de: Coro Coro frito con arroz aliñado, ensalada express y tajadas.
Well now what I came to, to give you a tour of the creation of a magnificent and simple traditional dish of my land but with a personal touch, consisting of: Coro Coro fried with seasoned rice, express salad and slices.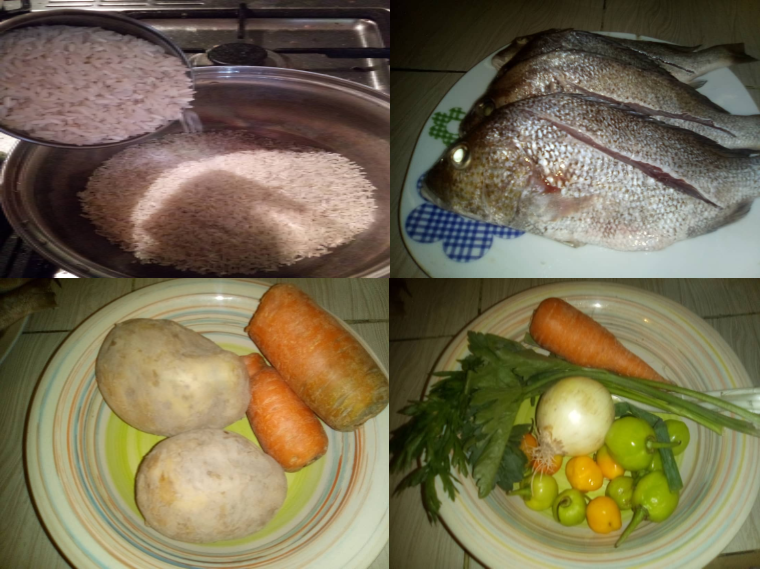 Para la preparación de este plato para 4 personas necesitamos lo siguiente:
For the preparation of this dish for 4 people we need the following:
1 kilo de Coro Coro grandes. (250 gr cada uno aproximadamente)
½ kilo de arroz
Aceite para freir
Para la ensalada express:
For the express salad:

2 papas grandes sancochada.
1 zanahoria grande sancochada
Aceite
Un poquito de perejil
Mayonesa y sal al gusto.
Para aliñar el arroz:
To dress the rice:

1 cebolla
10 ajíes
1 zanahoria pequeña rallada (aparte de dar sabor le da mas color)
Un poquito de cebollín, perejil, apio España y ajo.
Sal al gusto.
Ahora vamos a comenzar.
Now let's start.
Se sancochan las papas y las zanahorias y se ponen a reposar en un plato.
The potatoes and carrots are boiled and put to rest on a plate.

Se pican en cuadritos pequeños el guiso se pone separado de la zanahoria rallada.
Chop into small squares, the stew is separated from the grated carrot.

Se calienta la olla para el arroz y se le echa un poquito de aceite y se le echa el arroz seco, se remueve constantemente con una paleta de madera para que no se pegue, solo queremos que tome calor para que medio toste (esto hara que se ponga tipo parbolizado).
The pot for the rice is heated and a little oil is added and the dry rice is added, it is constantly stirred with a wooden paddle so that it does not stick, we only want it to heat up so that it half roasts (this will make get kind of parboiled).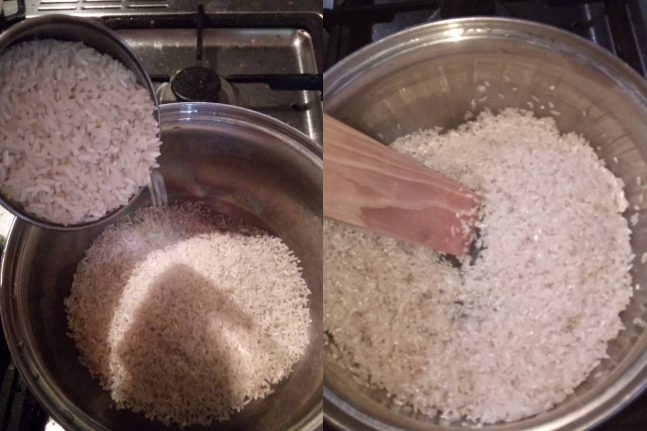 Al tostarse un poquito se le vierte el agua correspondiente, ósea el doble de la cantidad de arroz que se agregó y se le pone un toque de sal.
When it is roasted a little bit, the corresponding water is poured, that is, twice the amount of rice that was added and a touch of salt is added.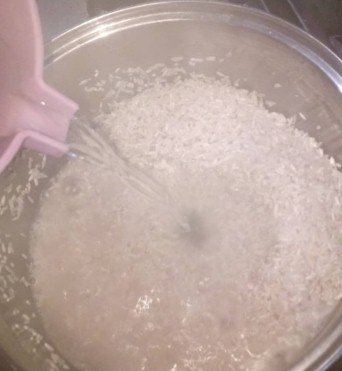 Luego en una paila se calienta un poco de aceite y se le agrega el guiso que ya previamente estaba picado en cuadritos y cuando este bien sofrito se le echa al agua del arroz que debería estar comenzando a hervir, de igual manera se le agrega la zanahoria rallada, se revuelve y se pone a fuego lento con la tapa cerrada, el cual estará listo en unos 10 minutos.
Then a little oil is heated in a pan and the stew that was previously diced is added and when this well fried is added to the rice water that should be starting to boil, in the same way the carrot is added. grated, stir and simmer with the lid closed, which will be ready in about 10 minutes.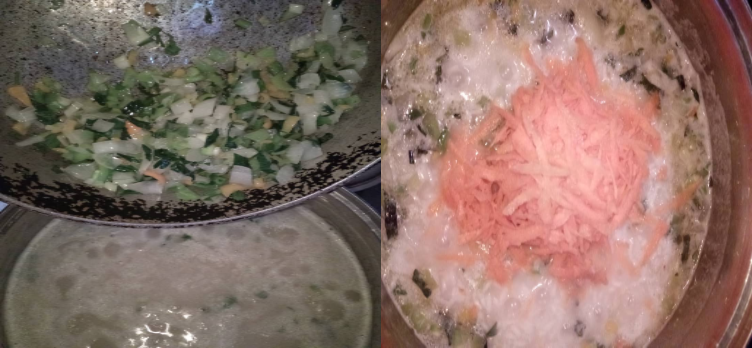 Mientras se hace el arroz se pican en cuadritos las zanahorias y las papas, se pican chiquiticos el ramito de perejil, se le agrega mayonesa y sal al gusto, se revuelve y se guarda un rato en la nevera.
While the rice is being made, the carrots and potatoes are diced, the sprig of parsley is minced, mayonnaise and salt are added to taste, stir and store for a while in the fridge.

Nota: La particularidad de este tipo de ensalada express es que cuando la consumimos fría tiene un sabor más agradable, claro es cuestión de gustos pero prefiero ponerla a agarrar un poquito de frio. Ahora se calienta un sartén para freír primeramente las tajadas de plátano, para posteriormente en el mismo sartén con el mismo aceite comenzar a lanzar los pescados.
Note: The peculiarity of this type of express salad is that when we eat it cold it has a more pleasant flavor, of course it is a matter of taste but I prefer to put it to take a little cold.
Now a frying pan is heated to first fry the banana slices, and later, in the same pan with the same oil, begin to throw the fish.
Primero las tajadas.
Slices first.

Ahora el popular Coro Coro bello bello y original con esa boca colorà, de ultimo para que salga del sartén directo al plato y directo a la mesa.
Now the popular Coro Coro beautiful, beautiful and original with that colored mouth, last so that it comes out of the pan straight to the plate and straight to the table

Ya con toda la comida completa se coloca estratégicamente en el plato y aquí el resultado.
With all the food complete, it is strategically placed on the plate and here the result.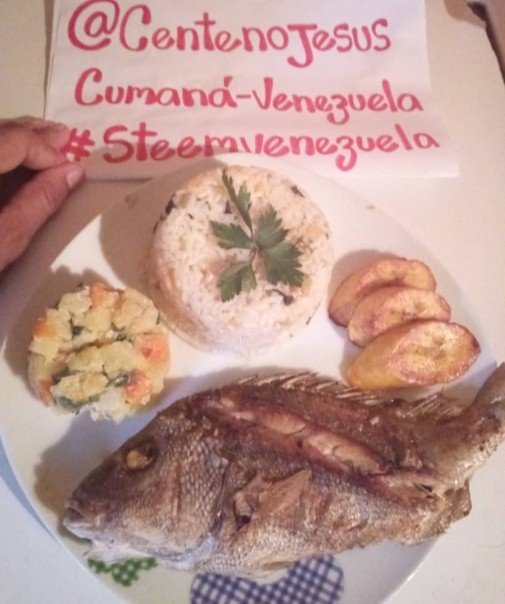 Gracias a todos los que disfrutan de la cocina y se atreven a innovar sin limitarse, les mando un saludo a todo el equipo de @steemvenezuela por mantenernos activados todas las semana.
Thanks to all those who enjoy cooking and dare to innovate without limiting themselves, I send a greeting to the entire @steemvenezuela team for keeping us activated every week.
Todas las fotos son de mi autoria, tomadas con mi movil
Alcatel Pulsemix
All the photos are my own, taken with my mobile
Alcatel Pulsemix