Great! now my dog is a pothead, and it's all my fault. :|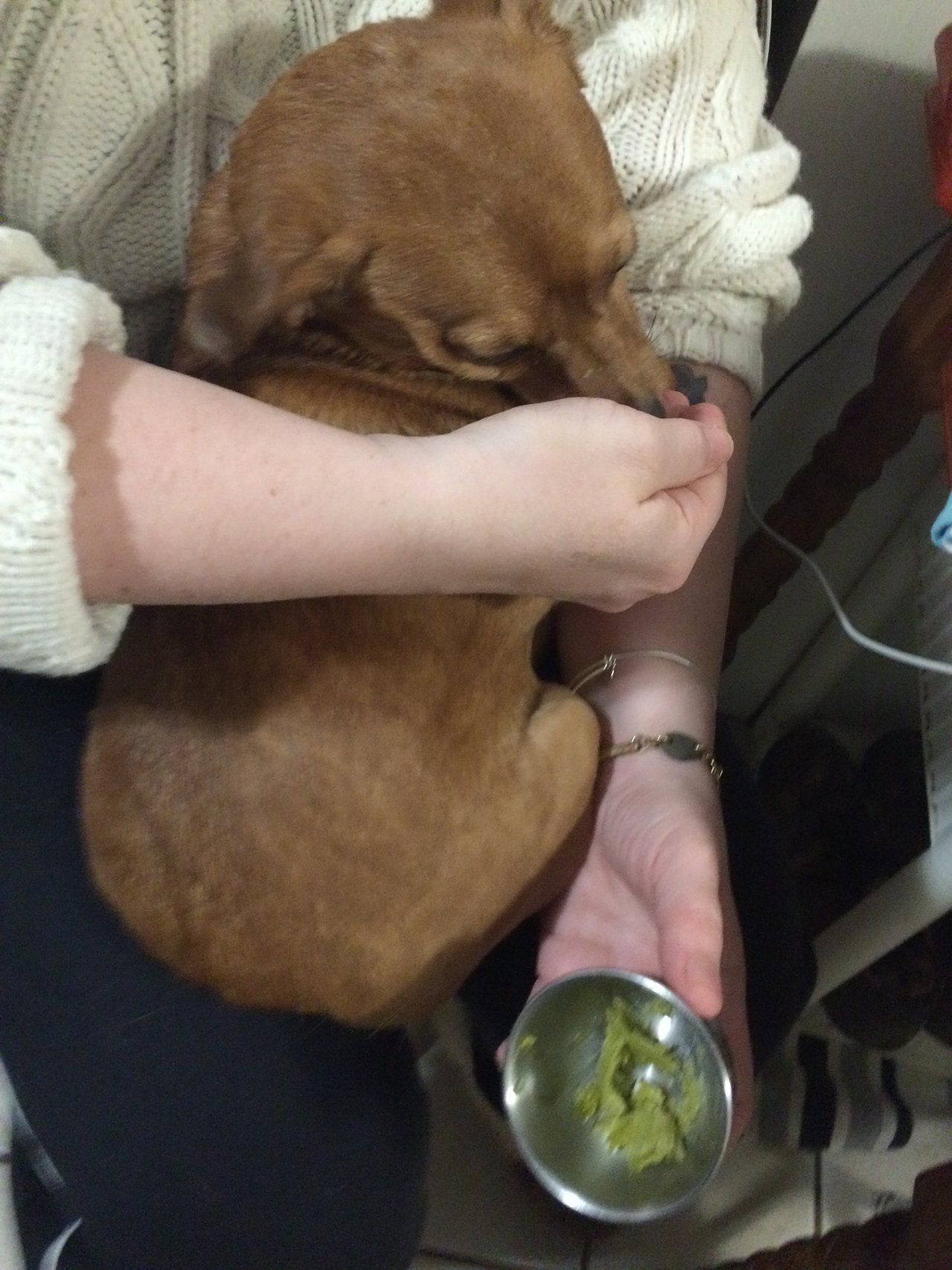 [photo by Joey SLLiks]
So, I wasn't thinking.
I dumped some coconut oil near the compost pile in the backyard. It was medicated.
A few days later my wife calls me, very upset. She said, she's at the vet and she's not sure what's happening with Maisey, our little tiny puppy (Dachshund(m) /Jack Russell(d) mix). She's pretty small, and ate a potentially large amount of medicated coconut oil. She was having trouble walking, and Peed on the floor and she looks pretty dopey.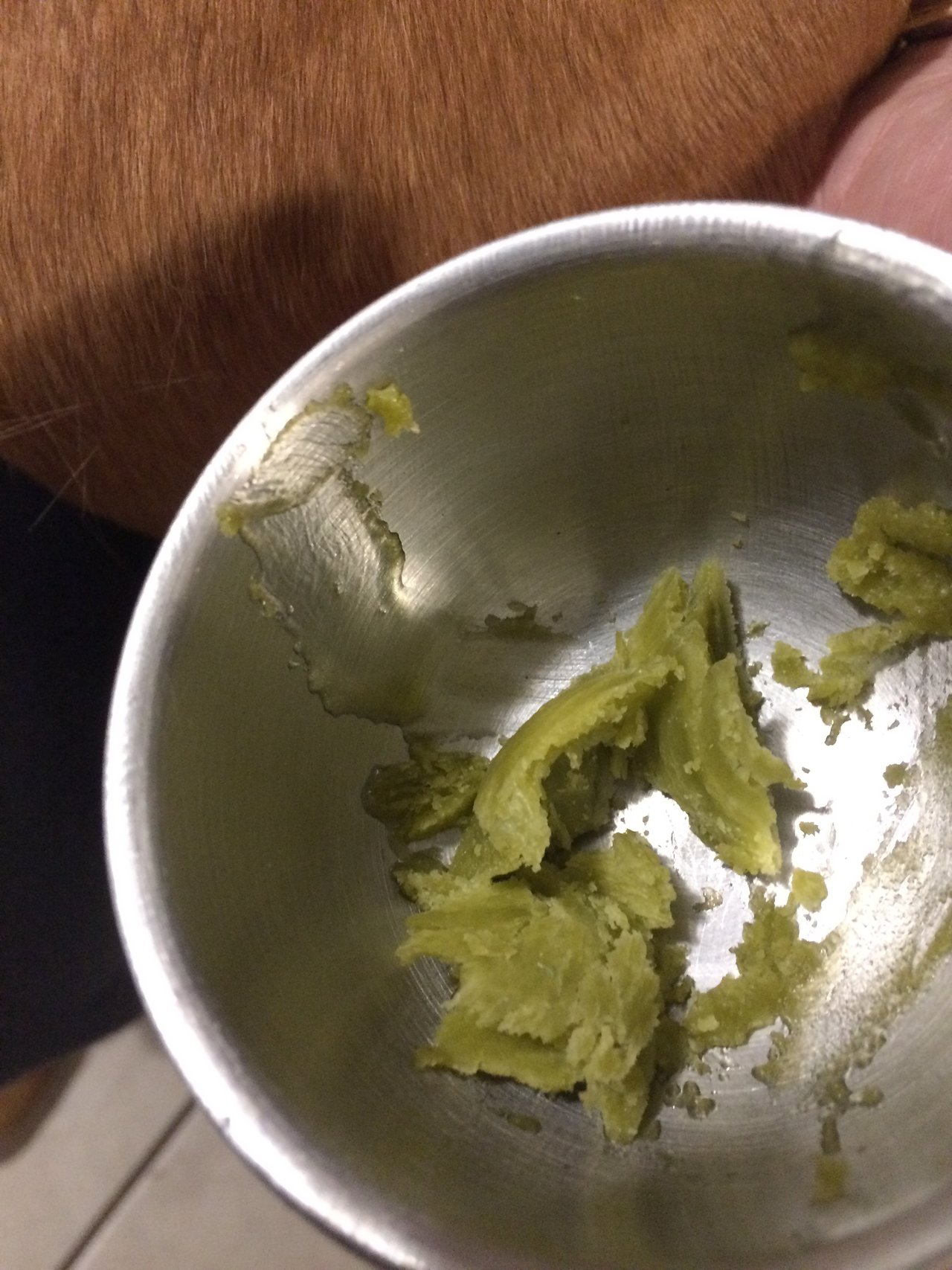 [photo by Joey SLLiks]
Well, the Veterinarian picked up on it right away. She asked my wife , who I was on the phone with at this time , if maybe the puppy had gotten into some cannabis.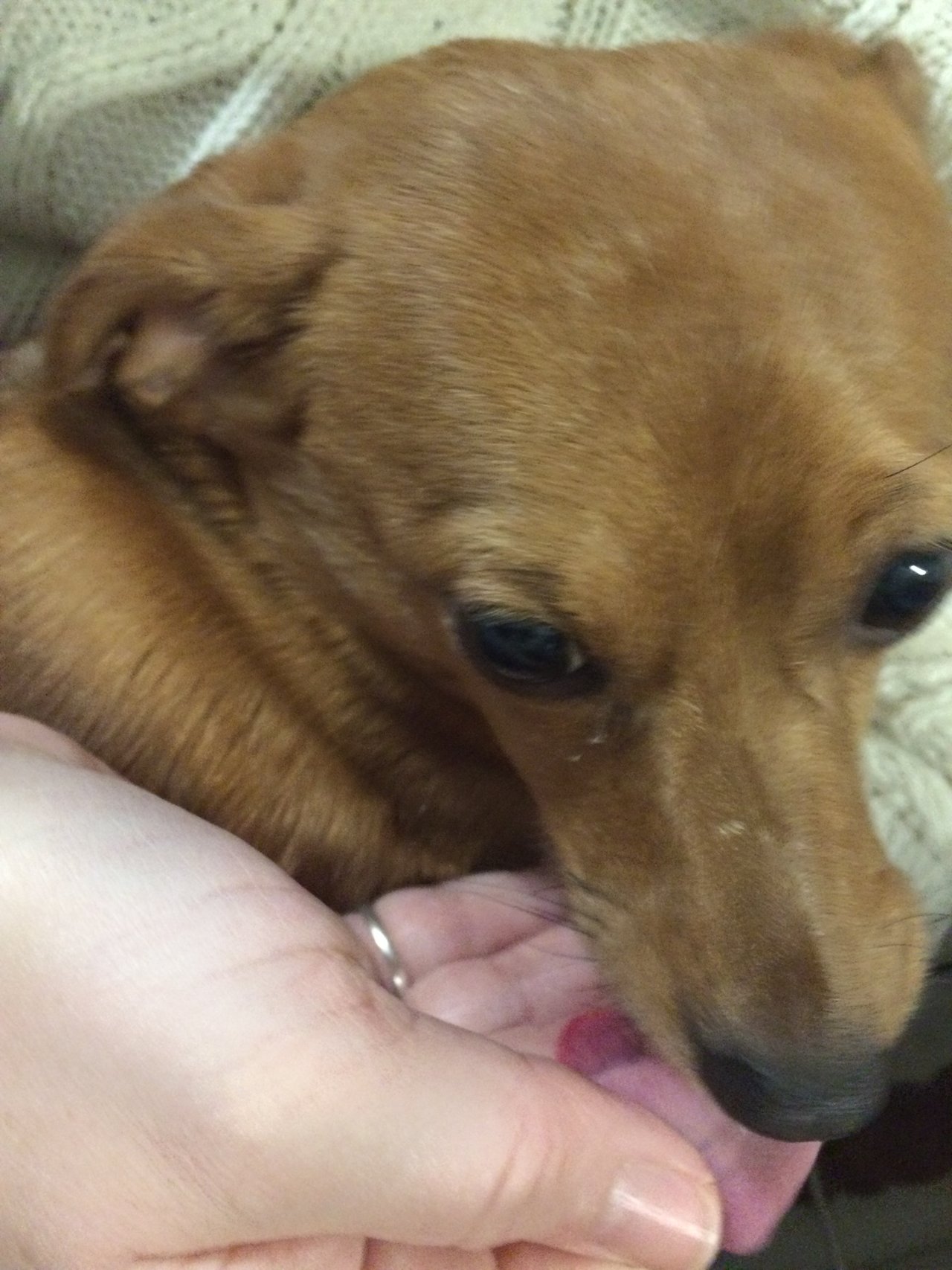 [photo by Joey SLLiks]
My wife told her, now that I've told on myself over the phone, that Her dumb husband may have exposed her to some weed laced coconut oil, Because he stupidly dumped some in the yard and the dog probably got into it. She was right.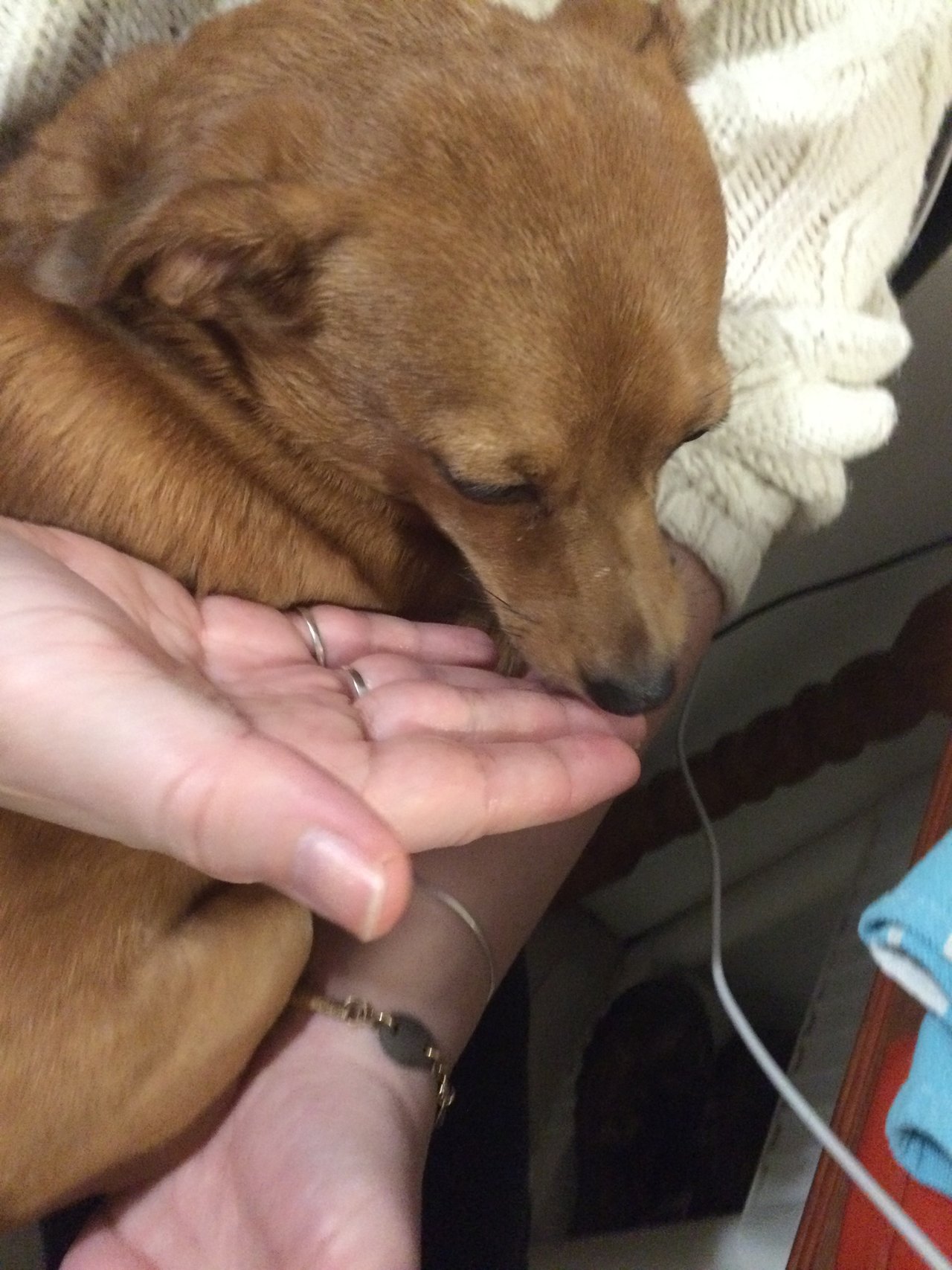 [photo by Joey SLLiks]
Good news! Cannabis is not poison enough to kill your dog, but (...everyone in the family may end up traumatized) enough to make your dog appear to be having a bad-dish day.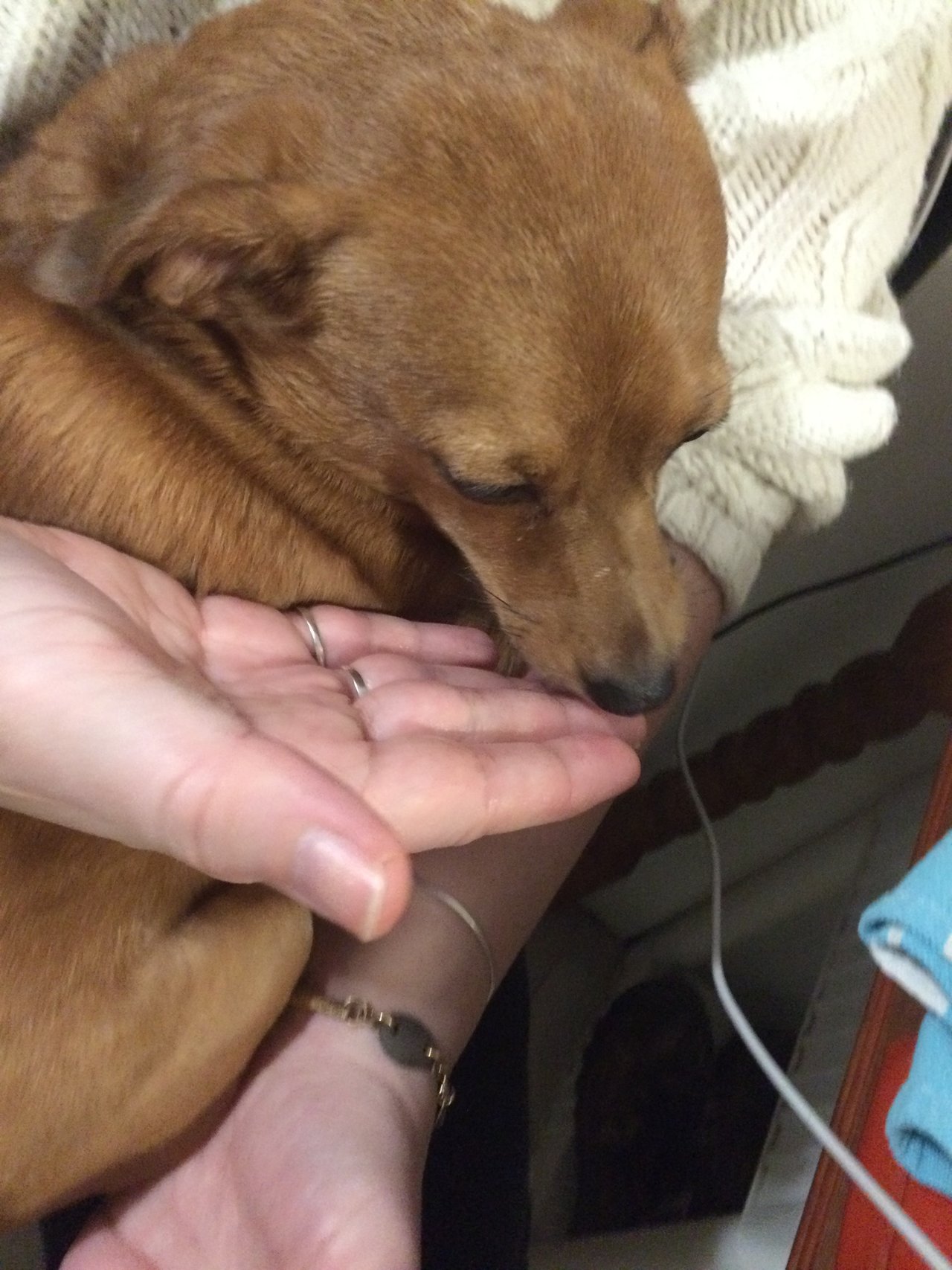 [photo by Joey SLLiks]
More Good news ! ...24 hours later Maisey was fine, once she slept all that weed off ...plus now she seems to love the smell of weed, cooking.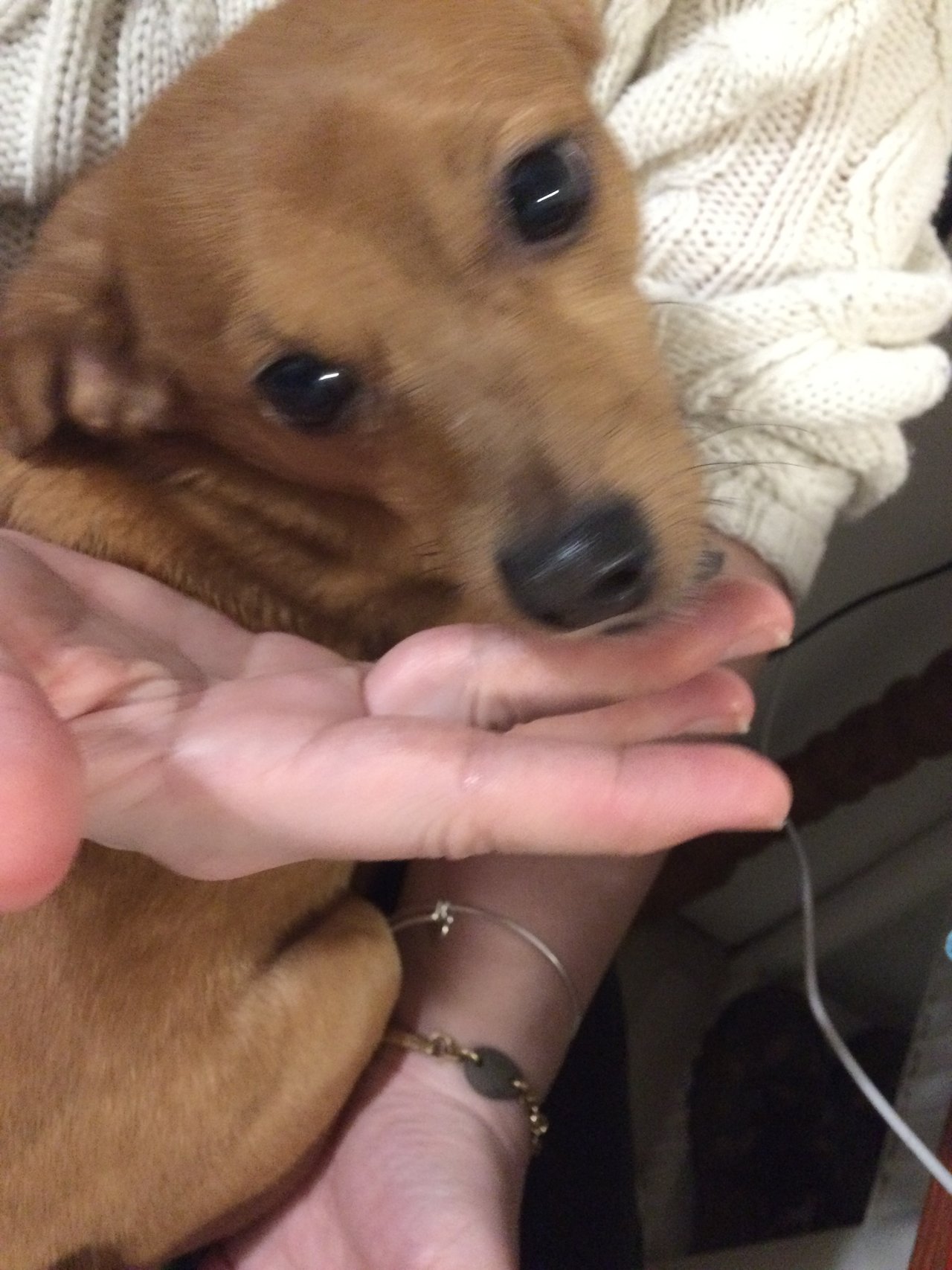 [photo by Joey SLLiks]
Also, we did notice that, while she was super high, she wasn't as skittish. There were even fireworks that night, and she wasn't freaking out like she usually does. I guess the silver lining was that we had discovered that cannabis actually helps the dogs when they are suffering from anxiety, in this case, triggered by loud noise.
So, that was a while ago. Since then it has become known, that Maisey loves weed-coconut oil, and if she can get into it she will. Because it is actually good for dogs, we do give it to her in small amounts, from time to time.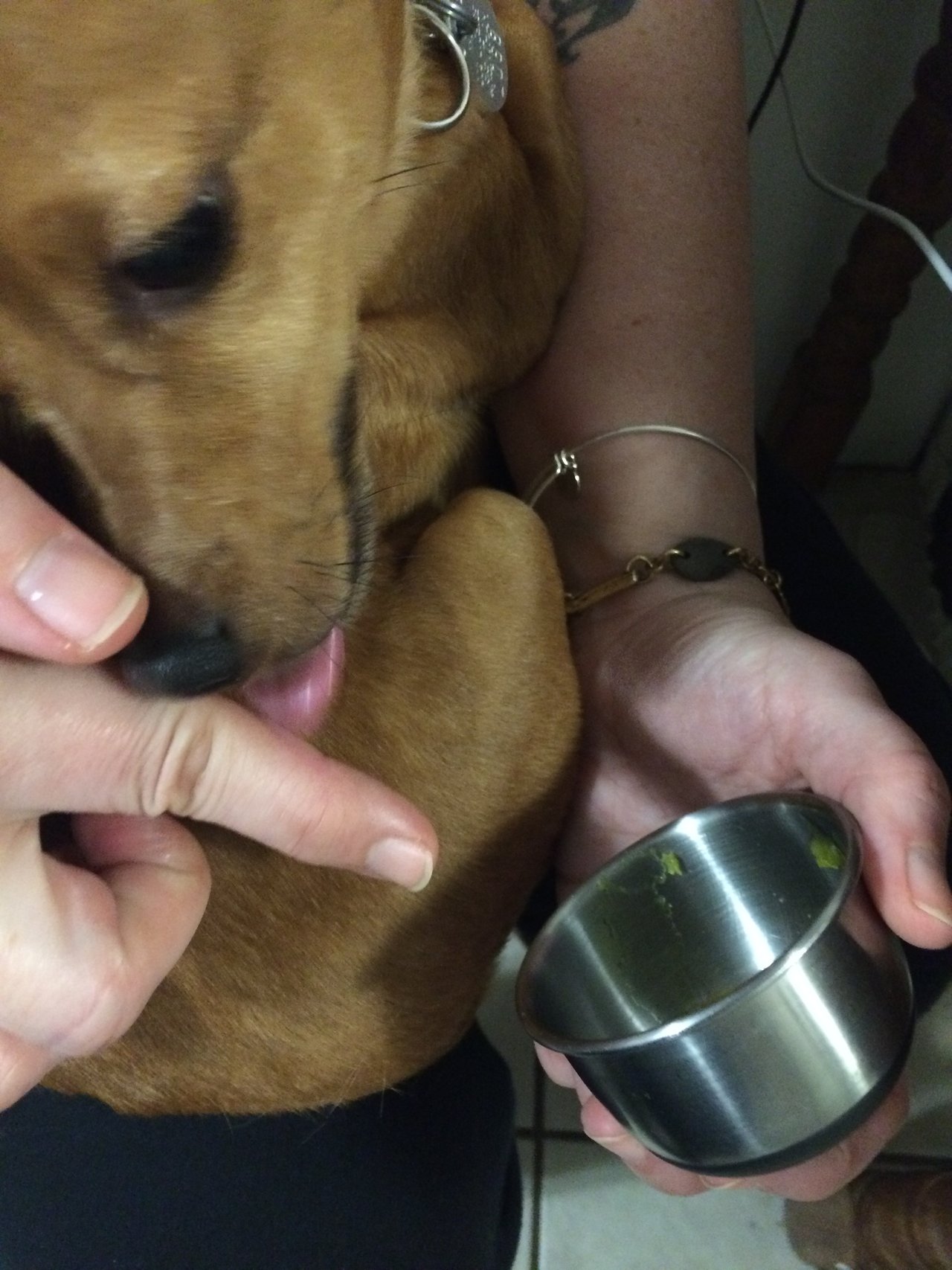 [photo by Joey SLLiks]
Unfortunatly today, we noticed that she's limping around the house. My wife thinks she might've hurt her back so I gave her some coconut oil and we also rubbed some medicated oil on the back and side panels of our little sausage warrior. (Rest assured you never sausage a brave, little hot dog.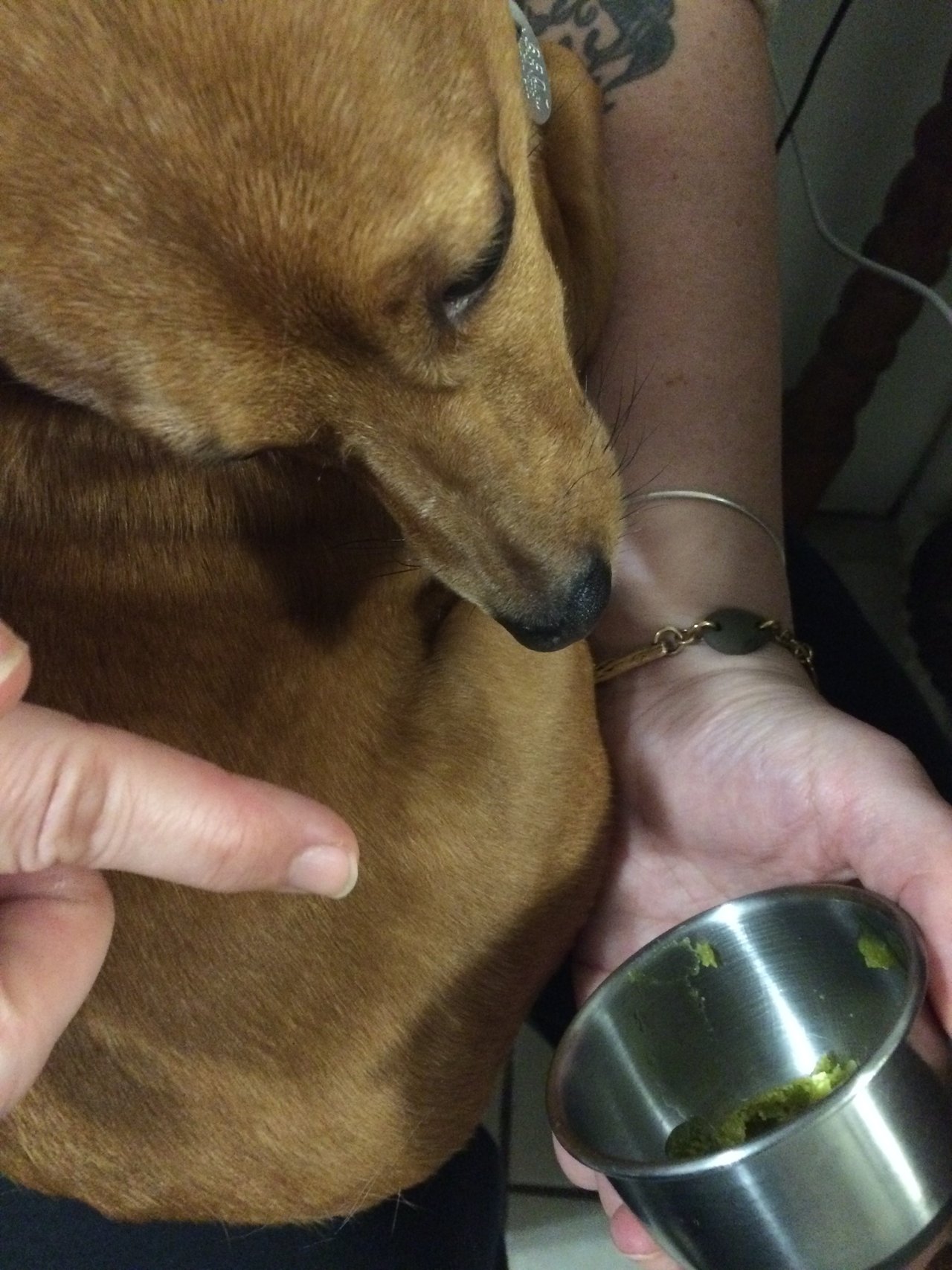 [photo by Joey SLLiks
My wife is a nurse and knows things. She noticed that Maisey had some inflammation in the muscles on her left side. After the treatment and I'd say Within about 20 minutes she seemed a lot more comfortable.
.. anyway just wanted to share that information for anybody who either accidentally gets the dog super high, Or is considering using cannabis to treat their dog for something. Like all their best friends, Dogs too have an Endo-cannabinoid system, so CBD works great, as does THC, for overall health, as well as a treatment for a number of ailments and causes of discomfort.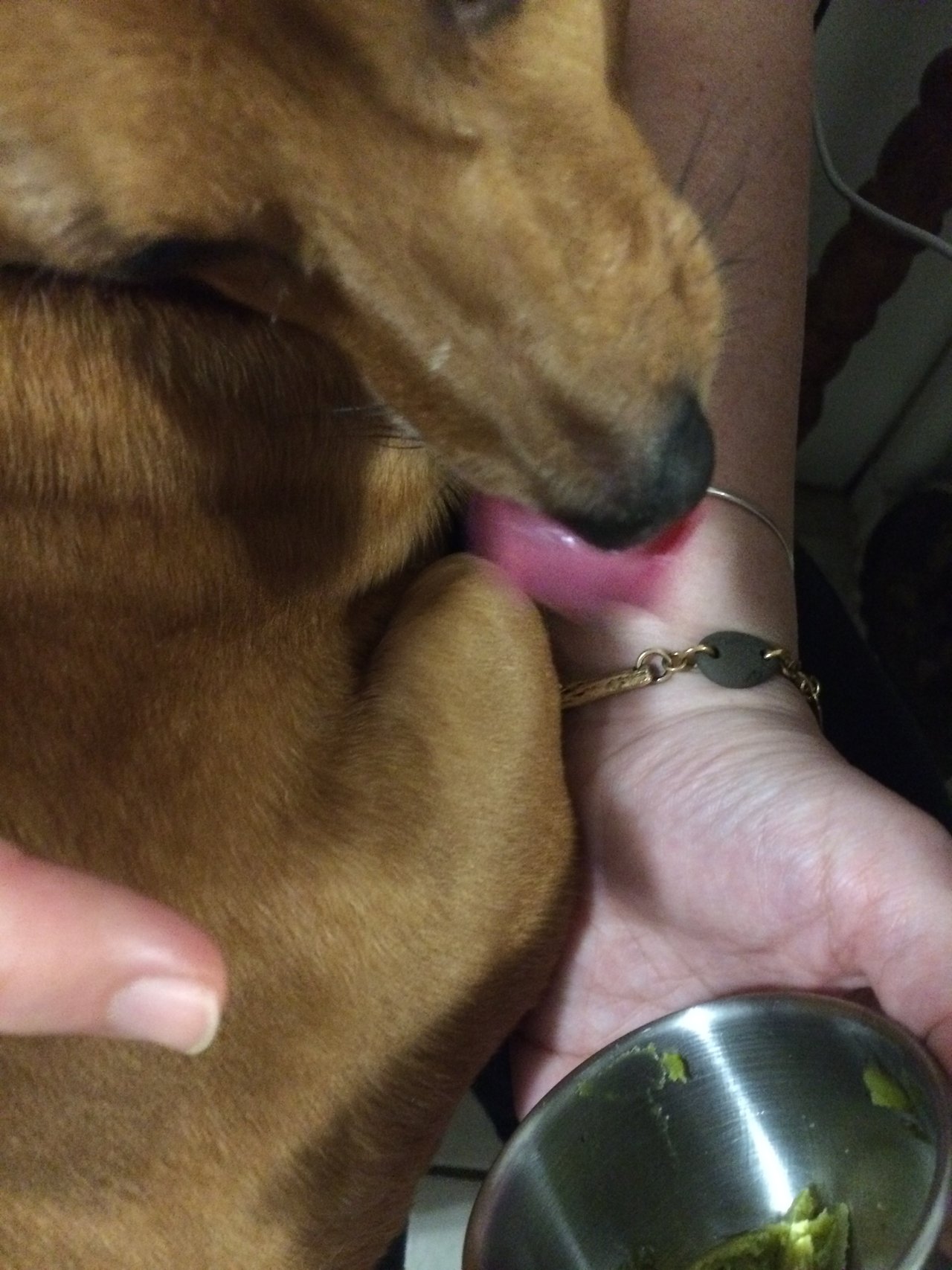 [photo by Joey SLLiks]
Local Organically Grown Cannabis isn't toxic and it won't kill your pets/friends even if they accidentally overdose. Small amounts of cannabis can be very helpful.
Word to the wise:
If your pretty confident your dog has overdosed on only cannabis, you may want to give it some time before going to E.R.
If cannabis consumption is the problem, the visit to the vet will be very expensive, and for nothing, except that they will get to give you "the bad person treatment".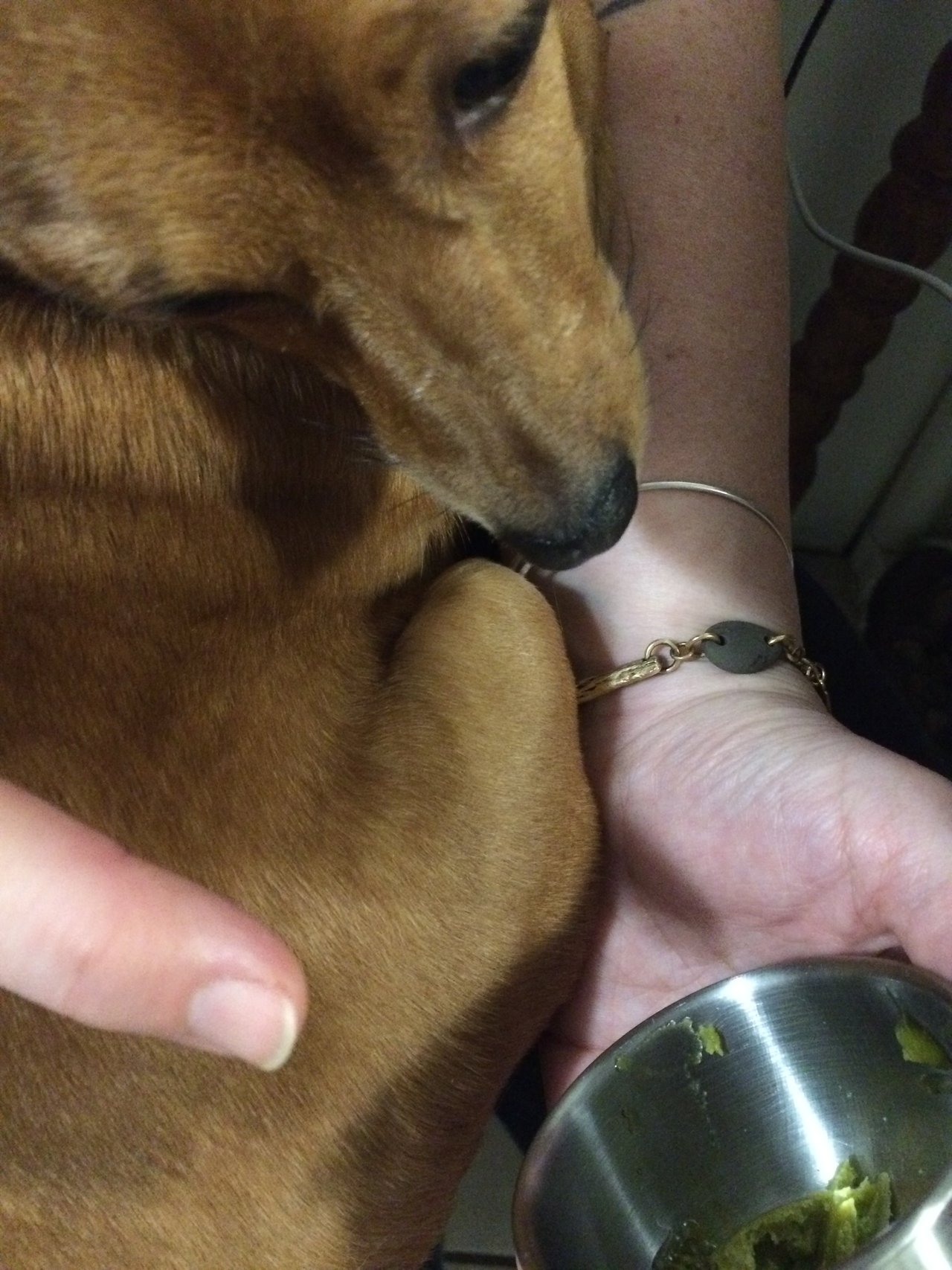 [photo by Joey SLLiks]