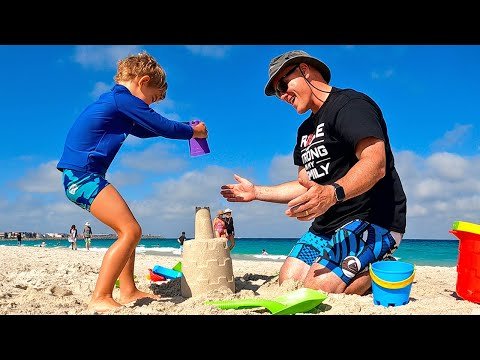 ---
Hey Everyone and @dtube,
In today's Dad Life Vlog, Sam and I have some beach fun in the sun here in Perth, Western Australia. We take down our new Sandcastle building set and try out all of the new pieces, while Sam learns to build a two-story Sandcastle.
The ocean was cold but beautiful and we end the vlog with a review of the beach tools set....what you should bring, and what you should leave behind!
Thanks for watching, we really appreciate it.
SUBSCRIBE: https://adsoul.org/SUBSCRIBE
Don't forget to SUBSCRIBE if you are into that sort of thing.
You can also see us here on other media platforms:
Facebook: https://adsoul.org/FACEBOOK
Twitter: https://adsoul.org/TWITTER
Instagram: https://adsoul.org/INSTAGRAM
TikTok: @adventurous.soul
See you in the next Adventure
Music Supplied by the awesome people at Epidemic Sound: https://www.epidemicsound.com/
Images supplied by Unsplash: https://unsplash.com/
Disclaimers: all opinions are my own, sponsors are acknowledged. Links in the description are usually affiliate links.
---
▶️ DTube