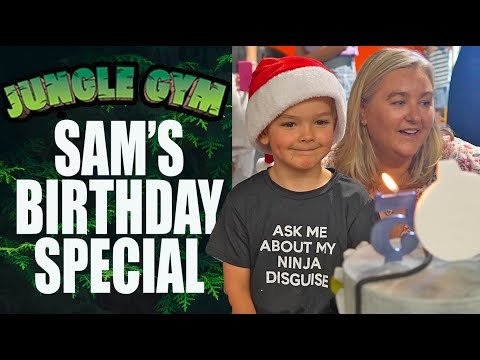 ---
Hey Everyone and @dtube,
In today's Dad Life Vlog, we celebrate Sam's 5th Birthday at Jungle Gym, an amusement centre located here in Perth, Western Australia. This will be Sam's first time going to anywhere like this and hope that his birthday party is as special as he is to all of us.
No Affiliation, but here is the link if you want some more information:
https://www.junglegym.com.au/
We are now in lockdown here in Perth, so I am so happy we were able to squeeze this special day in before all of the changes.
Stay safe everyone, and we will see you in the next adventure.
SUBSCRIBE: https://adsoul.org/SUBSCRIBE
Don't forget to SUBSCRIBE if you are into that sort of thing.
You can also see us here on other media platforms:
Facebook: https://adsoul.org/FACEBOOK
Twitter: https://adsoul.org/TWITTER
Instagram: https://adsoul.org/INSTAGRAM
TikTok: @adventurous.soul
See you in the next Adventure
Music Supplied by the awesome people at Epidemic Sound: https://www.epidemicsound.com/
Images supplied by Unsplash: https://unsplash.com/
Disclaimers: all opinions are my own, sponsors are acknowledged. Links in the description are usually affiliate links.
#dadlifevlog #birthdayparty #junglegym #perth
---
▶️ DTube