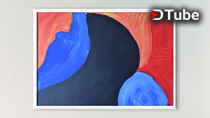 ---
#acrylic #avantgarde #painting #avistinkod #abstract
Available on Etsy: https://www.etsy.com/listing/937053175/acrylic-original-abstract-expressionist
My Instagram: https://www.instagram.com/avistinkod/
My patreon: https://www.patreon.com/avistinkod
Thanks for your support!
Acrylic Original Abstract Expressionist Painting (Slavic Dunes) on Canvas, Colorful abstract painting, Modern Art, Thick Acryl,AvistinKod
Up and down the floating dunes...
Title: Slavic Dunes
Size: 29 cm x 42 cm x 3 mm
Paints: Acrylic
Material: Fibreboard
Also I draw your wishes.
Thanks. Your, Avistin.
---