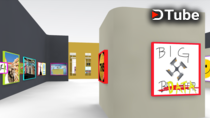 ---
SUPERNOVA IS THE FIRST ONLINE LIVE EXHIBITION FROM THE MUSEUM OF CRYPTO ART AND THE HOLY STUHL CRYPTO ART COLLECTION IN CORPORATION WITH THE THS TOKEN ECONOMY SYSTEM OPERATING ON THE HIVE BLOCKCHAIN!
The Supernova exhibition is the beginning of the blockchain museum and crypto art gallery in the virtual world of the MUSEeum of CRyPtO aRt space.
During the Year 2021 The Museum of Crypto will show you a colourful collection of new way Crypto Artists on our blockchain Museum Plattform.
Be patient and enter Supernova Exhibition.
The Exhibition is randomly shuffle different artworks and includes a art winning game. If you find the ArtWork "Robbed Santa" you will get rewarded. Klick on the Art Work and send a request and you get a xmas gift from The Museum of Crypto Art!
Supernova Exhibition Museum of Crypto Art The Holy Stuhl via #THEHOLYSTUHL #CryptoMuseum #THS #Art #CryptoArt #Blockchain #BlockchainArt #ArtCollection #Contemporaryart #Museum #ArtGallery #Artwork #KrisKind #DrKristianStuhl #MuseumOfArt #CryptoCurrency #hive #NFTShowroom #ArtMatrix
THE HOLY STUHL IN CORPORATION WITH MUSEUM OF CRYPTO ART 2020/2021 THS
---
▶️ DTube
▶️ IPFS