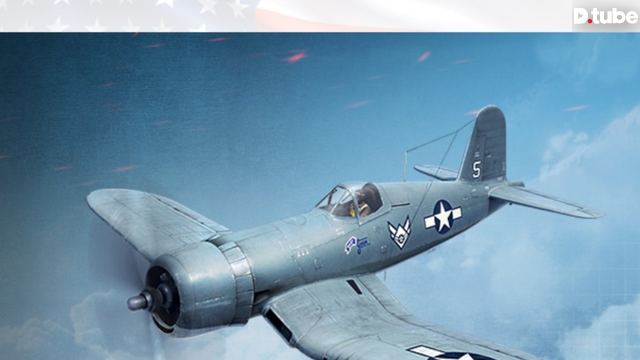 ---
Eng/Ger
Today we continue with the presentation of my American series of fighter planes.
The F4U stands for its name, this multi-role fighter is a small all-rounder.
So far it is also one of my favorite planes, because aerobatics is one of its strengths.
In addition, it has 4 x 20mm Mg's in the highest version and they are really good.
The overheating is fast there but the first shots often kill the opponent early.
A multi-purpose fighter also has the possibility to attack the camp, this is what the rockets are for.
Data:
Further development of the F4U. Frequent use in World War II against Japan and in the Korean War. A total of 2,557 aircraft were built.
https://worldofwarplanes.eu/de/warplanes/usa/f4u-4/#?bids=1245,1248,1249,1250
Translated with www.DeepL.com/Translator (free version)
Heute geht es weiter mit der Vorstellungen meiner amerikanischen Reihe der Kampfflugzeuge.
Die F4U steht für ihren Namen, dieser Mehrzweckjäger ist ein kleiner Alleskönner.
Sie ist bis jetzt auch eines meiner liebsten Flugzeuge, denn Kunstflug ist eines ihrer Stärken.
Außerdem besitzt sie in der höchsten Ausbaustufe 4 mal 20mm Mg's und die haben es in sich.
Die Überhitzung ist zwar schnell da aber die ersten Schüsse erledigen oft schon früh den Gegner.
Ein Mehrzweckjäger hat aber auch immer die Möglichkeit das Lager angreifen, hierfür dienen dann die Raketen.
Daten:
Weiterentwicklung der F4U. Häufiger Einsatz im 2. Weltkrieg gegen Japan und in Koreakrieg. Es wurden 2.557 Flugzeuge gebaut.
https://worldofwarplanes.eu/de/warplanes/usa/f4u-4/#?bids=1245,1248,1249,1250
---
▶️ DTube
▶️ BTFS