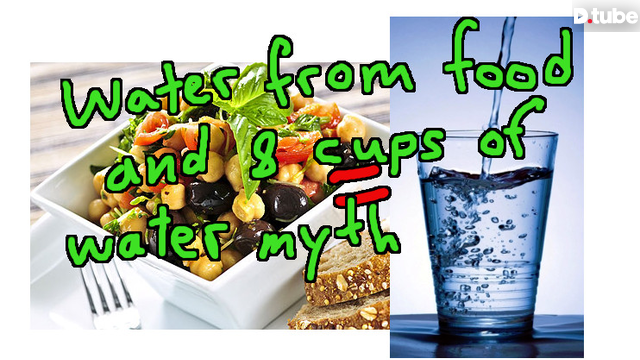 ---
Have you been told that you need to drink about 8 cups or 2 litres of water everyday on top of your normal diet?? Well I actually used to believe in this but after doing some further research I have realized it is a myth. You can actually get most of your water from food itself! This is an extremely useful video so make sure to watch it so you can be aware of some of the water myths that are pushed by many food agencies!
Most of the info in the video is found in the BBC Documentary: The Truth about Food - Episode 5: How to Stay Young and Beautiful and can be viewed in the links below:
BBC Website: http://www.bbc.co.uk/sn/humanbody/truthaboutfood/young/
YouTube video: http://youtu.be/M_0spCGvvNI
The Valtin, 2002 paper can be downloaded from this link: https://1drv.ms/b/s!As32ynv0LoaIiLotcZC7Q0tOQmWmFg?e=qoKq99
Download the notes in my video: https://1drv.ms/b/s!As32ynv0LoaIiLowYdou3Ybq8FYsoQ?e=92cc0C
View video notes on the Hive blockchain: https://peakd.com/hive-128780/@mes/water-from-food-and-8-cups-of-water-myth
Related Videos:
Does Coffee and Tea Count Towards Water Intake?: http://youtu.be/WMVpJatcktg
Complete Proteins - Vegetarian Diet and Myths about Plant Proteins: http://youtu.be/LHzzutoupY0
Food and Nutrition: What are Calories? and How much in Carbs, Fat, Protein, and Alcohol?: http://youtu.be/RaKutEJc64g .
---
SUBSCRIBE via EMAIL: https://mes.fm/subscribe
DONATE! ʕ •ᴥ•ʔ https://mes.fm/donate
Like, Subscribe, Favorite, and Comment Below!
Follow us on:
Official Website: https://MES.fm
Hive: https://peakd.com/@mes
Gab: https://gab.ai/matheasysolutions
Minds: https://minds.com/matheasysolutions
Twitter: https://twitter.com/MathEasySolns
Facebook: https://fb.com/MathEasySolutions
LinkedIn: https://mes.fm/linkedin
Pinterest: https://pinterest.com/MathEasySolns
Instagram: https://instagram.com/MathEasySolutions
Email me: contact@mes.fm
Try our Free Calculators: https://mes.fm/calculators
BMI Calculator: https://bmicalculator.mes.fm
Grade Calculator: https://gradecalculator.mes.fm
Mortgage Calculator: https://mortgagecalculator.mes.fm
Percentage Calculator: https://percentagecalculator.mes.fm
Try our Free Online Tools: https://mes.fm/tools
iPhone and Android Apps: https://mes.fm/mobile-apps
---
▶️ DTube
▶️ BTFS