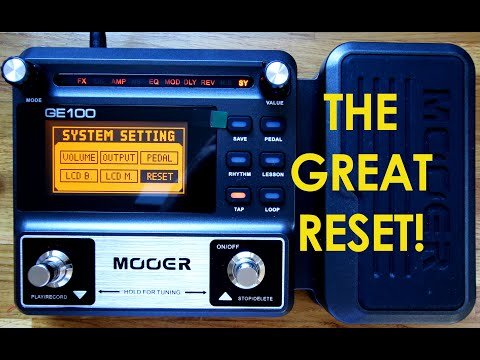 ---
This is the Mooer GE 100 Guitar Multi Effects Processor and it is simply brilliant. It replaces 64+ guitar effects pedals with this one single unit.
It's conveinient to carry around one single device rather than a bag full of effects pedals and their associated cables and power supply's.
It also has a drum machine, metronome and guitar tuner built it.
#mooer #GE100 #guitar #multi #effects #pedal
Quick links timestamps
Mooer GE100 Reset 01.10
Mooer GE 100 Phaser Effect 01.43
Mooer GE 100 Drum Machine 02.43
Mooer GE 100 Looper Demo 03.30
Mooer GE 100 Whammy Pedal 04.50
Mooer GE 100 Flanger Effect 05.45
Mooer GE 100 Tremelo Effect 06.01
Mooer GE 100 Jazz Clean Effect 06.18
Mooer GE 100 Dirty Fuzz Effect 06.50
Mooer GE 100 Specs 07.10
Affiliate links below. I may earn a fee/commision/credit when you use these links but you will not pay any more for the product. The price remains the same.
Product specs
Mooer GE 100 Multi Effects Processor for Electric Guitar
8 effects modules
66 effects types
23 distorted sounds with 7 amp simulators
Module types: FX, distortion, amp, noise gate, equalizer, modulation, delay, reverb
80 preset patches and 80 user patches
40 drum rhythms as well as 10 metronome rhythms
Assignable expression pedal
2 Foot switches for interconnecting presets and activating the tuner and looper
2 Control knobs
Lesson function for scales and chords
6 Button functions: save, pedal,rhythm, lesson, tap and loop
Tap Tempo function
Looper: 180 Seconds of recording time
Bright LCD display
6.3 mm mono jack input
6.3 mm mono jack output
AUX input
Operates with 4 AA batteries or power supply (included)
Dimensions (D x W x H): 140 x 230 x 60 mm
Weight: 730 g"
Spec details courtesy of:-
Thomann
Price check 1
https://redir.love/thoprod/372283?partner_id=51451
Price check 2
Amazon
https://amzn.to/2Y76lOs
Gear used
Mooer GE 100 Guitar Multi Effects Processor
HB-20R Amp
Harley Benton SC 450 CB Classic Series Electric Guitar
Don't forget to subscribe
@molometer
-~--~~~--~-
Want to look stunning in your Selfies, TikTok or YouTiube Shorts? watch this: "Neewer 18"