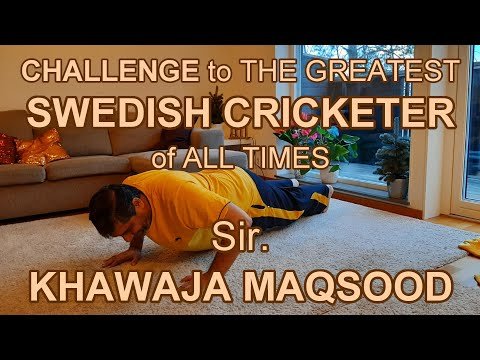 ---
The challenge to The Greatest Swedish Cricketer of All Times: Sir. Khawaja Maqsood
Language: Urdu, Hindi
This is 15 pushups (ONLY) small challenge to The Greatest Swedish Cricketer of All Times: Sir. Khawaja Maqsood.
By: Syed Mushabbar Sadiq
Linkedin: https://www.linkedin.com/in/mushabbar/
FB: https://www.facebook.com/mushabbar1/
Working from Home
Boost the Immune System
Cricket and Exercise
Coronavirus cases in Sweden
Coronavirus cases in Pakistan
Coronavirus cases in Europe
Coronavirus disease (COVID-19) Pandemic
https://www.who.int/emergencies/disea...
https://www.who.int/
https://www.worldometers.info/coronav...
#SyedMushabbarSadiq #SyedAliSadiq #Mushabbar #Sadiq
#LOCKDOWN #Swedenkidiary
#OPPORTUNITIESforINNOVATION
#Cricket #SwedishCricket #BoostImmuneSystem
#CoronavirusinSweden #CoronavirusinItaly #CoronavirusPakistan
#novelcoronavirus2019 #COVID19 #Pandemic #Coronavirus #Outbreak
#StayatHome #WashHands #SOCIALDISTANCE
#WorkingfromHome
---
▶️ DTube