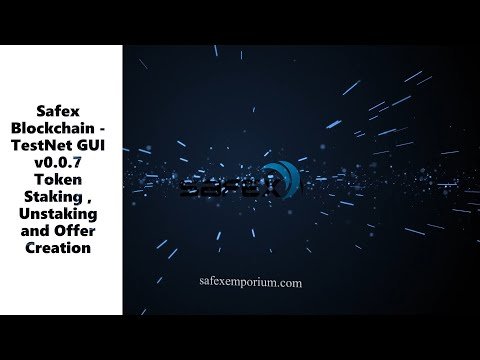 ---
Welcome to another video guide showcasing Token Staking & Offer creation functionality of the Safex TestNet GUI wallet v0.0.7.
All the required links are available below to follow this guide:
(TestNet GUI token staking)
https://github.com/safex/twmwallet/re...
(Safexd and Wallet CLI Testnet latest releases)
https://github.com/safex/safexcore/re...
(Image Hosting/URL generator site)
https://www.safex.pics/
(Testnet Exlplorer- Transaction ID verification)
http://testexplorer.safex.io/
****ATTENTION****
If you choose participate with the Safex Blockchain TestNet it will be most important to keep up to date with the most current releases. Data from previous versions may need to be deleted and a fresh re-sync from scratch may be required with each new TestNet release version update.
LIKE SHARE & FOLLOW TO SUPPORT THIS CHANNEL
(Check us out at our web-site and social media below)
https://safexemporium.com/
https://twitter.com/SAFEX_EMPORIUM
https://www.facebook.com/108199727283674
https://www.instagram.com/safexemporium
https://www.reddit.com/r/SafexEmporium/
(Contact via e-mail)
support@safexemporium.com
(Feedback & Suggestions)
https://forms.gle/PCwEkryjGVxkNvZW7
(Find out more about the SAFEX Blockchain from the main developer site below)
https://safex.io/
*** Disclaimer***
Remember to do your own research before investing in any crypto currency project.
---
▶️ DTube