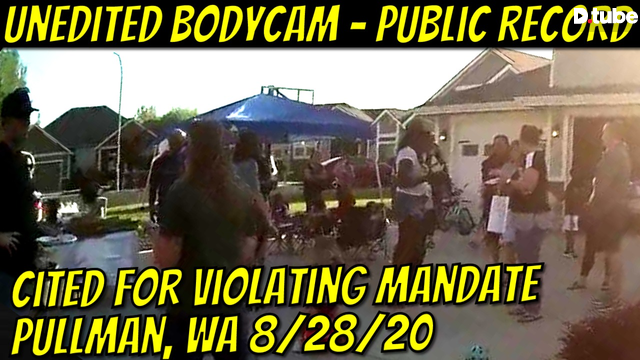 ---
Unedited bodycam footage
This bodycam is from a citation from the Pullman, WA Police Department. It is unedited and available for public use. I will add links to reports etc. when I receive them from the public records department. This incident occured on 8/28/20 and was the first weekend of the department issuing citations for breaking Governor Inslee's mandates limiting freedom in the state of Washington. The mandates declare that no "Person" may have a gathering of 10 or more people and they must be wearing masks and or social distancing keeping at least 6 fee of space between them. This is happening in America. People are willfully giving up their freedom without a fight. The technocratic police state is here and this is just the beginning.
You can support QA for free by downloading and using the Brave browser for free. If you value privacy while browsing the internet then you need Brave!
Click here to download Brave and support QA
Learn about Hive and follow me on the blockchain.
Use this link and start earning cryptocurrency for upvoting and commenting on content you like. Earn even more by becoming a creator yourself.
Support QA with Crypto:
BitCoin wallet - 34tAdBVwiLtM1MMfZKi9KJ9uPU8tzCEpAC
Dash wallet - XbbK6N6GooxHEtH1ZXH27RnKWxiCkWkYjR
BitCoin cash wallet - qzxyhrxx6lrdjnzjwmampfnk33jdh487ng4tvlx2j0
Find QA everywhere online!
Email - questionableauthority@protonmail.com
---
▶️ DTube
▶️ BTFS