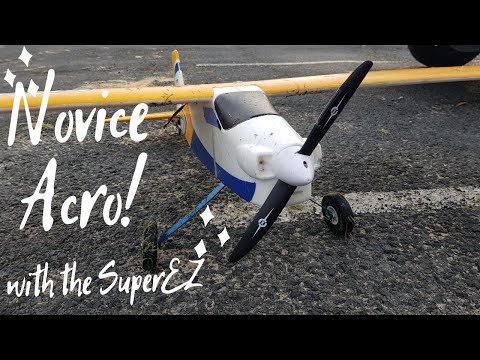 ---
MUSIC: Outside (Official) by Ikson, Angels by CoxX
Welcome to Life With Nick and Hayley! Join us as we share life's moments in a positive, inclusive space promoting the joy of living and searching for new ways to have fun and explore our world together.
The SuperEZ is back at it! My current desire to keep this bird up in the air is that she can hold the chubby GoPro like a champ. Sadly, this morning's grass was dewy and she dragged the camera through it. Thankfully, the plane is moving around a LOT during the video so you won't really have time to notice.
Stick around 'til the back end of the video to hear a bit from Hayley! If you have any questions for Hayley, fire them into the comments and I'll film a Q&A. If you don't have questions, I'll make some up and pretend you all had so much to ask her! Trust me. It will work out fine.
Let's chill in the comments, talk RC and anything else happening in your life. Maybe you came here from RC, maybe this video was recommended because it's in essence, a vlog. Either way, it's cool here. We're all friends!
What I like about the FMS SuperEZ:
The 1200mm wingspan - fits in my car without disassembly

Flies well in wind

Very durable construction

Short take-off

Lands well on rugged surfaces

Flies on cheap and common 3S 2200mah LiPo batteries

Perfect for inexperienced pilots
What I don't like:
The tiny battery compartment

Very floaty (requires longer than usual approach)

Divisive styling

Noses down during rolls

May foster bad landing behaviour as it is so tolerant

May frustrate pilots who want more aerobatic capability/ snappiness

No flaps
Enjoy the video and do all of those lovely things like commenting, liking the video and subscribing to Life with Nick and Hayley as well as checking out our other channel on Dtube!
Current stuff:
Filming: GoPro Hero 5
Transmitter: FlySky FS-i6X with 8Ch receiver.
Transmitter batteries: 4 x 2000mAh AA 'Energizer Recharge'
Planes:
Volantex Phoenix V2 2000mm (Banggood)
Used FMS SuperEZ V2 RTF ($180 - Bargain!)
Receiver and flight batteries: 4 x Zeee 2200 mAh 50c 3s 1 x Predator 1500 mAh 25c 3s (puffed)
Charger: iMAX B6AC single channel charger ($39 ebay purchase)
Simulator: ClearView
Favourite ClearView Aircraft: New favourites - MiG-15 and F-86 EDFs
Favourite ClearView flying site: Osage Park.
Current setup on the Phoenix:
Two settings of flaps (40 degrees and 80 degrees)
Disclaimer: This is not an RC vehicle channel. I am not an RC expert.
-Nick-
---
▶️ DTube