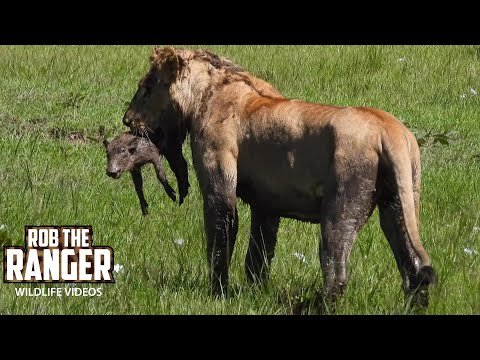 ---
The sub-adult male lions of the Enkoyonai pride dig up a warthog burrow to get a baby warthog. All the effort was for nothing though as big lion Olbarnoti ran in to claim the prize!
Other members of the Enkoyonai lion pride were present but only one of the cubs tried to get involved before leaving it up to the older siblings!
Outside of the migration season the lions of the Mara often try digging out warthog burrows like this.
Filmed In The Maasai Mara National Reserve, Kenya
Special thanks to Zebra Plains Mara Camp
Book A Maasai Mara Safari at Zebra Plains Mara Camp:
Call: +254724274536 / +254790789122
Email: reservations@zebraplainsmara.com
Website: www.zebraplainscollection.com
Filmed in 4K UHD resolution using the Sony AX100 4K video camera:
Follow Rob The Ranger:
TWITTER: ​http://goo.gl/U8IQGf
INSTAGRAM: ​https://instagram.com/robtheranger
BLOG: ​http://goo.gl/yJJ3pT
FACEBOOK: ​http://goo.gl/M8pnJh
STEEMIT: ​https://steemit.com/@robtheranger
TUMBLR: ​http://goo.gl/qF6sNS
About Rob The Ranger Wildlife Videos:
The purpose of the channel is to show what it is like to experience seeing wild animals on an African safari. Nature Documentaries are often highly edited to tell a story, wildlife safaris are not, and the idea here is to show the wildlife sightings the way they were seen. Safari tours in Africa are generally suitable for all ages and this channel can be considered an educational channel about incredible nature, some scenes in the nature videos may be more graphic than people are used to but this is the reality of nature and is what you would see if you were present on such a safari in person. Safaris in Kenya, South Africa, or any other African country are an unrivalled experience for anyone with a passion for nature, wildlife photography, and travel. Hopefully the animal videos on this channel can provide a glimpse into what the nature experience is like and encourage more people to take a wildlife safari one day.
---
▶️ DTube