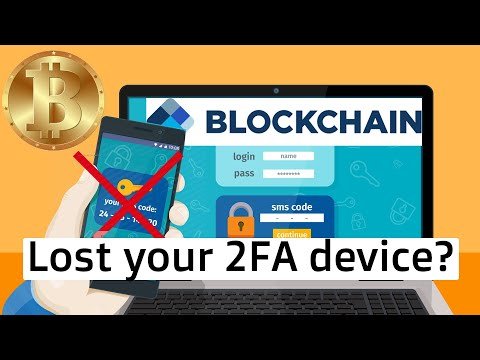 ---
Reset your 2FA Access To Your Blockchain Wallet. There are a few reasons why you might want to reset, or disable, two-factor authentication (2FA), such as losing a device or losing access to your verified email address. The following steps outline our 2FA reset procedure. Go to our 2FA reset request form: https://login.blockchain.com/#/reset-2fa
Fill out the form with your wallet identifier and the email address associated with your wallet. If you want to change your email address, include the new email address in the "New Email" field. Click Continue when finished. Input the captcha and click Reset.
Your reset request is now submitted and pending approval. This process is fully automated and includes a mandatory wait time before being approved.* A notification that a pending 2FA reset request is in progress will be sent to the wallet's associated email address.. its very easy and every one can understand. Its a short demo you must
watch this video till end to get complete information. So follow these steps.
Support Me With Crypto
[BITCOIN] 1P9e3aFqVSzFczpTpYQuuWYAuvFcmzjcSo
[LITECOIN] LViXEZrLQUi1T1eAtPh6vWzDf4QVhJsiqs
[DOGECOIN] D8vkFq5cDjPiKYGLAKYKvmNZH2AxAmVLok
[TRON] TMiajBAfpvaQ9YUTiv5GnNQ5dzBd2EQ1QQ
[ETH] 0xafbc06b6cc58780bc166ad426cb536c75a76cf3a
So if you face any problem regarding this. you can freely contact me.
So if you find this video informative. Subscribe to my channel and press the bell icon button
for latest upfates. You can also like and share it.
---
▶️ DTube