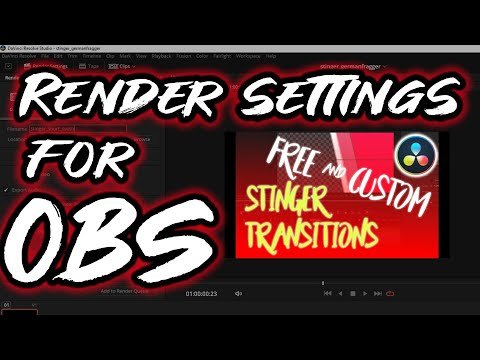 ---
A few months ago I have created a tutorial on how to create your own free stinger transitions with davinci resolve 16.
You can find the detailed walkthrough here:
https ://youtu.be/Y_yWwWJRKeA
BUT unfortunately I provided the wrong render settings and because I received a lot of questions on the above mentioned video, I decided to create a follow up on that topic.
This video is an answer, appology and a basic walkthrough on how to "convert" any greenscreen clip into a clip you can use in OBS / Streamlabs. All the render settings you need to export transparent video inkluding audio with davinci resolve. Here we go!
If you want to skip my fusion skillz and jump directly to the render settings: 08:31
music credits for the background music:
Midnight Snack by Purrple Cat | https://purrplecat.com
Music promoted by https://www.free-stock-music.com
Creative Commons Attribution-ShareAlike 3.0 Unported
https://creativecommons.org/licenses/by-sa/3.0/deed.en_US
📸 main camera: https://amzn.to/34MKcYk
📸 vlogging lense: https://amzn.to/34LJElG
📸 second lense: https://amzn.to/2RSfxnh
🎤 main mic: https://amzn.to/2VzSIWo
🎤 wireless mic: https://amzn.to/3ay3xiC
🌐 My 360 cam: https://amzn.to/2RE5gKC
📸 My webcam: https://amzn.to/2NRB9y9
🎙️My desktop mic: https://amzn.to/3awoJW9
📸 IG: https://www.instagram.com/tibbifox
💬 TW: https://twitter.com/tibfox
💻 Hive: https://peakd.com/@tibfox/
📧 norman.fischer@gmail.com
🎁 support me via ethereum: 0xd3e33b3f5b421c45b0a5ec0ee7209f7e3777d994
☕ buy me a coffee: https://ko-fi.com/tibfox
---
▶️ DTube